THE READING ROOM: The Best Music Books of 2021
Posted On December 2, 2021
---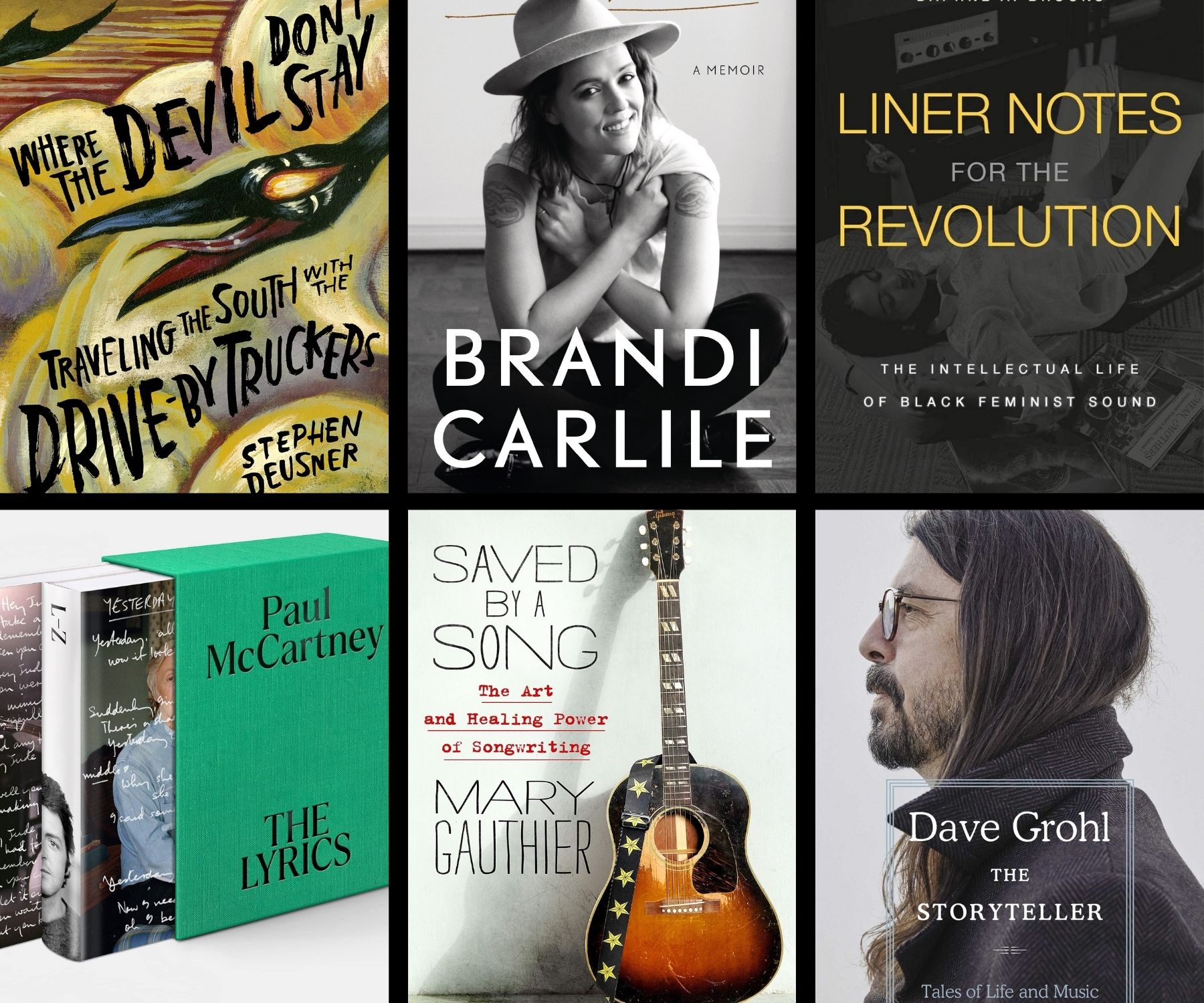 This is the season for book awards and prizes, as well as the season that various newspapers and magazines offer their lists of best books. The year in music books has been especially rich, so this year's list at No Depression contains titles I am pleased to recommend as ones that will endure far beyond this season and continue to animate conversations about music and its role in our world. I hope you might find a few gifts for the readers and music lovers in your lives; any of these books are bound to bring a smile to your favorite reader's face.
Daphne Brooks, Liner Notes for the Revolution: The Intellectual Life of Black Feminist Sound (Harvard) — The most eloquent music book of the year, Brooks' elegant and detailed study is essential reading and offers a stunning new perspective on Black female musicians who shaped their culture through their music, often challenging stereotypes in their lyrics and music. Brooks dives deep into music archives and allows the women artists — from Ethel Waters, Aretha Franklin, Lorraine Hansberry, Janelle Monae, among others — to tell in their own words and stories the impact they made on their culture.
Joseph Horowitz, Dvořák's Prophecy: And the Vexed Fate of Black Classical Music (Norton) — When Antonin Dvořák visited the United States in 1893, he discovered the folk songs and spirituals of African American communities and prophesied that these songs and melodies would provide a foundation for American classical music. He even encouraged Black composers, such as Henry Burleigh, to compose classical music based on African American musical traditions, and many of these compositions were performed widely at the beginning of the 20th century. Despite these compositions, American classical music grew into a largely white music that consigned Black music to popular music only. Horowitz's captivating history reveals the reasons American classical music is so white, drawing on the lives and work of Black composers William Grant Still, Florence Price, and William Levi Dawson to illustrate the ways that Black classical music contributes dynamically to the American classical tradition.
Mary Gauthier, Saved by Song: The Art and Healing Power of Songwriting (St. Martin's) — Gauthier's book serves as a portal to new worlds, shining a light on her own experiences and refracting that light into glimmers of hope, redemption, and wisdom about the jagged corners of life and the ways we fall in and out of human flourishing. Part memoir and part reflection on songwriting, Gauthier's finely tuned meditations on life, love, and song chronicle her struggles with addiction, her dysfunctional family life, her first guitar and discovery of songwriting, and her growth as a songwriter. Gauthier writes songs and tells stories with a mesmerizing candor and intimacy.
Paul McCartney, The Lyrics: 1956 to the Present (Liveright) — The new box set that provides a deep dive into the making of the Beatles' album Let It Be and Peter Jackson's new documentary, Get Back, reveal a McCartney driven by his muse, chasing down the whisperings of his musical genius around every corner. In this stunningly gorgeous slipcased hardcover set, McCartney tells the story of his life by sharing the stories behind 154 of his songs. Spanning two volumes lavishly illustrated with handwritten texts, paintings, and some never-before-seen photographs, the songs are arranged alphabetically and offer glimpses into the people and events that influenced and inspired them. The expense of the volume may be prohibitive, but deeply devoted fans — of whom there are droves — will want this on their shelves.
Hanif Abdurraqib, A Little Devil in America: Notes in Praise of Black Performance (Random House) — One of the most brilliant books of the year, Abdurraqib's scintillating exploration of the history of Black performance in America illustrates how that Black performance was often marginalized by mainstream culture. He examines dance marathons, minstrel shows, and performers from Aretha Franklin and Whitney Houston to Josephine Baker and Merry Clayton to demonstrate the ways in which Black performance functions as more than simply entertainment. Such performances are ways of negotiating the challenges of living in a world where Black performance is sometimes parodied and erased, even if such parody is masked as praise.
Brandi Carlile, Broken Horses (Crown) — Carlile knows how to captivate; she invites us into her songs with her ability to evoke feelings of isolation and loss, forgiveness and hope, love and joy. She entrances readers with her stories of people just like us, facing the same challenges and losses, the same comforts and victories, the same hard lessons that life lays in our paths, and she compels our attention because of her heart-on-her-sleeve honesty. With Carlile, we know we're seeing and hearing the person behind the song laying her heart and emotions out there for us all to share and from which we all can learn.
Kim Ruehl, A Singing Army: Zilphia Horton and the Highlander Folk School (Texas) — Drawing deeply on archives and extensive interviews with Horton's family and friends, Ruehl, former editor-in-chief at No Depression, explores the life of Zilphia Horton from "her childhood in Arkansas coal country, through her formative travels and friendship with radical Presbyterian minister Claude C. Williams, and into her instrumental work in desegregation and fostering the music of the civil rights era." In the first book devoted to Horton, A Singing Army vividly recreates the social and cultural history of which Horton was part, and it brings to light her enduring achievements, her passionate vision for the arts and music and how they effect social change, and her exceptional contribution to folk music and folk music scholarship.
Rickie Lee Jones, Last Chance Texaco: Chronicle of an American Troubadour (Grove) — Jones tells her story for the first time in her riveting, often harrowing, memoir. In staccato prose that echoes her scat singing, Jones holds nothing back as she chronicles her adventures on the road and the ragged ups and downs of her family life and fame. Last Chance Texaco carries us on one hell of a road trip, never stopping for gas, and often leaving us gasping as we try to keep up. In the driver's seat all the way, Jones careens around some nerve-wracking hairpin turns, flies down some straightaways, walks away from a few crashes, and emerges with a tale about the power of music to heal and inspire and sustain.
Eric Weisbard, Songbooks: The Literature of American Popular Music (Duke) — Weisbard's book is required reading for all music critics and journalists. With astonishing breadth and depth, the co-editor of the Journal of Popular Music Studies offers a "critical guide to books on American popular music from William Billings' 1770 New-England-Psalm-Singer to Jay-Z's 2010 memoir Decoded." Weisbard richly explores how American music writing over the years has focused on questions that have "lingered across time and genre."
Kelefa Sanneh, Major Labels: A History of Popular Music in Seven Genres (Penguin) — Sanneh's little masterpiece of music history and criticism is required reading for anyone who loves music, especially popular music. Writing as a fan and a critic of rock, R&B, country, punk, hip-hop, dance, and pop, Sanneh surveys the evolution of each genre as it waxed and waned, as its fans called out bands for not playing the authentic sound the fans associated with a particular genre, and as artists crossed the boundaries of genres in creative explorations of new sounds. Readers will discover revelatory insights on almost every page of Sanneh's elegant history.
Woody Guthrie, curated by Nora Guthrie and Robert Santelli, Woody Guthrie: Songs and Art, Words and Wisdom (Chronicle Books) — Guthrie's daughter Nora and music historian Robert Santelli have gathered and curated an astonishing, and very illuminating, collection of Guthrie's lyrics — some of them never-before-published — his personal diary entries, his doodles and other artwork, his quips and jokes, and his insight into politics and justice.
Dave Grohl, The Storyteller: Tales of Life and Music (Dey Street) — Grohl's tuneful memoir should be turned up to full volume so as not to miss any notes of this rocking chronicle. Grohl's vibrant storytelling mesmerizes from the first sentence, and his soulful memoir sparkles with his wit and his love for music and family and friends in ways that other music memoirs do not.
Stephen Deusner, Where the Devil Don't Stay: Traveling the South with the Drive-By Truckers (Texas) — Drawing on interviews with all the members of the band, Deusner follows the Truckers as they evolve from their origins in 1996 to their current lineup and how they deal with the tangled cultural landscape of the South out of which they arise. Nodding to the power of place in defining identity, Deusner arranges the book not chronologically but by tracing the band through the cities and places that have shaped their musical identity. Deusner's book is essential reading not only for fans of the Truckers but for anyone wanting to discover more about these quintessential roots rockers.
Bob Spitz, Led Zeppelin: The Biography (Penguin) — Yet another trek up the "stairway to heaven" of rock and roll with acclaimed music biographer Spitz (The Beatles), who chronicles in exhaustive detail the rise and fall of the band. He examines each of Led Zeppelin's albums and explores how each member of the band developed musically, contributing to the overall evolution of the band's sound, including how Jimmy Page used his love of the blues as a "springboard to something bigger and more dynamic." Even after all that's been written about Led Zeppelin, Spitz's vividly told history offers fresh glimpses into this rock juggernaut.
THE BEST OF THE REST … 
Allison Moorer, I Dream He Talks to Me: A Memoir of Learning How to Listen (Hachette)
Stevie Van Zandt, Unrequited Infatuations (Hachette)
Erin Osmon, John Prine (33 1/3) (Bloomsbury)
Questlove, Music Is History (Abrams)
Mike Elliott, Have a Little Faith: The John Hiatt Story (Chicago Review Press)
Daniel De Visé, King of the Blues: The Rise and Reign of B.B. King (Grove)
Robert Marovich, Peace Be Still: How James Cleveland and the Angelic Choir Created a Gospel Classic (Illinois)
Michael Stewart Foley, Citizen Cash: The Political Life and Times of Johnny Cash (Basic)
Jordannah Elizabeth and Briana Dengoue, She Raised Her Voice!: 50 Black Women Who Sang Their Way into Music History (Hachette)
Cisco Bradley, Universal Tonality: The Life and Music of William Parker (Duke)
---