THE READING ROOM: New 33 1/3 Book Zooms In on John Prine's Debut Album
Posted On January 6, 2022
---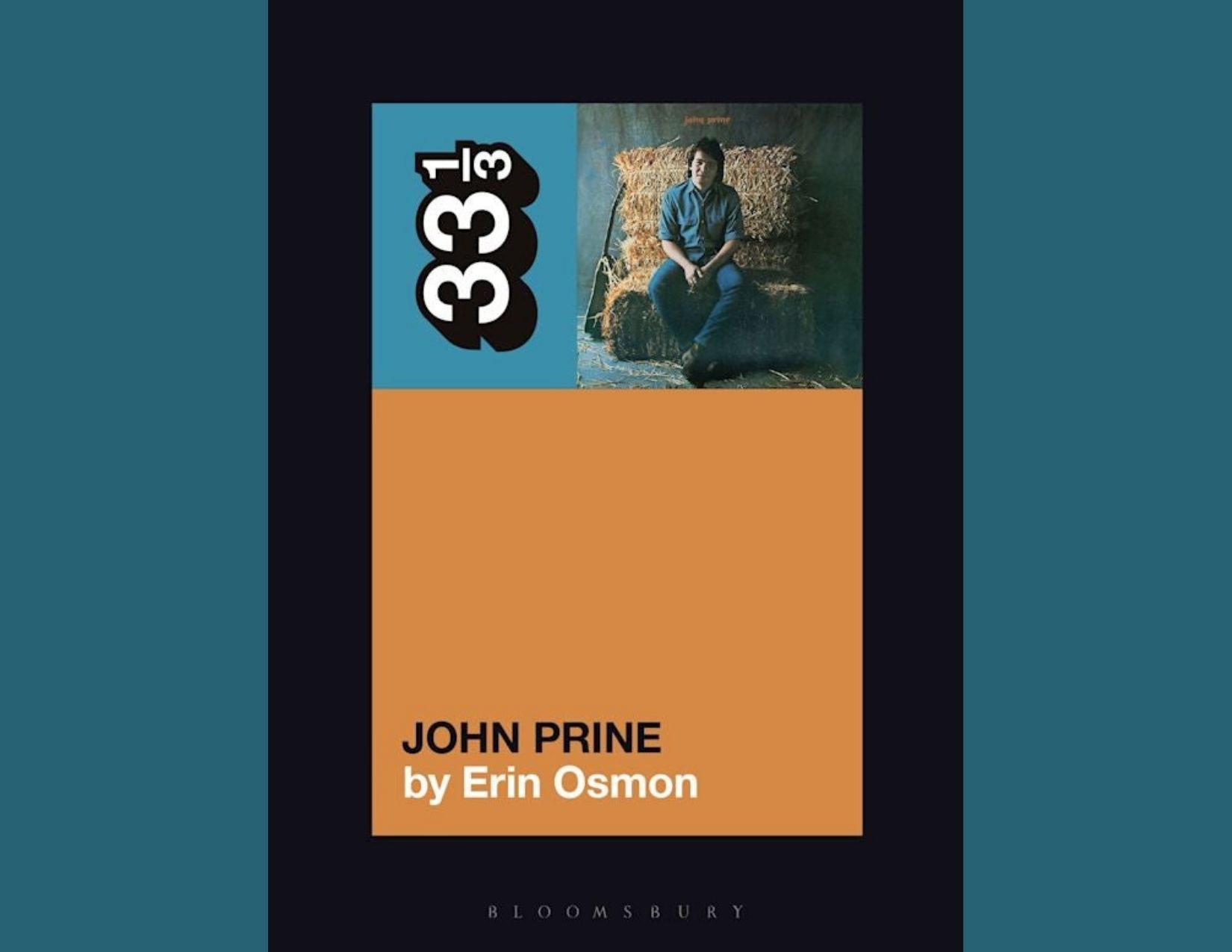 Bob Dylan once told music critic Bill Flanagan that John Prine's "stuff is pure Proustian existentialism. Midwestern mindtrips to the nth degree." Almost two years after Prine's death on April 7, 2020, from complications related to COVID-19, writer Erin Osmon offers her own tribute to the singing mailman from Maywood, Illinois, in John Prine (Bloomsbury), her reflections on his self-titled debut album for the 33 1/3 book series.
Much more than a detailed analysis of the album, though, Osmon's contribution to the series is a love letter from one Midwesterner to another, as well as an intimate portrait — drawing on archival materials and published interviews — of the folk clubs, neighborhood, and family that shaped Prine and about which he wrote so evocatively in his songs. As "a fifteen-year Chicago resident," Osmon writes, "I've always understood Prine through the lens of our Middle American provenance, and admired his singular ability to convey our commonplace happenings to universal effect. Only Prine could make a city slicker care for a rural grandma, and turn pedestrian life in a Chicago suburb into an arresting image."
Thanks to Prine's own autobiography in photos and words, Beyond Words, and Eddie Huffman's 2015 biography John Prine: In Spite of Himself, we already know well the outlines of the singer's life story. While Osmon adds little new information, she evocatively portrays the closeness of the Prine family, its deep rootedness in western Kentucky, and the impact of the burgeoning Chicago folk scene on Prine. As she points out, Prine's working-class roots can be firmly traced to Maywood, a town just west of Chicago, sitting next to the more prosperous Oak Park, birthplace of Ernest Hemingway and Frank Lloyd Wright. She conveys affectionately the closeness of his family and the neighborhood in which Prine grew up: "He was raised in a 1,500-square-foot worker's cottage on First Avenue in suburban Maywood, Illinois, with two parents, three brothers and, for a time, both of his paternal grandparents. They were part of a long tradition of families forming multigenerational households during the Great Depression, in quarters that bonded them together, creating a unique language of love, exchange, and understanding."
Prine absorbed music because he heard it so much growing up. "Inside the Prine family home, the walls reverberated with music," Osmon writes. "Prine's father Bill loved traditional country, western swing, and jazz, and collected records by Hank Williams, Roy Acuff, Louis Armstrong, Ernest Tubb and his Texas Troubadours, Bob Wills and the Texas Playboys, and many others. 'It was Webb Pierce, Hank Williams, Lefty Frizzell, and Ray Price back-to-back all night long on the radio,' Prine said."
Two of his three brothers played instruments, and as teenagers Dave taught John some chords and soon the two were playing living room concerts for their family. "John looked up to Dave, who paid special attention to his baby brother, who was falling into teenage delinquency, and unable to focus on anything but gymnastics and the occasional English class. But there was also the competitive spirit that drives all sibling relationships, which motivated young John to catch up. The pair became a two-man living room band, with the younger Prine playing rhythm guitar along to the elder's fiddling, a format used in the traditional country and old-time string music Dave enjoyed."
On Sept. 12, 1963 — when he was 16 — John Prine enrolled in the Old Town School of Folk Music, a community where he mingled with his peers and improved his guitar playing. The Old Town School of Folk Music, which opened in 1957, was, as Osmon writes, "a community music school rooted in folk music's past, present, and future. A place where Dave and John Prine, Steve Goodman, Roger McGuinn, the Holstein brothers, and countless others took guitar classes and mingled with peers. The heart of the north side folk music scene, pumping blood through its vast network of arteries. It's where Prine would take his next steps."
In 1971, Prine released the eponymous album that contains many of his most memorable songs: "Sam Stone," "Hello in There," "Paradise," "Angel from Montgomery," and "Spanish Pipedream," among others. Meanwhile, Prine had started playing gigs around Chicago at places such as The Quiet Knight, The Fifth Peg, and The Earl of Old Town. It was at the latter that a young film critic named Roger Ebert heard Prine one Friday night and wrote a review singing Prine's praises, increasing his musical stature so that he began playing before packed houses rather than small audiences.
Prine's good friend Steve Goodman engineered a meeting with Kris Kristofferson, Paul Anka, and Prine in the late hours after one of Prine's performances. Anka invited Prine and Goodman to New York to make a demo. Prine was at first skeptical, but Goodman talked him into taking the chance, arguing that he had nothing to lose. On their way to their hotel in New York, the pair ran into Kristofferson, who invited them to perform during his show that night at the Bitter End in the Village. Atlantic A&R man Jerry Wexler happened to be in the audience that night and, though he had never before signed a folk singer to the label, he signed Prine.
Osmon recounts Prine's trip to Memphis to record what would become his debut album. Prine had never worked before with a band, but the album's session players, The Memphis Boys, added depth and new musical dimensions to Prine's songs, according to Osmon. For example, "Bobby Wood and organist Bobby Emmons took 'Angel from Montgomery' to church. If Prine's tale of a woman lonely in her longtime marriage was a hymn, then Wood's playing anchored the congregants just before Emmons' organ flourishes called them to exaltation. 'I was raised on gospel, so that was me trying to do that,' Wood said. Emmons also added the somber opening notes of 'Sam Stone,' recalling a funeral organ that foreshadowed the tragedy to come. Reggie Young's electric sitar on the song was an unorthodox flourish that had by now become his signature. He also played it on The Box Tops' 'Cry Like a Baby,' B.J. Thomas' 'Hooked on a Feeling,' and others."
Osmon concludes her book by pointing out how deeply embedded Chicago, family, and the working class are in Prine's songs: "since his 1971 self-titled debut galvanized fans, his profound, economical words have become a singular emblem of Middle America, its families and landscapes, trials and triumphs, progress and hypocrisy, polished into lyrical gold with striking poetic clarity. Prine was our chuckling uncle, our tender best friend, a beacon, a guide, a megaphone. He was celebrated by the likes of Bob Dylan, but he never forgot who he was. A son of Chicago. A working-class hero. A man of people and places overlooked and underestimated."
The best moments of John Prine are Osmon's detailed attention to the folk music scene in Chicago and the clubs that blossomed in the '60s and '70s in the city and the suburbs. Such scenes provide an intimate portrait of Prine's growth as an artist and his role in encouraging the community of his musical peers. Osmon's affectionate addition to the 33 1/3 series offers us a fresh look at Prine and the forces that shaped him and his songs, especially on his debut album.
---