THE READING ROOM: Music Books We're Thankful For
Posted On November 24, 2022
---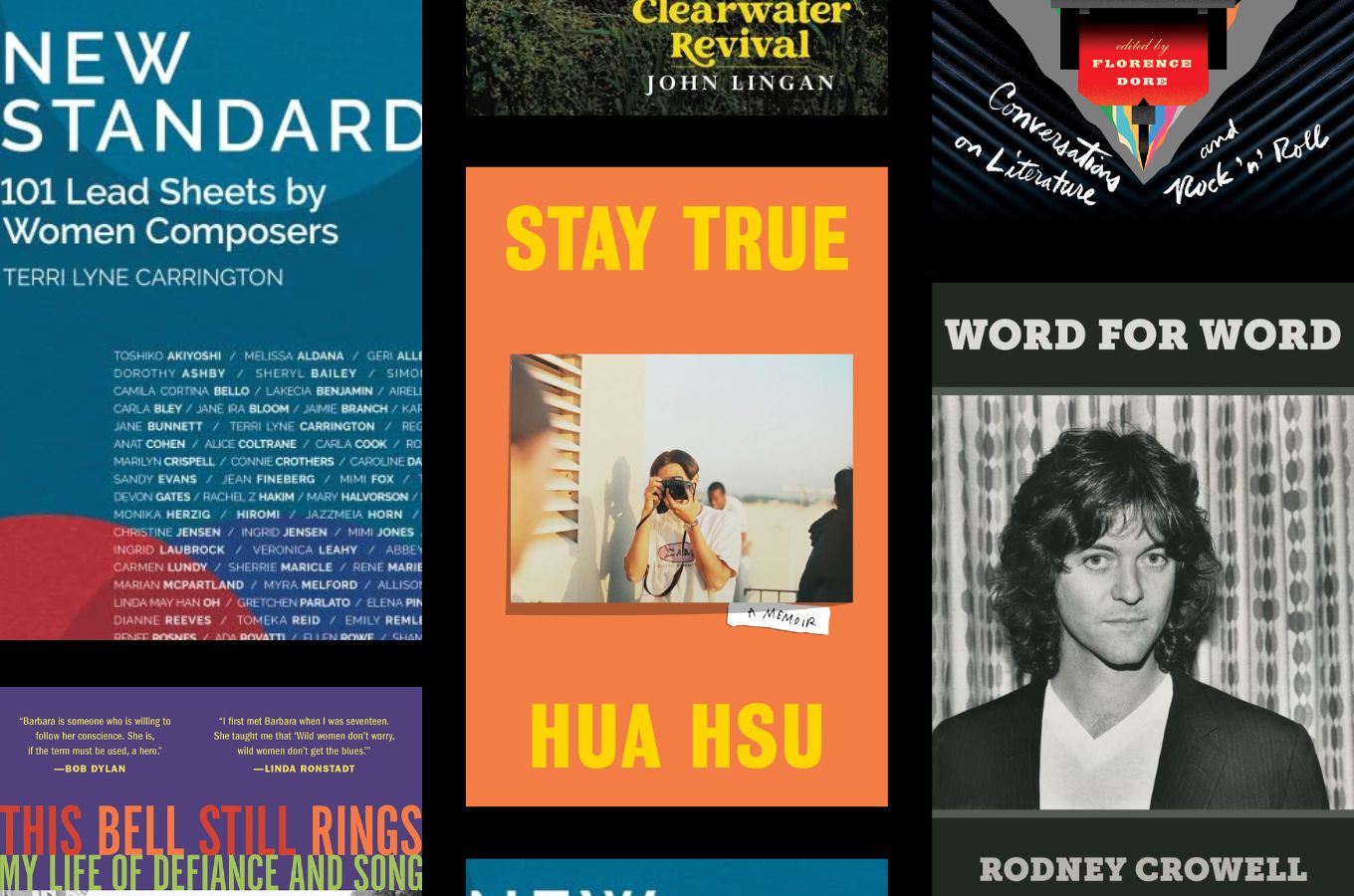 Amid the rush and bustle of the upcoming holidays, it's nice to take a few moments to be quiet and reflect on a few music books for which I'm grateful. In a few weeks, I'll do a year-end roundup of notable books, but for now here are a few titles published this year for which we can all be thankful.
Terri Lyne Carrington, New Standards: 101 Lead Sheets by Women Composers (Hal Leonard) — A remarkable and very welcome collection. Carrington, who is founder and artistic director of the Berklee Institute of Jazz and Gender Justice, collects a wide range of jazz compositions by women composers across one hundred years, from Lil Hardin Armstrong's 1922 work to compositions by recent graduates in 2021. Composers include Alice Coltrane, Cassandra Williams, esperanza spalding, Melissa Aldana, and Toshiko Akiyoshi, among others.
Rodney Crowell, Word for Word (BMG) — This lavishly illustrated book is a real treat for Crowell's fans, roots music fans, and songwriters wishing to watch a masterful songwriter at work. Crowell shares excerpts from his notebooks, personal photographs, and correspondence, along with lyrics to nearly 150 songs. It's perfect for perusing stretched out in front of a warm fire or reading while listening to Crowell's records, and it's a perfect holiday gift.
Barbara Dane, This Bell Still Rings: My Life of Defiance and Song (Heyday) — Singer, songwriter, and activist Dane's clarion memoir rings with her typical candor and passion. She tells her story from her days of singing at union halls and factory gates in Detroit in World War II to her days as a blues and jazz singer and her prominence as a folk musician participating in civil rights and peace demonstrations. As Dane writes of her life and work and the importance of music: "Looking back over all the years of raising my voice, raising my children, raising some eyebrows, and raising hell wherever possible, I have no regrets. You have only one life to live, so make it count. And remember to sing!"
Florence Dore, The Ink in the Grooves: Conversations on Literature and Rock 'n' Roll (Cornell) — Dore teaches literature at the University of North Carolina, but at night she straps on her guitar to play rock and roll. Her earlier book, Novel Sounds: Southern Fiction in the Age of Rock and Roll, explored the deep links between writers such as William Faulkner and Flannery O'Connor and the music of Bessie Smith and Lead Belly, among others. In her new book she brings together music writers, musicians, and novelists — including Lucinda Williams, Steve Earle, Amy Helm, Peter Guralnick, Colson Whitehead, and Jonathan Lethem — to explore, as she writes, "the vitality that writers draw from a three-minute blast of guitars and the poetic insights that musicians find in literary works from Shakespeare to Southern Gothic."
Hua Hsu, Stay True (Doubleday) — A deeply moving memoir by New Yorker staff writer Hsu that chronicles his coming-of-age through his deep love of music and literature. He and his friend Ken hang out in record shops in the Bay Area and take long drives along the California coast with Pet Sounds and Pavement blaring. When Ken is killed in a carjacking, Hsu turns to writing and music to help him move through his grief.
John Lingan, A Song for Everyone: The Story of Creedence Clearwater Revival (Hachette) — Creedence Clearwater Revival runs through the soundtrack of late '60s and early '70s life, and songs such as "Fortunate Son," "Who'll Stop the Rain," and "Proud Mary" resonate through popular culture in films and television shows. The band rose meteorically to fame in 1968 and burned through the US and Europe on sold-out tours. Just as soon as they had risen, though, they began to fall apart, in part at least because of personal grievances and disagreements about musical direction. Drawing on extensive interviews with surviving members of the band, as well as on unpublished memoirs from people who knew the group closely, Lingan's captivating cultural history is the definitive biography of CCR.
Don McLeese, Slippery Steps: Rolling and Tumbling Toward Sobriety (Ice Cube Press) — McLeese, a former No Depression senior editor and professor of journalism at the University of Iowa, tells a harrowing and riveting story of his journey toward sobriety. The book's opening sentence fixes on us like the Ancient Mariner's voice and compels us to keep reading: "The flashlight shot through my stupor like a laser beam to the skull, sparking the first faint glimmers of consciousness. Above me, a male voice, with calm authority, asked, 'Are you all right, sir?'" Yet, McLeese admits that he never intended to quit drinking. "My life worked well," he writes. "Until it didn't. Freedom from drinking has enriched my life in ways I'd never imagined." His book, he tells us, is "about how the worst day of my life turned out to be one of the best." Once you start this book, you won't put it down until the final words.
Paul Steinbeck, Sound Experiments: The Music of the AACM (Chicago) — Musician and Washington University, St. Louis music professor Steinbeck provides a stimulating history of the Association for the Advancement of Creative Musicians (AACM) founded on Chicago's South Side in 1965. He offers in-depth explorations of innovative performances by members of the organization, from Anthony Braxton's Composition 76 to Wadada Leo Smith's The Freedom Summers and Nicole Mitchell's Mandorla Awakening II: Emerging Worlds. He demonstrates the ways these pieces contributed singular approaches to notation, instrumentation, and musical form, creating fresh sounds to contemporary music.
---