THE READING ROOM: Lucinda Williams' Memoir Lets Us in on Her Secrets
---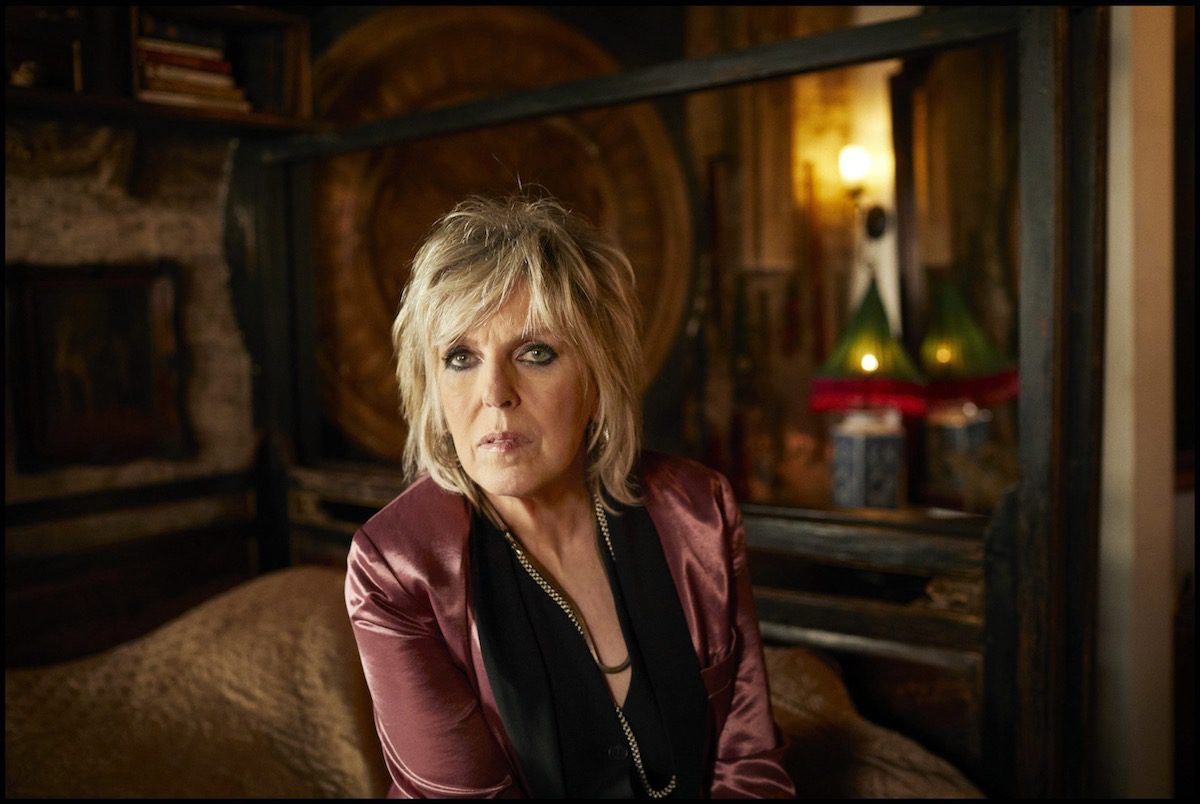 Lucinda Williams (photo by Danny Clinch)
Musicians' memoirs fall into one of two categories. One type descends into an inferno of drug-fueled episodes of sex with a new partner every night, with very little attention to the music that consumed the artist's life and work — Gregg Allman's My Cross to Bear is a prime example of this. The second type — of which Carole King's A Natural Woman and Linda Ronstadt's Simple Dreams are the best examples — focuses on the music and the ways it consumes the artist's life.
Lucinda Williams' soulful Don't Tell Anybody the Secrets I Told You: A Memoir (Crown) easily falls into this second type. While Williams never shies away from stories of the men she's slept with or the drugs and drink she's consumed, such tales form only a small portion of this raw and honest memoir in which she shares her deep passion for music and the roots of many of her songs.
Reading Williams' memoir provides glimpses of her growing up in a dysfunctional family and their nomadic way of life — by the time she was 18, the family had moved 12 times. Despite these circumstances, Williams recalls what matters most about her mother and father: "Yes, my family was dysfunctional, fucked up. But that's not what really matters to me. What matters is that I inherited my musical talent from my mother and my writing ability from my father." She further reflects: "I'm seventy years old and I'm still working through a lot of this. I've held back from talking about my childhood over the decades of my life — I've written songs about it instead — because I came to think of it as normal … I could tell that everybody was trying. And that seemed normal."
When she was 12, Williams got her first guitar, and she started taking lessons with a student, Alan Jokinen, who had studied with her father, poet Miller Williams. She learned a "rolling, fingerpicking style" that she still uses today. "My goal wasn't to become an expert guitar player but to learn how to play songs so I could sing them," she explains. Once she learned to play the guitar, she writes, she spent all her free time playing and learning the songs of Bob Dylan, Joan Baez, and others. As she writes, "from age twelve to seventy I've been doing pretty much the same thing, and I love it. It's the world I wanted to be in, a better world than the one I was in."
It's a world in which Williams has indeed firmly established herself as a songwriter who combines the grittiness of Southern gothic with the vulnerability of a folk troubadour who's seen the dark side of human existence. The journey hasn't been an easy one, she says. In the 1980s record company executives described her as "too country for rock and too rock for country." When she arrived in Nashville in 1992, she didn't have a "very good attitude," she writes. "I hated what had happened to country music. I had trouble with the idea of two, three, four, or even five or six people writing a song together. I didn't like the sound of the current country music at the time, the slick way it was being produced." When she appeared on the Crook & Chase TV show — a morning talk show devoted to country music — she wanted to sing "Pineola," a song about suicide, but the producers told her it wasn't "good morning music." Even though they allowed her to sing the song, it left a "bad taste" in her mouth, and she knew Nashville wasn't going to work for her.
Williams describes her struggles to make it as a woman artist in a man's world — a struggle that exists even today. After gaining the courage to go through a series of meetings on her music, "every single one of them passed on me. The big labels, the small labels, we tried them all and they all passed on me, most of them for the second time. I was tired of all the label guys — and they were all guys — sniffing around me and saying I was really good and unique and original and getting my hopes up and then backing away at the last minute. One of the label guys, Peter Philbin at Elektra, kept coming to my shows … called me in … and told me, 'I don't think your songs are really finished. They don't have proper bridges.' … After he left, I got out my Neil Young and Bob Dylan albums to remind myself that it was okay that my songs didn't have bridges."
A real highlight of Don't Tell Anybody the Secrets I Told You is Williams sharing the stories behind her songs. She wrote "Pineola" about the poet Frank Stanford, who died by suicide when the two women he was seeing at the same time confronted him. "Little Angel, Little Brother" is a love letter to her brother, Robert. "Those Three Days," from 2003's World Without Tears, was inspired by her encounters with Ryan Adams, and "Rarity," from 2008's Little Honey, was inspired by Suzanne Vega and her uniqueness.
Looking over her career, Williams reflects on the qualities that drive her: "It took me a long time to get where I am now. I'm a complete anomaly in the music world, a late bloomer. I believed in myself, and I worked very hard and I didn't give up … The fact that I was still working in taco joints and record stores well into my thirties didn't bother me at all … I think I was born with a certain kind of resilience, or you could call it rebellious attitude. 'Nobody's ever going to control me' was my mantra."
Williams also reflects on her songwriting: "Sometimes I wish I could be more intellectually savvy in my songwriting, the way Bob Dylan is. But all I can do is write about my feelings and the world's feelings, and I think maybe this is what makes my music unique. It borrows from southern gothic elements and blues and folk and rock … I believe that if you're seriously to look into things — and if you're truly able to see — you're able to be wise and soulful. You don't have to have a formal education to be good at whatever it is you do."
In matter-of-fact and clean-to-the-bone writing, Williams bares her heart and soul. Readers will discover more facets of Williams' writing and personality and get a glimpse of her relationship with her father, her penchant for the writings of Flannery O'Connor and Southern gothic writers, and her own poignant songwriting. Williams' new album, Stories from a Rock n Roll Heart, out June 30, will make a good companion to her memoir, and readers will want to listen to her earlier albums as they read through the book. Don't Tell Anybody the Secrets I Told You stands with the best of music memoirs.
Don't Tell Anybody the Secrets I Told You is out April 25 via Crown, a division of Penguin Random House
---