THE READING ROOM: 'Her Country' Celebrates Women Artists Winning Despite the Odds
---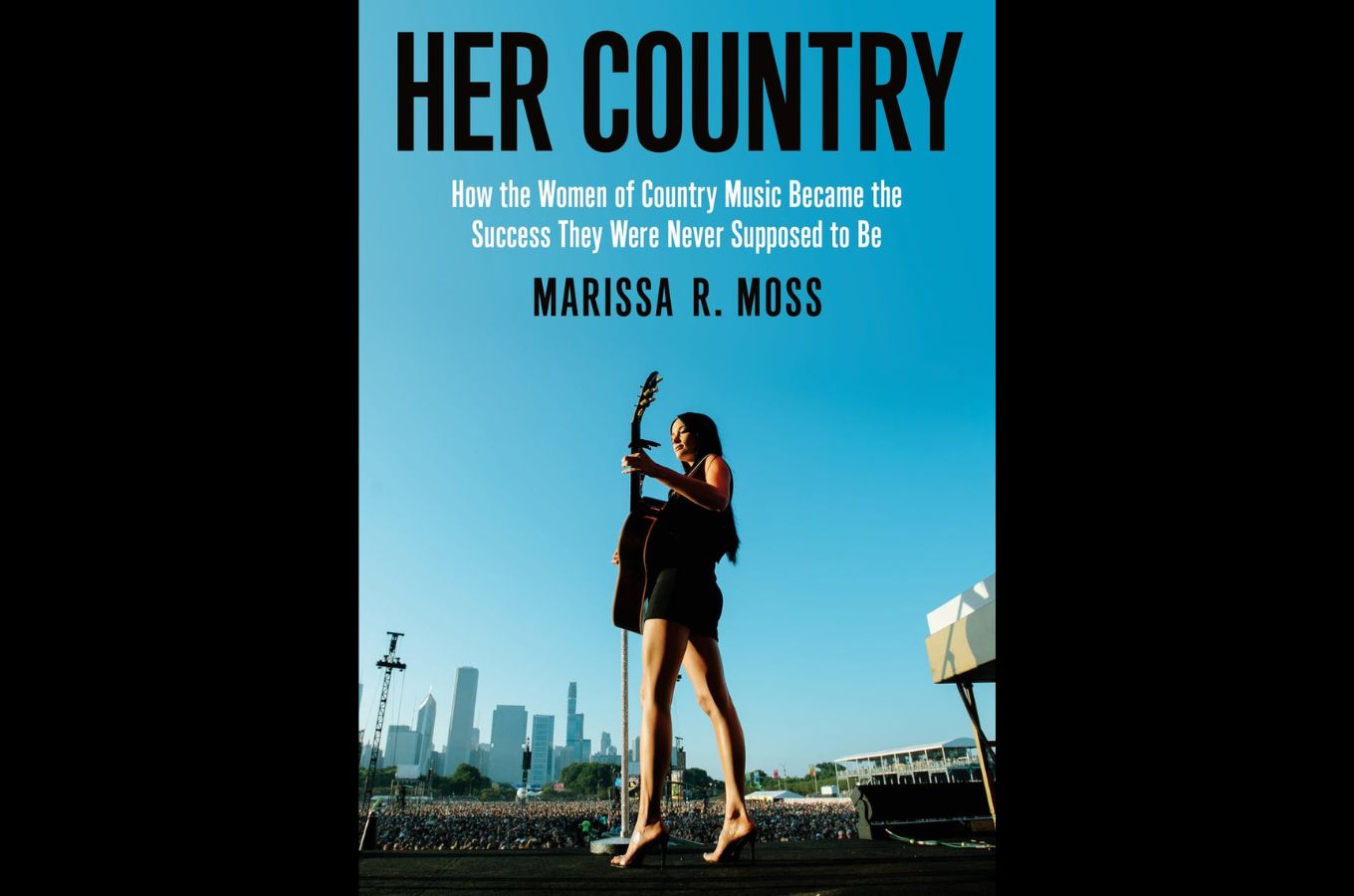 Fifteen years ago, Elizabeth Cook — never one to pull punches in her songs — told the harsh truth about the challenges women artists faced in country music in the songs on her album, Balls. In her anthemic title track, she proclaimed the courage it took to go up against a music industry (and a political and cultural system) stacked against women. She underscores her view of the country landscape littered with the women being excluded from radio airplay in "Times Are Tough in Rock and Roll." If Balls had been released seven years earlier, in 2000 and not 2007, Cook's songs might have been riding the charts alongside those from Shania Twain or Faith Hill, but by the time she released her debut album, the country music industry looked at her as another woman singer who talked too much and couldn't shut up and sing, and her album faded away.
How did the terrain for women in country music shift so dramatically in such a short time? How did we get from 1999, when the biggest hit on country radio was Faith Hill's "Breathe" and when Twain, the Chicks, Reba McEntire, and other women dominated country radio, to today, when songs by women are few and far between on country radio? In her brilliant new book, Her Country: How the Women of Country Music Became the Success They Were Never Supposed to Be (Holt), award-winning journalist Marissa R. Moss tackles that question and tells the stories of women artists — Kacey Musgraves, Maren Morris, Mickey Guyton, Miranda Lambert, Brandi Carlile, and Rissi Palmer, among others — who have "fought back against systems designed to keep them down and … reinvented the rules to find their place in an industry stacked against them."
A gifted storyteller and researcher, Moss lays the groundwork for the changes that occurred between the late '90s and 2021 that excluded women from country radio airplay, despite the fact that some of these artists' songs have garnered armfuls of Grammys and their careers are bigger than many of the male singers in country music. In the late 1990s, "huge conglomerates were allowed to swallow up local radio stations, putting decision-making in the hands of corporate offices, bloated-ego program directors, or even software that can discriminate at the push of a button: advocacy group WOMAN Nashville even unearthed training manuals that explicitly advised programmers to use specially engineered protections to prevent playing female artists back-to-back, which became industry standard," Moss writes.
If the choices for women artists began to narrow with the consolidation of radio stations in 1996, the events of Sept. 11, 2001, contributed to an even further contraction of opportunities. In the months following the terrorist attacks, the country music charts were dominated by pro-war songs and patriotic anthems by male country singers. "In the span of a few months, women went from being expected to record soaring ballads and huge crossover hits, like 'Born to Fly' by Sara Evans and 'When I Think About Angels' by Jamie O'Neal, to being excluded for not having lyrics that, for lack of a better example, encourage anyone to put a boot in a terrorist's ass — you can thank Toby Keith's 'Courtesy of the Red, White and Blue (The Angry American)' for that bit of poetry."
Between 1998 and 2003, though, the Chicks (then The Dixie Chicks) "grabbed hold of the country music machine and were steering it exactly in their image — freethinking, jagging left and right, curious about how they could take their version of the genre to any kind of fan who enjoyed a banjo here, a harmony there, some infectious pop construction there. They sounded like country, they sounded like church and bluegrass, they sounded like freedom to anyone tired of prepackaged, glossed-over versions of whatever femininity in the genre was actually supposed to look like." Yet, as Moss points out, "they were making everyone extremely uncomfortable … programmers had already been nervous about them. First, it was 'Goodbye Earl,' which they claimed glorified murder (as if country music never played a ballad before). Then there was the lawsuit against Sony, where the Chicks openly lobbied for a fair contract after claiming that their label had siphoned millions of dollars of dollars away through small print and red tape."
When the Chicks spoke out in March 2003 against President Bush and his declaration of war against Iraq, the reaction of fans was swift and the group found that country radio was unforgiving, having no tolerance for women artists who spoke their minds about political affairs. As Moss writes, "The same laws didn't seem to apply so stringently, at least with penalties, to the men of the genre. But what happened with the Chicks was almost a secret relief to some within Music Row — finally, there was something to point to when trying to explain to a new artist why it was vital for them to conform, to not speak up: 'You don't want to get Dixie Chicked!'" The internal warnings of executives to women artists, the consolidation of radio stations and the shrinking of playlists, and the shift in permissible subjects for songs, as well as Keith Hill's infamous 2015 remark that "if you want to make ratings in country radio, take females out," shifted the terrain for country women artists, changing — and impoverishing — country radio.
In the midst of country music's marginalization of women artists, though, Kacey Musgraves, Maren Morris, and Mickey Guyton — on whom Moss focuses her attention — have succeeded because they have followed their own rules. When Guyton, for example, realized she had "too many white men making decisions for me," she became "instrumental in underscoring" the relationship "between Black and queer artists in country radio." Guyton also reflects that "the only way I can make it in this industry is by holding the door open for other Black women, for other women and people of color and marginalized people … I just want to open doors, burn down that good old boys' town, and make it more of an inclusive genre, because so many people would love it if they were given the chance to be able to sing it."
Morris, Moss observes, "had managed to do the unthinkable — be a woman who was successful at country radio, without limiting herself creatively or applying country's bejeweled muzzle to smile and nod and never say any opinion. … She could have leaned in hard to be what Music Row demanded, playing it safe on the edge of the mainstream with just enough space to make it interesting … She could have. She didn't."
Musgraves "set the ground rules from the start," Moss says, when she signed with the Lost Highway label in 2012. According to her then-publicist Fount Lynch, "she couldn't be shaped or molded or manufactured in any way. She would never fit the mold, and I don't know anyone had the balls to challenge it. Kacey is a brilliant artist. Why in the hell would we ever want to stop that? Why would we ever want to get in the way of Kacey Musgraves?" And Musgraves has always been true to her fans and done it her way. She once told Moss that "she'd rather have a few thousand fans for being true to herself than a few million for being who she wasn't."
Inspiring and riveting, Her Country overflows with insight and detail about the history of women in country music over the last 25 years. Moss' vibrant writing invites readers into the ongoing conversation about this topic. This luminous book richly repays many readings.
---