THE READING ROOM: Fall Music Books to Add to Your Pile
---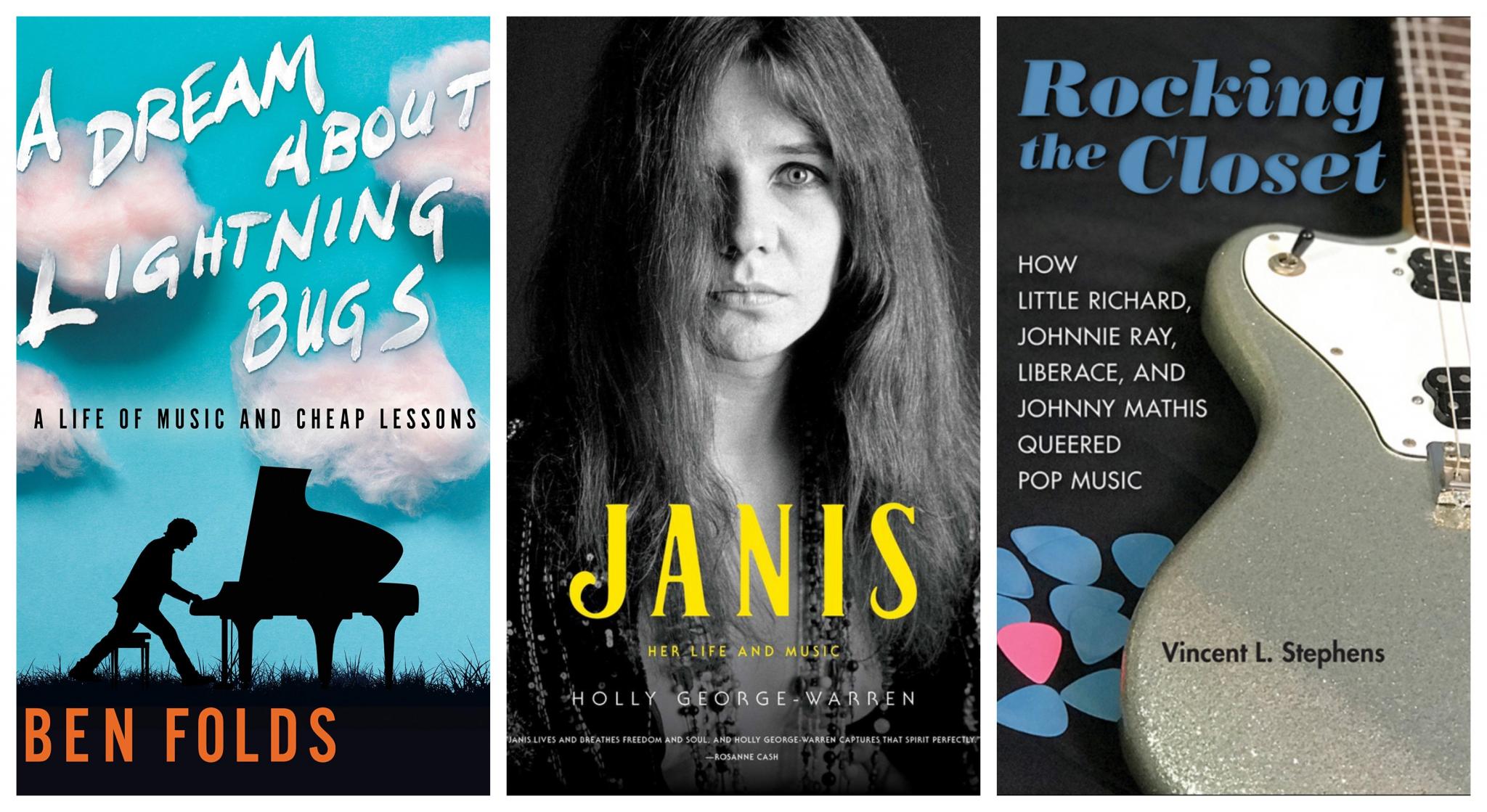 Although many of us might be stacking up piles of summer books—those novels we didn't get to earlier this year, the thick biographies of cultural figures—to breeze through over the next few months, publishers are already tantalizing us with their big books for the fall. There are plenty of great music books to add to you piles come July (which is when most publishers' fall seasons starts, since publishers long ago divided the year into spring and fall catalogs) and carrying through right up to the holidays. Here are a few forthcoming titles to put on your lists of to-be-read books.
Ben Folds, A Dream about Lightning Bugs: A Life of Music and Cheap Lessons (Ballantine, July): In this witty memoir, Folds looks back at his life so far. He opens up about finding his voice as a musician, becoming a rock antihero, and hauling a baby grand on and off stage for every performance. Folds reflects on music in the digital age, the absurdity of life on the road, and the challenges of sustaining a multidecade, multifaceted career in the music business. He digs deep into the experiences that have shaped him, sharing the lessons he's learned about art and life.
Various artists, The Bakersfield Sound: 1940-1974 (Bear Family, TBA): Sprawling over 10 CDs and 300 tracks, this set explores in-depth the ways that the twin pillars of the "Bakersfield Sound" — Buck Owens and Merle Haggard — were shaped by the Central California city's larger musical community, as well as their influences. The Bakersfield Sound: 1940-1974 comes with a full-color, illustrated 220-page book that includes a foreword by Chris Shiflett and an in-depth analysis by music historian Scott B. Bomar, with profiles on each artist and track-by-track commentary.
Peter La Chapelle, I'd Fight the World: A Political History of Old-Time, Hillbilly, and Country Music (Chicago, Sept.): La Chapelle traces bonds between country music and politics from the rise of amateur fiddler-politicians — such as populist firebrand Tom Watson and Tennessee governors Bob and Alf Taylor — to figures such as Pappy O'Daniel, Roy Acuff, George C. Wallace, Al Gore Sr., and Richard Nixon, who all played or harnessed music for electoral success. La Chapelle demonstrates that country music campaigning has not only helped elect more celebrities than any other sector of entertainment but also has profoundly influenced the American political landscape itself.
Dylan Jones, The Wichita Lineman: Searching in the Sun for the World's Greatest Unfinished Song (Faber, Sept.): "Wichita Lineman" is the first existential country song, a heartbreaking torch ballad still celebrated for its mercurial genius 50 years on, according to music writer Jones. Part biography and part musical archaeology, Jones' book opens a window on America in the late 20th century through the prism of a song that many artists have covered since its release in 1968.
Aaron Cohen, Move on Up: Chicago Soul Music and Black Cultural Power (Chicago, Sept.): For Chicagoans, soul music in its heyday from the 1960s to the 1980s was more than just a series of hits: It was a marker and a source of black empowerment. In Move on Up, music writer Aaron Cohen tells the remarkable story of the explosion of soul music in Chicago.
Ted Gioia, Music: A New History (Basic Books, Oct.): In this wide-ranging book, music historian Gioia reclaims the story of music for the riffraff, insurgents, and provocateurs. He tells a 4,000-year history of music as a global source of power, change, and upheaval, and he shows how social outcasts have repeatedly become trailblazers of musical expression.
Holly George-Warren, Janis: Her Life and Music (Simon & Schuster, Oct.): Maybe the most anticipated book of the fall, George-Warren's brilliant biography, based on unprecedented access to Joplin's family, friends, bandmates, and long-lost interviews, shows a woman in command, one who never compromised on what she wanted to express and how she wanted to express it.
Thomas Goldsmith, Earl Scruggs and Foggy Mountain Breakdown: The Making of an American Classic (Illinois, Oct.): Goldsmith explores the origins and influence of the classic bluegrass tune against the backdrop of Scruggs' career. Includes interviews with Scruggs, his wife, Louise, Béla Fleck, Curly Seckler, Mac Wiseman, and Jerry Douglas. Goldsmith illustrates the ways that "Foggy Mountain Breakdown" helped bring back the banjo from obscurity and distinguished the low-key Scruggs as a principal figure in American music.
Vincent L. Stephens, Rocking the Closet: How Little Richard, Johnnie Ray, Liberace, and Johnny Mathis Queered Pop Music (Illinois, Oct.): Stephens challenges the notions of the closet by examining the works and lives of the four musicians in the subtitle. He illustrates the ways that these four pop artists used performance and queering techniques to appeal to audiences hungry for novelty and exoticism.
David Whiteis, Blues Legacy: Tradition and Innovation in Chicago (Ilinois, Nov.): Blues historian and writer Whiteis explores the ways that current and upcoming Chicago blues generations carry on the legacy of Chicago blues musicians whose innovation and emotional honesty had a global influence on the music. Beginning with James Cotton and Eddie Shaw, he proceeds through an all-star cast of elders, including Otis Rush and Buddy Guy to today's musicians who've inherited these traditions.
Ed Ward, The History of Rock & Roll, Volume 2 (Flatiron, Nov.): Rock historian Ward's follow-up to his earlier acclaimed first volume of rock history, volume two chronicles the years 1964 through the mid-1970s, one of the most exciting eras of rock history, which saw a massive outpouring of popular and cutting-edge music. He shares the behind-the-scenes stories of the megastars, the trailblazers, DJs, record executives, concert promoters, and producers who were at the forefront of this incredible period in music history. From Bob Dylan to Bill Graham, Jimi Hendrix, Janis Joplin, The Byrds, Aretha Franklin, The Rolling Stones, and more, everyone's favorite musicians of the era make an appearance in this sweeping history that reveals how the different players, sounds, and trends came together to create the music we all know and love today.
---