THE READING ROOM: Drummer Howard Grimes Weaves Memphis Through His Memoir
---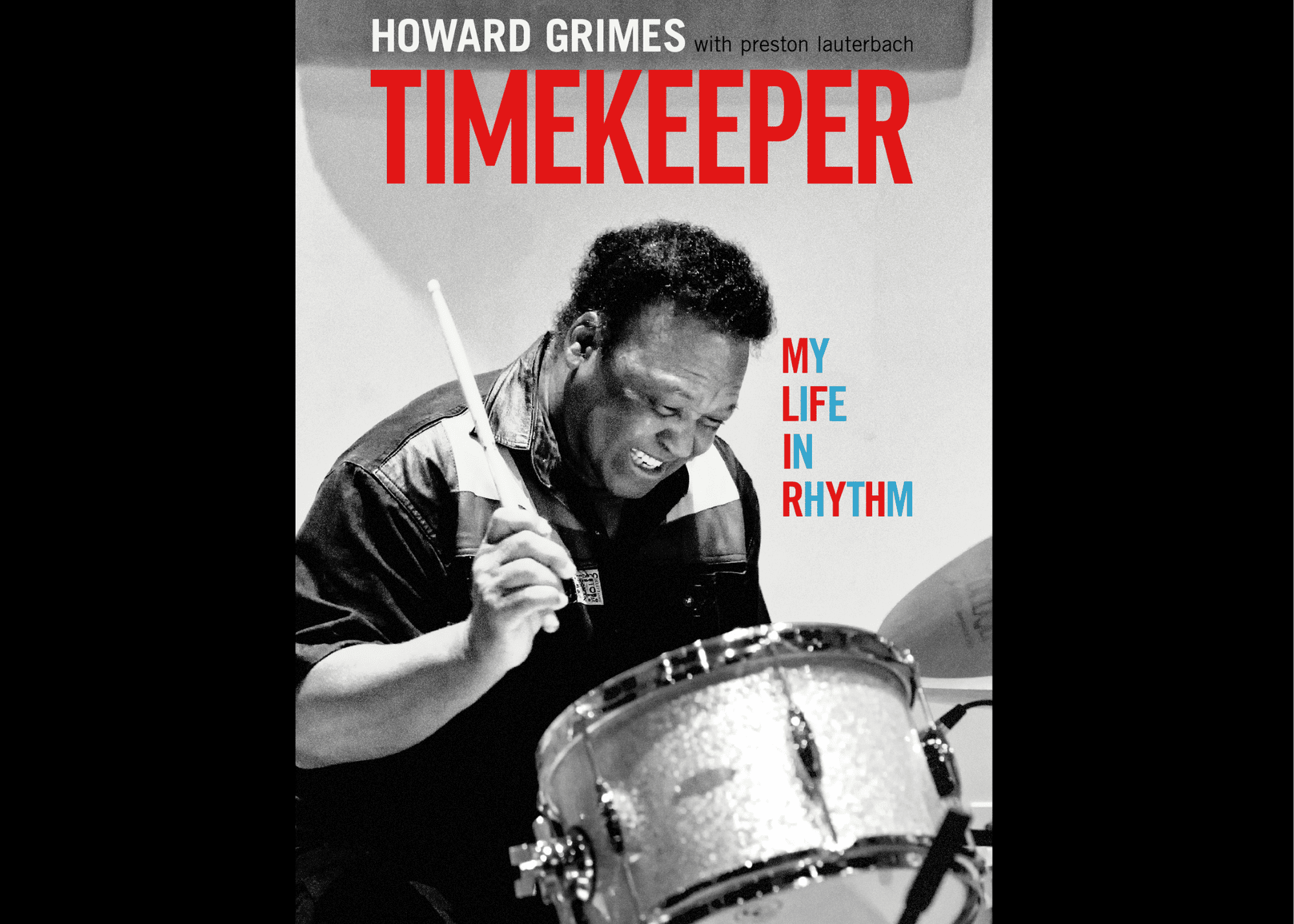 Keeping up a steady beat, the great Memphis drummer Howard Grimes drives hypnotic storytelling in his new memoir, Howard Grimes, Timekeeper: My Life in Rhythm (Devault Graves Books), written with the superb Memphis journalist and music historian Preston Lauterbach.
The book takes us through episodes from Grimes' years at Stax Records and Hi Records in Memphis, growing up in Memphis and how the music scene has changed since then, and memories of the many musicians for whom he's been the timekeeper.
In high school, Grimes peered through the window of the band room one day and watched and listened to the school's big band, the Rhythm Bombers, play, dreaming one day he'd wear the band's uniform and join them on drums. The school's music teacher had the same vision once he heard Grimes drumming out a rhythm on the snare: "I didn't discover Howard, Howard discovered me. He came into the band. We had a little old boy on drums. He couldn't do shit. Howard was beating a fifteen-inch snare drum like they used in 1776. But I knew one thing, he's a human metronome. Whenever he start the beat, that's where it's gonna end up."
Grimes showcases the art of timekeeping in the backbeat he lays down with Rufus Thomas, Carla Thomas, William Bell, Al Green, and Ann Peebles, among countless others. In a humorous recollection, he pulls Allen Toussaint back into line during a session recording Cyndi Lauper's album Memphis Blues. "I had to tell Allen Toussaint not to run. He got on that piano and lost all track of the beat. I stopped the song and laid it down. I said, 'I'm the timekeeper. I'm here to keep y'all in place.'" Grimes admits that it felt strange to stop Toussaint, but, as he writes, "I had to. He ran off with the time. That's my department, my responsibility. I can't let anybody take the time."
Grimes recalls the magic that happened when Willie Mitchell asked Grimes to join him in Mitchell's sessions at Hi Records. "He [Mitchell] started nice and slow. I began feeling that stuff. That sound got inside me and moved all through me. I thought, 'This is where I'm supposed to be.'" Grimes goes on to write: "Willie accepted me into the band right away, and we recorded right away and went out on the road soon after. I couldn't have been happier." Mitchell also taught Grimes a valuable early lesson: "We learned how to stay out of each other's way, and how to groove. Willie taught me about being in the pocket, taught me about the rocking chair —he'd tell me 'put it in the rocking chair.'"
This isn't just Grimes' story, though; it's the story of the city that made him, and the music that made that city. "My beat is the backbone of the Memphis sound. The rhythm of this city runs through my heart. This book isn't just my story. I'm connected to the music in this city. The old masters I played with, that I came up under, they told me to listen to them, to tell what's happened and remember. They told me to tell the truth for them after they've gone. They've almost all gone."
Yet Memphis, in Grimes' eyes, isn't the place it was when he was growing up. "I saw music bring this city to life. Wasn't anything happening in Memphis before. Not much has happened since it died down. Hip-hop ain't it. The young people take our hard work and make money off of it, but can't play like we did. …The message is violence and anger. It ain't no love and happiness. People still come to the city from all over the world to see what was." As much as he bemoans the tremendous change he sees happening in his city, he has a dream: "I want to be a big help to the city. I saw how it developed. …The city's music has to be reborn. The Memphis sound will return. When it does, my time will come again."
Grimes' entertaining memoir travels to the beat of his own drum, recreating scenes behind the making of memorable songs and the lives and personalities of the musicians who made them. Cueing up Al Green's "Love and Happiness" to provide the background track may be one of the best ways to read Howard Grimes, Timekeeper: My Life in Rhythm, for Grimes' inspiring words and Green's exuberant song leave us with smiles on our faces and an unfaltering rhythm in our step.
---