THE READING ROOM: An Excerpt from Chris Hillman's Memoir Recalling Life and All the 'Time Between'
Posted On November 12, 2020
---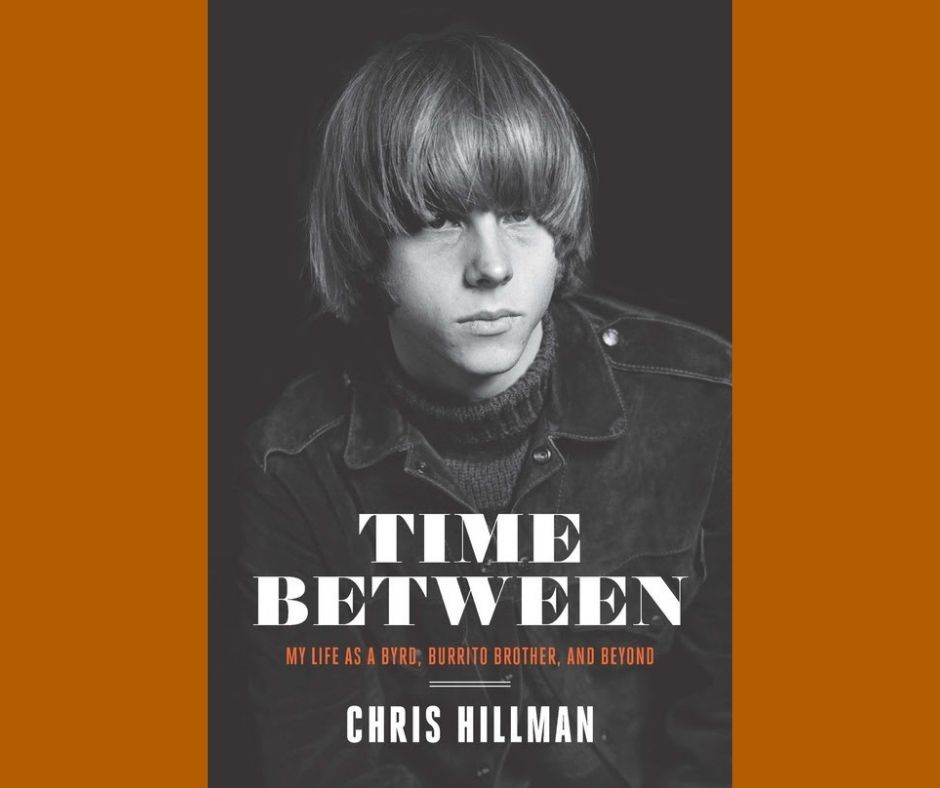 Reading Chris Hillman's new memoir, Time Between: My Life as a Byrd, Burrito Brother, and Beyond (BMG), is like sitting down with on old friend to listen to his stories of his days on the road and in the studio.
Since his childhood, Hillman's passion for music has inspired him to play a variety of instruments and to explore a diversity of musical styles. A founding member of The Byrds and The Flying Burrito Brothers, Hillman stands at the fount of what came to be called country rock. After he left the Burritos, he became a member of Stephen Stills' Manassas — which fused folk, rock, and Afro-Cuban music — and then went on to play in several bands that demonstrated his versatility and knack for musical innovation: Souther-Hillman-Furay; McGuinn, Clark, Hillman (with Roger McGuinn and Gene Clark); Rice, Rice, Hillman & Pedersen (with Tony Rice, Larry Rice, and Herb Pedersen). In the '80s he, Pedersen, and John Jorgenson launched The Desert Rose Band, a successful mainstream country band.
In Time Between, which comes out next Tuesday, Hillman regales us with stories about his childhood in Southern California, the ups and downs of his personal life and his days with these bands, and his never-quenched passion for making music.
This week, we feature an excerpt from Time Between, from Chapter 14, on The Desert Rose Band. Next week's The Reading Room will have an interview with Hillman about writing the book and his life in music.
Desert Rose
My acoustic quartets always remained one step above any of my prior pursuits, in terms of the quality of musicianship and the integrity of the people I worked with. By the mid-1980s, my long apprenticeship had come to an end as I began to finally feel comfortable in a leadership role. Sometimes, however, being a leader means having to make some hard decisions. One morning I got a call from Howard Rose, who was Dan Fogelberg's agent. Dan had recently recorded a bluegrass album that Herb Pedersen and I had worked on called High Country Snows. Dan was planning a long tour to promote the record and he wanted me to put together a quartet to back him up. An acoustic quartet? That had become my specialty. The only caveat was that Dan wanted Herb to be part of the group. Made sense to me since Herb is such a fine singer and musician. Fogelberg was a huge Manassas fan and loved Al's [steel player and guitarist Al Perkins] work in that group, but he needed Herb's voice and banjo and didn't want to have a five-piece group. I made sure John could get time off to go with us and secured Bill [Bryson, who played bass with Hillman in the bluegrass gospel quartet Ever Call Ready] and Herb for the tour, but I had to tell my dear friend Al that he wouldn't be a part of this group. Breaking the news to him was one of the more difficult undertakings I've ever faced. I knew Al was very upset. Who wouldn't be in his situation? Ultimately, however, we were all able to move on.
The tour with Fogelberg ran from June to July of 1985 and was very successful, especially for me, Bill, Herb, and John. A special bond was forged between the four of us on that tour that ended up taking me far beyond anything I could have imagined at that point in my life. When we first arrived back in Los Angeles, I naturally drifted into what I'd been doing before the Fogelberg tour — more acoustic shows, and even some trips back to Nashville for television appearances on Nashville Now and This Week in Country Music. John, however, was convinced we should start a country band with Herb and Bill, but also bring in Jay Dee Maness on steel guitar and Steve Duncan, a multitalented singer and drummer. I knew Jay Dee from working with him on The Byrds' Sweetheart album. Plus, Gram [Parsons] and I would go sit in with him at all-night jam sessions at the Aces Club in the City of Industry back in the early Burrito days. I didn't know Steve yet and wasn't in a drummer mood, so I fought the idea. The last thing I wanted to do at that moment was to put together another electric band. But John was persistent, almost to the point of becoming annoying. He was young, ambitious, and, ultimately, persuasive. John began to win me over.
The six of us finally got together and ran through some tunes. I had a few new songs, and we revisited stuff from the Byrds and Flying Burrito Brothers catalogs, as well as some Buck Owens and Merle Haggard songs. I already knew the other guys were good, but Steve was also a fine musician. I hadn't played with a good drummer since Greg Thomas in MCH and, before that, with Jim Gordon in SHF. By the end of the rehearsal, it was clear we had enough material to book a gig, and we set up a trial show at the annual LA Street Scene Festival. It wasn't necessarily earth-shattering, but singing with Herb created a perfect blend between our two voices. Bill and John added some great three- and four-part harmonies too.
I was still a bit skeptical about the electric band idea — too many bad memories from the various 1970s groups I was involved with. But John Jorgenson, ever vigilant, was on a mission, and he found some other places to play around town. In early 1986, we played the Palomino Club a few times, which was the old Flying Burrito Brothers stomping grounds. By the second time we played the room, people began coming in to see us. Word of mouth is a powerful tool, and the word about the new band was good. My attorney, who had negotiated most of my recording contracts in the 1970s, mentioned us to another of his clients, Jim Halsey. Jim was a well-respected country music manager, agent, and promoter who handled Roy Clark and The Oak Ridge Boys — two extremely successful country music acts at the time.
On our second or third night at the Palomino, Jim came down with William Golden from The Oak Ridge Boys. They were impressed, and even though we were still developing our sound, they both saw our potential. Jim offered us a two-week run, opening for The Oak Ridge Boys at the MGM Grand in Las Vegas in May. Coincidentally, the Oaks had recently recorded one of my songs, "Step On Out," that I had written with Peter Knobler, former editor of Crawdaddy magazine, and they made it the title track of their album. Things were happening in a way I had never anticipated.
When we accepted the generous offer to play the MGM, we didn't even have a name yet. We were still calling it The Chris Hillman Band, and I remember gazing up at the MGM billboard with "The Oak Ridge Boys" in large letters that glimmered in the lights. Underneath, in small letters, it read "Chris Hillman." Their fans probably thought that was the comic who opened the show. It was during that run in Vegas that the band started to hone a unique sound. For me, those dates were the deciding factor. Let's do this!
Back in Los Angeles, we caught the attention Dick Whitehouse, a notable music and entertainment lawyer. Dick was a huge music fan and was always out on the town, checking out new acts. At the time, he was the head of legal affairs for Curb Records, which was located in Burbank. Dick started coming in to see us on a regular basis and, on one visit, brought along Paul Worley, a Nashville producer. Paul was recording The Nitty Gritty Dirt Band, who were having a great run of success on the Billboard charts after crossing over to country music. Dick saw what Jim Halsey and William Golden had seen — a band with great potential. I was absolutely ready to give it a go, but I was still watching everything with a wary eye. I'd been down the band road many times, so I was determined to walk slowly and carefully.
Dick offered us a recording contract, and Paul Worley agreed to produce our first record. We would be signed to Curb Records, which, at the time, had distribution deals with other labels, such as MCA Curb or RCA Curb. It looked like we would be on MCA Curb. I certainly didn't go out looking for another record deal, and technically, I was still signed to Sugar Hill. When I told Barry Poss about the offer, however, he was happy for me and wished me luck. It was like the old saying, "When you're least seeking the gold, it will fall at your feet." I doubted if there would ever be any gold falling at my feet, but we made the deal and prepared to record in Los Angeles with Paul and his assistant, Ed Seay. And we came up with a new name, The Desert Rose Band, after a song I had written with my friend Bill Wildes.
I had known Bill Wildes since 1968, when I lived in Topanga Canyon and had gotten back into owning and riding horses. I first met him at the Topanga Stables, where he boarded his horse Sonny. Bill, a cutting horse trainer and an incredible all-around horseman, became a very close friend of mine. We shared many adventures together, and on one of my trips to New Mexico to visit my property, I took him with me. We were up in the Red River Valley, near Questa. My friend George Wiseheart, who sold me my land in Amalia, got me, Bill, and a couple of locals into a poker game. It started to turn into a scene from an old Western movie. As the night wore on, one of the guys at the poker table, who had a little too much to drink, accused Bill of cheating. Bill Wildes was not a man to trifle with, and upon hearing those words, he jumped up, threw his chair back, and said, "Are you calling me a liar?" The other man quickly backed down. George managed to calm everyone down, and we finished the game before Bill and I called it a night. In those days, I had no clue that Bill wrote, but I later discovered he was a wonderful lyricist with a good musical sense about him. We would go on to write many successful songs together.
We started the Desert Rose Band record in October of 1986 with sessions at Amigo Studios and Sunset Sound in Hollywood. With Paul and Ed producing and engineering, we made a good record that included three songs I'd written with Bill Wildes, two with Steve Hill, and some interesting covers. When it came time to do the cover artwork I thought of using Jay Dusard to photograph us. Jay was a fantastic photographer. I met him through Ian Tyson, who had Jay photograph many of his album covers. He captured the true essence of The Desert Rose Band, from the cover portrait to the back shot of us in front of the Palomino Club in North Hollywood.
Our first album for MCA Curb, The Desert Rose Band, was released in June of 1987. Jim Halsey became our manager and his son, Sherman Halsey — along with Bob Burwell — handled all our logistics. For the first single, the label released "Ashes of Love," which had been written and recorded by Johnnie Wright and Jack Anglin back in the early 1950s. As usual, I didn't pay much attention to what the record company selected, having gone through this before when A&M would release singles from The Flying Burrito Brothers to no great acclaim. At that point, the last chart single I was involved with was Roger McGuinn's "Don't You Write Her Off," from the first MCH album in 1979, so I didn't have big expectations for chart success. To my surprise, "Ashes of Love" actually made a good start, charting in the twenties on the Billboard country chart. I loved the band and was happy to get any radio play. The Desert Rose Band members were great musicians and singers. What a pleasure it was to work in a band that shared such a professional attitude.
As people started to pay attention, I suggested to the band that we might want to investigate getting rhinestone suits. Everybody jumped on the idea, especially Jay Dee Maness, a true county music veteran who'd once played in Buck Owens's legendary backup band The Buckaroos. Manuel Cuevas had set up his own shop after leaving Nudie's, and new stars like Dwight Yoakam were wearing his designs and bringing the ash of country music's golden era back into the mainstream. We all ordered our suits, but kept them within the confines of good taste. This wasn't the "outlaw Flying Burrito Brothers"; this was The Desert Rose Band — a real country band.
After getting through the door of country radio with "Ashes of Love," MCA Curb released the second single, "Love Reunited." It was the song Steve Hill and I had written the first day we met, and it began slowly but steadily climbing up the charts. Dick Whitehouse, still our greatest fan, would call every week with the numbers. Eventually, "Love Reunited" reached the Top 10 on the Billboard country chart. I couldn't believe it. This wasn't supposed to happen. I was so accustomed to commercial failure for years, and now a song I wrote and sang was a big hit? I had learned to become a good band leader, was playing with great musicians, was getting the attention of country fans, and was really believing in myself again. I would have been happy if it all stopped there, but it kept getting better. We ended up having two more hit singles off the first album: "One Step Forward," another song I'd written with Bill Wildes, reached number one in Cashbox magazine and number two in Billboard, also becoming a big line dancing hit. Soon after, "He's Back and I'm Blue," written by a friend of mine from Colorado named Michael Woody, climbed to the top spot in on the Billboard country singles chart.
The Desert Rose Band was even invited to appear on the Grand Ole Opry. To be able to return after The Byrds' infamous appearance on the show in 1968 was a moment of personal redemption for me. All the artists who were there that particular night were very gracious and encouraging. One of my heroes, Bill Anderson, was the host for the evening's performance and asked me what we were considering playing. I thought "Love Reunited" would be appropriate since it had recently been a Top 10 single. Bill took me aside and kindly suggested we do "Ashes of Love" instead. "Chris," he told me, "most of the folks in the audience know this song so well, and it might be a better one to open the crowd up to you." I had huge respect for Bill, and I took his advice. I was so happy I did because the people went crazy when they heard us play. I think Bill got a kick out of our stage wear too. "I love your suits," he told me. I'm going to get mine out of the closet and start wearing them again." And he did!
With the chart success from the first album, the Halsey Agency was landing us some impressive bookings, including opening shows for Reba McEntire, The Judds, The Oak Ridge Boys, and Merle Haggard. We were also getting some good TV slots, including bookings on The Arsenio Hall Show, The Tonight Show with Jay Leno, Dolly Parton's network program, and Pat Sajak's short-lived nighttime show. We were even on Dick Clark's American Bandstand, a show I had done many times with The Byrds. The Desert Rose Band had the ability to play the mainstream shows and still appear on country programs like Hee Haw and Nashville Now. 
With the success of The Desert Rose Band came recognition. The album was nominated for a Grammy award; I was honored as a songwriter by BMI, my longtime performance rights organization, for the airplay success of "Love Reunited" and "One Step Forward"; we were nominated for the Academy of Country Music's Top Vocal Group award; and we won the Band of the Year honor. In Nashville, the Country Music Association nominated us for the Horizon Award and as the Vocal Group of the Year. I didn't get into the music business to win awards; it never crossed my mind. When I began my career in 1963, the Grammys were a new show, and it would be several years before they were aired live on television. The Byrds were nominated for Best New Artist in 1965, but we lost to Tom Jones. Though it was never about awards for me, I must admit I didn't mind the recognition. It had been a long road to The Desert Rose Band, and I was riding high. I was about to get a crash course, however, in good old-fashioned music business politics.
---