THE READING ROOM: A New Collection of Columns by Greil Marcus
---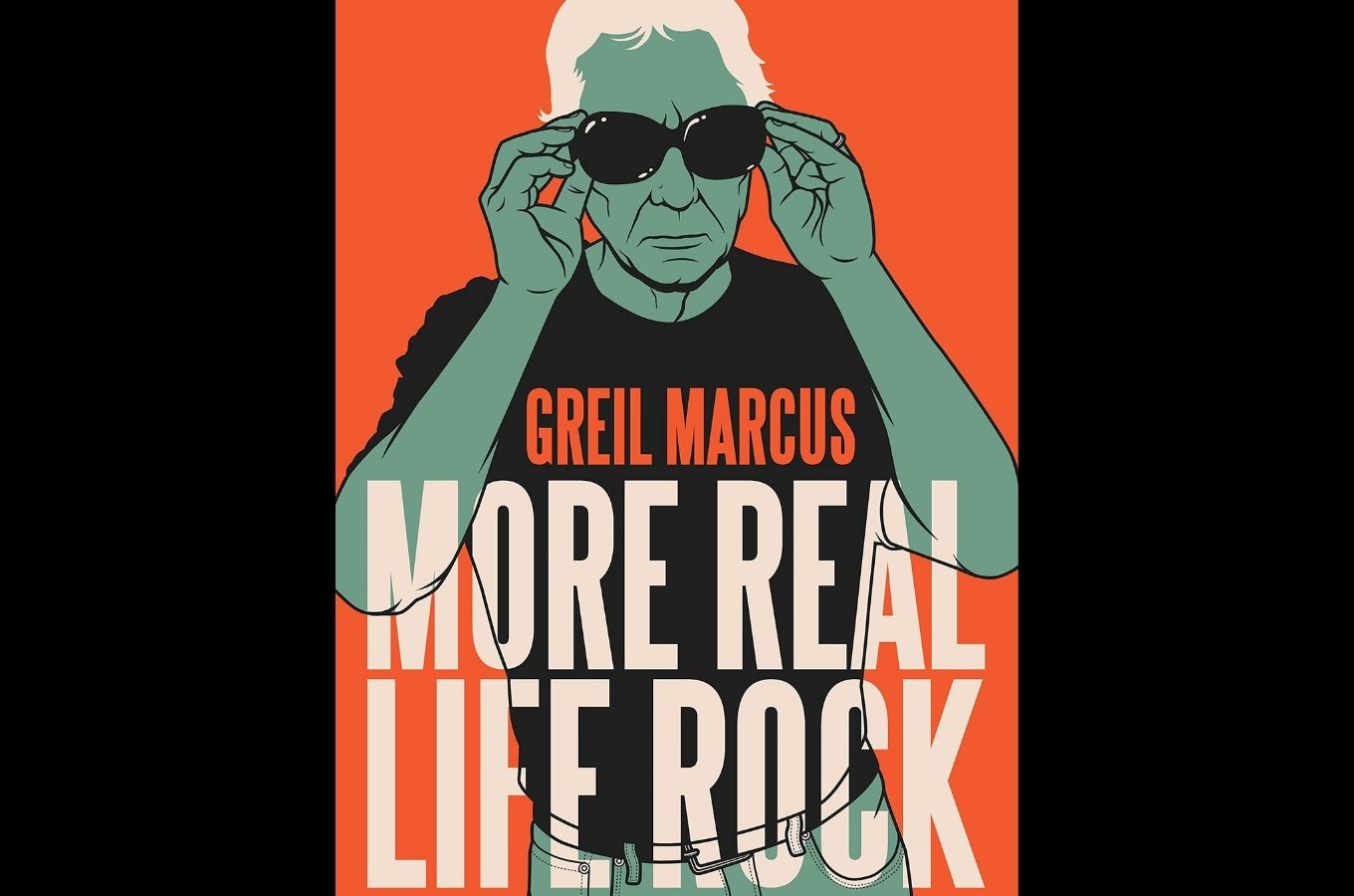 Since 1986, Greil Marcus has written a column called "Real Life Rock Top 10." Each month, he explains his "top ten" takes on music, film, TV, art, politics, fiction, and nonfiction, and with his scattershot firing from the hip, he nails his targets with sometimes curmudgeonly asides, sometimes glacial winks and nods, and sometimes glowing praise. As with any good writer who's between projects or having a dry spell, Marcus and the enterprising editors at Yale University Press published a collection of his columns from 1968 through 2014 in a volume titled Real Life Rock (2015). Each page was printed in double columns and small print so that the book has the appearance of a reference book — or maybe the classifieds in the Village Voice, which is where his column first appeared in 1986.
Now, Yale has collected another seven years' worth of Marcus' columns in a volume titled — guess what? — More Real Life Rock: The Wilderness Years, 2014–2021. In those years, Marcus indeed wandered in the wilderness with his column, moving roughly every two years from one outlet to another. As Marcus writes: "the column went into a wilderness, arriving in one clearing only to have to pack up and move on. It jumped from one place to another every year without a break (I missed only two or three columns during that time, and then only because of mini-strikes over not being paid), from the Barnes & Noble Review (until they said they were changing format) to Pitchfork (as a Condé Nast publication they required a click count I didn't make) to the Village Voice again (in print until it went online only, until that too was soon shut down and the paper disappeared) to rollingstone.com (I'd started writing at Rolling Stone, in 1968 — they didn't say why they killed the column in 2019 and I didn't ask) to the Los Angeles Review of Books, which I will say nothing good about because I'm superstitious."
The 73 columns collected here range far and wide, from the play Hamilton to Trump to Bob Dylan to art exhibits, and for readers who follow Marcus and want all his columns in one place, this and the previous volume showcase his wit and his candor and his way with a cultural carving knife.
In one very telling entry, he compares the ways that academics at scholarly conferences and Donald Trump speak in similar words and phrases, and not to the academics' favor. "We're used to Trump punctuating his pronouncements with a quick 'OK?' as if to simultaneously block any disagreement and reassure himself that he's right. There's a match in the habit of self-consciously hip younger academics presenting papers at a conference, reflexively hitting 'right' at the end of declarative sentences, but in a manner that makes you hear a comma, not a question mark: a way of certifying the assumption that everyone present shares a certain set of opinions and terms of discourse. Right — it's not an aggressive pronouncement but a congratulation of both the speaker and the audience for the truth that they already agree and that no fundamental preconceptions will be challenged. In other words, they and Trump are speaking the same language."
In a December 2014 entry on a Bob Dylan show at New York City's Beacon Theatre, Marcus writes: "So it made sense to encore with a supper-club version of 'Blowin' in the Wind.' The nice, bland setting gave the old warhorse a sting, a bite, it usually hides in its own falsely innocent righteousness. The song itself was always bland, but 'Too many people have died' hit home out in this supper club, because you're not supposed to talk about that sort of thing in a place like that."
On Hamilton, Marcus elevates the play in two short sentences to exactly what is and remains in our culture: "This is the absolutely marginalized fantasizing their way into the history that excluded them. And still does."
Marcus happens to hear Darius Rucker's version of "Wagon Wheel" blasting from the speakers at a roller rink in St. Louis Park, Minnesota, and reflects on the "warmth of the singing": "Maybe everything feels good on a roller rink sound system, especially with eighteen birthday parties under way, but this — a fragment of a Bob Dylan song fleshed out by the Old Crow Medicine Show, a pallid hit for them, a better one for Rucker — made you hope the system would get stuck and play it all day long. It's in the warmth of the singing, the fiddles sawing away like trees blowing in the wind but with a circling rhythm nature doesn't make, the sense of a long trip that's never going to end. In The Sellout, Paul Beatty's new novel about blackface, whiteface, and black towns wiped off the map not by the Ku Klux Klan but by mapmakers, he has his hero call Hootie and the Blowfish 'the whitest music I knew' (along with Madonna and the Clash), maybe not in spite of but because they had a black lead singer, one Darius Rucker, but there's no white in this record, and no black, just landscape, movement, tiredness, laziness, getting up, stepping out, blinded by the sun."
Maybe everything feels good on a roller rink sound system, especially with eighteen birthday parties under way, but this — a fragment of a Bob Dylan song fleshed out by the Old Crow Medicine Show, a pallid hit for them, a better one for [Darius] Rucker — made you hope the system would get stuck and play it all day long.
Marcus sends another of his critical arrows flying in his review of the 2016 album Chicago Plays the Stones, especially in his opening question, which he repeats numerous times in the collection when writing about tribute albums (and his answer to himself most of the time is a resounding "yes"):"Aren't tribute albums terrible? The Rolling Stones' 2016 Blue & Lonesome, their Chicago blues album, certainly was, and this, a Stones-blessed project (Mick appears with Buddy Guy on what I'm just going to call 'Heartbreaker' to save space, Keith with Jimmy Burns on 'Beast of Burden'), bringing together players who made their mark in the 1950s with musicians born then, is much worse. You'd think that Billy Boy Arnold — whose rickety 1955 'I Wish You Would,' with what sounds like a teenage vocal, is as primitive as Buddy Holly's 'Not Fade Away' — could bring some restraint, a sense of timing and suspense, to 'Play with Fire,' but it's as rushed, as trashed up, as everything else here. The music is like a cut-rate neon sign that's about to burn out."
One of the best lines in the collection, though, comes in his comments on guitarist John Leventhal's production of Stax singer William Bell's album "This is Where I Live": The album is filled "with the most delicate, modest, contemplative soul guitar: in 1967 it would have been Curtis Mayfield, but it's producer John Leventhal, who does the same for Rosanne Cash. Can't Leventhal have Cash and Bell make their next album together?"
More Real Life Rock contains morsels of cultural criticism that are best nibbled at leisure; they never make a full meal, but provide a sidebar through which one can graze, choosing satisfying pieces and leaving others behind. Collections such as this are also redundant, since the columns exist and can be found elsewhere, so this volume is for devoted Marcus fans (or those who want both volumes side-by-side on their shelves).
At his best, though, Marcus combines the curmudgeonly apocalypticism of cultural critic Howard Hampton, the feverish intellect of Lester Bangs, and the elegant quirkiness of film critic Manny Farber. Like Hampton, Bangs, and Farber, Marcus is worth reading for the places where we disagree with him as much as for the places where we nod our assent.
---