The Panhandlers Bring West Texas to the World
---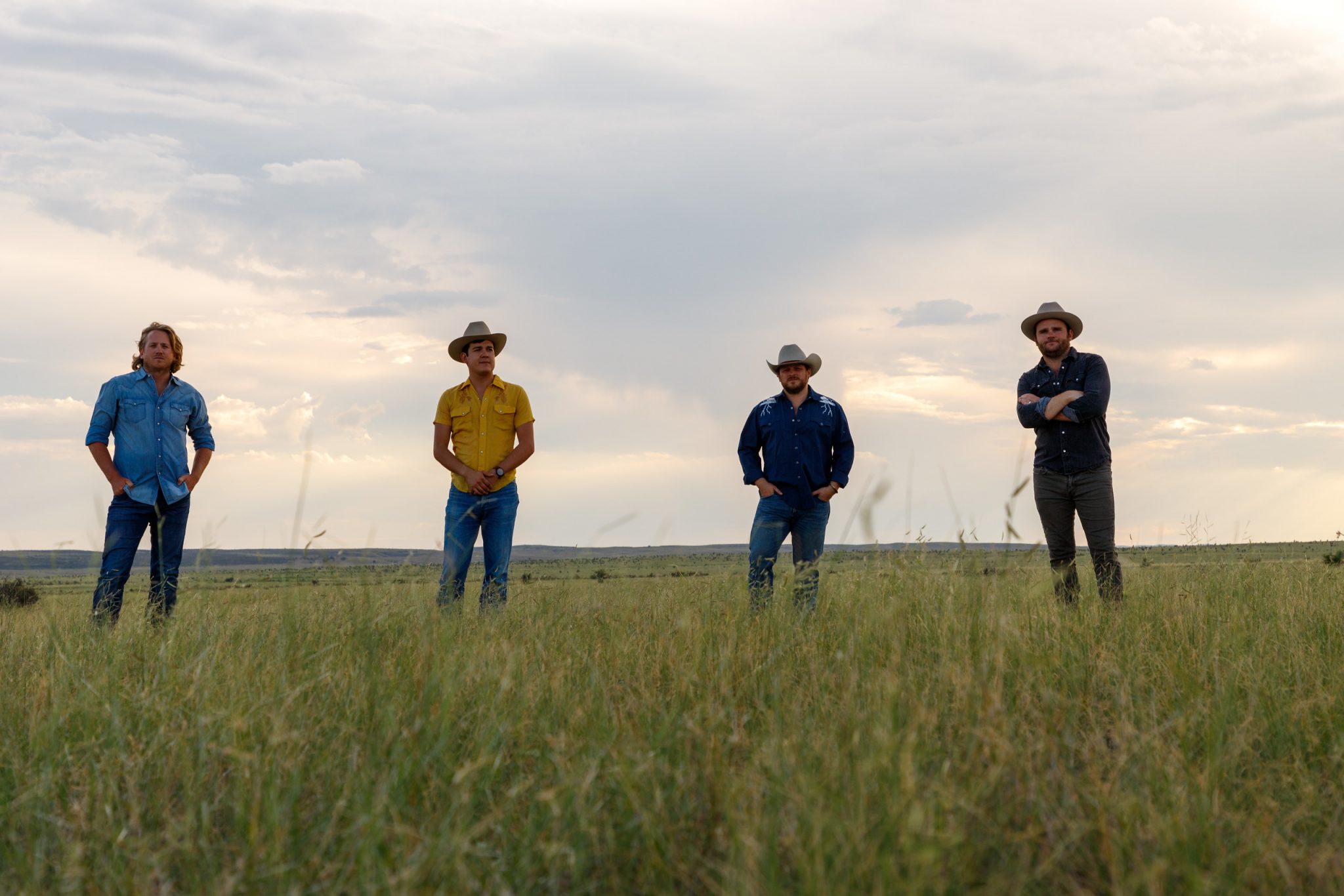 Photo by Charlie Stout
There's a record label situated about 30 miles outside Austin, Texas, that has been curating a specific experience for fans for the last few years. Though no one word can capture the mission of The Next Waltz, the experience this label is curating may be best described as, simply, rural. While that word may conjure images of tumbleweeds and cornstalks for some, for Bruce Robison, it's something much more transcendent.
"The first thing I did was build a fence, then pour a slab, then start hammering nails," Robison says of how he started The Next Waltz. That sort of work ethic — an ethic that is inherent to rural life — is not only part of the physical foundation of the label and its recording studio, but it's also part of the fabric of who Robison is and the kind of music he's drawn to.
"A big part about what I love about Texas music is it's kind of this continuum through the past," he explains. "The traditions, the forms, it's so powerful. I'm afraid we're losing some of that in today's world, and so The Next Waltz is trying to keep some of it. We don't disregard all that's happened over the last hundred years; it actually informs what we do."
Those traditions and forms influenced Robison long before he opened The Next Waltz. As a well-respected and chart-topping songwriter, he has often found himself creating music that honors those legends who came before him while crafting a sound unique to his time and place, never quite fitting into the industry or the world's expectations.
"I never approached it the way everyone else did," Robison says of his songwriting days. "It's not necessarily to my credit, but I never did it the same way as others. Even when I was a 'Nashville songwriter,' I was living in Austin doing it. The Next Waltz is just a continuation of that mindset."
As he runs The Next Waltz, Robison finds himself most often sitting in the producer's chair. He's worked with artists like Randy Rogers, Turnpike Troubadours, Charley Crockett, Hayes Carll, Jerry Jeff Walker, and Shakey Graves, but there may be no project more immanent to the vision of The Next Waltz as his latest endeavor: The Panhandlers.
A Shifting Concept
On the final day of the 2019 Steamboat Springs Music Fest — a festival billed as bringing "the finest Texas and Americana music" to Steamboat Springs, Colorado — Josh Abbott, the Texas-bred country rocker and songwriting frontman for Josh Abbott Band, was chatting with the festival's founder, John Dickson, about putting together some shows that would honor the almost-mythical legend of The Flatlanders. Originally a trio comprised of Jimmie Dale Gilmore, Joe Ely, and Butch Hancock, The Flatlanders had a brief existence in the early '70s before the three musicians each found varying success as solo artists. Over the last few decades, though, they've reunited and have released several records, and they've even been inducted into the Austin Music Awards Hall of Fame. When Abbott pitched the idea to Dickson, he instantly loved it and asked Abbott who would play these tribute shows.
"Off the top of my head," Abbott remembers, "I named William Clark Green, Cleto Cordero, and John Baumann. Will and Cleto are my best buds, and of anybody in modern-day Texas music who evokes that Jimmie Dale Gilmore and Butch Hancock vibe, it's John. His songwriting approach and the way he vocalizes those lyrics are really reminiscent of Butch Hancock." And with that, The Panhandlers were born.
The initial concept of the group was what Abbott pitched to Dickson: a group of Texas musicians paying tribute to The Flatlanders. Abbott admits that he, like most, was late to his fandom for The Flatlanders, but once he heard them, he was hooked. "Joe Ely ended up being the star, but Jimmy Dale Gilmore was the face and Butch Hancock was the pen," Abbott says. "I want modern-day Texas country fans to know the history of the genre and thought a tribute would be a fun way to get those older songs in front of younger fans."
The concept quickly grew from putting together a few shows to recording a proper album of covers. As the vision evolved, Abbott and company decided that they wanted to work with Robison and record with The Next Waltz, in part because they wanted to do everything they could to make this album sound like it was recorded in the early-'80s, and Robison's studio is pure analog; there's not a computer in sight, and as Baumann fondly explains, there are cobwebs on the ceilings and the air-conditioning units leak.
"It's wild, it's totally unique," Baumann says. "It's like a big wooden shed. It's such a different experience than anything I've done before."
After getting Robison and his team on board, it didn't take long for the four artists to realize they wanted to actually write music together, instead of doing covers. It would still serve as a nod of sorts to The Flatlanders and other Texas Panhandle musicians, but it would be uniquely theirs.
"We took a writing retreat to Marfa, Texas, and it was super fun," Baumann recalls. "I've never written with a group of guys like this, especially this intensely. We were writing around the clock, and we had a lot of conversations about what we wanted to do. I think the vision for this is that it goes beyond just one record. Maybe this is a thing that we could be doing in 10 or 15 years."
Abbott concurs. "This is going to be a brand," he says. "And when I say brand, I don't mean to commercialize the integrity of the art. I just mean we want to develop this band into something that's more than just this one album. We want to tour. We want to have a fanbase that really appreciates the songwriter mentality that we bring into the record."
Preserving the Vibe
The Panhandlers is a 10-track treatise on West Texas, but as with most alt-country music, it goes beyond its geography and invites listeners to connect with it on a near-spiritual level. At times the record is delicate in its beauty, as with opening track "West Texas in My Eye" or the crushing "Lonesome Heart." On the latter, Green sings a truth that cuts across state lines: "I'm driftin' like a tumbleweed across this lonesome land / In a rusty roller coaster through the desert sands / Clingin' to a cardboard sign sayin' I could use a friend / And driftin' like a tumbleweed across this desert land."
More often than not, The Panhandlers' debut shines thanks to a roughness about it; it's not that the production isn't beautiful (it is), and it's not that the guys don't nail every lyric (they do). But whatever happened in the studio in the fall of 2019 is preserved in the grooves of the new record forever.
"Bruce is super laid back," Baumann says about working with Robison as a producer. "We don't even write music out, we don't write the charts out. We just learned the songs as a group, feel 'em out, and that's it. Nobody's dictating anything. He helped us put together a really incredible band that's kind of a mix of musicians from pretty steady and stable Texas bands. We had like 14 people on the session. It was crazy."
"The Next Waltz is a vintage sound, it's real music, it's on tape, there's nothing digital or fake," Abbott adds. "This is the studio and this is the producer that encompass what we wanted to do in the first place."
Local Roots, Bigger Branches
On "This Flatland Life," Abbott sings, "I'm in-between this Flatland life and a South Plains dream," bringing listeners into the world of The Panhandlers. Regardless of where one might listen to the new record, the experiences and stories that are told eclipse any geographical constraints.
"It definitely transcends West Texas," Abbott says. "I mean, we had to write this album from the perspective of what we know, but anyone who grew up in that rural, agrarian lifestyle, they'll understand the context from which this record is made." Baumann also understands how Texas-centric the album is, but as he puts it, "We hope people from all over will be able to relate to it."
The record closes with the Baumann-penned "Caprockin'," a vivid depiction of life in West Texas that immediately builds a connection with the listener, living up to his hope that people from every walk of life will be able to relate. "They say you gotta be a farming man / Or a roughneck on a rig," he sings, "They say either way it's your own grave to dig / Well I have found a way to live without paying such a price / And I have made a home in this country paradise."
Much of the transcendence of this music, as far as Robison is concerned, is unique to the Americana scene, and in particular, the scene in Texas. "I think it's a grassroots situation that doesn't exist anywhere else on the planet," he says. But he admits it's less about the location of the music scene, and more about how pervasive the scene is all over the globe. "It's worldwide. When you consider it, the grassroots efforts of so many people that isn't predicated on any radio format … it's an amazing thing."
Beyond the scene itself, Robison also gets excited about the historical continuum of Texas music. "I'm 20 years older than these guys," he says of The Panhandlers. "We may have come up listening to different music or watching different TV shows or seeing a different planet in many ways, and yet, there are so many things that we just completely understand. The influences we all have, we share them."
---