THE NEW NORMAL: Half a Year into Shutdown, Live Music Looks to Lawmakers for Help
Posted On September 11, 2020
---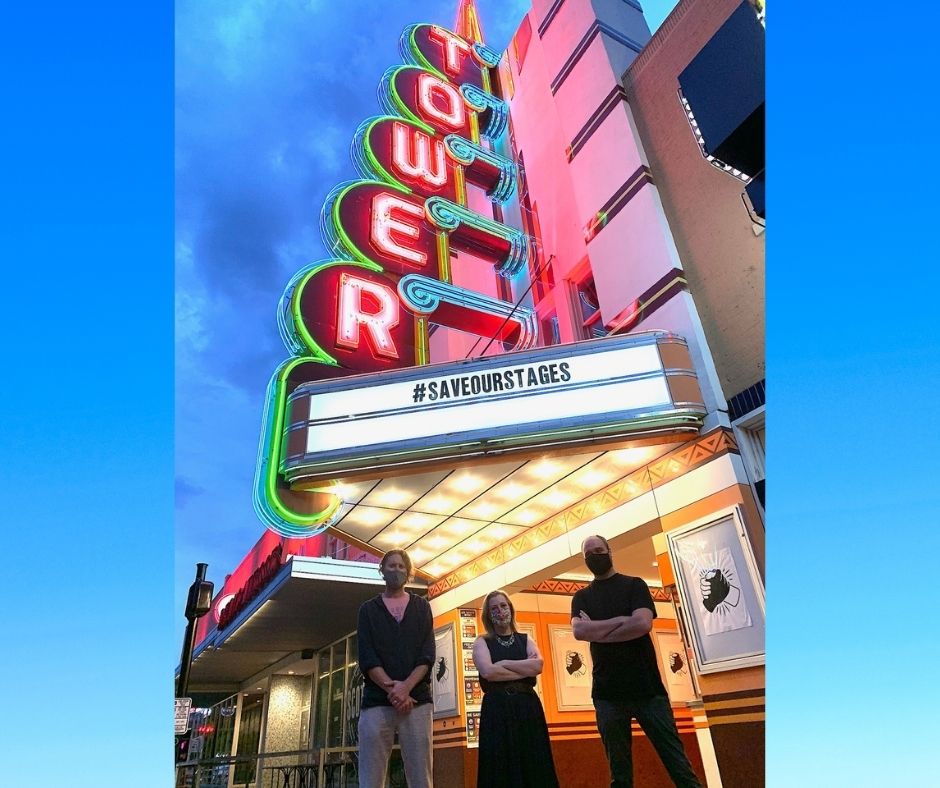 Tower Theatre partners Chad Whitehead, left, and Stephen Tyler, right, stand with Rep. Kendra Horn under the venue's marquee in Oklahoma City. (Photo courtesy of Chad Whitehead)
EDITOR'S NOTE: "The New Normal" is an occasional series of stories that look into how the coronavirus has affected artists, listeners, and the music business. Find other stories in the series here.
Chad Whitehead, operating partner and talent buyer at Tower Theatre in Oklahoma City, likens COVID-19's impact on the music industry to a car crash.
"The initial incident has happened, but we are still standing on the side of the road trying to figure out just what the hell happened and how we'll move forward," he says.
In mid-March, Tower Theatre had a sold-out Mt. Joy show on its calendar, and Orville Peck was getting ready to play to a full house at another venue in town, Whitehead recalls. "It was going to be a big weekend for music in Oklahoma City, and all of a sudden it was just done," he says. "Then we stood around and looked at the damage. It was stunning at first. Then we thought, 'Maybe this isn't so bad. We'll push everything back a few months and we can figure this out. We'll tow the car back to the driveway, fix it up a bit, then get it back on the road.' A couple weeks later it started to sink in that this would not be a quick repair."
Six months later, the music industry is still waiting for that metaphorical tow truck. Congress seems stalled on key bills that would include help, going on recess in August without passing any assistance measures. But many are hoping for some action now that the Senate has returned to session this week, with the House back next week.
The music industry is pinning its hopes on two portions of the fifth round of pandemic relief packages: the Save Our Stages (SOS) Act and the RESTART Act. Both would help shore up independent music venues, theaters, and event promoters — those that are still standing, anyway.
The SOS bill would allocate $10 billion for grants to live venues, talent agencies, and promoters with fewer than 500 full-time employees that are not publicly traded companies and do not operate in more than one country or 10 states. Grants would equal 45% of a recipient's 2019 revenue, up to $12 million, with additional funding available if the recipient has still lost 80% of its income by December. Unlike the funds from Paycheck Protection Program (PPP) loans that were intended mostly to cover payroll, recipients could also opt to allocate this money toward expenses like rent or mortgages, utilities, and insurance.
The RESTART Act, which stands for "Reviving the Economy Sustainably Towards A Recovery in Twenty-Twenty," proposes to extend the federal PPP, which closed Aug. 8. The proposed bill broadly focuses on businesses like restaurants, hotels, and retailers with high overhead and drastically reduced revenue during the pandemic and creates a new loan program specifically for companies with less than 5,000 employees. The loan structure would be similar to that of SOS, but not singularly focused on the live music industry. Like SOS, the loans could be used on operating expenses beyond payroll.
Tower Theatre qualified for the earlier PPP loans, which was crucial to keeping its staff, Whitehead says, and has gotten additional support from state programs. When it applied for Economic Injury Disaster Relief (EIDL) loans, another program put in place to help a wide spectrum of businesses affected by the pandemic, it only received 11% of what it qualified for.
"They capped it real quick," says Whitehead. "And the information we got was translated to, 'Take this money and if you try to push for more, you just will end up getting nothing.' I'm stuck in this position of being very grateful for the support that we are getting because there's a lot of people who aren't getting support and there's a lot of industries that don't have anything. But it's only 11% of what we needed, so we're still kind of etching out this month-by-month existence."
While restaurants have revenue-generating outlets like take-out and limited capacity dine-in services, there are few opportunities in live music for these alternative forms of income. With the help of private and nonprofit sponsorship, some venues have improvised with socially distanced solutions like livestreams and small outdoor shows. But after paying the band and production teams, revenue for the venue is often negligible.
"You can't recreate the cultural experience and you can't let that disappear," Whitehead says. "My biggest fear going forward is that despite all our efforts, creativity, and partnerships with our landlords and the bank, ultimately Tower Theatre won't make it. We'll have to file bankruptcy just like everyone else," he says.
So the music industry waits, and worries. On Sept. 1, more than 1,500 live event venues and businesses around the US sent a collective smoke signal by lighting up their buildings in stark red, signifying that the industry is on "Red Alert" and desperate for federal aid.
But lawmakers don't seem to feel the same urgency or aren't able to translate it into unified action. Whitehead and his partner in Tower Theatre, Stephen Tyler, met with Rep. Kendra Horn, a Democrat in Oklahoma's 5th congressional district who co-sponsored the RESTART bill, last week to discuss their situation.
"She is optimistic, but acknowledged that no one is really dealing with anything right now, because nobody's talking and nobody's making moves," Whitehead says. "So we're feeling upbeat about its potential, but I don't know that any of us could really trust the national politics of the moment. It seems pretty broken."
An Engine for the Community
On Thursday a Senate vote on a Republican-sponsored coronavirus stimulus bill failed, split mostly along party lines, and next steps are unclear.
While proposals like RESTART and SOS may seem narrowly targeted, the businesses and people they would benefit have a large role in the American economy.
According to a 2017 report from the Department of Commerce's Bureau for Economic Analysis, the arts and entertainment sector accounts for 5.1 million jobs in the United States, contributing $878 billion to the national economy.
The survival of the live music industry should be of wide public and economic interest, not just music fans, Whitehead says. Nestled into what has become a bustling block in downtown Oklahoma City, Tower Theatre, which he and Tyler reopened in 2017, is central to the economic success of the area.
"Every time we have a show, I'm helping the bars and restaurants that are in part of my neighborhood, where I plan to keep living for the rest of my days. They need Tower to be open," Whitehead says. "I read that every $1 spent on a concert ticket results in $12 more local dollars spent. My community needs that money. That's an important part of their business model. And so the ecosystem is very much in peril right now."
In June, the National Independent Venue Association (NIVA), asked its nearly 2,000 members about their prospects amid the pandemic. Ninety percent of the independent venue owners, promoters, and bookers who responded said they would have to close permanently within the next few months without an infusion of targeted government funding.
NIVA launched its #SaveOurStages campaign to bring attention to the situation, and the National Independent Talent Organization (NITO), comprised of 1,000 independent talent agents and management companies, is similarly advocating for help keeping the live music industry afloat.
"Independent venues, the artists and the talent representatives (agents and managers) are all critical to the ecosystem of the live music community," says Wayne Forte, a founding member of NITO and president of Entourage Talent. "They are co-dependent upon one another, but it's a co-dependence of the most positive nature. The venues cannot exist without the talent, and the talent and their representatives cannot develop and flourish without the venues. If large segments of these three elements are destroyed or closed down, it will affect live music for years to come. Whether it's the loss of the profitability factor, creativity, or the entertainment for fans, it will be felt and resonate for some time to come."
Amid the partisan split in Washington, a glimmer of hope exists in the large number of bipartisan sponsors of the SOS and RESTART acts. The SOS Act currently has 37 bipartisan co-sponsors. Most notably, Senate Minority Leader Chuck Schumer (D-NY) announced his support for the bill outside of Brooklyn venue Baby's All Right last month. The RESTART Act has 54 co-sponsors.
And the bills have received some high-profile attention aimed at keeping them in discussions. Musicians such as Billie Eilish, Willie Nelson, and Neil Young have signed a letter of support for the SOS Act. Sturgill Simpson and Jim James have called up their home state representative, Senate Majority Leader Mitch McConnell (R-KY), begging him to save independent venues. Even corporate giants such as Spotify, Amazon Music, and YouTube and the three biggest music companies — Universal Music Group, Sony Music Entertainment, and Warner Music Group — have signed a letter urging lawmakers to take action.
Any aid package from Congress will likely contain language from several previously proposed bills, and live music industry workers and fans alike are hoping to keep elements from the RESTART and SOS acts intact. As organizations like NIVA and NITO and music industry leaders work toward that goal, fans can be a powerful voice as well.
Here is more information, along with form letters you can send to your congressional representatives, from both NIVA and NITO.
---
To comment on this or any No Depression story, drop us a line at letters@nodepression.com.
---