THE LONG HAUL: The Year-End Summary Spotify Wrapped Doesn't Include      
Posted On December 14, 2022
---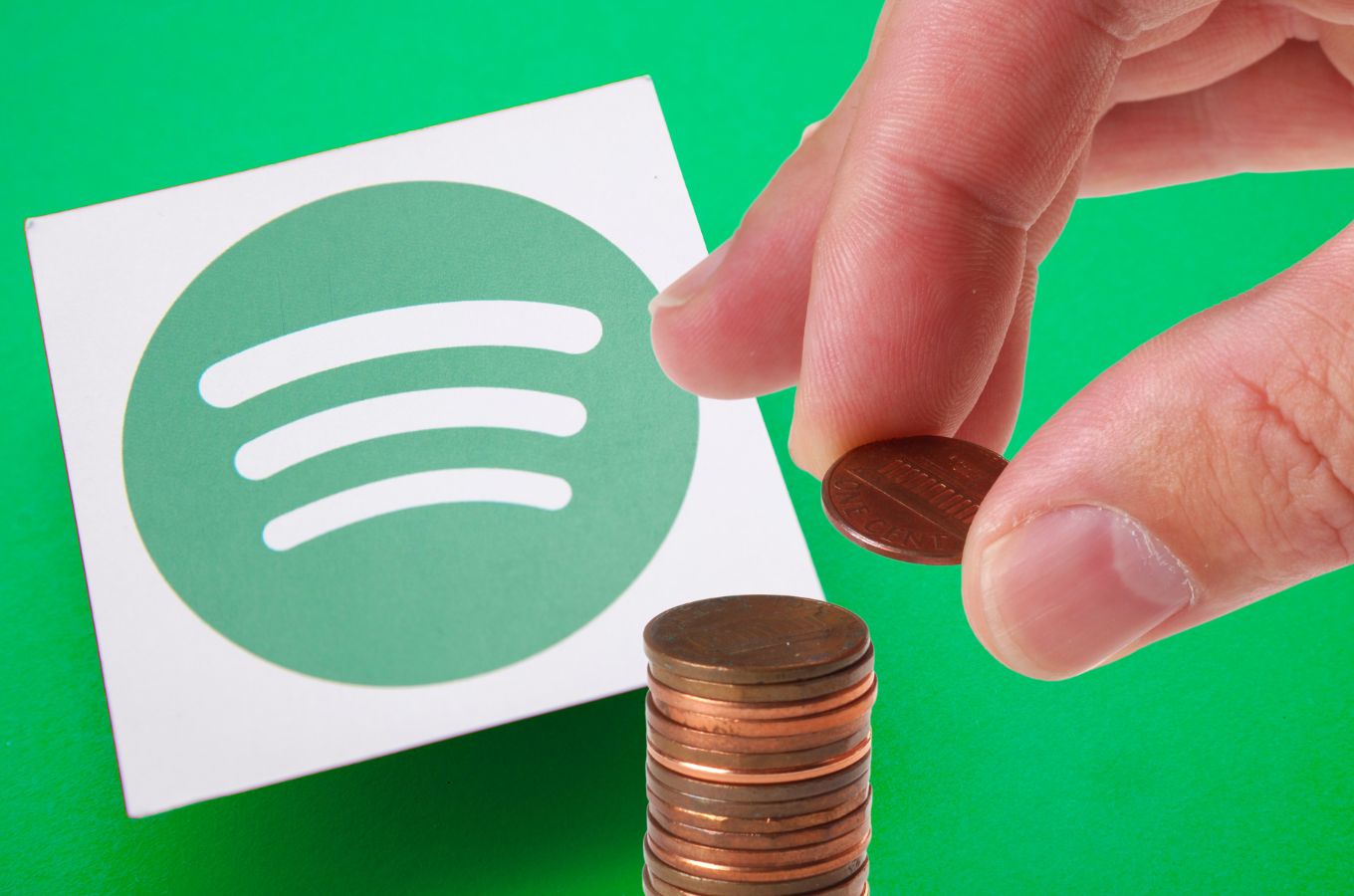 Around this time of year, musicians and music lovers alike begin to post their stats from Spotify. Who they have listened to, who has been listening to them, what kind of festival they would program based on their favorite artists, etc.
Spotify is good at many things; introducing listeners to new artists, programming beloved and sought-after playlists, and providing detailed data to artists about where their fans are located, how they respond to each song, etc. As a listener, I love the ease and accessibility of the platform. It's been thoughtfully created, and there is good reason for its success. There is one aspect of the music business, however, that Spotify is really terrible at, and that is paying musicians for their work.
I am not here to shame anyone for posting anything on social media. Although the system is stacked against musicians, we still have to work within it. If you're proud to see how many folks have been enjoying your art over the year, go ahead and post those stats. If you want to show your favorite artists some love by tagging them in your top five artist breakdown, I think that's great! I would merely like to suggest that we start adding a very important statistic to these posts: royalties paid to artists in cold hard US dollars. Not exposure, not new listeners, not new shares, not playlist ads, or hours or years that our music spanned, I'm talking about money we can use to pay our bills.
Here, I'll start.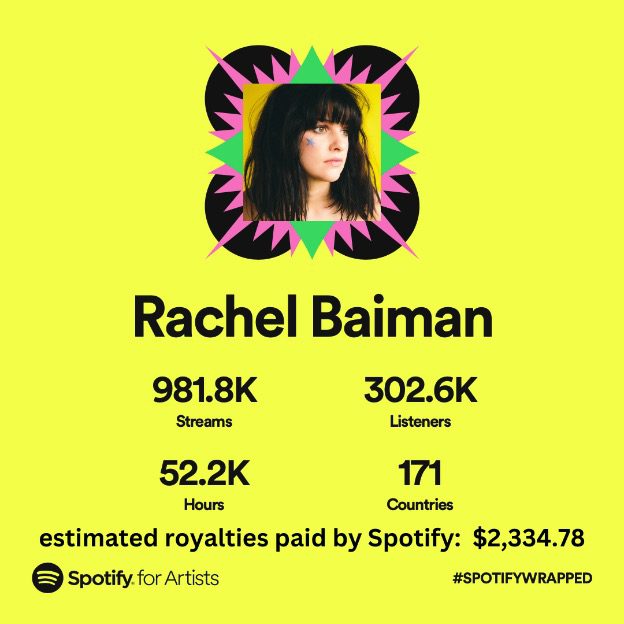 This year, my music was streamed nearly a million times, by 300,000 listeners. Awesome! I am so grateful and flattered that folks would check out my art, and listen to it for 52,000 hours! To me, this shows that, hey, I have an audience of folks who enjoy my art and this should be a viable career option for me. Now, for those 52,000 hours of content that Spotify is using to pay its team of execs, programmers, and investors, I will be paid approximately $2,334.78. I wonder how much Spotify pays for its free snack bar in corporate offices. I almost cried when I did this calculation.
To put this into perspective, to pay to record one song at the level that you'd want in order to get some good traction on Spotify, an artist could expect to pay $500-$1000 for a day in the studio with an engineer, and $200-$500 each for 3-4 musicians, a producer fee of $300-$500 per song, then another $300-$1000 for mixing, and $100-$200 for mastering.
Once you have a completed track, you'd need to take it to a publicist to spread the word and thus show Spotify that you're worthy of being playlisted or organically reach listeners who might be interested in your music. Publicists charge between $2,000 and $5,000 a month.
All of the rates I've listed above are indie rates; you'd expect to pay much more if you were working on a union scale or had major label backing.
The last two albums I've made have cost between $15,000 and $30,000 to record, and $12,000-$20,000 to promote (only possible due to the support of some amazing artist-friendly record labels). Spotify is now the main source of income for recorded music. This is the top number on my spreadsheet from my label. Two thousand dollars for an entire year of folks enjoying my music. It's absolutely unsustainable. This model leaves artists perpetually in debt to their recordings and forced to run themselves ragged on tour trying to pay back loans and credit cards before making any profit at all.
The Union of Musicians and Allied Workers is asking Spotify to raise royalty rates to 1 cent per stream, and Rep. Rashida Tlaib has taken their demand up as House Concurrent Resolution 102. If this resolution were to pass, my income from streaming based on this past year would be close to $10,000, a much more palatable amount. To support this resolution, you can send a letter to your representatives at this link.
I do not blame consumers for this problem. Streaming is undoubtedly the future of music, and there is no going back. Spotify was the first to build a great and expansive platform for legal music streaming, and they've made themselves an intrinsic part of the industry. It is now on them to take the responsibility that comes with their position and success and create a model that is functional for the artists they claim to support.
So, as far as Spotify Wrapped goes, go ahead, post away, artists! But please make sure you include an important statistic that they conveniently never include: royalties paid by Spotify!
---