THE LONG HAUL: A World Without Live Music
---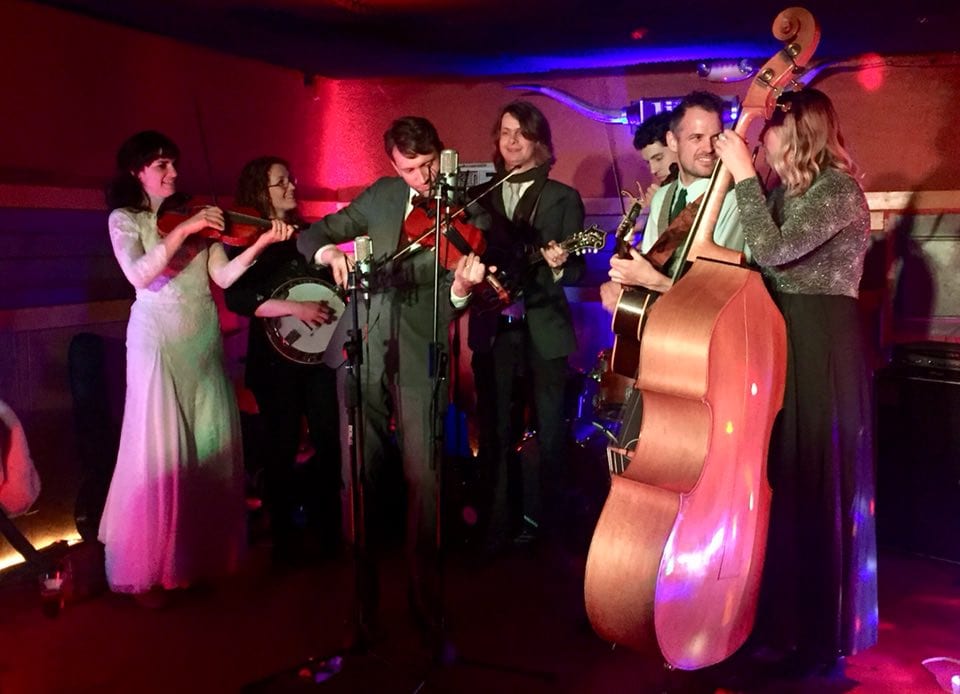 Rachel Baiman, far left, and her husband and friends play music together after her wedding.
Some of us had supportive parents that encouraged us when we proposed going to music school or moving to New York or Nashville to jumpstart our creative careers. Some of us had families that didn't get it at all and were constantly pestering us about financial security. Some of us didn't have much family at all and had no safety net to fall back on. But no matter our situation, we all worried. We worried that we wouldn't make enough money, that the travel would be too hard, that the self-promotion and constant social media would break us. We worried that we could never buy a house, that we could never afford to have children, that we'd become addicts and run ourselves into the road. But never once, never once in all of this time, did we worry that we would live in a world without live music. Where the entire concept of any live show, band practice, or casual jam session shared among friends would cease to exist, and the life and career we had worked so hard on and risked everything for would no longer be an option, for anyone. And yet, here we are.
I realize that this isn't forever, and I am more than glad to do my part in keeping people safe. But, as more and more festivals are canceled, it's starting to look like an entire year, maybe more, of staring at some semblance of human connection through a screen. And with no end to social distancing in sight, many of us are facing a full-on loss of identity. We are about to find out who exactly we are without being live musicians.
It's not just the lack of shows. Tour schedules ebb and flow, and careers prosper and dwindle at times. But the energy of sharing a song with someone, of communicating with another human through rhythm and harmony, of feeling something new made by joining voices together has fed us all, kept us going, over years of ups and downs. Although I yearn to play in a great sounding room through a proper sound system and hear the mic echo off of the walls, I would easily settle for a great jam among friends. When times are tough we gather and play music. When times are good we gather and play music. When times are normal we gather and play music. I haven't gone this long without seeing or playing music with a group in probably 25 years (I'm 30). And the world feels flat. Flat and empty and pointless.
It's a time of reckoning for all of us. A time to sit with ourselves and try to believe that we are enough, that what we have is enough. To try and be grateful if we aren't sick, while still allowing ourselves to grieve for hard work and money gone to waste, and the many disappointments this time has wrought for all of us. It's a hard pill to swallow, but at least now we know. We know why we have worked so hard for this for so long. Why nothing else propelled us forward, or brought us hope in moments of devastation, or made us feel heard and understood when we thought ourselves invisible, why we couldn't give up playing and singing no matter how hard we tried. Because now we know what it's like to live in a world without live music.
---