The Hardly Strictly Bluegrass Music Festival 2016 in San Francisco
Posted On October 18, 2016
---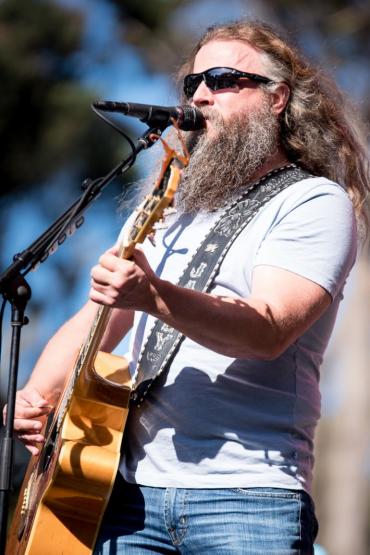 When Hardly Strictly Bluegrass Festival began in 2001, at the urging of fellow West Virginia native Hazel Dickens, it was called Strictly Bluegrass. But, in 2004, in order to reflect the wider changes in roots music, the word "Hardly" was added. That broadening takes on an added resonance as two significant events occurred this past week: Bob Dylan was awarded the Nobel Prize for Literature and Billboard reported that, for the first time, Americana music was outselling country.
HSBF is a free and non-commercial music festival in USA held each year in early October, in San Francisco's Golden Gate Park. The festival has been funded by the late Warren Hellman (and his estate) in order to keep it commercial-free. Despite many potential sponsors making offers over the years, they have always been turned down. For many performers, this fact alone is integral to the festival's character.
While I have featured photos from this festival before, timing prevented an entire column being devoted to it. Like last week, we are fortunate to have two writer-photographers there to cover it for us: Peter Dervin and Holly Horn. Peter had his photos featured in this column in August and Holly covered the Country Music Association Festival in Nashville for this column in June.
Both are professionals and I encourage you to check out their work beyond this column. For now, here is some of what they experienced at HSBF 2016.
PETER DERVIN
Every year, I make my annual trek to San Francisco to take in one of the best music festival in USA. The Hardly Strictly Bluegrass Festival celebrated its 16th anniversary with another stellar lineup that offered a wide variety of music.
When the lineup for this festival is announced, the tough part is always trying to figure out who to see over the course of the three-day weekend. With seven stages and over 100 musicians and bands, I was excited to see and hear some all-time favorites and be surprised by some new finds.
Day One found me arriving at Hellman Hollow in Golden Gate Park, on a lovely, sunny afternoon. I first looked for a couple friends who had set up at the Arrow Stage. After finding my friends, I settled in to catch Jamestown Revival, whom I had heard about but had never seen. Man, they were great! Jamestown Revival features Jonathan Clay and Zach Chance, who sing some outstanding harmonies and play upbeat country-rock.  I'll certainly be catching them again.
As Hardly Strictly offers so much music, I was soon off and running to the banjo stage to catch Bill Kirchen — a regular every year — with Austin de Lone joining in on keyboards. I stayed for a few songs, then was off to catch Ismay on the porch stage, which usually features up-and-coming musicians. Ismay is fronted by Avery Hellman and plays dreamy country-folk music. I've now seen her over several years at HSB and she continues to evolve as an artist.
After a few songs of Ismay, I headed back to catch a little bit of Valerie June on the banjo stage. I first learned of June from her performance at Bumbershoot a couple years ago. Her style of blues is hypnotic.
After a few tunes, though, I left for Delta Rae, another band I had never heard before. With siblings Ian, Eric, and Brittany Holljes out front, Delta Rae's performance on the arrow stage was powerful. They brought out a full choir to join them!
Next, I hoofed it back to the porch stage catch Seattle's very own Rabbit Wilde, who were performing at HSBF for the first time.
Rabbit Wilde has been winning over the Northwest with their fun and energetic bluegrass rock. As usual, they had everyone dancing on the lawn and were one of the many highlights from the festival.  I briefly caught a little bit of Nick Waterhouse, who was entertaining the banjo stage with some upbeat rockin' blues. I then scrambled over to catch Shawn Colvin and Steve Earle on the arrow stage — they've recently released a new album, produced by Buddy Miller.
Hardly Strictly has so much to offer that I found myself going back and forth throughout the day, but eventually it came time to settle down over at the swan stage for a couple tribute sets. The first one was a tribute to singer-songwriter Guy Clark, which included Joe Ely, Terry Allen & Jo Harvey Allen, Steve Earle, and Jack Ingram. This was truly a special set, as they all shared stories and songs that was so reflective of the man, his uniqueness, and his music.
The one and only Dave Alvin — with the Guilty Ones — presented the next tribute, honoring the legacy of Merle Haggard as well as other California songwriters. Several years ago, Dave Alvin released his covers record, West of the West, which featured songs written by John Stewart, Brian Wilson, John Fogerty, and others. In this HSBF set, he sang a wonderful version of Jerry Garcia's "Deal" and Jackson Browne's "Redneck Friend." As a special surprise, Jackson Browne joined the band to cover Merle Haggard's "I'm A Lonesome Fugitive." What a way to close out the first day of HSBF!
Day Two was going to be a big challenge as there was so many artists that I would have liked to have seen and heard, but I decided to settle in at the Rooster stage for the entire day. The morning started with the Go to Hell Man Clan. I make it a point to catch their set every year, as it features the family of Warren Hellman. They give a wonderful tribute to Hellman, performed by his children and grandchildren. What has been so enjoyable is seeing how the band members have grown musically. Of note this year was a performance by Katie Hellman Gibbs singing a bluegrass version of David Bowie's "Sound and Vision," with Rob Gjersoe of the Flatlanders, plus Matthew and Frankie Gibbs. It was a wonderful celebration, honoring the man that made the Hardly Strictly Bluegrass Festival possible.
Following them was Buddy Miller's Cavalcade of Stars featuring Jack Ingram, Bobby Bare, Steve Earle, Emmylou Harris, and Marc Ribot, all of whom performed with Miller and the Steel Drivers. Jack Ingram kicked off the set with his rockin' country songs. This was the first time I've heard his music, and I loved it. He was engaging with the crowd and had everyone cheering him on. Up next was Country Music Hall of Famer Bobby Bare who sang from his extensive catalog of country music. Bare is the real deal and it was an absolute pleasure to hear him in person.
Next up were Hardly Strictly regulars Emmylou Harris, Steve Earle, and Buddy Miller in an intimate setting at the rooster stage. Each of these artists can headline a stage on their own, but in this set, it was just the three of them sharing stories and song. Up next was a special set featuring just Ribot and Miller together. 
To close out the Cavalcade of Stars was the Steeldrivers, who recently won a Grammy for Best Bluegrass Album. They delivered an outstanding set of high-energy bluegrass that had everyone tapping their toes.
The evening at the rooster stage ended with Jackson Browne and sideman Greg Leisz. Now it's hard to believe, but this was my very first time seeing Jackson Browne live and I was looking forward to it. During his set, he performed a variety of songs from his extensive catalog, both on piano and a bunch of guitars. Shawn Colvin came out on a couple tunes as well, which the crowd loved. Closing out his set was a nice tribute to Glenn Frey with Browne singing the classic Eagles tune "Take It Easy," which he co-wrote.
Day Three found me at the arrow stage for a band called Evolfo (which is "Of Love" spelled backwards). These guys were fantastic — they got everyone on their feet and dancing. With a mix of rock and funk, this seven-piece band set the tone for the day.
I settled in at the arrow stage to take in the Little Village Foundation Showcase being presented by Jim Pugh, who has played keyboards for the likes of B.B. King, Etta James, Aretha Franklin, and Robert Cray to name a few. The Little Village Foundation is a non-profit record label that promotes local musicians to a global community, and several of its artists were featured in the Fall issue of No Depression. John "Blues" Boyd started the showcase with his soulful blues tunes, with a backing band featuring Kid Andersen and D'Mar. Following next was Aireene Espiritu, who sings heartfelt, spirited folk-blues. Joining her was blues woman Tracy Nelson for a couple songs. 
Every so often an unknown artist surprises you and that was the case with Aki Kumar. His performance of Western blues merging with Bollywood was amazing! Kumar had everyone dancing to the pulsating sounds of Bombay. Joining him on one song was Portland's lengendary blues singer Curtis Salgado along with Lisa Leuschner Andersen and Espiritu. Curtis Salgado then continued to perform several songs to the delight of the crowd.
Legendary harmonica blower Rick Estrin came out to introduce Wee Willie Walker as then next soul sensation and he's right. I had seen Walker this summer at the Winthrop Rhythm & Blues Festival with the Randy Oxford All-Stars, and he is one groovy cat! 
Just when we thought the Little Village showcase was over, Pugh had one more surprise with the introduction of Delano, California's very own Mariachi Mestizo. These youngsters performed traditional mariachi music that was truly a special moment. As a finale, the entire ensemble of Little Village Foundation musicians closed out their performance with a moving version of "Hard Times," to a standing ovation.
After that wonderful showcase, I headed over to catch the Brothers Gibb on the bandwagon stage for a more-than-delightful bluegrass tribute to the Bee Gees, Abba, and the Rolling Stones. These whimsical gnomes from a faraway land were joined by the members of Evolfo for a rousing set of fun in the sun. There was lots of foot stompin' at this one.
To close out my festival weekend, I headed over to the rooster stage to hear Rosanne Cash, who was already onstage. Her set was a wonderful mix of songs and storytelling. Afterward, closing out the festival for me, was T Bone Burnett. The legendary producer and musician does not tour that often but, for the past several years, he has been taking the stage at HSBF. On this evening, he introduced us to Logan Ledger, an artist whose album he is producing. Ribot joined Burnett and provided some amazing guitar flourishes.
T Bone truly is one of those musicians that have the ability shake the space in the moment. This being the third time in three years that I have caught his performance, I couldn't think of a better way to wrap up the 2016 Hardly Strictly Bluegrass Festival.
HOLLY HORN
With artists on multiple stages at the same time at Hardly Strictly Bluegrass, it's always difficult to choose which one to photograph. I arrived at Golden Gate Park late in the day Friday, and was able to catch Dave Alvin doing a fantastic tribute to California songwriters, including songs by Merle Haggard, the Kingston Trio, John Stewart, Tom Russell, Jerry Garcia, Brian Wilson, and Jackson Browne. Browne even surprised the audience by joining Alvin onstage. 
I headed over to the Great American Music Hall to photograph Jamey Johnson, with opener Jonny Two Bags. Both artists were on the bill at Hardly Strictly, and did the additional show that evening to the delight of the sold-out venue. 
My Saturday at HSBF began with a beaming Kris Kristofferson, joined at the end of his set by Jamey Johnson. Next I enjoyed some Hot Tuna, and rushed to catch Johnson's tribute to The Band. I heard he might be working on something special, and I can't wait for new music from him. 
At the next stage over, Cyndi Lauper's infectious energy carried into the audience. She performed her hits, interspersed with country and bluegrass covers, including "Walking After Midnight."
Next, I hightailed it to see Jackson Browne's set, fighting the crowds to enjoy a cameo appearance by Shawn Colvin. I ended my Saturday night with the last of Chris Isaak's performance. 
Sunday was a busy day for me, and full of the toughest choices. Because of a drizzle of rain in the morning, the festival itself was less crowded than the previous day, so I was able to move about easier, and catch many of my favorites. Tim O'Brien, Buffy Sainte-Marie, and John Doe's rock and roll all thrilled. Hayes Carll was joined by Allison Moorer for two songs, including "Jesus and Elvis," which I love. 
I had never seen the Pimps of Joytime live, but I recommend it for a good time. Rosanne Cash, Wynonna & the Big Noise, and Emmylou Harris were not to be missed. I finished off the festival with Cake — they were delicious. 
Have you been to Hardly Strictly Bluegrass? Who were your "not-to-be-missed" artists? Tweet me @shootinthedirt.
After reading these narratives and sliding though the photos below, you may also want to check out some performances that the festival recorded.
---