The Flatlanders Add to Their Legend With a Romp Through Favorite Songs
---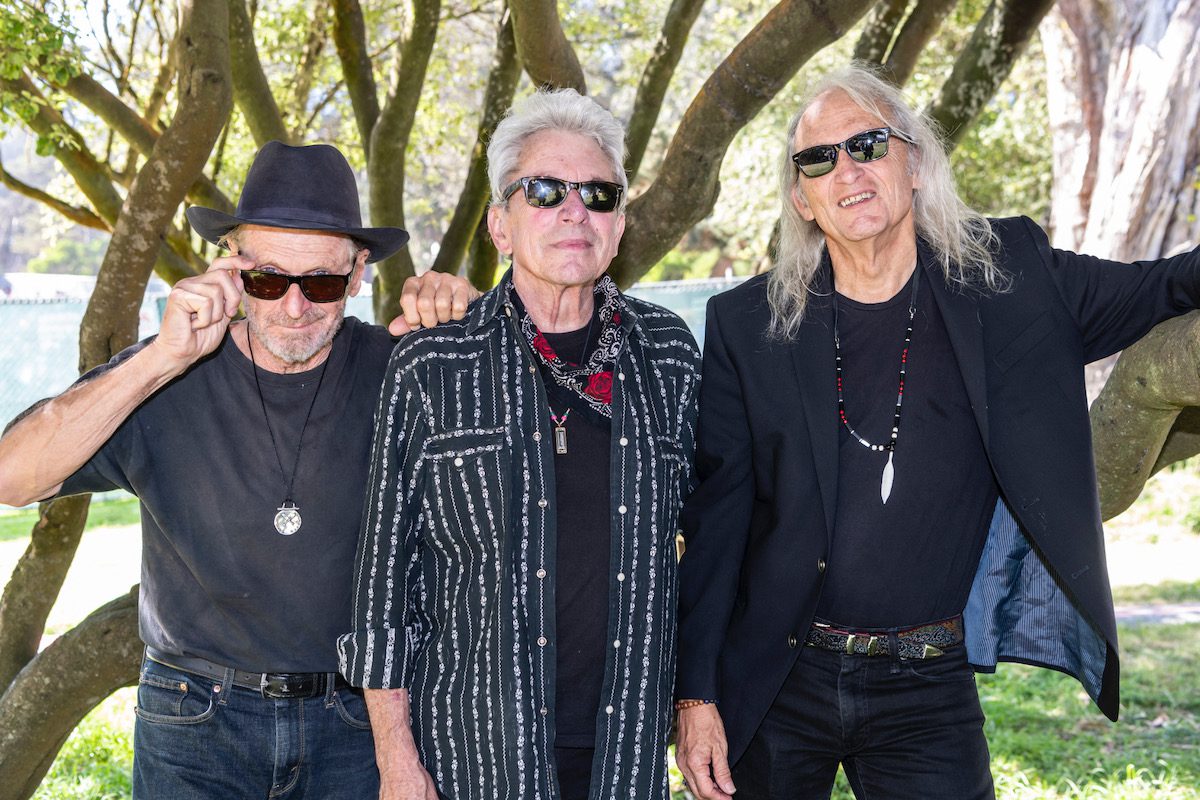 Photo by Jay Blakesberg
They were once "More a Legend Than a Band." That's what happens when your debut album's release is delayed nearly 20 years and your principal members in the meantime go on to great critical success as solo acts.
Since that first record came out in 1990, the reunited Flatlanders have only burnished their reputation with their subsequent recordings and performances while maintaining substantial individual careers. And now Joe Ely, Butch Hancock, and Jimmie Dale Gilmore are back with their first album in 12 years. Treasure of Love, due July 9, is a 15-song set that celebrates their shared influences and enduring "cohesion of souls," as Ely puts it.
Over a Zoom call, the three say that there was no rhyme or reason to the lengthy interval between albums and that some of the tracks on the new one go back at least a decade.
"This one evolved over time," Ely, who co-produced it with longtime band associate Lloyd Maines, says from his home outside Austin, Texas. "It sat in one place for many years. A lot of times we record things for no other reason than we have everybody all together, the musicians are in town. … Sometimes, it's everybody's got a new song."
"There wasn't a plan," Gilmore concurs from his own home outside Austin. "Our output with each other has always been — "
"A miracle," Ely interjects.
Hancock, down in Terlingua, Texas, says the basic tracks were completed before the pandemic struck.
"Joe took great advantage of the [lockdown] in finishing it up," he says. "Then he called in Lloyd and made sure everything got to not just listenable but really pleasurable listening. … By the time Lloyd got done with it, it sounded like a real record."
Ely also gives his co-producer a lot of credit: "Lloyd Maines directed a lot of what made it sound good, as well as his guitar work and the steel guitar and dobro and the slide guitar work. He gave it a cohesiveness. It all felt like it belonged on the same album."
Adds Gilmore: "It wasn't artificially concocted as an album. It's just a reflection of our musical tastes."
Songs We Love
While all three Flatlanders are products of wide-open West Texas — hence the group name — each brings distinct talents to the band: Ely is the rock-and-roll dynamo and the group member most overtly influenced by fellow Lubbock product Buddy Holly. Hancock is the Dylan-esque bard, an often dazzling wordsmith. And Gilmore is the country classicist with a mystical bent and a vintage warble that gives the trio its deepest roots.
All three are also exceptional writers, and their previous albums contained mostly originals. On Treasure of Love, however, Hancock contributes three songs and Ely one, but the other 11 are by household names ranging from Bob Dylan, Johnny Cash, and George Jones (the title track) to songwriters' songwriters such as Townes Van Zandt, Mickey Newbury, and Paul Siebel.
"Most of it is stuff we were doing together since we started hanging out together," Gilmore says. "It's just things we wished to have down for our own purposes. We'd be recording over at Joe's studio and Joe would usually say, 'You know, we used to do this, that, or the other. Let's just throw one of those down.' It wasn't like we didn't want it to come out, but that wasn't the thinking at the time.
"All these songs represented on the record, there were hundreds more we could have done the same way. We all loved the songs a lot."
In addition to the title track, Tex Ritter's "Long Time Gone" and Siebel's "The Ballad of Honest Sam," Gilmore tackles Dylan's "She Belongs to Me."
"Dylan is probably the single most common thing Butch and Joe and I had together. Townes came later," he says. "That particular song, I can remember the first time I heard it, I went, 'Wow, that's not like anything anybody else has ever done.' It's simple and beautiful. It's not folk music, not pop, not country. Just a very good song, with lyrics that anybody can take them to mean what they want to, but they're beautiful anyway."
Back on that Flatlanders debut, which was recorded in Nashville in 1972 and given the title More a Legend Than a Band upon its U.S. release in 1990, Gilmore sang lead on all the tracks. That's one reason — along with the inclusion of a musical saw — that the album sounded so out of step with early '70s commercial country, although in retrospect it also sounds ahead of its time. But Gilmore says the one-singer approach was a record-company directive that didn't reflect the reality of the band, and since then the Flatlanders have all shared lead vocals.
Each takes a lead turn on a rollicking version of "Sittin' on Top of the World." Among the Ely features are two of Hancock's songs, "Moanin' of the Midnight Train" and "Ramblin' Man," as well as his own "Satin Shoes." In addition to his typically whimsical "Mama Do the Kangaroo," Hancock takes on songs by some of his songwriting heroes: Cash ("Give My Love to Rose"), Newbury ("Mobile Blues"), and Van Zandt ("Snowin' on Raton").
"Johnny Cash has totally been one of my iconic heroes, not just for songwriting and his amazing voice," Hancock says. "He had a similar kind of consistency like Jimmie Rodgers or Hank Williams. … Maybe part of it was Luther [imitates the twang of Cash guitarist Luther Perkins], but it was instantaneously recognizable and, more importantly, instantaneously likeable. You just loved it."
As for Van Zandt, he says: "He was a tremendous influence on all of us. Townes' songs will break your heart and fill your spirit up, and that was the direction we were all trying to go in with our songs. …
"Townes was definitely a major force, even if he was crazy enough to hitchhike across the Mojave with a backpack full of vinyl." (That alludes to an old Ely story about picking up the hitchhiking Van Zandt, who thanked him by giving him a copy of his debut album from said backpack.)
A Backlog of Songs
Right now, the Flatlanders have no plans to tour, although they are hoping that changes as pandemic restrictions continue to ease. One thing's for sure: When they do hit the road, it will be quite different from their early days in Lubbock.
"We can consistently draw a good crowd now, but there was a time when we were our only audience," Gilmore says with a laugh.
"One night we played a place," Ely recalls, "and there were only three people. One was Willie Nelson and the other two were DJs."
In the meantime, they continue to also focus on their individual careers. Ely last year released an excellent pandemic album, Love in the Midst of Mayhem, and has other projects in the works. Hancock will release a solo album later this year. Gilmore's most recent work was another fine collaborative effort, with Dave Alvin on 2018's From Downey to Lubbock.
"We've all got backlogs [of songs]," Hancock says. "If the dam ever bursts, look out."
They will also continue to build on the personal and musical bonds among the three of them that have already endured for more than 50 years.
"We go out into the world, we come back with different experiences and different songs," Ely says. "There's a lot of distractions and road bumps along the way, but in the end there's a cohesion of souls."
So they are very much a band, but still fueled by the spirit that sparked the legend. As Gilmore puts it about the trio's first time performing together after a pandemic-induced separation of more than a year:
"I noticed right away that same old great feeling was there. It doesn't have to be manufactured. … It's fun, and it's the same kind of fun that it was when we first started."
---