The Chuck Wagon Gang: Bringing A Little Heaven to Earth
Posted On October 20, 2015
---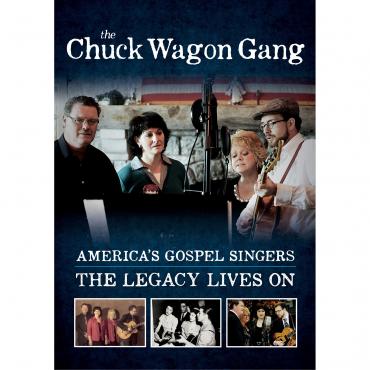 A On October 1, 2015, the International Bluegrass Association (IBMA) recognized the Chuck Wagon Gang's long career and enduring contributions to country gospel music when it awarded "Best Loner Notes for a Recorded Project" and "Best Graphic Design for a Recorded Project" to "The Chuck Wagon Gang Complete Recordings: 1936-1955."
This fall, even larger audiences will have an opportunity to learn about the legacy of the Chuck Wagon Gang and to discover their music. Starting in October, "America's Gospel Singers—The Legacy Lives On," with Marty Stuart in the role of executive producer, will air on PBS stations. Stuart has been active also in preserving the legacy and promoting the music of the Chuck Wagon Gang through his work as songwriter and executive producer on the Gang's 2014 album, "Meeting in Heaven," but in the documentary the history of the group comes to life in a series of interviews with country music stars and media personalities whose lives the Chuck Wagon Gang touched at one time or another. Director Jack Spencer weaves a colorful quilt of stories out of the patchwork of family photographs (some never before seen), old recordings, and live performances. Eddie Stubbs, for example, one of the writers of the liner notes of the IBMA award-winning box set and WSM dj and country music historian recalls in the film how the group had the closest ties to country music than any other gospel group at the time because the Chuck Wagon Gang's label mates at Columbia Records included some of the day's biggest country acts.
D.P. (Dad) Carter, his son, Jim (Ernest), and daughters Rose (Lola) Carter Kearnes, and Anna (Effie) Carter Gordon Davis formed The Chuck Wagon Gang in 1935 and released their first album the next year on Columbia Records. With four voices and a guitar, the Gang distinctive sound has touched the hearts of their listeners for the past 80 years though their versions of classic gospel tunes such as "The Church in the Wildwood," "I'll Fly Away," "We Are Climbing," and "Looking for a City." Over the past eight decades, the group has sold over 40 million records, a testimony—as Stuart, Stubbs, and others confirm in the documentary—to the deep ways the Gang's music has inspired their audiences. During one of the interviews in the documentary, Merle Haggard looks back on the influence the Chuck Wagon Gang had on him: "When I was young – four, five, under five years old- there were two types of people, the kind that went to the Bob Wills dances, and they were, you know, taboo, and then there was people that listened to church music, I called it. Well, one of the church groups that I thought was very good—even though I wasn't into church music that much back then—was the Chuck Wagon Gang." In one of the interviews in the film, Dan Rather remembers listening to the Chuck Wagon Gang on the radio when he was a youngster in rural Texas during the Depression: "Any glimmer of hope was seized upon, and here comes the Chuck Wagon Gang; it lifted spirits. When the radio went off spirits would go down again, but they were higher than when the program came on." Stuart recalls hearing the Chuck Wagon radio show with his grandfather: "I've never forgotten the look on his face as he sat with his eyes closed in his favorite chair, wearing his dusty work clothes and brogan shoes, listening to the Chuck Wagon Gang sing. When it was over, he stood up and said, 'That's mighty good." "Heaven only knows," says Stuart in the documentary, "how many hearts have been touched by the music of the Chuck Wagon Gang."
Shaye Smith, a third generation of the Carter clan, now leads the Chuck Wagon Gang, and I caught up with her recently by phone to chat about the new documentary, country gospel music, and the legacy of the Chuck Wagon Gang.
HC: How did the video come about?
Shaye Smith: Actually, it was the brainchild of Marty Stuart. After he had written the eleven songs for our new album, he got to thinking that our story needs to be told; those folks who have never heard of the Chuck Wagon Gang could watch this, he said.
HC: How long did it take to make it?
Smith: We recorded the CD, "Meeting in Heaven," about a year and a half ago. Marty wrote all the songs for that album; he gave us about fifteen, and there are eleven on the album, so we have enough songs to start thinking about the next album of his songs. He's also the executive producer of the film. We spent several days filming it a Jack Spencer's studio, and overall, I think it took about a year from start to finish. There are several interviews in the film, including ones with Connie Smith, Merle Haggard, Charlie Daniels, and, of course Eddie Stubbs, who's an encyclopedia of country music and a big fan of the Chuck Wagon Gang, and there's an interview with Dan Rather; that was the final interview Marty did, and we weren't sure we would get it.
HC: How did that interview happen? Did Marty set out to talk to Rather?
Smith: Well, Marty was on location in California, and Dan was interviewing Marty, and Marty found out Dan had grown up listening to the Chuck Wagon Gang; so, Marty asked Dan if he could interview him while they were on the set together.
HC: What are Marty Stuart greatest traits?
Smith: On the professional side, he has a deep desire and drive to make sure that this kind of music—old-time country music—doesn't die. He senses his ability and influence to be a part of the preservation of the music and the traditions. His mom and dad were Chuck Wagon Gang fans, too. On the personal side, he's very transparent and honest. As we became friends, I learned that he and Connie are just good country folks. I tell a story in the film about them inviting me over to their house when I had to make a hard decision; I didn't know Marty very well at the time, but he never hesitated to tell me to come over, and we all sat and talked for hours, and we ate some of Connie's apple pie; it was good pie, too. You know, fans can sense fake, and Marty's not fake; that's why his fans love him so much.
HC: Your grandmother was a huge influence on you. What are some her most memorable traits?
Smith: She's the reason the Chuck Wagon started. Vocally, she had such a unique voice; it was a strong, resonant alto voice, and you'd know it was her when you'd hear her singing, even if you couldn't see who was singing. She was an unselfish, giving person. I had lots of time with her when I was growing up; she taught me how to cook. Her spiritual influence is what led me to become a Christian. You know, she was the model of a Southern lady.
HC: Your dad's most memorable traits?
Smith: Dad was a good provider. He worked hard to constantly provide for us and make sure we had what we needed.
HC: When did you start singing?
Smith: There are pictures of me with a tiny microphone when I was four years old. My mother sang with the group when she was pregnant with me, and so I was singing before I was born. (Laughs) I sang solos in church when I was in the seventh or eighth grade, and I went on from there to get my degree in voice.
HC: Who are your three greatest musical influences?
Smith: My grandmother, for all the reasons I've already mentioned. The Eagles—I think listening to them is where I learned how to sing harmony; I think it's the first time I can remember trying to do it. I've always loved Andy Williams as a singer; I was thrilled to get to meet him once, too.
HC: What is the Chuck Wagon Gang's signature sound?
Smith: It's a single guitar and four voices. The Chuck Wagon Gang is basically a quintet, and if you took away any of these five instruments you wouldn't have the Chuck Wagon Gang. Other gospel quartets like The Speer Family, The Blackwoods, or The Stamps used piano as their accompaniment. The Chuck Wagon Gang was unique because they had a guitar accompaniment, and, as we still do today, each song opens with a distinctive guitar strum. We've wondered from time to time about the origin of that single strum, and we've surmised that the strum was to get the pitch. That guitar strum at the beginning of each song sets us apart.

A Little Heaven to Earth
HC: What qualities does each member bring to the group?
Smith: My Uncle Roy always said that the group's music should be so simple and clear that anyone could sing along with the Chuck Wagon Gang. There were four elements in the group that have been consistent over the years. In the original group, Rose Carter's soprano was very straight and piercing; my grandmother's rich, resonant warm alto voice was like melted chocolate; Dad Carter lent his soft tenor voice; and, Jim Carter was a baritone who sang bass and provided a gravely, scratchy sound to the group, and he played the guitar. Today, we have those same qualities with Melissa Kemper, who's just returned to the group, singing soprano; I'm singing alto; Stan Hill is singing tenor; and, Jeremy Stephens is playing guitar and singing bass.
HC: How does the Chuck Wagon Gang fit into contemporary Christian music?
Smith: Categories related to Gospel music have become more complex over the last few years; there are certainly a lot of them. When the Chuck Wagon Gang put out their first record in 1936 on Columbia Records, they were on the same label as country stars of the time like Jimmie Rodgers and Little Jimmy Dickens. Southern Gospel doesn't really fit us; those groups were piano-based, and our music is like good classic country that has three chords; we never have been Southern Gospel, and we never will be. We can fit in areas of contemporary Christian music, but we don't fit in, if that makes sense. We're Country Gospel, which I would define as music that leans toward classic country but with sacred lyrics.
HC: How have you evolved as an artist?
Smith: When I started singing, I didn't really understand who the Chuck Wagon Gang was. It wasn't until I started traveling and meeting fans and find out much our music meant and still means to them that I started to understand. When I started singing with the Gang, I would sing the right notes and pitches, but now I understand what I'm a part of and what I'm able to contribute to it.
HC: What's next for you?
Smith: We continue to travel every weekend. We're waiting to see what's going to come out and see what's going to happen. We're also at the very beginning stages of discussing an 80th anniversary project.
---