The Christmas Album through the Years
Posted On December 12, 2018
---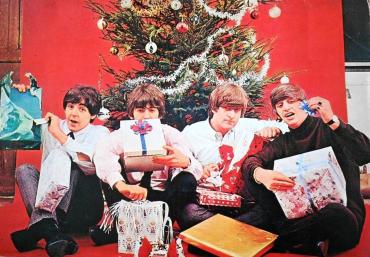 When I was a child, I was lucky to have parents who encouraged me to listen to all kinds of music, as they themselves had always done. There was a magical record shop called The Record Exchange in the one hip, cool part of Richmond, Virginia, the neighborhood dubbed The Fan for the manner in which its streets spread out from downtown. The proprietor was a huge Beatles fan named Richard Morris, or Merris — I could never tell because his handwriting was so sloppy on my receipts. He had a "butcher cover" of Yesterday and Today, unopened, pristine, that cost $300. It never sold; he didn't want to sell it. However, he did sell me, for $8 and a gruff "Merry Christmas," the loveliest thing: a beautiful blue-covered collection of all The Beatles Christmas albums made for their fan club from 1963 to 1969. The best moment on it, of many? The snap and tap of their bootheeels, or whatever was used at Abbey Road to make the same sound, as the lads fade into the distance, calling out, with Liverpool's dropped aitches, " 'appy Christmas!" It joined the ranks in the record cabinet; we had plenty of Christmas albums at home.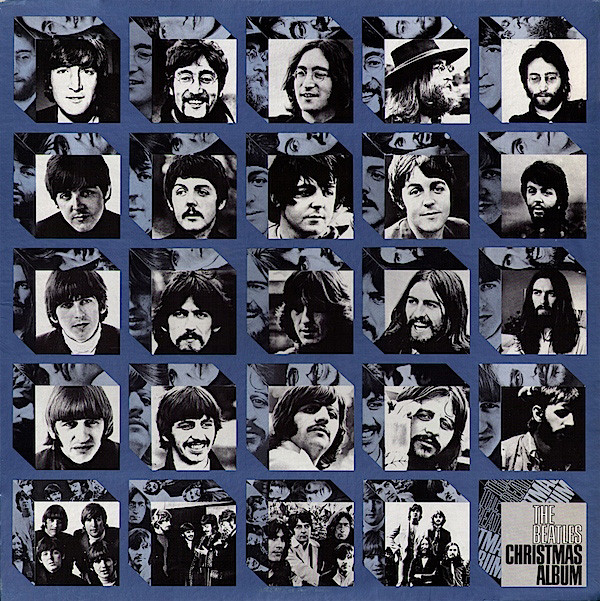 What I did not know, at the time, was that my parents' collection — now in my study — covers the entire rise of the Christmas album from its beginning in America to what I took over, and continue, in the present day. Mother still loves the voice of Perry Como, and the little blue-labeled 45s of "O Holy Night" and "Ave Maria" always got a lot of play during Christmas week. The big albums in our house, though, were those tire company compilations. The Firestone ones were my favorites on the outside, because their covers were printed like presents wrapped with big red or green ribbons. However, I always liked listening to the Goodyear ones better. They had Bing Crosby, Mr. Christmas himself, and Barbra Streisand and the Mormon Tabernacle Choir.
Crosby pretty much began the Christmas album industry in America with the help of his successful film career and his longtime label, Decca. On the wide and enduring shoulders of his 1941 recording of Irving Berlin's "White Christmas," and the 1942 film made essentially to showcase it, Holiday Inn, Crosby made a slew of Christmas compilations from 1945. These recordings are still being repackaged and re-released today.
Other artists, at first chiefly folk singers, followed suit with albums of traditional Christmas carols. Unsurprisingly, Decca released many of these, trying to keep its hold on an increasingly lucrative seasonal market. Burl Ives, like Crosby a Decca artist, movie actor, and radio star, released Christmas Day in the Morning in 1952. Along with old English classics like "I Saw Three Ships (Come Sailing In)," Ives included "Jesous Ahatonhia (The Huron Carol)," written in Canada in the 1640s by a Jesuit missionary. His appearance as the voice (and body inspiration) for Sam the Snowman in Rudolph The Red-Nosed Reindeer in 1964 solidified Ives' connection to Christmas music for the rest of his career.
During the 1950s, opera singers (Mario Lanza), popular artists (Connie Francis, Johnny Mathis), country singers (Patti Page), and global superstars (Frank Sinatra, Elvis Presley) would all record Christmas albums. The mix of traditional carols and new holiday songs was by now standard for singers famous enough to have such new songs written for them; in Sinatra's case, "The Christmas Waltz" (Sammy Cahn and Jule Styne), and in Elvis', the instant classic by Billy Hayes and Jay Johnson, "Blue Christmas."
Things broke wide open in the 1960s on all sorts of cultural, political, and musical fronts — in terms of the Christmas album, a torrent of releases by seemingly every artist under the sun ensued. Christmas swung and swayed with Nat King Cole, Ella Fitzgerald, and Herb Alpert. It twanged with Chet Atkins, Ernest Tubb, and Buck Owens and the Buckaroos. It raised that wall of sound with Phil Spector's 1963 compilation, and with The Supremes. It got down with James Brown and hit the waves with The Beach Boys. Andy Williams, following in Crosby and Como's footsteps, used popular Christmas television specials as a complement to his many holiday music albums.
From the 1970s to the present, there are far too many Christmas albums to properly cover in a brief column approaching the holiday. Please let me share a few of my favorites from my lifetime with you instead.
The Jackson 5 Christmas Album (Motown, 1970). Twelve-year-old Michael singing "The Little Drummer Boy" is at once bright and poignant.
John Denver's Rocky Mountain Christmas (RCA, 1975). A wistful and wacky collection of traditional carols, popular Christmas standards, and Denver and Joe Henry's "A Baby Just Like You." Denver's 1979 Christmas special, and ensuing album, with The Muppets includes a stellar version of "Little Saint Nick" by Dr. Teeth and The Electric Mayhem (which had to have its songwriter credits changed to include Mike Love, after the resolution of Love v. Wilson in 1994).
Mannheim Steamroller Christmas / Christmas 1984 (American Gramaphone, 1984). Multi, multiplatinum and so deservedly so. Mannheim has given good Christmas on every one of their holiday albums since, if you like liquid instrumentals for the ages.
Dolly Parton, Home For Christmas (Columbia, 1990). Dolly continues to write her television Christmas specials, has a Christmas tree in every room of her house, and her annual Smoky Mountain Christmas extravaganza at Dollywood is in full swing. Share the clear, sheer joy in her voice.
Johnny Cash Country Christmas (Delta, 1991). Johnny Cash is my favorite singer. This album features the last Christmas recordings by June Carter Cash with The Carter Family; their "It Came Upon The Midnight Clear" is pure peace.
Glen Campbell Christmas (EMI/Capitol, 2000). Some of the best performances born of Glen's Goodtime Hour and selected from his many Christmas albums. My favorite track is Willie Nelson's "Pretty Paper."
Destiny's Child, 8 Days of Christmas (Columbia, 2001). R&B stands for revelry & bliss, though the celebration of the twelve days of Christmas is most certainly commercial …
Bob Dylan, Christmas In The Heart (Columbia, 2009). Jack Frost and the gang roll out the barrel of Dylan's childhood days in the Iron Range for that rollicking oom-pa-pa "Must Be Santa." Honorable mention goes to his version of The Andrews Sisters' "Christmas Island" (written by Lyle Moraine). The proceeds from sales of this record continue to go to Feeding America and other charities dedicated to world hunger relief.
Pink Martini, Joy To The World (Heinz, 2010). An ecumenical and indeed nondenominational celebration of the holiday season in Martini's inimitable style.
And two new releases of note, upon which to conclude:
Rodney Crowell, Christmas Everywhere (New West, 2018). Crowell's album of original Christmas songs ranges from poignant to bleak and back again. "I'll Spend My Silent Night Alone" seems to be Rodney's choice, but I'm glad he's shared these with us all the same.
William Shatner, The Shatner Claus (Cleopatra 2018). No, he doesn't sing, he speaks, but you knew that already. Joining Shatner Claus on this record are Henry Rollins, shaking "Jingle Bells" like a terrier shakes a rat; Judy Collins, lending lyric grace to "White Christmas"; and Iggy Pop on "Silent Night," which you need to hear for yourself.
Signing off with a favorite version of a Christmas song from my younger years; age cannot wither this one. Bing Crosby's Merrie Olde Christmas, 1977, which would prove to be his last of the television specials. Crosby welcomes David Bowie to the house, and after a chat in which Bowie identifies this song as his six-year-old son's favorite, they sing "The Little Drummer Boy" with Crosby on lead and Bowie on the ethereal "Peace On Earth" counterpoint.
Happy, merry, joy, and peace. See you next year.
---