The 10 Best Roots Music Records of 2018 So Far
---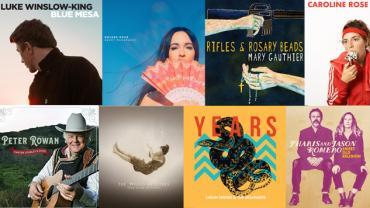 Last month we polled our staffers and regular album reviewers on their favorite records of the year so far. It's never an easy question, and always a subjective one. Among our voters, only 10 records received multiple votes with the No. 1 artist taking her crown by a wide margin (hence why the entries are alphabetized after hers). But nearly 40 other albums received votes, showcasing the breadth of Roots Music released so far, and the range of preferences from our writers and readers.
Check out No Depression's mid-year favorites below, with links atop each one to the complete album reviews.
Voters include John Amen, Grant Britt, Henry Carrigan, Stacy Chandler, Maeri Ferguson, Corbie Hill, Adam Kirr, Sonja Nelson, Amos Perrine, and Hilary Saunders.
1. Kacey Musgraves, Golden Hour
On Golden Hour, Kacey Musgraves lives in that space, for these songs focus on relationships — brokenness, longing, regret, joy, sadness, bliss, strength, hope — and the inextricable threads that bind us to others. Yet, the record radiates with beauty and love; its glorious sheen imbues the world around it with a sparkling message to embrace wonder, revel in love, and to hold onto transitory moments of beauty that settle on or near you. — Henry Carrigan
2. Beth Nielsen Chapman, Hearts of Glass

Beth Nielsen Chapman's new album Hearts of Glass couldn't have a better title, for glass reflects our innermost hopes and desires as well as the destructive and redemptive images of ourselves, and at the same times glass shatters into millions of tiny uneven pieces just as our hearts can shatter when dreams, hopes, or love are dashed. On her first album since her 2016 induction into the Nashville Songwriters Hall of Fame, Chapman includes several new compositions, but also revisits and refreshes some of her earlier songs, and contains two early songs recorded by Waylon Jennings ("Old Church Hymns & Nursery Rhymes") and Willie Nelson ("If My World Didn't Have You"). But the sonic starkness of these songs creates a palpable sense of the madly constricting and liberating emotional moments of love, rage, and hope. Chapman's songs carry us through the moments when we're most vulnerable in order to discover the resilience our bodies and souls and hearts call upon to survive and thrive. — Henry Carrigan
3. Mary Gauthier, Rifles & Rosary Beads

On her aptly titled new album, Rifles & Rosary Beads, Mary Gauthier gathers 11 songs that she co-wrote over the last four years with wounded veterans in the SongwritingWith: Soldiers retreats. These songs not only name the things that these soldiers carried and continue to carry, but also provide vessels for naming and transforming the trauma they carry. Rifles & Rosary Beads gives veterans and their spouses a voice, a chance to find in song the words that foster growth in the midst of trauma. The songs give the veterans an opportunity to name the things they continue to carry with them once the wars are done, recognizing that the wars within them are never finished. Gauthier and her co-writers deliver an album of songs that momentarily make the burdens of these men and women lighter, for in these songs they've found the care and empathy of a listening stranger who doesn't sit in judgment but rather embraces in love. — Henry Carrigan
4. Gretchen Peters, Dancing with the Beast

Each tune on Gretchen Peters' new album is written from the perspective of a different woman, and each tune goes deep into its subject's psyche. One woman is at the end of her life, looking back with dissatisfaction, one is a sex worker at a truck stop, one is a teenager disturbed and confused after being taken advantage of by a boy from out of town, one takes a dissatisfied look at her cookie-cutter life and memorably admits "I get lost in my hometown." Dancing With the Beast is an album of incredible humanity and depth, and listening to it requires the same mental engagement and emotional investment as reading a short story collection. As such, Dancing With the Beast can be a tough listen. Yet on days when your spirit is properly attuned to the everyday struggles, tragedies, and moments of grace her 11 women experience, this record's an immersive, rewarding listen. — Corbie Hill
5. Pharis & Jason Romero, Sweet Old Religion
What pours out on Sweet Old Religion isn't anger or sadness or exhaustion, though surely the duo experienced all of that and more in the last few years: They welcomed their second child, tore down and built a new house, and watched their work on custom banjos go crashing off course when a fire burned down the workshop. What pervades this record is gratitude. Joy. Celebration. And appreciation for the stuff in life that isn't stuff at all. Where previous Romero records have been a mix of standout originals and obscure folk gems dug out from past eras, Sweet Old Religion's 11 songs are all penned by the Romeros, though even these new tunes are tinged with tones from long ago. — Stacy Chandler
6. Caroline Rose, Loner
It's been a long, strange journey for Caroline Rose, but she is finally making the music she's been longing to make for years. A proven natural when it comes to that rootsy, Americana sound, her back-to-back debuts America Religious and I Will Not Be Afraid showed her ability to master a genre that ultimately was not where her passion lie and wasn't where she belonged. And though the songs she created during that time are beautiful and honest, Rose is living her truth on her new record, Loner. — Maeri Ferguson
7. Peter Rowan, Carter Stanley's Eyes

Peter Rowan can document his lineage all the way back to Bill Monroe, who hired him as a Blue Grass Boy in the early 1960s. In addition to employment and teaching, Monroe introduced Rowan to Carter Stanley, whose voice and songs provided Rowan a second foundational stone. That 1965 meeting is the subject of this album's title song, and from the awakening essayed in the song's spoken verses, it's clear that that personal connection informed everything Rowan has done ever since. — Hyperbolium
8. Sarah Shook & The Disarmers, Years

Sarah Shook's musical influences are obvious as her angsty lyrics are set into a classic country rubric complete with pedal steel and a touch of alt-country via the electric guitar. The songs are short and punchy, three to four-minute pieces that would fit into the Opry without question, though painted in darker shades than even Hank managed to pull from his palate before he got his ass fired. It's like Lucinda Williams backed up Waymore's Outlaws, with Lu still looking under rocks for her joy. And it's this combination of bounding, high-spirited Roots Music with Shook's bleak outlook and often flat-voiced delivery that makes these songs on Years so compelling. — Jason D. "Diesel" Hamad 
9. Luke Winslow-King, Blue Mesa

Luke Winslow-King may have left New Orleans behind, but his new record Blue Mesa may be his most NOLA-inflected work yet. Following 2016's dark and brooding I'm Glad Trouble Don't Last Always, Blue Mesa finds Winslow-King in a different place than he was during the creation of Trouble. In fact, Blue Mesa serves as a kind of road map of where he's been in his life — the places that raised him musically and all the incredible art he's been exposed to since his early days as a Roots Music. It has the old-fashioned ragtag New Orleans sound on songs like "You've Got Mine" (a collaboration with "Washboard" Lissa Driscoll) and the swaggering party "Leghorn Women." The bluesy influence of his Northern Michigan roots comes through on the wistful "Better for Knowing You." The boisterous "Chicken Dinner" is a hybrid with its repetitive verses and perfectly choreographed horns. It's playful and celebratory and makes you feel better for having listened to it. — Maeri Ferguson
10. The Wood Brothers, One Drop of Truth

The Wood Brothers insist that their latest release is their purest. That might be true in terms of brotherly togetherness, but the sound is still the same eclectic mix of funk, country, roots rock, and blues that brother Oliver has been dishing up since his King Johnson days. Utilizing several studios in Nashville and four engineers, the band's sixth studio album is all over the place thematically, but still remains firmly anchored in the Woods' country-funk-bloozey backyard. — Grant Britt
---