Thanks for Being Here, Roy Clark
Posted On November 15, 2018
---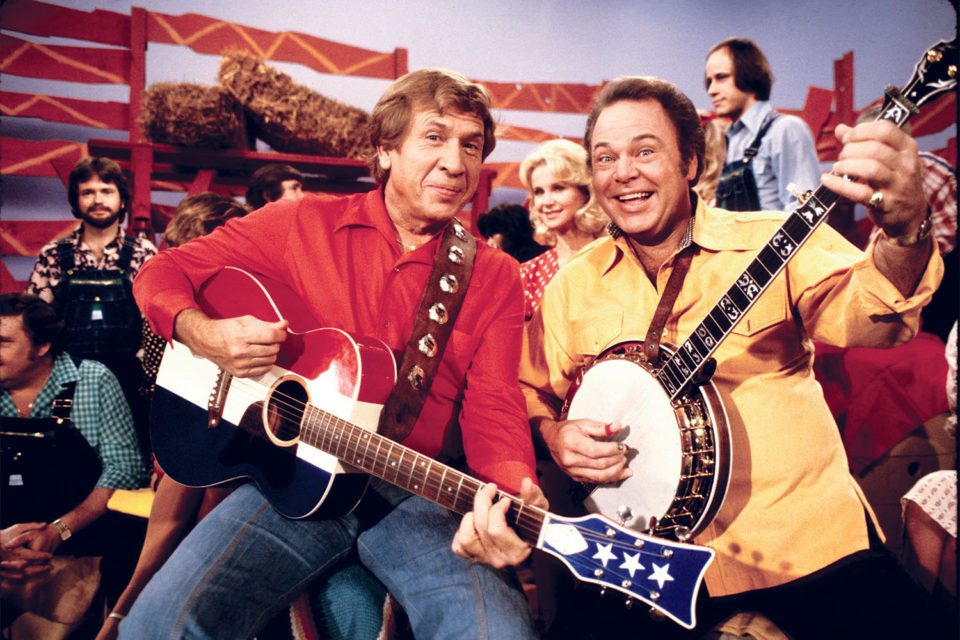 Roy Clark, guitarist and long-running star of TV's "Hee Haw," died today at the age of 85. He passed away at home in Tulsa, Oklahoma, after complications from pneumonia.
He was already a pretty big name before he joined Buck Owens as co-host of "Hee Haw" for its debut in 1969, but the show was where his personality could beam out along with his music, a combination that brought smiles to the faces of viewers young and old.
"A TV camera goes right through your soul," Clark once said. "If you're a bad person, people pick that up. I'm a firm believer in smiles. I used to believe that everything had to be a belly laugh. But I've come to realize that a real sincere smile is mighty powerful."
There are plenty of sincere smiles, and laughs, in this unique cover of Johnny Cash's "Folsom Prison Blues" Clark did on "Hee Haw" in 1971:
Born in rural Virginia, his family moved to Washington, DC, where a young Clark was exposed to a wide range of musical styles. "Dad said, 'Never turn your ear off to music until your heart hears it — because then you might hear something you like,'" Clark wrote in his 1994 autobiography My Life — In Spite of Myself!
Audiences loved Clark. He was the first country artist to headline the Montreux Jazz festival, played Caesar's Palace with Petula Clark, filled in for Johnny Carson on The Tonight Show, and was a fixture on variety shows in the US and the UK.
"I was the token bumpkin," he said. "It became, 'Let's get that Clark guy. He's easy to get along with.'"
But he was far more than a token. In addition to comedic timing, an expressive face, and the ability to find rapport with just about anyone, his musical chops were mighty. He has a star on the Hollywood Walk of Fame, armloads of awards (including Grammys, CMAs, and ACMs), and was a member of the Grand Ole Opry (1987) as well as the Country Music Hall of Fame (2009).
His good-guy image on screen was the real deal. He was given the Minnie Pearl Humanitarian of the Year Award in 1999 from TNN's Music City News Awards. And he stayed involved with the students of Roy Clark Elementary School in Tulsa in his later years.
His generosity, as well as his music, made an impact on many of today's musicians, who were remembering him today on social media.
"My story is not unique," Brad Paisley tweeted. "How many guitar players started with a Roy Clark guitar method book? How many guitars were sold to people wanting to play because of him? How many lives were made better because of his wit and joy? I'm one of so many."
In another tweet, Paisley recalled: "When the Nashville floods wiped out most of my guitars, Roy heard about it & showed up at a show and gave me one of his. This is who this man was. Constantly giving. I owe him so much. Go say hi to my Papaw for me Roy. You left the world a much better place."
At the end of each of his concerts, Clark would quip to the audience: "We had to come, but you had a choice. Thanks for being here."
Thank you, Roy Clark, for your good cheer, the laughs you shared, and your incredible music.
---