Texas Stars Explode Over London – Israel Nash at The Scala
Posted On November 24, 2018
---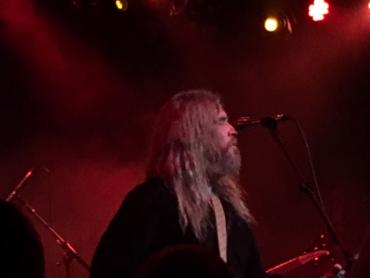 One of the preconditions for a great gig is that the artist/band are actually enjoying themselves on stage. This was the final night of their European tour, which may have given a supplementary boost to proceedings as Israel and his band didn't have to save anything for tomorrow. Against that friends in Holland saw him Utrecht a couple of weeks ago and they reported he was absolutely brilliant there too, so maybe he gives his all every night without exception.
This was my gig of the year. I've seen some top-notch gigs in recent weeks, (Kacey Musgraves, Bruce Cockburn, Over The Rhine) but much as I enjoyed them, they lacked was the sheer joy, exuberance, ecstasy and intensity of this gig.
One thing Israel made clear was the night was about us all – him, the band and us in the audience creating the moment; giving and sharing with each other. It created something really special.
Whatever, Israel was over to promote his last album, the excellent Lifted and most of the set was focussed on songs from that, but there was plenty from earlier albums too.
The band was smokin' hot and for people who like guitar duels (that's people like me) Israel and lead guitarist Joey McLellan had a couple of really storming battles over the evening. I should also acknowledge the superb pedal steel work of Eric Swanson, on all but a couple of songs where he switched to an ordinary guitar plus the sterling underpinning by the rhythm section of Aaron McLellan and Josh Fleischmann on bass and drums respectively.
He opened with a three song blast from Lifted – album opener Rolling On kicking things off, with Lucky Ones and Spiritfalls following before the first audience explosion as we greeted the performance of Rexanimarum.
Highlight, of a night of highlights, was Goodbye Ghost and first encore of Neil Young's Ohio. He wasn't inviting an audience singalong but a mass of voices joined in on the repeated "Four dead in Ohio…" line. I can't think why we got so enthusiastic about a 40 year old song concerning an ex President.
The pick of the new songs was Northwest Stars (Out Of Tacoma) which hadn't particularly stood out as an album highlight, but here it took on a new life and soared towards those very stars Israel sang of.
He finished with an extended Rain Plans and sent us off into the night paradoxically sated, yet still wanting more.
---