Super Bowl Halftime Shows, Dilly Dilly
Posted On February 6, 2018
---
The Philadelphia Eagles won Super Bowl LII on Sunday night, and there was much rejoicing in all parts south of Nomans Land Island National Wilderness, the point in the state of Massachusetts closest to the Equator. However, I am here to talk about the Halftime Show, its reception, and the unfortunate bastardization of a lovely old folk refrain.
Super Bowl halftime performers, since 1967, have included Ella Fitzgerald, Tony Bennett, Chubby Checker, Al Hirt, Michael Jackson, Smokey Robinson, ZZ Top, Aerosmith, the Rolling Stones, The Who, Madonna, Bruno Mars (twice, so far), Paul McCartney, Bruce Springsteen and the E Street Band, Tom Petty & The Heartbreakers, and Lady Gaga. Diana Ross, in 1996, razzle-dazzled the crowd in Tempe, Arizona, and then departed by helicopter, her epic hair aloft, in a spin parallel to the rotors.
America's Lady Di
Justin Timberlake, this year's act, had played the Halftime Show before. Oh yes, we all know about that. In 2004, he joined Janet Jackson for the spectacular pyrotechnics during Super Bowl XXXVIII. At the end of a bumpy, grindy "Rock Your Body," during which Jackson strutted in samurai-inspired leather and Timberlake mostly trotted after her in baggy khakis, blazer, and T-shirt, he ripped her top and exposed Jackson's right breast.  Both performers said this was an accident; the ripping was intentional, but only a red bustier was meant to be shown. "Nipplegate" ended MTV's production of the Halftime Show; broadcaster CBS was fined half a million dollars; and "wardrobe malfunction" became an everyday term.
Sympathy eventually lay with Jackson, but it was not she who was invited to perform for a second time at the Super Bowl in 2018. Timberlake was introduced by a Jimmy Fallon clinging like the Cheshire Cat to a precarious perch high up in the corporate sponsor's logo sign. With the Halftime Show as his springboard for intense promotion of his new album Man of the Woods and its supporting tour, Timberlake took the stage in an outfit that made his 2004 get-up look sharply tailored. Though his clothing was designed by Stella McCartney, daughter of 2005's Halftime Show star, it was soundly condemned as ugly and, well, game-y, in the sense of hunting. Think Cabela's, but too bulky in which to move, and camouflage patterns that would fool neither beast nor man. That the clothing was vegan, made entirely of material and via processes involving no animals, gave Timberlake no break. Twitter particularly pounced. Gabe Bergado of Teen Vogue wanted to know who wore it better, Timberlake or Mac OS Sierra.  Those who had forgotten, or never known, that Timberlake favored a bandana worn on the head when he was a boy and NSYNC superstar derided him for wearing one around his neck, cowboy — or dog — style.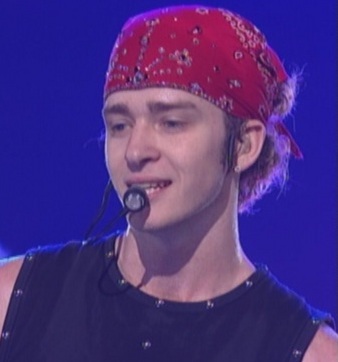 An earlier red bandana, Madison Square Garden, 2000 (via YouTube)
As singers have been wont to do over the years, in the less-than-15 minutes of fame allotted them between halves of the football game and the powerfully expensive commercials that must be gotten in, Timberlake performed a medley of his hits — "Filthy," from his new album; "Rock Your Body" from 2002's Justified, his first solo album. A horn section and guitar players clad in lurid cherry and purple surrounded him. The rat-a-tat of drums, reminiscent of the marching bands at high school and collegiate halftimes, and once a mainstay of the Halftime Show, accompanied "Suit & Tie." And then rumors proved true, alas. "Minneapolis, Minnesota, this one's for you," Timberlake announced. Seated at the piano, he crooned along with a stories-high projection of Prince in his prime, full of power and passion. Here is how "I Would Die 4 U" sounds, and looks, and tastes, and smells, and FEELS, friends:
Landover, Maryland, 1984
Prince made it clear during his lifetime what he thought of posthumous videoed performances with the living.  In a 1998 interview with Guitar World, he said, "If I was meant to jam with Duke Ellington, we would have lived in the same age. That whole virtual reality thing … it really is demonic. And I am not a demon. Also, what they did with that Beatles song ["Free As a Bird"], manipulating John Lennon's voice to have him singing from across the grave … that'll never happen to me." Though any music show in Minneapolis may rightly pay tribute to him from now on, it saddened me to see how it was done in the Halftime Show. And while I am on the subject of Minnesota musicians and wordsmiths, Fallon did himself no favors with me with a poorly re-worded, flatline (per)version of Bob Dylan's "The Times They Are A-Changing," in costume as Dylan.  Fallon loves dressing up like musicians and imitating them, but his impression of Mick Jagger only made me long for Mike Myers to be doing it, and his Dylan took something majestic and made it mundane. Here, listen to this: Nothing need ever be rewritten to make this song current and relevant and rolling down like waters.
"Mirrors" and "Can't Stop the Feeling" were both crowd-pleasers, particularly the latter, during which Timberlake danced across the field and posed for a photo with Ryan McKenna, 13, now known to the world as Selfie Kid. Timberlake's high energy, snaky moves (at 37 he hasn't lost even half a step) and genial performer's personality shone, but the languidness of the songs trailed away into yes, more commercials, and that rip-roaring, back-and-forth, up-and-down second half without so much as a firecracker going off.
A word about the commercials, before I leave you with a Halftime Show moment of which I, personally, am quite fond.  Budweiser set upon us a bizarre ad campaign featuring demi-medieval characters and the inexplicably spoken tagphrase "dilly dilly." People are trying to figure out where it comes from and what it means, without much success on either front. Well, this is the only time the phrase should ever have been used. The old English folk rhyme from the 17th century or before, "Lavender Blue" (in which the "dilly dilly" was originally "diddle diddle" and had a sexual implication), was sung by Burl Ives in 1949's So Dear To My Heart:
However, one Super Bowl commercial did make good use of music. The Oscar-winning, Grammy-winning song of 1987, "(I've Had) The Time of My Life," that ends Dirty Dancing as Jennifer Grey and Patrick Swayze dance to it, inspired a NFL commercial featuring Eli Manning and Odell Beckham Jr.  It might just be the best thing the New York Giants have done since 2011.
Now, thank heavens, it's time for baseball season. A lifelong fan of the game, I've been counting the cold winter days until pitchers and catchers report to spring training — this is what Valentine's Day has always meant to me.  Until next February, here's a Super Bowl halftime performance for the ages. Enjoy.
---