Stories and Songs Shine at 'You Got Gold' Celebration of John Prine
Posted On October 15, 2022
---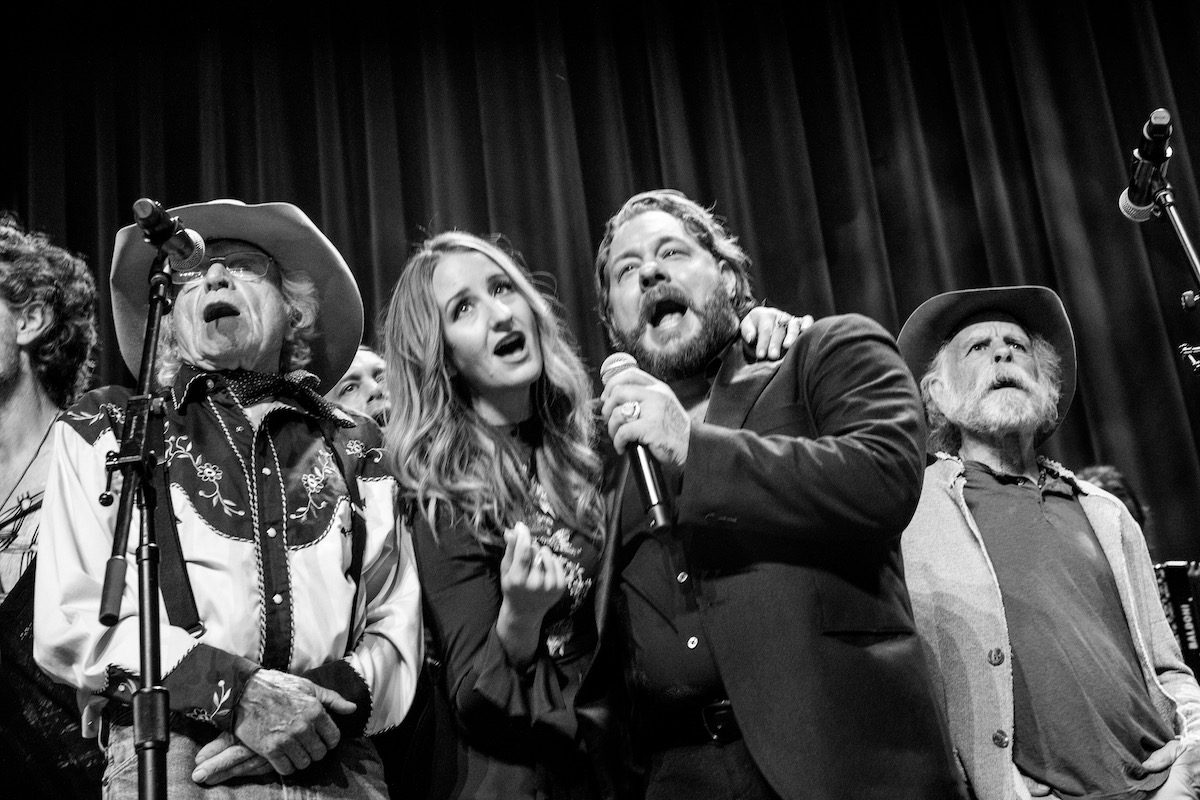 Ramblin' Jack Elliott, Margo Price, Nathaniel Rateliff, Bob Weir, and many others gather onstage at the Ryman Auditorium to sing John Prine's "Paradise" during the weeklong "You Got Gold" celebration in Nashville.
Tribute concerts are all too common an occurrence in Nashville. In recent years, fans have packed Bridgestone Arena or Nissan Stadium to say farewell to Kenny Rogers or to mark the first anniversary of Merle Haggard's death with a parade of celebrities on the Jumbotron.
But Nashville also knows how to celebrate the lives and careers of local heroes on a more intimate level. Few musicians made themselves more at home in Music City than John Prine, whose death from COVID-19 in 2020 felt personal on a wide scale there. He was often spotted in his favorite restaurants, shopping at Kroger, or in the audience of so many other performers' shows.
After a year's postponement due to the 2021 delta variant of COVID, venues across Nashville last week were finally able to host You Got Gold: Celebrating the Life & Songs of John Prine, a weeklong tribute to his life and songs organized by the Prine family and Oh Boy Records. Each of the six shows benefitted the Prine family's Hello in There Foundation, which provides grants to organizations serving people on the margins.
In addition to attending the concert series, fans could take a trolley tour of Prine's favorite places in Nashville — such as Ernest Tubb's Record Shop, the White Bridge Auto Wash, and Carter's Vintage Guitars — or take part in picking parties at various locations around town. Arnold's Country Kitchen offered Prine's favorite meatloaf all week, and White Castle offered a pop-up concert and special packaging in honor of Prine's years as a White Castle Ambassador. Grimey's Records hosted an album release party for Broken Hearts & Dirty Windows: The Songs of John Prine Vol. 2 on vinyl, and the Belcourt Theatre screened It's a Big Old Goofy World, a documentary about the history of Prine's Oh Boy Records.
Another part of the week's celebration was Prine's induction into the Music City Walk of Fame, along with Patsy Cline, the Fisk Jubilee Singers' Paul T. Kwami, and music industry executive Ed Hardy.
Concert tickets sold quickly, even without fans knowing which artists would perform. The sold-out shows offered streaming options, and the Ryman Auditorium show on Monday (Oct. 10), which would have been Prine's 76th birthday, was livestreamed free.
Each of the shows, curated by Prine's close friends and family, offered a different flavor. Sunday night's performance in the CMA Theater celebrated Prine's long relationship with the Country Music Hall of Fame, where he had planned to serve as 2020 artist is residence. He was a familiar figure there, often spotted eating in the museum restaurant or standing in line to buy a ticket to the exhibits.
Prine's wife, Fiona Whelan, served as host for the series of concerts, joined by her sons Jody Whelan, who runs Oh Boy Records, and Tommy Prine, just beginning his own music career. John's stellar band members served as house band: Jason Wilber on guitar and vocals, Fats Kaplan on mandolin, fiddle, and steel guitar; Kenneth Blevins on drums, and Dave Jacques on bass.
Amid appearances all week long of icons of Americana and country music were duets and collaborative performances. Emmylou Harris, Mary Chapin Carpenter, and Emily Scott Robinson sang "Peaceful Waters" at the CMA Theater on Oct. 8 and, on Wednesday, Robinson was joined by Sierra Hull, Margo Price, and Katie Pruitt for the same fan favorite at Basement East with bassist Dave Jacques Wilber singing lead. That same night, Brandi Carlile joined Bonnie Raitt for "Angel from Montgomery," Chris Isaak and Nicole Atkins performed "I Have Met My Love Today," and Hayes Carll and Allison Moorer sang "Sweet Revenge."
The organizers of You Got Gold included veteran performers from throughout Prine's career in the shows' lineups, including Ramblin' Jack Elliott, Bob Weir, and Keith Sykes. But they also gave the spotlight to many younger singer-songwriters championed by Prine who have established themselves in their own rights, including Kurt Vile, Arlo McKinley, Tyler Childers, and Allison Russell and J.T. Nero.
Back-to-back shows at the Ryman Auditorium offered star-studded performances by the Secret Sisters, Gillian Welch and David Rawlings, Milk Carton Kids, Lyle Lovett, Dwight Yoakam and more — many more. The performances reflected the range of Prine's songwriting. Nathaniel Rateliff delivered his rendition of "Sam Stone," possibly even sadder than Prine's own. The War and Treaty, by contrast, "planted their feet," as comedian Leslie Jordan predicted when announcing the duo, and rocked the Mother Church with "Knockin' on Your Screen Door."
The Monday Ryman show, on Prine's birthday, also included songs never performed before. Most poignant was "The Last Love Song," debuted by Shawn Camp, co-written with Prine in December 2019. Camp kept the song close after Prine's death, not wanting to capitalize on the loss, before sharing the song with Fiona, for whom it was written. The lyrics, expressing a wish for a long life together, expressed the hope that separation would come "a long, long time from now."
Kasey Musgraves played "Walk in Peace," an unreleased song she attributes to a visitation by the spirit of John Prine. Lucinda Williams debuted her song of foiled attempts to co-write with Prine sabotaged by successive bottles of wine, "What Could Go Wrong with That?"
Tuesday's show at City Winery honored Prine with an in-the-round performance from a group of singer-songwriters who encountered him at various points in his career. Joe Henry described first hearing Prine at 15, but getting to know him in the last five years "at the beginning of my own cancer journey," noting, "He modeled what it might look like — in the midst of so much uncertainty — to move out into the world."
Marshall Chapman, with her characteristic humor, spoke of hearing Prine for the first time and her first time drinking moonshine from a Mason jar on the same night in 1973, then seeing Prine for the last time in the hospital in March 2020, sharing stories and saying, "I love you" one last time.
Basement East was packed Wednesday for the final show in the You Got Gold series, opening with the Hogslop String Band on "Spanish Pipedreams," followed by a slate of younger artists, including S.G. Goodman, Tré Burt, Lilly Hiatt, and Caitlin Rose. Performers also included bluegrass mandolin icon Sierra Hull, Miko Marks, Hayes Carll and Allison Moorer, and Margo Price and Jeremy Ivey.
The singular thread running through each show and each story shared by those who knew Prine was the man's kindness and generosity. Joe Henry called him the "Mark Twain of our times," noting that Prine was known best for the gentleness of his humor. Ramblin' Jack Elliott told Fiona, "I think he taught me how to smile."
Songwriters who had a chance to work with Prine felt themselves most fortunate — even those with established success in the industry. Keith Sykes, who co-wrote "You Got Gold," the theme song for the weeklong celebration, also performed "I Just Want to Dance With You," which he acknowledged was not their best song together, but he called it "a happy song," one that went on to be named "Dance Song of the Year" by Country Music Magazine when it was covered by George Strait.
The featured performers at each show shared stories of "the first time I met John Prine" or "the last time I saw John." While some performers chose to perform deep cuts, Prine's best-known songs were performed at all the shows: "Sam Stone," "Speed of the Sound of Loneliness," "Summer's End," and more. Each show concluded with "Paradise" as a grand finale, as all the performers crowded the stage and audiences sang along.
Through each performance, amid the excitement over the huge cast of artists and the sweet familiarity of songs from John Prine's deep catalog, fans could not escape wishing this was one tribute that should have come "a long, long time from now."
---