SPOTLIGHT: The Honey Dewdrops' Kagey Parrish on Finding a Rhythm Overseas
---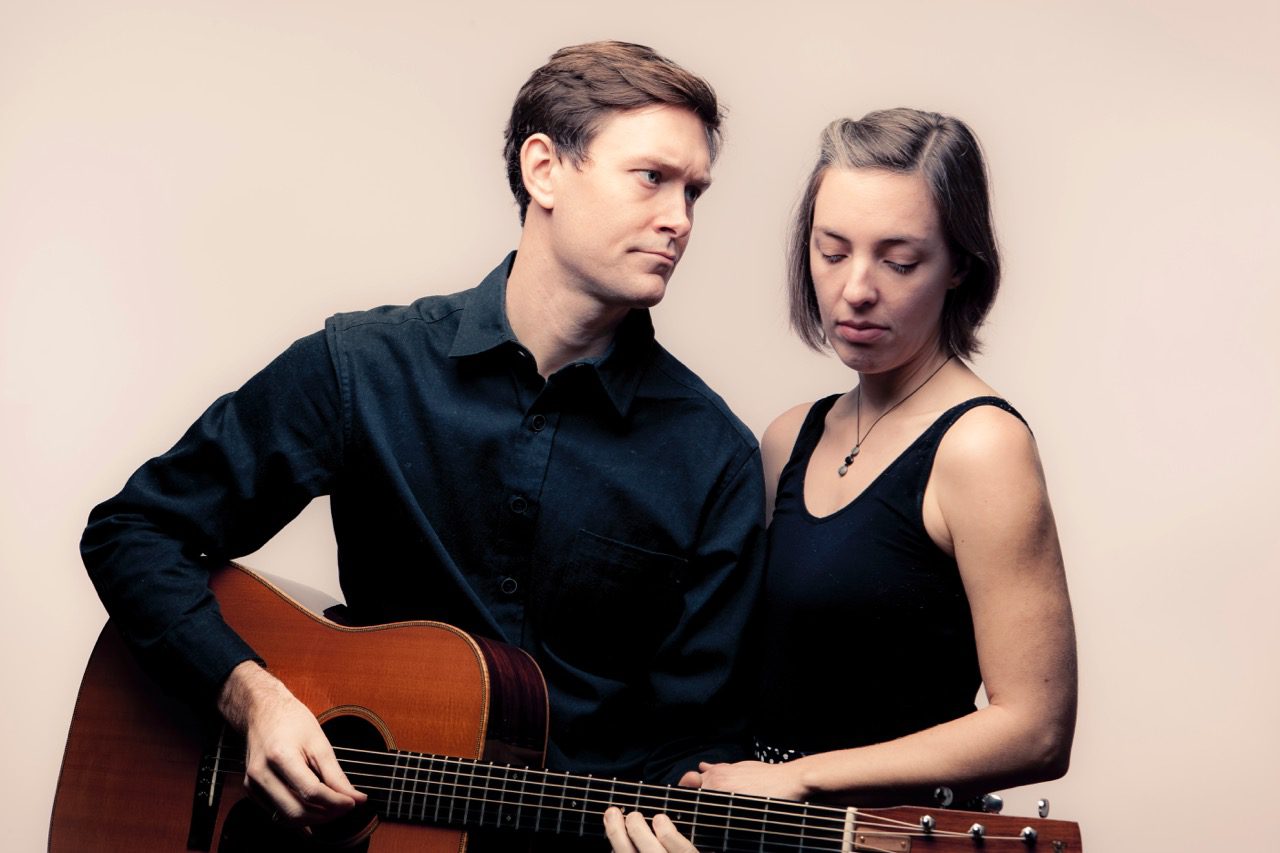 Michael Patrick O'Leary
The other night I listened to Gary Clark Jr. talk to Marc Maron on the WTF with Marc Maron podcast and the topic of traveling with gear came up. Gary said that his best vintage amps and guitars live at his house. He said the road is so tough on equipment that he only tours with new amps. In his experience, it's not uncommon to send guitars in sturdy cases through TSA and have them come out broken.
It was midnight, Sunday turning Monday. We were driving 66 East in Virginia, then the beltway around DC, then 95 North through Maryland. The roads were still busy then, but flowing. It was the fourth night of the first four record release shows for our new record, Anyone Can See. We'd just played in Charlottesville and were heading back to Baltimore for a few days off. So much had gone into making those shows happen. I was realizing that, suddenly, they were behind us.
Laura and I were both bombed out by then. She was asleep, but I had a cup of coffee. It was raining and just warm enough at 34 degrees. Gary's voice was low and slow the whole way. Whatever came up, there was a grounded feeling that he had been there, done that, touring, playing with heroes, putting out a new record.
Our last record was released in 2015. This one took four years to get it out into the world. All that time I'd been wanting it, writing the songs, arranging them with Laura, back and forth, listening again and again. To be finished felt good. At the same time, when the moment came to give it to the world, it was surprisingly hard to let it go. Letting it go means moving on, and sometimes you just want to stay still. Lately for us there has not been time for staying still. Since the beginning of this year we've toured the Mid-Atlantic, toured in the UK, and finalized details to release a record and begin taking it on the road on March 1.
————
It felt good listening to Gary and Marc talk about vibro-kings, gold tops with P-90s, broken Strat necks, finding a good amp guy — the familiar, spiraling conversations of guitar nerds. It took me home, back to the question, how do I make that sound? Having the right tools for the job is essential. The question these days is how do we travel with the sound and get it right everywhere we go.
The logistics of getting everything we needed to the UK were a struggle. How many checked bags does British Airways allow before you have to pay extra? If their website says no carry-on guitars, what amount of wiggle room is there to carry yours on? If you have to check an instrument, what do you do if it's broken en route? What if your budget rental car turns out to be a two-door, will it fit you and all your stuff?
You don't know. You buy a flight case and hope it's a good one. You pay the crazy FedEx rate to ship merch. You pack light to stay under weight. You pay extra for an automatic car. You call the instrument insurance company to make sure you're covered overseas. You try to sleep on the flight because, when you land, you have to sit on the wrong side of the car and drive on the wrong side of the road to get the venue on time to play a show that night.
————
Somehow, when we arrive at the venue that first night in England, we let all of that go. Maybe we're so excited and exhausted at the same time that it levels off into perfect conditions. It's a fun show, 45 people packed into a small cafe in South Sea. There's no stage, a small PA, original art on the walls by the cafe's owner and graffiti artist, Fark. One of his pieces is an image of a smiling woman saying, "Be excellent to everyone." We meet a few people who say they cover two songs of ours, pretty much the best compliment you can get. I remember thanking them so much that it was uncomfortable.
Over the next three weeks it's a lot of the same thing. Problem-solve about getting to the show and hotel, then set up and play the show. Drive cautiously, find cheap gas (it costs seven bucks a gallon), find good food and coffee, watch for speed cameras. Moments of anxiety and frustration are followed by making new friends and having fun sets. You make a right turn into the right lane, like always, only to find you're driving into oncoming traffic. An audience that is heart-breakingly quiet during a set gives you a standing ovation at the end. The super cool guest cottage heat doesn't work well and it's below freezing outside. You get the good days, you get blues.
Touring is a lot of watching time, ETAs, tracking when to begin and end. Sometimes it's rhythmic, sometimes it's the opposite. In the UK I kept thinking about time travel, jumping time zones over the ocean at night, arriving in a land that speaks the same, but different language. Things would happen very quickly. In a few hours a stage was set, a performance happened, then it was torn down. At the same time, the pace of driving was slow due to shifting speed limits and narrow roads, and the watchful speed cameras kept me riding the brakes. The miles were stretched longer.
But the songs felt familiar. Getting into their rhythms felt like a refuge. It was a relief to drop into the music. Inside them, the songs would unwind in real time. It was easy to let them go, give them away.
Songs are dances that dissolve in the air. They live for a few minutes. Put a series of songs together for a show and it's possible that a feeling will remain. It's not something you can touch or see. You can tap in and recreate it day after day, but you can't hold it. Making a recording gets you a little closer. A recording doesn't change. It's contained, you just hope that the music can still live and breathe inside the container. You change, though.
————
We performed at Celtic Connections in Glasgow, opening for Gretchen Peters in a big, old theater at the end of January. It was such a pleasure to play there, the guitars and voices hitting the back walls and ceiling in the coolest ways. The space was wide and tall and the sound was big and soft through the mics, out through the speakers, vibrating into the air. It was a big crowd too, sold out at around 1,700 seats. Strangely, I didn't feel nervous. Waiting in the wings I just felt ready to make some music, ready to let it go.
The day before was our first day off, so we hung out in Glasgow, walked around, ate and drank with new friends. That night we played songs in the hotel room. We said we were rehearsing, but it wasn't really that. We played songs we've always played the last 16 years. Like John Hartford's "In Tall Buildings," Norman Blake's "Slow Train Through Georgia," Townes, fiddle tunes. Songs we've played a hundred times or more.
This was more time traveling. Thinking of the old, younger me playing these songs years ago. Did he ever think of Glasgow? How did he take "In Tall Buildings" to heart? How is it that Hartford's lines hit me now as hard as the first time I heard that song? Still new, somehow. Like the way the Glaswegian voices sounded to me that day. Flowing, water moving, carving a pathway. Words pooling up before falling down. Sounding familiar, something in the back of my DNA clicking on, like, I've heard this voice before, and, don't I already know you?
---
The Honey Dewdrops are No Depression's Spotlight artist for March 2019. Read more about them in our feature story.
---