SPOTLIGHT: S.G. Goodman Performs 'Patron Saint of the Dollar Store' [VIDEO]
---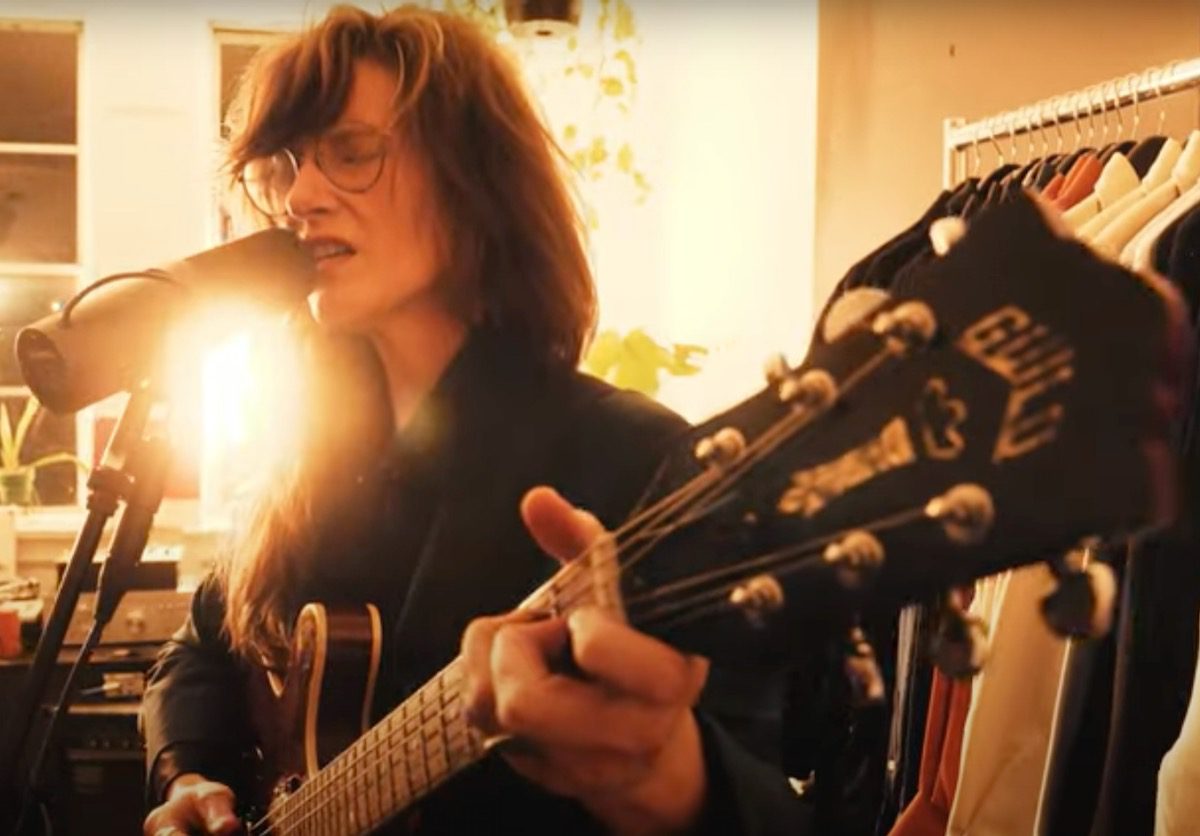 S.G. Goodman performs 'Patron Saint of the Dollar Store' in Factor's in Atlanta.
EDITOR'S NOTE: S.G. Goodman is No Depression's Spotlight artist for June. Learn more about her and her new album, Teeth Marks, in our interview, and don't miss Goodman's essay on writing through OCD.
When a relationship ends, there are things you have to let go of all at once, and things that take longer to leave.
S.G. Goodman gets vulnerable about love lost or never fulfilled throughout her new album, Teeth Marks, but the song "Patron Saint of the Dollar Store" zooms in specifically on the details of a painful parting. "No trace of your love is ever lost on me," she sings, wistfully remembering a shared laugh, a plane ride back home, and phone messages she can't bring herself to delete.
"I would describe myself as the Alan Lomax of voicemails and voice recordings. I never get rid of old devices that hold messages or recordings of loved ones," she tells No Depression. "I had started a short story with the image of a closet full of answering machines. I like how technology used in songs marks the place in time when it was written. And how certain usage of places give listeners an idea of the writer's surroundings. I'm from a rural place, and dollar stores are becoming as synonymous of the Southern rural experience as sweet tea. As much as I love to try and push myself to write a rock song, writing songs that are stripped down and bare are normally the ones I hold the most dear."
In the video below, Goodman performs the song much in the same way she recorded it for Teeth Marks — alone with her electric guitar, no headphones, no editing.
"I recorded this song live in one pass," she says of the album version. "It took several takes to get the one take, but I had to wait until my heart was just right to make plain language feel like something. If there is one song on this album that I feel captures the essence of who I am as a songwriter, it is this one.
"I typically write and practice with an electric guitar," she continues. "I think it makes me push to match the emotion of the electricity. So I knew that I wanted the song to be just me and the electric that I wrote it on. I think some songs are recorded best to a click, while others can only be what they were meant to be when they are based on the irregularities of your breath and heartbeat. I didn't wear headphones while recording this song. I sang out into an empty room towards a mic, so that I couldn't depend on knowing when it sounded right, but when I knew that it had felt right."
Below, Goodman plays "Patron Saint of the Dollar Store" in Factor's, the Atlanta tailor shop of Matt Lambert, who was profiled last year in GQ.
Teeth Marks was released June 3 on Verve Forecast.
---