SPOTLIGHT: Pony Bradshaw's Appalachian Metaphor
Posted On January 20, 2023
---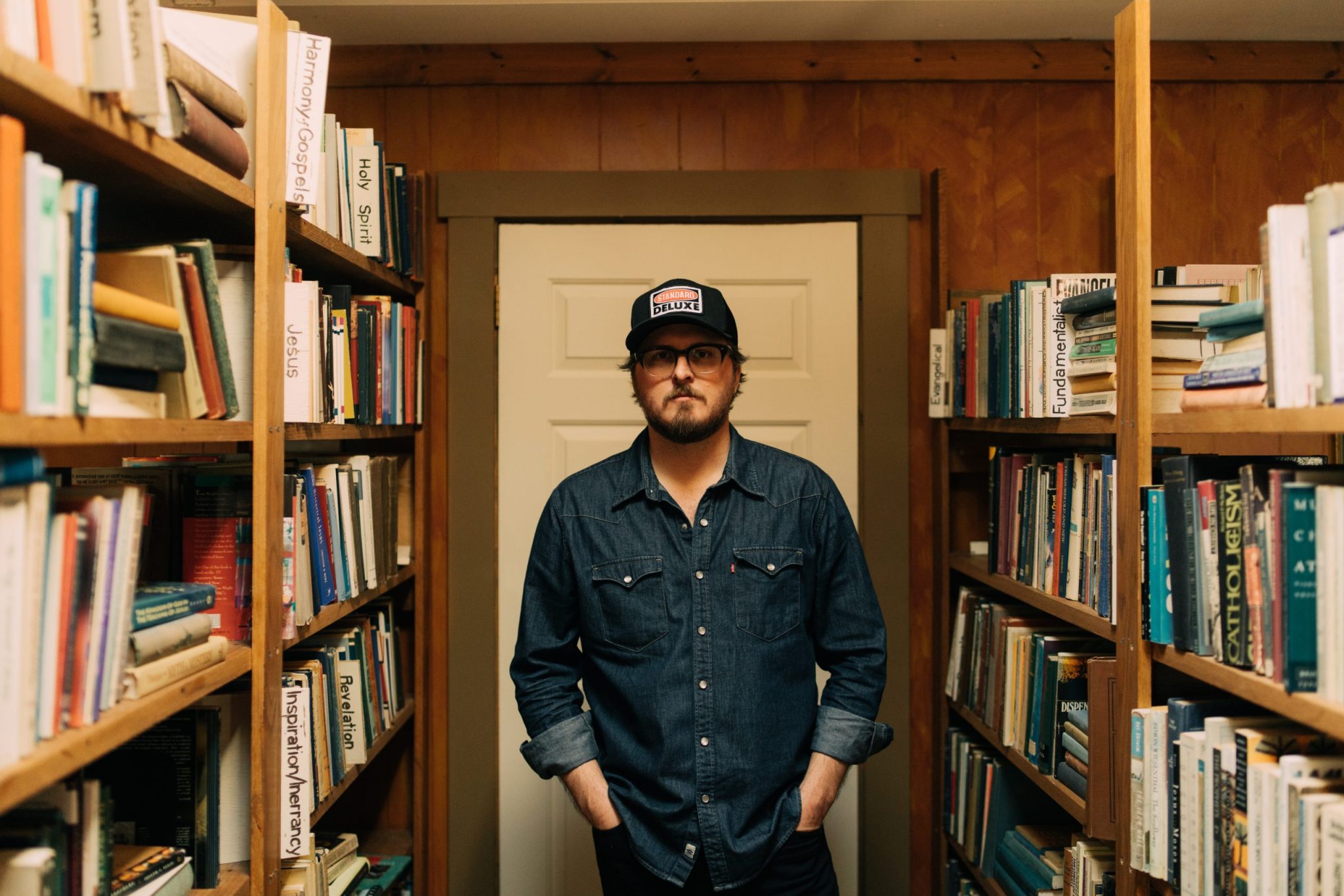 Pony Bradshaw (photo by Garrett Cardoso)
EDITOR'S NOTE: Pony Bradshaw is No Depression's Spotlight artist for January 2023. Read more about him and his new album, North Georgia Rounder, out Jan. 27, in this interview.
I was born on the Mississippi coast. We lived in Pass Christian a spell. Close to Gulfport and Biloxi. I remember Unbridled won the 1990 Kentucky Derby when we were living there. I was 10 years old. After the derby my best friend Sam (a female) and I raced on foot in the sandy streets pretending to be thoroughbreds with the feral neighborhood kids. I've always liked horses, admired them somewhat. They are keepers of an almost mythical history. I don't ride but it is in my blood. My cousin is Trevor Brazile, a rodeo legend with a record 26 PRCA championship titles. We've actually never met. He's from up near Amarillo, I believe, where my mom was born. Her father and Trevor's father were brothers.
I'm writing this in an Airbnb in Birmingham, Alabama. It's 2:21 a.m. I had to make this trip to bring a custom gold-top Telecaster back to Tom at Southside Guitars to exchange it for a bone-white (aka Olympia white) telecaster with wider frets and a different saddle. My sons made the trip with me. They are asleep in their temporary rooms. We're on the fourth floor of an old industrial building turned into over-priced rental units. Exposed brick, vents, and ducts. My bathroom window looks down onto a cobblestone street where a gelato shop and pizza joint are now closed. We ate at both establishments earlier in the evening. My youngest had Vietnamese coffee-flavored gelato with a dash of cayenne pepper. Being a historically picky eater, his decision caught me off guard.
To be honest, I don't feel much different here in downtown Birmingham than I do when I'm at home in Murray County, Georgia, in the rural foothills of Southern Appalachia, sitting in my recliner watching TV. The majority of us that live in North Georgia haven't had dirt floors or outhouses in nearly a century, if you can believe that. Down the road a bit we have Gig City, or what some call Chattanooga. This nickname has nothing to do with music and everything to do with the internet.
Hannah Arendt said, "Metaphors are the means by which the oneness of the world is poetically brought about — for a metaphor establishes a connection which is sensually perceived in its immediacy and requires no interpretation."
My metaphor (I found it with Calico Jim) is North Georgia and our culture, our history and the characters that people our hamlets of industry, our factories and mills, our politics and religion, our births and tragedies. It situates my mind and gives me a natural focus. There is much here to reckon with and much to understand. It's a long work, a long relationship. "Whoever writes in blood and aphorisms does not want to be read but to be learned by heart," says Nietzsche.
I'm not a spokesperson for Appalachia, but I have my own experience that I can hint at and deliver with agency. We're a diverse bunch and eccentric as all get-out. Currently, the entire region seems to be leading a foray in the music world, imprinting itself onto the American musical conscience like a tattoo. If you're from Kentucky or West Virginia (North Georgia is slightly in the margins in this case) and sing about the hills with raw passion and hick humility, you're likely to draw interest in your work from a cult-like portion of America. Pockets of loyal enthusiasts littered across the country. I can't explain the trend, but this business has produced many enigmatic bursts of frenzy in the past, so it shouldn't be too shocking. I wonder what culture or state is next in line to receive the honor of headlining a movement. What will be the next hard swing?
We drink store-bought wine from Kroger and subscribe to The Paris Review but also buck-dance and consider college football sacred. My nephew plays wide receiver for UGA. My state, Georgia, is purple and I'll not talk politics any further than that, but there is significance in making note of our contemporary leanings. Firsthand information and lived experience are rare these days. Mostly we are fed ideas and morals through social media and not personal experience or vetted books of history. Sometimes I feel like we're redefining what "firsthand" and "research" truly mean. Gone are the days when we consulted primary texts and took part in a long apprenticeship. Like Paul Valery said, "Modern man no longer works at what cannot be abbreviated." The Appalachian elementary school teacher falls prey to these technological progressions the same way the Midwestern mechanic does.
I've begun reading Moby-Dick at least 10 times in the past five years. The Penguin edition I own is 624 pages. I usually read around 300 pages before I set it aside. I've finished White Jacket and The Confidence Man, even the strange and dense Pierre, but not this great whale of a book. Sometimes when I'm reading what I deem a masterpiece I create obstacles that prevent me from ever completing the book. I should mention that I'm a card-carrying member of the Melville Society. "A life's work is of no interest unless it's a relentless struggle with the great unknown," says Jean Giono in his slim and compelling book, Melville.
Middlemarch, another example of an "unfinishable" book, is a beautifully deep and sustained effort written by Mary Ann Evans, known widely by her chosen pseudonym of George Eliot. Stories tell us who we are, give us meaning. The more full-bodied and mature the better. Like a good vintage, or a marriage story. Thoreau said, "The language of marriage is not words, but meanings. It is an intelligence above language." We're doomed.
I'm old enough (just barely) to have lived in two different eras. I don't think I had a cell phone until I was 25. When I moved to Georgia nearly 16 years ago, I had a cell phone without service that I kept merely as a watch. A big, square, clunky clock. Shortly after I moved to the state, my roommate had to inform me that my stepdad had passed away when my aunt called his flip-phone with the news. He woke me bleary-eyed and handed over the technology.
I remember the days when I didn't feel so connected to everyone and to everything going on. I remember not even really knowing or caring who the president was, a time when there weren't as many self-taught political scientists so keen on sharing their opinions and proving others wrong. Seeking victory in their "debates" as opposed to clarity. Oh, the tyranny of opinion. I powered my phone off the other day and felt a sharp pang of anxiety when I realized I couldn't be reached. We're living in what feels like a Kafka-esque story written by a young but already cranky Cormac McCarthy. Stubborn mountain people poisoned by the media and the past. We eat boiled peanuts and decent sushi and buy season passes to Dollywood but try (and fail) to plant a garden that actually feeds the family.
I like to get stoned and do the New Yorker crossword puzzle. That's something only someone living in an advanced society could say so casually. My basic needs are met. I have coffee and books and the Criterion Channel. Because we are so advanced we can step back and examine ourselves, we can study history and cultivate our own philosophy. We don't have to worry ourselves silly because winter is nigh and there is not meat enough to see us through the harshest of seasons. We have a Piggly Wiggly. We possess the luxury to grow bored and become creative because our bellies are full.
But our cave paintings are only slightly more sophisticated than those found in France. Ours are claustrophobic daubings. Definitely less natural are our attempts at art, at storytelling. Our metaphysical existence takes the lead in this new dance we've invented where the music playing is almost as dreadful as knowing you'll soon have severe arthritis or maybe even diabetes. I have time enough to stew or to read Dostoevsky, or to simply stare at the wall and starve. Like I said, we're advanced. I feel we rage against certain ideas not because we think they are wrong but because they have the potential to make us not who or what we think we are.
I'm a traveling storyteller who traffics in song using language and narrative as a form of unearthing who I am and what I mean, to convince myself that what I am attempting is not selfish or ridiculous but as equally important as bread and water, HVAC, and indoor plumbing. It's a quasi-philosophical defense of my found purpose. "A great storyteller will always be rooted in the people, primarily in a milieu of craftsmen," says the German philosopher and essayist Walter Benjamin. I choose to write about my people and my place.
---