SPOTLIGHT: Pony Bradshaw Explores Region's Full Range on 'North Georgia Rounder'
Posted On January 4, 2023
---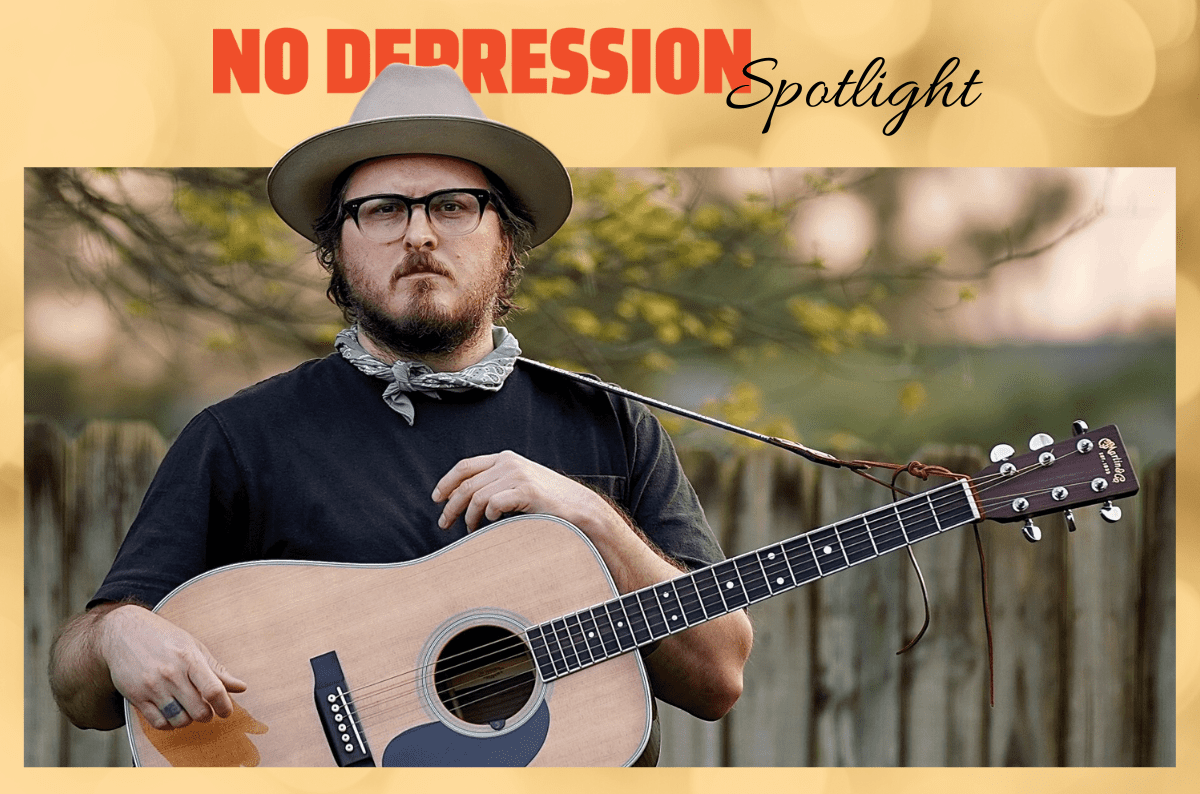 Pony Bradshaw (photo by Bekah Jordan)
EDITOR'S NOTE: Pony Bradshaw is No Depression's Spotlight artist for January 2023. Read more about Bradshaw and his new album, North Georgia Rounder, out Jan. 27, all month long.
On Pony Bradshaw's North Georgia Rounder, the landscape is as much a character as he is.
On the title track of his new album, out Jan. 27, Bradshaw croons:
Over yonder down at Cane Creek Holler
All the shine flood them that swallow
Lord the Oosta, Oostanaula, lazy on the shoals
Run these rivers singing these sins
Up the valley I work for tips 
It's as if he can't quite believe that in all the majesty Southern Appalachia offers, all he can do is bum around and play music. Bradshaw, who moved the region 15 years ago after a largely nomadic life, has come to respect it.
For those unfamiliar with the region, Bradshaw describes North Georgia as a place where there is more than meets the eye. Nestled in the foothills of the Appalachians, it is home to massive industrial infrastructure and burgeoning suburban communities. Bradshaw embraces all of it, and he hopes his listeners will, too. The region's multitudes run deep — a twisted history that he invokes throughout the album.
"It's rich, but it's evil, too," he explains. "This is where the Trail of Tears began. I grew up in East Texas, close to where it ended in Oklahoma. It's kind of strange that I'm ending up where it began and I was living where it ended."
Bradshaw mourns the South's legacy of racism and genocide throughout North Georgia Rounder, most forcefully in "A Free, Roving Mind":
Below the Fall Line
They still eat fire
It's in our nature
To build empires
That's what I've found
That's what we're bound to
What we're bound to
Bradshaw meditates on obligation and freedom on the album, too. With poignant lyrics densely layered with meaning backed by expertly executed Southern rock, the medicine goes down easy. Bradshaw leverages the associations of honky-tonks and disrepute to ask us to question truths we hold dear.
That falls squarely on Bradshaw's definition of a rounder — in his eyes, it's someone who drifts through life, reliant on others.
"I was not the greatest dude growing up," he says. "Not like in the sense that I was a criminal or anything, but I was bumming around. Crashing on people's couches and with no kind of focus or any kind of idea of what I'm gonna do to make a living."
His smile is evident in his voice when he cracks: "I was living that musician life before I ever picked up a guitar."
'This Ol' Devil's Box'
"The sharing of songs and stories, I feel like it differentiates us from other life forms and mammals," Bradshaw says. "It connects us to our history, our past, our future, and informs so much. When everything goes to shit, the only thing we got left to make sense of the world is these records, these books, these stories to tell us who we were."
Bradshaw is solitary and an introvert by nature, which makes touring draining for him. He loves writing and recording, and it seems that touring is the price to pay to keep it going. Growing up, Bradshaw was most likely to be found with his nose in a book. He spent some time in the military, but once they got "tired" of each other, as he puts it, he tried his hand at guitar and couldn't stop. He's amused at how life turned out, that he now performs in front of others for a living. His high school friends can't believe it, he says.
"It's a strange world, touring. It's all goodwill and chance, it's all strangers," he says. "Most people wanna party, but every day we show up, it's a new day for the people at the show, so we have to smile."
Bradshaw is quick to acknowledge that he doesn't want to sound ungrateful — but as much fun as the show itself can be, there's a certain slog that comes along with it for the artist.
"It's difficult to reconcile what my personality feels like and what my vocation demands. I'm not a natural performer," he says. "If we're out on the road and I'm depressed or just not feeling it, then it just becomes work only."
Amid all the work, there's plenty of fun to be had, too, Bradshaw acknowledges, but snippets of good times on social media don't tell the full story, he says. "It's just not as glorious as it seems sometimes on the outside."
A life made playing "this ol' devil's box" shows up in the song "Kindly Turn the Bed Down, Drusilla":
I make my wage on the road, good lord
42 and living out of my van
I make my wage on the road, good lord
A mortal man's work is sun to sun
Oh, but mine it ain't never done.
Working in Seasons
Bradshaw wanted North Georgia Rounder to sound like a live show. The sound is focused on the instruments, with few bells and whistles beyond what the musicians themselves bring to the table. The album thrums with energy as each band member weaves their sound with the others.
"I don't like it to be big and loud and bright," Bradshaw explains of the album's production. "I like some warmth and I like to see the distinction between the instruments and kind of hear the band playing with and against each other."
Sure, it's rock, but there's something mystical to it. The band pulsates with deep grooves that reflect the slow inevitability of the Oostanaula and Conasauga Rivers, which Bradshaw namechecks in his sketches of life in North Georgia. Bradshaw's voice pierces the music with a hint of urgent prophecy. There's a desperate clarity to it that calls to mind Jason Isbell, Adam Faucett, or Great Peacock.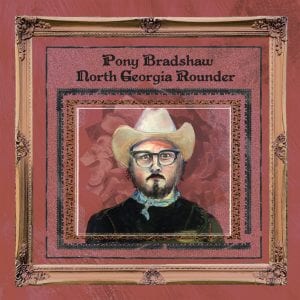 North Georgia Rounder is a meditative album that builds upon itself with a pulsating sound, pregnant with possibility. It's apt that Bradshaw released it – and his previous album, 2021's Calico Jim, – early in the year, reflecting the sense of pause and renewal he's brought to his process.
"I like the idea of working in seasons," he explains. "You hibernate in the winter. I suppose January's still winter, but it's the beginning of a new year and close to spring, so it feels good to put an album out early, and then spend the year touring it."
Bradshaw uses his cherished time off the road to write, often spending a great deal of time shaping his songs. Recently, he's changed how he approaches the writing process itself. In the past, Bradshaw might have forced himself into a cycle of writing and revision. Now, he's approaching it with a collector's eye, writing ideas down as they come to him rather than forcing the process.
"I'm finally getting to the point where I don't feel pressured to always be writing. I think I was living under that myth that you gotta stay sharp and constantly force writing to happen," he says. "And I think I've learned that there's more inactive ways of writing. I'm always thinking. Taking down notes, always reading or watching movies, so it's in my brain. It just never shuts off."
That more constant process of writing means Bradshaw is planning out his next album before he's even toured this one. Calico Jim was an explicitly political collection of sounds, and North Georgia Rounder is more personal, but Bradshaw hopes next to find somewhere in between, focusing on a multigenerational arc of history that revisits the setting of Calico Jim's "Dope Mountain" and uniting Jim with Holler Rose, the title character from a song on North Georgia Rounder.
Jim is a factory worker who sees through the lie of the American Dream but has no intention of being baited by fascists who seek to exploit his troubles for their game. Jim's hardscrabble life is set against the backdrop of Dope Mountain, an abandoned coal mine that adventurous boys venture into in hopes of stripping copper from old equipment and other treasures in the wilds — "Proud to be a hillbilly … But we ain't no white trash," as Bradshaw puts it.
Holler Rose, "the pious moonshiner" of North Georgia Rounder, is painted as a magical figure, an entity who can heal the "sorrow" soaked into the "earth befouled" by environmental depredation. Wedding the practical to the mystical, the political to the spiritual, would be Bradshaw's most ambitious project to date.
"I'm trying to be patient on beginning that whole thing," Bradshaw admits, "but it's exciting having something to work towards."
Bradshaw has a dry affect, a slow sense of humor that glows throughout his words. That comes from a commitment to life and enjoying its twists and turns.
"I've heard people say that some people take themselves too seriously. But what else should we be taking seriously?," he asks. "If not ourselves, there's life that we're doing somehow. I mean, it is serious! Doesn't mean there's no fun or joy, but it's serious. It's no need to downplay the importance of existence, you know?"
He pauses, and wryly observes, "Or maybe there is no importance of existence and that's even more reason to take advantage of this time we have. We have to do something with it."
---