SPOTLIGHT: In the End, Aaron Lee Tasjan Finds Himself
Posted On February 3, 2021
---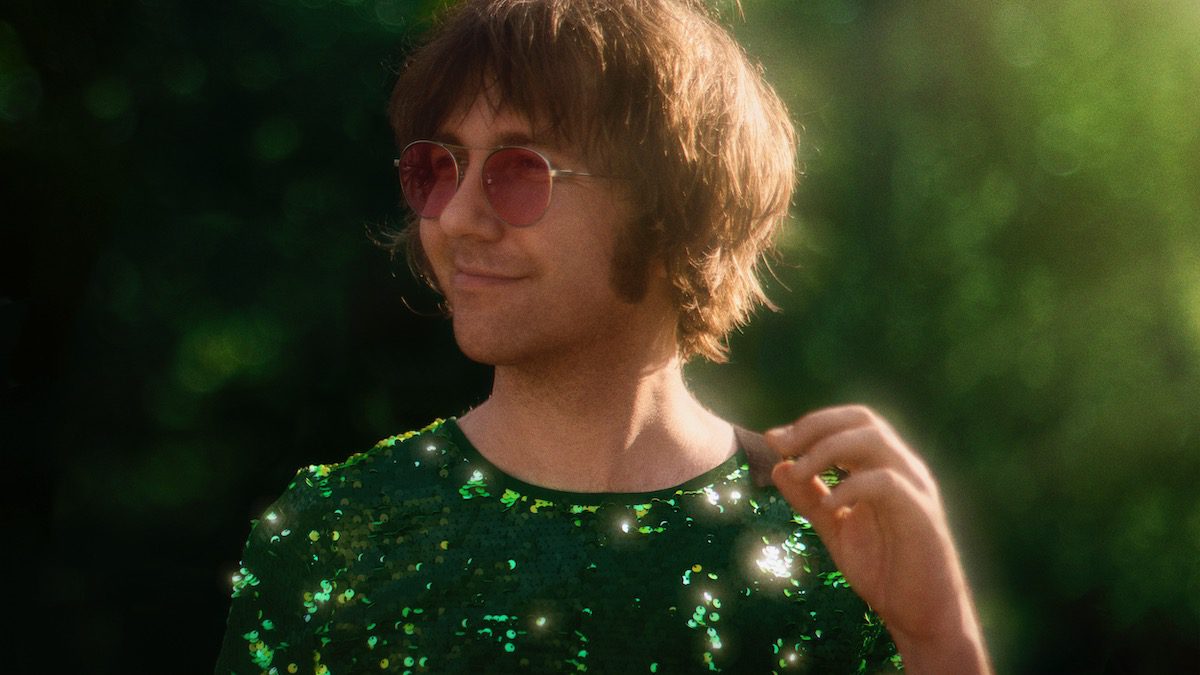 Photo by Curtis Wayne Millard
EDITOR'S NOTE: Aaron Lee Tasjan is No Depression's Spotlight artist for February 2021. Look for more about him and his upcoming album, Tasjan! Tasjan! Tasjan! (out Feb. 5), all month long.
Somewhere between his last record, Karma for Cheap, and his newest, Tasjan! Tasjan! Tasjan!, out Friday, Aaron Lee Tasjan had an epiphany: He's a producer.
He was proud of the 2018 album, but it had also cycled through three different producers and the experience left him wondering if he could handle the next one himself. Understandably, his label, New West Records, had their doubts about his producing capabilities. He had officially produced just one record, for Drivin N Cryin, in which he had previously played, so they didn't know if he had it in him.
"Up until that point in time, I was definitely the kind of person who would have received that information and felt like, OK, plan B then," he says. "And sometimes you just get sick of living like that. It's not even a conscious thing, it's literally just some Darwinism shit kicking in. I'm going to survive. And I think that's just something that your heart and your body and your spirit dictate, and it just got to that place for me where I was like … I don't think I can undermine myself … " So Tasjan quietly hunkered down and began producing what would become his fifth full-length album, unsure if it would be worth the risk.
It was.
Tasjan! Tasjan! Tasjan! is a vibrant, colorful exploration of the self. It introduces us to a new version of an artist whose very aim in his art has always been reinvention. He's been the bedazzled rhinestone cowboy; the derby hat-wearing, suited-up rocker; and now he's onto his most profound identity yet: himself. Or as he puts it, the "sweater vest in space" moment (referring to his look on the cover of the album). "Now that sounds like a record I wanna hear," he jokes.
This is the most honest, self-realized work of Tasjan's career. The perils of living in a virtual world, anxiety and isolation, and most crucially, gender and the absolute exuberance of self-acceptance all play heavily into the songs on Tasjan!, making it feel, in many ways, like a coming out. Not in the typical sense, though. It's more of a spiritual awakening and settling into oneself that can only occur with experience and seasoning, in the music industry and in life.
Radical Self-Love
Tasjan has acquired plenty of seasoning, playing guitar for the likes of Semi Precious Weapons, New York Dolls, Drivin N Cryin, and his own former band The Madison Square Gardeners, among countless others.
It was surrounding himself with so many artists that ultimately shaped Tasjan into the singular performer he is now. He credits longtime collaborator BP Fallon for "hipping" him to "Quentin Crisp and books like The Naked Civil Servant"; Nashville mainstay Todd Snider for taking him under his wing and exposing his own loyal following to Tasjan's talents early on; former Semi Precious Weapons bandmate Justin Tranter, whose love of fashion left its mark on Tasjan; and his friend Mz Neon, a New York City-based trans artist who blew his mind with the concept of "divine masculinity."
The way Tasjan interprets this idea is something to strive for, to say the least. "I think it means not being ruled by fear, not being ruled by shame," he says. "It's radical self-love and self-acceptance and I think it is ultimately being a champion for the voices of the 'others.' I am a queer man, but I am also a queer man who can often be mistaken for cis. In that way it is my job to advocate for all of my brothers and sisters and everybody, because we need those voices. And those stories are crucial to us moving forward and loving each other better. Our existence depends on it."
The duality of feminine masculinity is something that has affected Tasjan deeply his entire life. He pays tribute to it all over the songs on Tasjan!, namedropping his heroes with such intention. David Bowie, Marc Bolan, Grace Jones, Mick Jagger, and Joan Jett are just a few of the gender fluid artists that have inspired Tasjan to feel out his own identity and take up space. Jett, in particular, was the kind of woman he had in mind when writing the blasting album opener "Sunday Women," a song about the kind of person we should all aspire to be.
"A Sunday woman is … just always the kind of person who is unafraid to be themselves even though it changes the molecules in the room a little bit," he explains. "I was also reminding myself, don't forget where you came from. Let me remember the things that made me fall in love with doing this in the first place and celebrate that in a song."
On "Dada Bois," a magnificently distorted pop explosion that Tasjan and his band assembled like a Beach Boys song, in pieces and movements, he sings about depression and stagnancy, about being trapped inside yourself:
Hanging from the mouth of a beautiful world
We ain't nothing but crooked teeth
Some have holes, some are gold
We all shine somewhere underneath
"I was really being honest about some stuff for me that wasn't as easy in that song," he says. And on the starkly confessional, melancholic beauty "Now You Know," a standout on Tasjan!, he channeled Kacey Musgraves' smooth, honeyed Golden Hour vocals to achieve a kind of blissful look inward. "Tried to be a poet / couldn't find the words," he sings. "Oh my heart just feels like Monday."
Front and Center
At the end of his last tour, Tasjan found himself wrestling with the fragility of life as a musician, wondering if it had an expiration date.
"What if this dream that I've had to just be able to do this for my whole life, whether I was famous or not, just to be able to do it till I die, what if that suddenly somehow wasn't a possibility? Ironically, this year hit," he says.
Those feelings of doubt linger in the lyrics of songs like the mellow, acoustic "Not That Bad" and the driving "Don't Overthink it." Armed with newfound confidence that somewhere inside him there was a producer, Tasjan approached this record like it could be his last.
"There was no big moment or some terrible catastrophic thing happening to me. I think I was just feeling that the world suddenly felt like everything was on pins and needles a little bit," he says. "So I kind of made this record like, well, if this were it, let me just be an advocate for myself in every possible way I can do that."
In the end, Tasjan was never meant to remain in the background. He is a frontman through and through, and never has that been more clear than on the new record. He has arrived to and for himself, and we hear it especially on the slinky cool "Feminine Walk," in which he shows his storytelling chops, recounting standout vignettes from a life in rock and roll. "It's all true," he says. "For better or worse."
Punctuated with characters like "Tin Pan Todd" (Snider) and the "sugar daddy with dollar sign eyes" (Sean Parker, founder of Napster and Spotify, who Tasjan met through a former girlfriend), this tune is Tasjan just owning who he is. "I'm just talking about being yourself and not being paralyzed by the potential of that fear place of like, am I acceptable? In a lot of ways, this is me so far. I'm still working on it, but here I am trying to figure it out," he says, adding that it's the song that feels most "him" on Tasjan!: "Sort of funny, but kinda sad and a little anxious, and probably a little too honest at times."
Tasjan had a ball creating the sonic textures of his dreams in the studio, synthesizing and manipulating guitar sounds "whether it was with a pedal or how I was playing it with my fingers or the tone knob on the guitar or adjustments on the amplifiers, or very occasionally things we would do in the box, in ProTools after we recorded it," he says. His goal was to make a guitar record, and there is guitar — of all strange shapes and sizes — in every fiber of Tasjan!
New West eventually came around to Tasjan as a producer, even encouraging him to delve further. "I think ultimately them saying they weren't sure if I was a producer or not was a really great challenge for me," he says.
Aesthetics and Appreciation
New West, specifically A&R veteran Kim Buie, likewise gets credit for guiding him toward the album's groovy cover. Tasjan had initially seen a black-and-white aesthetic, but Buie rightly opened his eyes to how colorful a record he'd made. "That's the thing," he says. "The record always tells you at the end."
Aesthetics have always been intrinsically woven into Tasjan's music. After so many years as an indie rocker, he's got a specific knack for making a lot out of a little. "Whether that's sewing some sparkly letters to a sweater vest or finding a two-dollar pair of sunglasses at the Dollar Tree that some amazing grandmother would wear right before I go into the studio to sing," he says, he relishes trying on new personas, new vibes. A natural extension of his craft, putting a look together to take on the day quells his anxiety by helping him stay present. It's all part of his process.
"Songwriting for me is checking in with my subconscious and being like, who am I today? I have to maintain curiosity about it."
By playing with fashion and reaching a state of full, unabashed self-expression, Tasjan also just wants to connect with people and have them feel seen by the songs he writes, no matter where they're at.
"Even though nine times out of 10 on this record I've realized I'm singing about myself, I do feel like a little bit of mystery is cool, because if somebody else could relate to [these stories] and they could feel more connected or just less lonely, that's every songwriter's dream in so many ways," he says. "I like to keep a little bit of mystery because I want room for your story to exist within the context of that, too, if it can."
It is what he misses most about being out on the road, too. "I just miss hearing people's stories," he says, adding that he can't wait to recreate all of the layers of sound on this album when he gets on stage. "I would love for people to come to our show and leave feeling like they'd just seen The Wizard of Oz. … That's the thing about touring. It creates these amazing moments that people don't even realize. And that's just good for the world when that kind of stuff happens, I think."
---