SPOTLIGHT: Home Is at the Heart of Kelsey Waldon's 'White Lines/White Noise'
Posted On October 3, 2019
---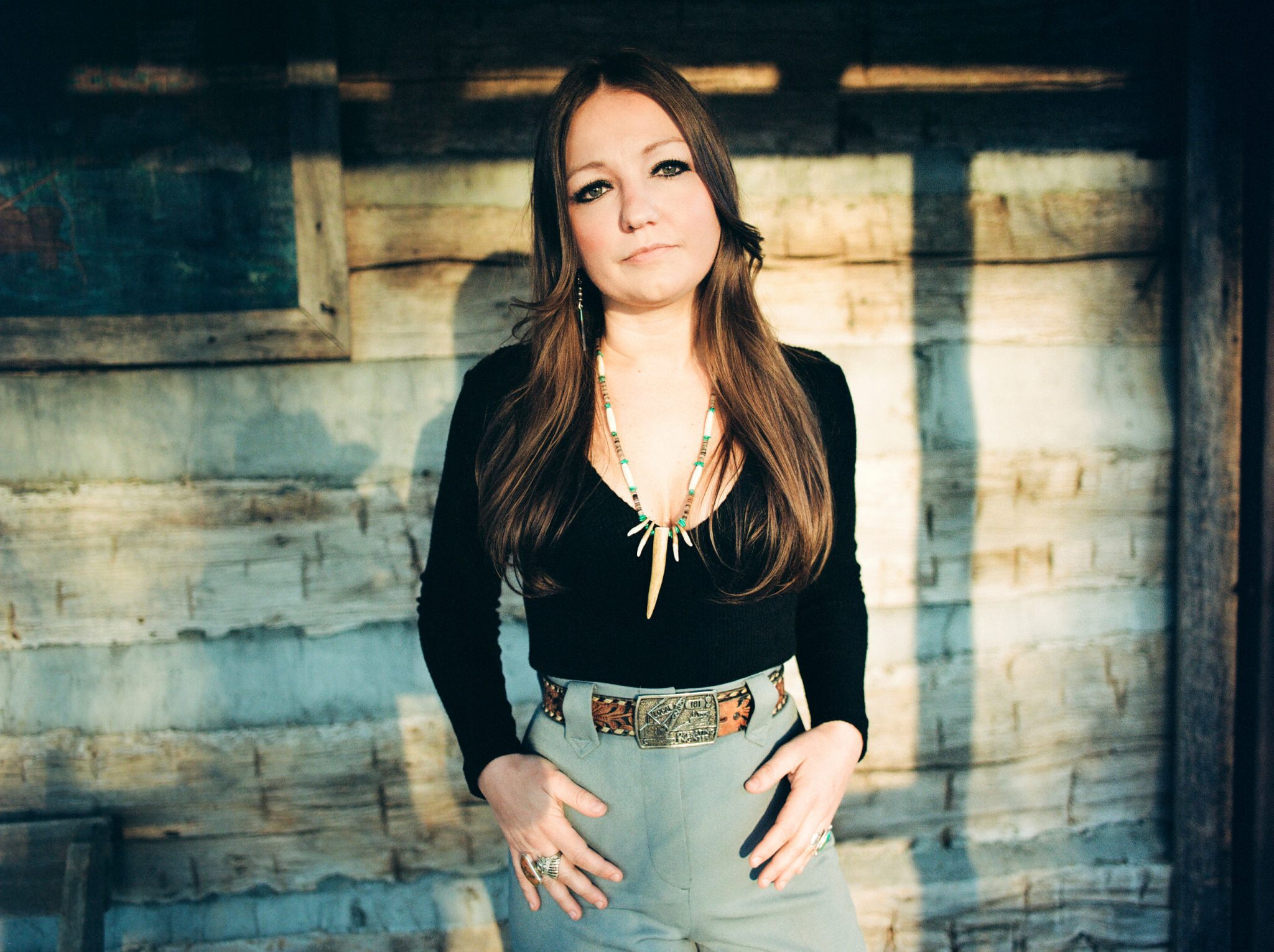 Photo by Laura E. Partain
The evening birds punctuated the silence as Kelsey Waldon spoke to me from her back porch just outside of Nashville. For Waldon, it was a time to catch her breath before launching the tour to support her new album, White Lines/White Noise, out Oct. 4 via John Prine's Oh Boy Records. The album is an extended exploration of home — the ones you come from and the ones you build. As Waldon recalled the turns in the road, literal and figurative, that led her to this point, the breeze through the branches underscored that right here, right now, is where Waldon is meant to be.
Waldon's first home is Monkey's Eyebrow, Kentucky, a town with a name that always piques outsiders' interest. "No one really knows why it's named that," Waldon says. "The legend goes that it's the bend in the Ohio River in the part of Kentucky where I'm from. Lots of places in Kentucky have interesting names. I just embrace it as part of a beautiful, colorful culture that I'm proud to call home."
That pride is the foundation White Noise/White Lines. Waldon speaks eloquently of her hometown's natural beauty. She also has a deep appreciation for its history, noting that she and her father would hunt for arrowheads and other artifacts along the banks of the Ohio near his hunting lodge. The album's title track was inspired by the alignment of the solar eclipse of 2017, her family's history, and the ceremonial re-interment of Chickasaw ancestors at the nearby Wickliffe Mounds State Historic Site. Waldon speaks with emotion about the park service's prior neglect of the archaeological and cultural site, and about how privileged she feels for her family to share in the celebration as members of the Chickasaw Nation return to Kentucky to repatriate artifacts and human remains.
The flash of inspiration came in the darkness. As Monkey's Eyebrow's past and present and Waldon's own future in Nashville merged in totality, "I felt like a page turned over for me in that moment; I felt freshly in love again," Waldon says. She returned home for a weekend trip while her father was hosting their friends Ace Greenwood and Jesse Lindsey from the Chickasaw Nation of Ada, Oklahoma. With their permission, Waldon recorded them singing on the back porch on her iPhone and wove it into "White Noise/White Lines."
Like the artifacts she found growing up, Waldon has sprinkled voice memos from her home life throughout the album, giving us glimpses of the people who return her to herself and tie her to her sense of place.
On "Black Patch," Waldon brings us back to 1904, when local farmers led a five-year uprising against the American Tobacco Company. The corporation's attempts to undercut local farmers were not passively accepted in Western Kentucky. The ballad details Night Riders who destroyed warehouses and tobacco fields in an attempt to fight back. While the song acknowledges its Kentucky roots with a dynamic string section, the band's energy feels more punk rock — infusing the song with a reminder that resistance against injustice is timeless, whether or not the strings are electronically amplified.
Waldon has been heralded as part of the next wave of neo-traditional country, though White Noise/White Lines makes it clear that there's plenty of diversity in her personal playlists. "Sunday's Children" takes on a funky shuffle reminiscent of Mavis Staples, one of Waldon's idols. But Staples' musical sensibilities aren't Waldon's only inspiration. The song is a stance against using religion to promote hate. "I believe everyone deserves to find peace and love and be happy," she writes in the liner notes.
Waldon acknowledges that "Sunday's Children" is a shift from her previous music. "I'm always evolving," she explains. "And it was going to happen eventually." Moreover, Waldon observes: "It's not a sonic departure from country whatsoever. Obviously, there's all kinds of soul and R&B influences in country music. All those worlds really meld together, and they always have." It helps that drummer Nate Felty plays in a funk fusion band and bassist Alec Newnam has a strong funk and jazz background.
Though it's Waldon's third full-length album under this name (there are others, but "we won't talk about those!," she says), it's the first album for which she's received a co-producer credit. The songs for White Noise/White Lines were written and road-proven by the time Waldon entered the studio with her touring band — her home on the road, with whom she shares an "almost telepathic" connection. However, producer Dan Knobler was on hand when things didn't quite click: "Dan was such a great sounding board as far as anything that I wanted but couldn't explain," says Waldon of the man she calls the band's "sixth member."
Waldon wanted to make sure White Noise/White Lines showed the fruits of her lengthy touring, so she recorded the album live. "I wanted people to feel the kick drum, the feelings you feel when you experience a live show." Of course, Waldon wanted a clean sound, too — not to mention those field recording-like interludes. "I was trying to cheat and make a nice mixture of both a studio and live album," she laughs.
"All the records I love were recorded like that. It's great to have the technology," Waldon adds, "but you should only use it when you have to."
That spontaneity and collaboration truly hold this record together. Though Waldon still referred to Monkey's Eyebrow as "home" throughout our conversation, she's become part of an impressive community in Nashville. "I moved to Nashville because my heroes were there. You know, John Prine and, at the time, Townes Van Zandt, Guy Clark, whom I got to meet before he passed away."
As Waldon played around "Town" (as many Nashville musicians call it), she accrued an impressive circle of friends who are having breakout moments of their own: Margo Price, Erin Rae, Caroline Spence, and Michaela Anne. Anderson East mixed Waldon's first album, The Goldmine. "I only tried to bring people into my life who I knew sincerely wanted to help me. I was all about making real relationships. I never came to Town with a business card or anything."
Waldon's genuine approach has led her to a new home: John Prine's Oh Boy Records. "John to me is definitely in my top five favorite songwriters of all time." Once Waldon discovered Prine's music at the age of 16, she could sing his debut album "front to back." Prine, Pink Floyd's Dark Side of the Moon, and Led Zeppelin III were in constant rotation. But for Waldon, Prine's music "shook me to the core. His lyrics are so vulnerable. His music made me realize that you can have all of these elements of this music that I loved — and the country spirit."
Prine and Waldon's professional relationship began when Prine's manager and wife, Fiona, approached her. As Waldon tells it, the Oh Boy Records team (including John) fell in love with her second album, I've Got A Way, and tirelessly advocated for her. Waldon and Prine shared a duet on the Cayamo cruise, and the rest was history.
It's an unbelievable twist in Waldon's road, but Waldon feels she's finally found her place. She is proud of her risk-taking and attributes it to the entrepreneurship of her parents and grandparents. She acknowledges her path has been unconventional, but says it's been well worth the struggle.
"I think the best things in life are definitely probably gonna scare the shit out of you, but you should do it. You should do it anyway."
---
Kelsey Waldon is No Depression's Spotlight artist for October 2019. Tune in for more from Waldon all month long.
---