SPOTLIGHT: Erin Rae Celebrates Living and Learning on 'Lighten Up'
Posted On February 2, 2022
---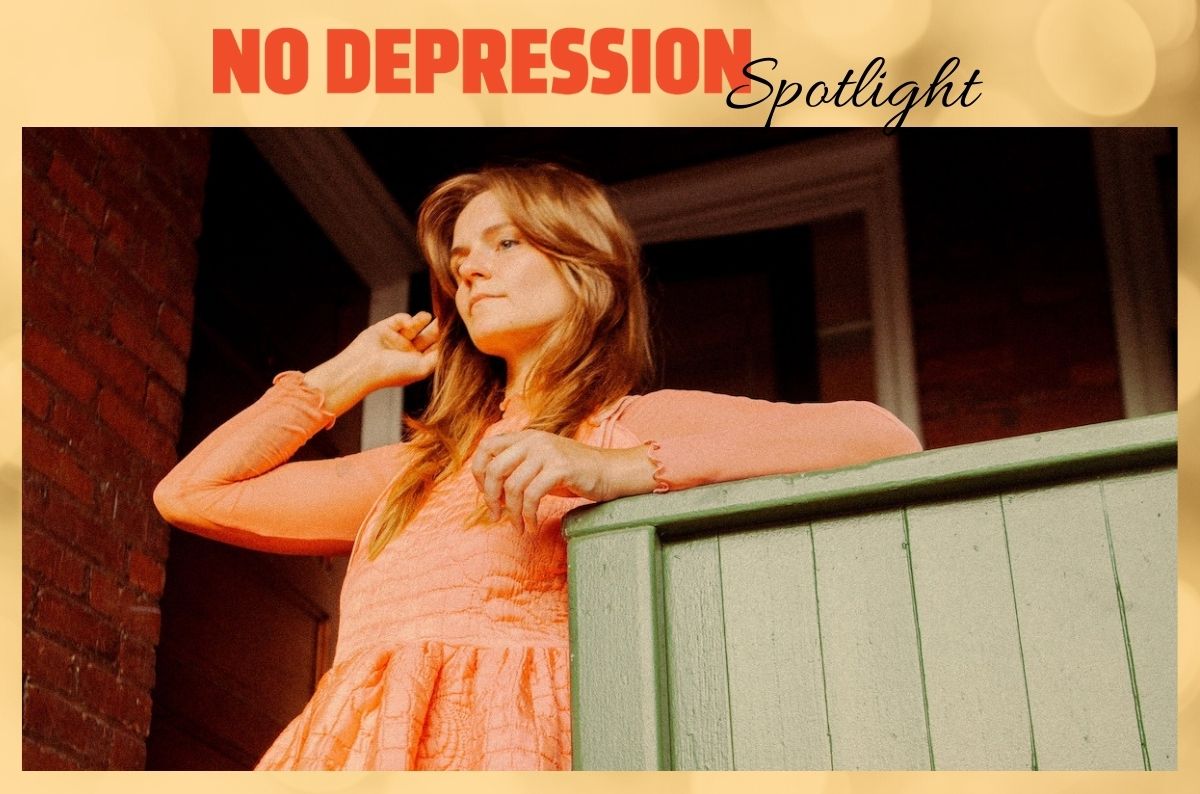 Photo by Bree Fish
EDITOR'S NOTE: Erin Rae is No Depression's Spotlight artist for February. Read more about her and her new album, Lighten Up, out Friday, all month long.
We know the California sound when we hear it. It's a romantic notion of the landscape's effect on music and songwriters — whether the lush, winding canyons or the desolate quiet of the desert. The lore of these places and the mysterious power they've lent to artists, from Jackson Browne to Gram Parsons to Joni Mitchell, seems undeniable.
But prolific musician and producer Jonathan Wilson is not convinced. "Nah, that's some kind of journalistic balderdash," he says when asked about his recent collaboration with Nashville mainstay Erin Rae, whose new record, Lighten Up, was recorded at Los Angeles' famed Valentine Recording Studios and produced by Wilson at his own Five Star Studios in Topanga Canyon. "The region, while truly inspirational in someone else's musical imagination, had only to do with the current moment for us, not the past," he says. Whether you buy into it or not, though, Lighten Up feels very much like Rae's California album.
Her first album since 2018's Putting On Airs — a breakthrough beloved by critics and fans — Lighten Up, out Friday, practically glows with its psychedelic, sun-drenched arrangements and Rae's radiant, airy vocals. Though Rae doesn't hail from California and most of the songs were written before she arrived to record them, they came to fruition there, and they have that quintessential laid-back feeling that seems to take hold upon touching down on the West Coast. In the album's visuals, too, Rae leans into what she calls a "muted glam" look: the cover image shows her with a bouncy auburn shag and vintage knit sweater, flowers in hand. Her recent video for the single "Cosmic Sigh" finds her wistfully wandering through the woods in floor-length soft green chiffon, a '60s dream. Put simply, it's a whole vibe. Or as Rae puts it, "The sound sort of met the vision."
Some of this Rae had already imagined as she was originally readying herself to record her new songs two years ago, just before the pandemic. But of course, plans changed. "When everything kind of paused, it was like, there's not as much of a rush," she says. "It was a lot of time to percolate and consider what I wanted to do." That percolating period yielded a handful more songs and a less intense, less structured route to a new album. Rae remembers it fondly. "I knew the goal was to get a body of work together that I felt really good about," she says, feeling at the time that "the muse will come and visit, hopefully … in her time."
The muse did come, flooding Rae with lyrics about self-acceptance and letting go, a needed respite from the darkness of her insecurities. You can almost hear her shoulders untensing as she sings about self-improvement amid unprecedented idle time on "Candy + Curry" ("I am learning wildflower recipes / I am practicing sun salutations") and coming into her own self-reliance on "Gonna Be Strange" ("Guess I'm gonna find out what I'm made of now"). These songs are loose and unguarded, her message powerful and present. "The record's called Lighten Up for a reason," she laughs.
The Right Place(s)
Rae toured endlessly for Putting On Airs. It was nearly impossible not to catch her on a stage somewhere over the course of 2018 through early 2020, whether at festivals, co-billing with others in her Nashville community like Andrew Combs and Dylan LeBlanc, or opening for acts like Bonny Light Horseman, Jenny Lewis, and Hiss Golden Messenger. So, when the pandemic demanded she stay still, Rae committed to finding the time, and most importantly, the right place to write. Those places took the shape of a cabin shared with a friend, an Airstream parked in the driveway, the wide-open space of Oxford, Mississippi, and sometimes, even on Zoom with fellow songwriting friends.
The latter situation resulted in one of Lighten Up's standouts, "True Love's Face," when Rae played it on a virtual hang with Caroline Spence, Kelsey Waldon, and Michaela Anne. "We just swapped some songs," she says. "I was like, 'This one is very earnest, this is a fun one, I don't know if it's very serious.' And I played 'True Love's Face' and Caroline encouraged me. She was like, 'I think you should hang on to that one.' And that became one of my favorites on the record."
For all its earnestness, the song is one of Lighten Up's lightest, Rae's harmonies as springy as Wilson's Wurlitzer accompaniment as she sings about keeping her heart open to the potential of love. It is a vulnerable admission set to a driving groove:
I will know it when I see it
I will not turn it away
I won't question everything
As I have done
Until today
Hope I won't say words unkind or
Shroud myself in thorny vines
I hope I recognize the signs
I hope I know my lines
Mostly though, for Rae to get into the right headspace to confront these kinds of inhibitions, she needed privacy. "I definitely feel like I write best when I'm home alone. When I feel like I can just kind of tap in and I'm not worried that someone's going to hear me," she says. Decamping to Mississippi proved fruitful, especially when writing the lovely "Can't See Stars," a delicate duet with Kevin Morby made even more enchanting by Spencer Cullum's pedal steel.
"Things just felt a lot more open and spread out, and at the same time the giant pause was happening for touring and I was like, 'Wow, OK, cool, I can hear my thoughts, for better or for worse.' I'm out here away from my community and it was just that requirement almost — or, I guess invitation, because there are many ways to approach being faced with that much alone time," Rae says. "I definitely did my fair share of distracting, but that was a good moment of time where I was like, 'It's good to connect with what feels good,' and 'What are my motives for making music, how can I approach this?'"
Besides getting away from Nashville for a bit, another way she renewed her approach to music making was giving up drinking, which allowed her to be kinder and softer with herself. "It was just many times of me trying to figure out how to navigate things so I would make sure I was accepted by other people and make sure y'all thought what I was doing was cool," she says. "It was a very self-centered way of operating but at the same time it wasn't really helping anything, and I wasn't finding this peace internally."
Rae spent a lot of time looking inward — alone, with friends, and in therapy — asking herself, "What is driving all this? What am I afraid of?" She came to a healthy realization somewhere along the way: "Being a human is [being] imperfect. And that is just part of the experience."
Outside the Comfort Zone
Going out West was an important part of the equation for Lighten Up, and the perfect fit for Rae's songs. "I could have gladly made a great record with my Nashville crew and hopefully will do that again," Rae says. But being somewhere unfamiliar, Rae adds, "put me back on my heels a little bit. I was excited and interested to see what it would bring out in me to go out into a new experience with people I barely knew or didn't know at all. … It felt important to me to get out of my comfort zone … I think it was very disarming in a way."
Rae and Wilson were first introduced at the 2019 Newport Folk Festival, and nearly two years later she put her new collection of songs in his hands. Wilson brought in his own longtime collaborators, musicians Drew Erickson and Jake Blanton, plus vocalist Ny Oh, and Rae brought Morby and Meg Duffy (Hand Habits), in addition to many others who contributed elements like strings and vibraphone to create that "cosmic country" sound. (Rae likes the buzzy genre term: "There's a hint of a mystical element and also a little bit of glam, which is fun," she laughs.)
"I mean, it's simple when I recall it. There are artists you hear once and are instantly hooked, stunned, enthralled: Karen Dalton, Vashti, Linda Perhacs, Bobbie Gentry, Judee Sill. Everyone knows when they hear it. That's how Erin is. She's actually got that," says Wilson. "Erin is so effortless, so genuine, so rare. I love this album so much."
Rae loves it, too, and has already witnessed the positive way audiences are responding to it. "I have gotten to do few solo shows recently and I noticed this excitement, this energetic shift that happens," she says of playing the new songs.
Rae's personal growth, cloaked in that easy, breezy California sound, is there from start to finish on Lighten Up. The incandescent, cinematic string-pop of "Cosmic Sigh" (which reminds her of old Hollywood); the golden, melodic "California Belongs to You"; the swirling, rocking "Modern Woman"; and the swoony ballad "Mind-Heart" especially feel finessed with the kind of wisdom that only comes with perspective, complete clarity, and yes, a healthy dose of that California sunshine. On the album's thesis, "Lighten Up and Try," a dreamy co-write with Combs, Rae sings:
Youth is full of promise
With a harness
For the wind
But time will keep you honest
And honest
Is all that matters then
"[That song] is me sort of like championing [myself]," says Rae. "Let's stop this internal criticism pattern or whatever. Now that I'm not afraid to find out that I'm human, let's go live."
---