SPOTLIGHT: Dear Patti Smith
Posted On September 19, 2019
---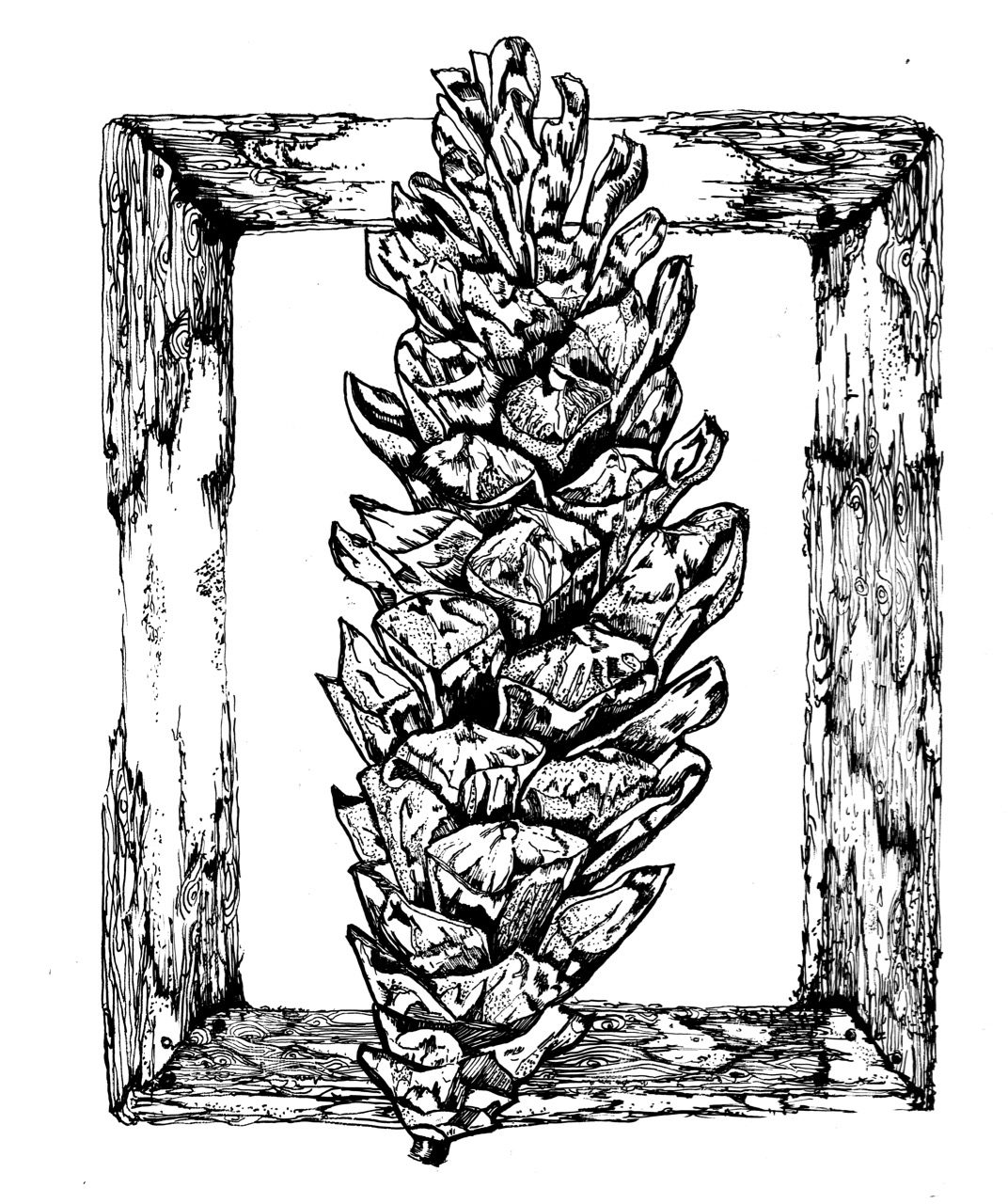 Illustration by Lee Ferris
When I was putting together my album art for this new record, Me and the Ghost of Charlemagne, I'd done a series of photographs with Neilson Hubbard in my backyard. Un-made up, my hair unbrushed, wearing a gray T-shirt and an overcoat. Black and white closeups of my face that were, at first, disconcerting to look at, but then unfolded a new kind of beauty. My hair graying at the temple. Lines around my eyes. Unadorned. I saw myself as 50 and I saw myself as beautiful like I had not when I was 20 or 30. A few years before, when I was contemplating having a baby at my age and all that would entail, I was devouring Patti Smith's recent memoirs, losing myself in her circular way of writing around memories and places. At that time, I had a dream: I was floating in a cedar grove on my back, lying in midair like a sleeping princess from the early Disney movies. Patti Smith was walking toward me and placed a pinecone on my chest. She was me, my older self. The pinecone was truth, was my past, my present, my future, was my child inside me, was myself emerging unadorned. I told that dream to my friend Lee Ferris and he drew a beautiful illustration that I used in my album art.
Dear Patti Smith,
I am a stranger to you as you are to me no matter that I have devoured your images in black and white and your poetry that flows in stories I read while nesting my egg of a little boy last year in a rocking chair, waking where night and morning met in the quiet of 3 a.m., when I couldn't sleep for anticipating the birthing.
Not so long ago, I walked the same streets as you, on the Bowery at the end of the CBGB days, when yellow cabs had dents and needed a fresh coat of paint and smelled like cigarettes and semen. Where drunks slumped in alleys with paperbag-hidden cans of Colt 45 and called out for quarters or cigarettes or subway tokens. Back when there were still tokens that landed in slots with a clink to ride a train from the 2nd Avenue stop south to Brooklyn or north to 42nd Street, where the spiderweb met in the middle and I'd change from the N/R, walk up the stairs, take a left, pass the sleeping men on flat cardboard beds near the blind flautist playing Ravel with a Chock Full o' Nuts can empty of coins. Down the stairs again to catch the red line, the 1/9 Uptown to 66th or 72nd or 96th where I'd emerge from the dark and walk north past the Chinese/Cuban joints to the Hungarian Pastry Shop where I'd linger for hours drinking latte and writing sophomore poetry in a leather-bound journal not knowing where I was going or where I'd been before.
I walked the city for 20 years. Uptown, downtown, East and West. The fire escape iron staircases perched just above Avenue B where single pots of rosemary grew on windowsills and we'd stoop with cigarettes in the narrow grating to catch a breeze on July nights when the city would spill to the ocean without us as we had no money to go to the Rockaways. We'd wander the empty Lower East Side and drink tequila shots at Motor City on Ludlow with the jukebox full of Lou Reed and Television and the smoke piss stank from the subway grates at a certain damp 5 a.m. time, just as the party was ending on the way to the all-night diner for coffee before we'd fall asleep in a stranger's arms too drunk to fuck and too tired to get back to wherever it was we called home.
I bought a $24 men's wool coat, brown flecked graygreen, at some thrift shop on Rivington, 3 sizes too big for me and I'd throw a worn leather mail bag around my shoulders full of journals and Sam Shepard plays and whatever book I'd bought at The Strand sidewalk bins that day, and I'd walk from 11th and A up 1st Avenue to eat puttanesca at a six-table restaurant that served red wine in juice glasses to poor sophisticates. I'd eat breakfast at The Sidewalk Café on 6th Street with poets and actors before their waitress shifts, scrambled eggs and a bagel toasted with light cream cheese with a salted tomato slice. And then I'd wander down St. Mark's Place to Café Nine where a tall pale boy with a Buddhist name who wrote poetry would smile and bring me coffee as I stared out another full-paned window hoping for an idea, for inspiration, for a vision, hoping to fill the blank space.
In the days of the Lower East Side, I was searching for my voice, bouncing from flat to flat, from bed to bed, from bar to bar until I found a guitar and tried out the sound of melody on it. I couldn't hear you yet as I didn't understand the beauty of the raw. I was looking for something easier then, something that wasn't so sharp and guttural, something without edges that made me feel safe. I didn't find it in that net, I just kept trying to pose for a nice picture with a pretty dress on until I was spinning around in that dress to keep it from touching the dirty downtown street.
I would wear that woolen coat in September over shorts and worn cowboy boots long before I found my way south to Nashville and I'd stomp through puddles on MacDougal with a boy with lion green eyes, a stolen night upside down that felt like the promise of Paris in the '20s, a heaven I'd never have found staying in Pennsylvania like the others.
I didn't know what else I wanted but I wanted to taste a cinema life. I didn't know what I'd do when I got there but I wanted to taste the city of the poets who'd drunk themselves to death in bars along Abington Square, in a speakeasy on Barrow with white dogs that roamed the wooden floors layered with peanut shells, a fire roaring throughout the winter. I wanted to walk by the Cherry Lane Theater in the morning, around the corner from my apartment I shared with someone whose name now I have forgotten. I wanted to expand into something more than was expected of me.
I wanted darkness and danger and light and joy and explosions of art and color. I wanted the spotlight of theater borne in the Bowery and folk singers in corner clubs and endless glasses of red wine to soothe the restless fear that fluttered constantly in my chest that told me I was better than all of this. That told me I was fooling myself by even being here.
I found you later, Patti Smith. Much later. Your voice, always, a brave, beautiful howl of a thing, ugly and unglamorous, unwomanly, unmanly, genderless. Your writing: gorgeously ur-feminine like a heavy-footed goddess. I brought you into my dreams, my meditations, the beautiful nonchalantness of the Elder. Your straight hair down in grey braids, the pale lined skin, your kind soft eyes that matched the harp of your spoken voice, a polite question, an apology. I found you just in time for the end of my youth, the crest of the 5th decade's wave crashing over me as I was about to give birth. As I was about to surrender to the complete unknown, maybe give up everything, throw the dream out with the baby in the bathwater, to choose the baby in the bathwater over the dream that would always just slip through my fingers as I could taste the salt from the oceans it promised, falsely, falsely like the mirage of Prospero wielding his triton arms.
You have showed me how to age how to art how to grieve how to mother how to create how to dress how to be brave. Mostly we crones age out of art at least in the glossy places. Dear Patti and Mavis and Mary and Kathy and Patty and Emmylou and all you gray-haired angels singing in front of me with your flashlights shining bright. Thank you for brushing the leaves off the path covered up for too long.
Dear Patti Smith, to the muse, the goddess of poetry and song and freeflung creativity and taking time off the hamster wheel to choose love and motherfulness and coming back unmadeup, unpretentiously joyfully vulnerable, to you, dancing through my meditations as my older self draped in a men's overcoat found in a Salvation Army bin in Detroit with long gray braids, welcoming me out of the grove of the cedars with a pinecone at your breast as if to say, "follow me … there is nothing out here beyond youth that is terrible if you walk directly into the sunlight of the crone."
Thank you.
Amy Speace
From London, September 6, 2019
---
Amy Speace is No Depression's Spotlight artist for September 2019. Read our feature story here, and stay tuned for more coverage of Speace and her new album, Me and the Ghost of Charlemagne, all month.
---