SPOTLIGHT: Adeem the Artist on the Life Stories That Led to 'White Trash Revelry'
Posted On December 21, 2022
---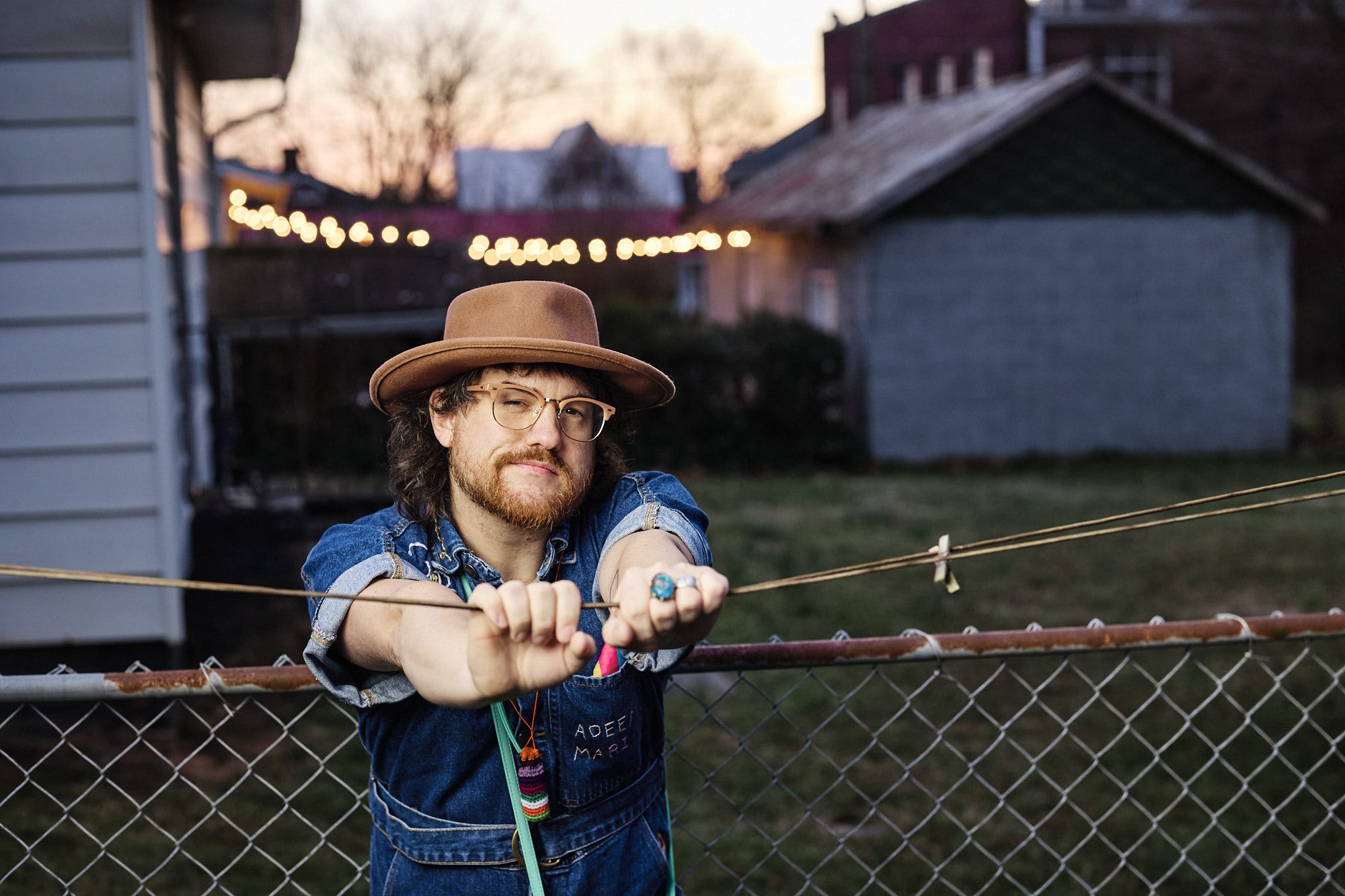 Adeem the Artist (photo by Shawn Poynter Photography)
EDITOR'S NOTE: Adeem the Artist is No Depression's Spotlight artist for December 2022. Along with the essay below, you can read our interview with them and watch an exclusive video of "Carolina" from their new album, White Trash Revelry, out now on Four Quarters Records.
Mom,
I have released a new record. It is called White Trash Revelry and it's about my life and, by proxy, it deals with you and dad, too. I wrote you around Christmas of last year to wish you and your partner a merry one but I'm not sure if you saw my message on Facebook or not. I wrote again on Mother's Day. I wanted you to know I was thinking of you, that I love you, and I wanted to share these songs with you before they went out into the world.
It is a weird sensation to do so many vulnerable things in front of an audience. In early 2021, when I announced to everyone on the internet that I no longer identified with the gender binary, that I was changing my pronouns and deconstructing my masculinity, I felt very exposed. You wrote me around then and told me how you wish you could hug me and laugh about the strangeness of seeing me in a beautiful dress. That note meant so much to me.
I was born into your tragedy in so many ways. The most formative years of my life were lived largely as a prop in a play about your trauma. That isn't to say that you didn't love me or nurture me. Actually, quite the opposite! Because of the pain you carried with you, I felt your urgency to pour as much love and passion into me. I remember it even now, the way you treated motherhood like a challenge from the universe.
You were determined to do it right. You read about Montessori and provided stations of activities for me to shuffle between at my leisure. You encouraged me creatively, pushed me to explore every corner of my imagination, and nurtured a humanism that still drives me to create a better world. I wouldn't be writing this essay right now without you and your love.
I remember as a child watching you brutalized by our health care system. I think about it often — when you were lying in bed with a gaping wound in your stomach. Dad would come home from long hours of work to change the gauze and I would sit at the computer writing elaborate fiction stories to process the grief and confusion of it all.
We were homeschooled back then, if I remember it right, and all of my classes were on compact discs at the computer. I could hear you crying from the pain or the hopelessness of it all, left in a disillusioned malaise literally rotting in your bed. I prayed to God that you would be healed. I begged for it.
I remember when you had healed and you felt present again, felt human. We would sit on the couch together at night, sometimes working at little projects you'd come up with just like I do now with my kid, but mostly just to spend time together watching La Femme Nikita. We would marvel together over the beauty of Roy Dupuis and I looked forward to that time more than anything else.
Do you remember 2011? My car broke down just outside of Nashville and I still owe you and dad money from bailing me out. Maybe the record will do really well and I can pay you back? Ha! It was that small window before dad told me I should really consider getting a job instead of being 23 and living at home, "waiting for gigs to come." We were watching True Blood together and it felt just like our La Femme Nikita days. I wish sometimes, especially when I'm feeling really afraid and sad, that we had some corny television program featuring beautiful men and palatable drama to share together.
The reason I'm writing is that I don't know how else to say these things that I need to say and this feels like as good a way as any. I'm sorry for all the ways you were made to feel like poor white trash. I'm sorry for all the ways you were belittled and disregarded, made to feel small and directionless and divorced from your power.
When I think about you and I remember my childhood, I feel alive inside of your booming laughter. Your ability to traffic the energy of a room is unmatched, and getting to live in your shadow watching you work that magic informed so much of my ability to interface with an audience now.
You took on the abuse of your mother, your stepfather, your father … just, your entire world, and you set to work tirelessly on the prototype of my reclamation machine: converting joy to celebration. We used to sing in church, "You have turned my mourning into dancing," and I marvel at all of the ways you gave me the tools to do exactly that.
I read about Aunt Peggy and I wrote a song for her. It broke my heart to think of her being gone, lost inside of our memories. I wrote the song for her and for you and for me, for the found family you built for us. That was another tool you gave me as I moved on and out into the great and difficult unknown — the knowledge that I could find the family I needed when it wasn't there.
This album was and is, in so many ways, a love letter to you and dad and the people you were then and the people you are now. I know that we have drifted apart and that our relationship might even be irreconcilable, but I want you to know that I tried to do something meaningful in the world and I did it because you raised me to care.
At the end of the day, I want you and dad to be happy and fulfilled. I want you to know that the years of toiling at the potters wheel of parenthood with me were not wasted. I don't know if you or dad can ever truly be proud of the person that I am and of the work that I do, as separate as we all are from one another, but I know that you both have set about trying hard to be.
I feel your love for me even now as I write this — having seen and reflected on the painful things that have happened between us. Despite all the ways I have endured abuse and trauma and deep, abiding sorrows of my own, I know that your love for me is steadfast in whatever way you're able to show it and I hope that my life honors you. I hope it's a testament to how much of your best self you poured into my fragile infant form.
I love you always,
Adeem
---