---
John Prine, the original "new Dylan," has always written songs with a deep heart and a strong empathy for the people who go unseen. Veterans ensnared in addiction, old people who are forgotten and alone, alienated women ignored in their marriage, strip-mining coal companies, and patriotism as First Amendment tourniquet are all part of the iconic singer-songwriter's canon — and they're all captured with a tenderness that heightens the commentary.
On the precipice of 70, the Chicago-born and -raised Prine has always brought the political to the personal without stridency. Using his narrative story-songs to show instead of tell the way hypocrisy, cruelty, or indifference undermines our humanity, Prine has become one of America's — and Americana's — best loved artists. Having read at the Library of Congress, seen his self-titled debut inducted into the Grammy Hall of Fame, and continuing to headline major festivals and multiple nights at Nashville's Ryman Auditorium, Prine remains as vital today as he was when he was just a postman playing open mic nights at the Earl of Old Town in Chicago.
With the sudden death of longtime manager Al Bunetta in 2015, Prine ruminated about what he wants his music to yield going forward. Slated to release For Better or Worse, a second country duets album featuring Alison Krauss, Susan Tedeschi, Holly Williams, Lee Ann Womack, Amanda Shires, Kacey Musgraves, and more this September, he's turned Oh Boy Records and his career management into "the family business," with his son, Jody Whelan, at the helm. This new order to his creative life has inspired him — and he's looking at returning to the studio for an album of new songs in 2017.
After all the years and miles, Prine remains as topical as ever. For an aw-shucks guy with a candy heart, that was never the master plan. But, as Prine would tell you, "things become clichés for a reason," and his songs likewise contain so much truth that they continue to resonate across the decades.
In a recent conversation, Prine and I talked about how much he's enjoying being back on the road. The Grammy winner also considered his legacy, how topical songs inform us, and why the Peabody Mining Co. is still mad about "Paradise."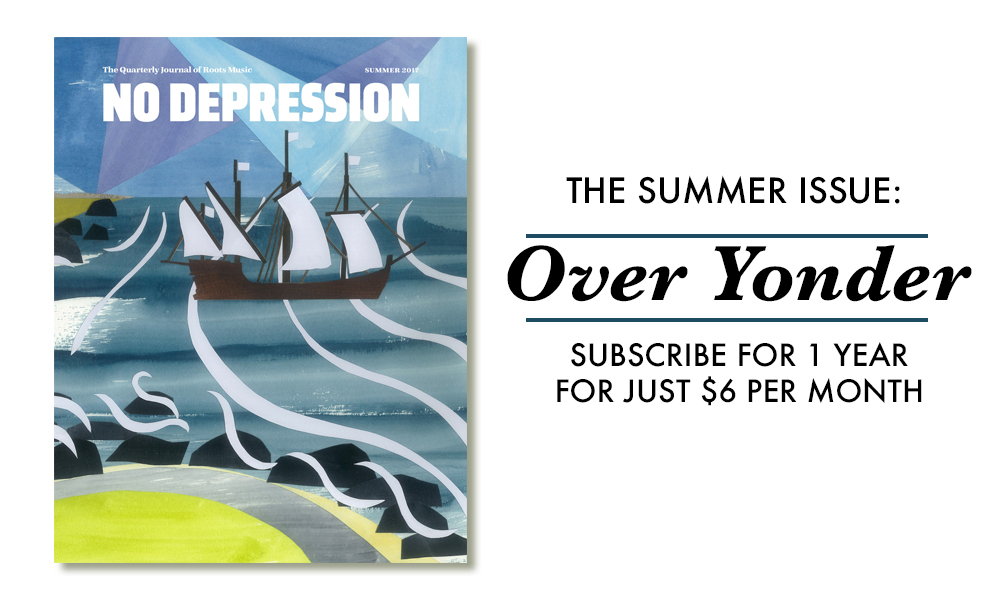 Holly Gleason: With the new album on the way, are there any plans that stand out?
John Prine: Going into [the Americana Music Association conference] week, we're going to do my first album at the Station Inn, in sequence. We're going to film it, which I think will be very cool. Most of the songs we play [regularly] anyway, but three or four, we have to learn.
HG: That first album is definitive, as debut albums go. Do you ever look back and marvel?
JP: I wish I knew the guy who was writing those songs. I think that guy left. I haven't seen him since he signed with a record company, when it all became professional. It takes a certain amount of innocence out of [the songwriting] when that happens — because you know you're writing songs to be recorded. Basically, I'm the same guy, but the guy who wrote those first songs, he didn't know if anyone was going to listen or hear them. He was just writing.
HG: Did you realize how much social commentary there was?
JP: I was always writing more observations. That was how I saw the way people lived. It was how it looked to me, how it felt, how it smelled.
At a point, I stopped giving people names. There were so many characters it started to feel like a soap opera.
HG: But there was so much commentary.
JP: I didn't know any better. Have you ever heard any stories about guitar players who listened to Chet Atkins and Les Paul? Les Paul, especially. They would dub parts over another, and layer things up. But you'd get some guitar player out there who didn't realize [that's what they'd done], and they'd think, "Well, if they can do it…" And [they'd] teach themselves how to play something that was actually multiple parts.
I didn't know any better either. So I threw everything in. I went through the weight of the world, and included it all when I was writing.
HG: Bob Dylan obviously set the standard, plus some of the other writers of that era.
JP: They were huge for me. If it wasn't for Bob Dylan, on the strength of wanting to play Hank Williams songs for my father, I doubt I'd have wanted to write. But Dylan opened the door. No, Dylan built the door, [then] opened it, and left the door open for a whole lot of us to walk through. He cut a path through that door and forward, and long after he's gone, people will still be following that path.
HG: What was it about Dylan?
JP: I really liked his singing. I thought he phrased [things] real cool and a lot of thought went into how he did it. The way he sang really pulled you into the words, and what he was saying. That raised up what he was writing, too.
HG: And the politics of his work, did that inform yours?
JP: I didn't consider myself very political — and I didn't consider myself a folksinger. It was just the route I took, and the clubs I played. But really, I liked country and rock and roll. What I learned to play was what my older brother taught me, and that was a big part of "the style" I have now.
HG: But you got inside some very heavy things, John.
JP: I wasn't really looking for something to write about. I was interested in words — the sounds of words and the way the words worked off each other.
HG: So you're going to sidestep the literary aspect of what you do.
JP: I enjoyed English when I had a teacher who knew enough to leave you alone and let you follow your imagination. If they wanted me to memorize verb parts, I hated that. But if the teacher wanted me to write dialogue for two characters on an escalator, I'd go to town. Get an "A," ace that.
I wasn't much of a reader. I got hooked on John Steinbeck, because of his shorter books — The Pearl, Cannery Row, Sweet Thursday. Then I gradually approached the longer ones, though I still haven't read The Grapes of Wrath. I thought the movie was so good with Henry Fonda and all; I know the book's always supposed to be better, but I can't imagine how.
Stories and Characters
John Prine's songs — whether written in his early 20s or somewhere in his 60s — have always been literary, always turned on the small details of regular lives, as well as the craggy-voiced baritone's singular metaphors and images.
"Angel from Montgomery" has become the postmodern torch singer's go-to, based largely on Bonnie Raitt's recording of it, where she wailed for escape from her mundane life: "Make me an angel that flies from Montgomery / Make me a poster from an old rodeo."
Country fans know Miranda Lambert's version of "That's The Way the World Goes 'Round," with its profession of being "naked as the eyes of a clown."
Prine's 45-year-old debut, John Prine, contains songs that became standards for a reason. They were miniatures of seemingly real situations, rendered with close portraits and a compassion that got listeners to lean in. It contains the pot-smoking and alternative lifestyle embracing "Illegal Smile," the gently tugging song of lonely old people ignored and unseen in "Hello in There," the half-spoken, half-sung tale of romance for two unwanteds, "Donald and Lydia," the revved-up folk indictment of empty patriotism in "Your Flag Decal Won't Get You Into Heaven Any More," the country lament for a soldier consumed by his memories and addiction in "Sam Stone," and the Appalachian-style frolic "Paradise."
I couldn't resist asking him for specifics.
HG: If you weren't trying to say something, are you surprised how topical these songs from John Prine remain?
JP: It's amazing to me — particularly "Sam Stone" and "Flag Decal." If somebody had bet me money on their lifespan, I would've said three, four years. Vietnam was going to be over, and we wouldn't need them anymore. But because of the way it all went down, the war didn't just end. We brought the boys home in waves, and left some there … and as time has gone on …
HG: You mean everything in the Middle East?
JP: There's no war – just sending people to "protect your interests." You still get a ribbon if you get killed, but there's no principle being fought for or protected. And when you get back, people don't know what you were really fighting for, so it's hard.
HG: Do people tell you their stories? Is that how you know?
JP: You can feel it, Holly. Just the reaction ["Sam Stone"] gets in the show. It's not nostalgia for this song; that sadness is right now. It's something very real to the people who're hearing it.
HG: In "Sam Stone," there's the matter of heroin, to cope with what can't be shared.
JP: It's a huge teenage problem now, even in the upper-class suburbs. And it's so quiet, too. I only find out when I ask my boys. They've had friends OD, and kids in well-to-do families who seem well adjusted.
I don't know why people don't get the idea heroin isn't good for you. I've had friends try to talk me into it; encourage me. They only do it once a month — and they're all dead or their lives are severely damaged.
When I was writing "Sam Stone," I didn't know too much about it then, but I thought, "Wow, heroin must be really fun or good, because why would they throw everything away for it?" People'd steal from their mother, forget about their kids, let their life go. They wouldn't even look back.
HG: Was there a "Sam Stone"?
JP: It rhymed with "home." But I knew the character. He'd just got back home from the service. I knew several of those guys, and they all ended up different ways, but it was never good.
I hung out with a fairly rough crowd as a teenager. There were certain things I just wasn't there for. If they were gonna rob somebody or were hurting somebody. I didn't see the point in that, so I just didn't come around. But a bunch of us got drafted at the same time. Five of us went in on the same day; four went to Vietnam. Nobody came back the same. Even the ones who didn't see combat — it was that thing of not knowing. Being over there, you could just go for a beer, and with the landmines everywhere, your friend could step on one, and that was that.
HG: You went to Germany.
JP: I felt as lucky as when I was a little kid. When the orders came down, one in 10 maybe didn't go to 'Nam. In January of 1966, when I got called, LBJ had gone from 23,000 troops to a half million on the ground over there. So pretty much everybody who was drafted went.
They sent me to Louisiana for training, and I figured they were setting me up for a rice paddy somewhere. But when I took the aptitude test, I didn't open the quiz book, just wrote A, B, C, D, A, B, C, D over and over — and it came back I was some kind of mechanical genius.
Somebody in Germany's time must have been up, and they needed that skill set. I was classified a heavy duty construction mechanic. I always felt if I just went my way and walked down the street, if I didn't lift the hood, I'd be okay.
HG: You wrote "Some Humans Aren't Human" on Fair & Square. That was pretty straight commentary.
JP: You know, I thought the talking part was pretty mean ["You're feeling your freedom and the world's off your back / Some cowboy from Texas starts his own war in Iraq"]. Taking George Bush apart intelligently … but I'm not a mean person, and I don't ever want to pick on one person like that. I like to let people draw their own conclusions.
Part of what the listener gets from the song — that's part of the song.
I don't want to hit people over the head with [anything], but give them something they've seen before, maybe in different colors. Or actually show them what they've seen, so they realize they're looking at it.
Mister Peabody's Coal Train
Prine does an exquisite job of "showing" in his song "Paradise," also from his 1971 debut. For him, it was a tune about the place where his parents came from. But the catchy campfire favorite also made a powerful environmental statement by holding a child's memory against a landscape changed forever by strip mining.
The song's lyrics place blame on the Peabody Coal Company for changing the landscape of large portions of Muhlenburg County, Kentucky. But, as Prine's song says, the company was still in business.
When, in 2013, a pair of activists were arrested protesting at Peabody's annual shareholders' meeting — which had been moved to Wyoming to avoid scrutiny — the activists' lawsuit against the coal company opened with a portion of "Paradise." Peabody Coal countersued two years later, trying to have Prine's song removed from the suit.
JP: All I was trying to do [with "Paradise"] was tell the story about my mom and dad's hometown. All I was saying was if you were there, this is what you would see. You'd see the World's Largest Shovel, which tore up this little town. It was evidence of what was happening, you couldn't miss it.
If they hadn't made such a fuss, nobody would've even realized — or thought much about the song. But they went after me, and people started paying attention.
HG: They came after you again, too. You've just had a federal judge affirm your song.
JP: There was a federal lawsuit where they quoted a couple verses [as part of the complaint]. Peabody, when they saw my verses, they countersued and got so incensed. That's what [Peabody] went after, not the infraction they were being sued for.
When the federal judge finally ruled [on Peabody's complaint], he not only said my lyrics didn't defame them, [but] they were the truth. He upheld the song, and even quoted "Blowin' in the Wind" in the summary he wrote.
A few weeks later, Peabody declared bankruptcy.
HG: And that song — like so many you've written — is as timely now as ever.
JP: Yes, I guess so. It was never the plan. But it's [turning out that way] …
I'm gonna sing "Paradise" at Yosemite in August for the 100th anniversary of the [National Park Service]. President Obama is going to give a speech, and it's a big deal. I'm honored to be part of it.
My wife, Fiona, is a really big fan of the President. They were born on the same day and the same year. She really wants to meet him, especially while he's still in office, so I figure this is my chance.
HG: You have empathy as a writer. It seems like that's where so much of your commentary ends up coming from.
JP: I'm opinionated as anybody. I see people and envision what they're like, what they're life is — and I might be totally wrong. But as a writer, I'm trying to come up with a good story. Those stories, I guess, show things.
But I like to say I work off raw imagination and good instincts. That's why I usually turn down ideas to write songs for movies. It's somebody else's idea. I can't come to the conclusion they might want me to.
HG: And yet, your songs in movies are so potent. I think about "Angel from Montgomery" in Into the Wild, for example. That's one of those songs that says so much about the way marriage betrays women. That's such a feminist truth that's shown, not told.
JP: [Laughs.] I'd written "Hello in There," and I had this friend [in Chicago] named Eddie Holstein who wrote a couple nice blues songs. He had an incredible appetite — and sometimes I'd take him to lunch just to watch him eat all this food.
One day I took him for a big German lunch. He said, 'You and Steve [Goodman, Prine's best friend and fellow Chicago folkie] wrote a song together about old people. Why don't we write a song about old people?"
Well, I'd written everything I wanted or had to say about old people [with "Hello in There"]. I thought about it for a minute, didn't want to hurt his feelings, so I said, "Well, how 'bout a song about a middle-aged woman who feels a lot older than she is?"
HG: That's where "Angel from Montgomery" came from?
JP: When I took on the subject, I wouldn't have thought of it, if he hadn't suggested a song about old people. When he said, "Naw, it'd never work," I thought, "Hmm, that's actually a pretty good idea. This woman has to be quietly mad."
I went home and started working on it: her husband wasn't abusive, he just didn't talk much or pay her any attention, and it quietly drove her crazy. People didn't want to get divorced back then, 'cause of the kids or social convention, you know? It was very looked down upon, unless there were special circumstances, especially in the '40s and '50s.
People just didn't do that. They had affairs.
HG: "Hello in There," meanwhile, is a song about old people who're forgotten. As a young man, you saw that issue when it wasn't something you and your audience would've been plugged into. Now, well, it's not quite a crisis, but…
JP: I'm 69. Things in this world don't change that much. … I see how we treat old people, just like we did then. And my audience is about my age, so if they're not thinking about themselves, they're thinking about their parents.
HG: So what's to come?
JP: I write in little bunches, then I write a song that tells me which way a record's gonna go. Fair & Square came together with "Taking a Walk," about a guy who's so isolated and lonely, he's just out there walking. It wasn't what the record was about, but it was the heart of it, I think, emotionally.
Right now, I don't have that song. But the songs I've got are about relationships, not so much men and women, but more man-to-man — or person-to-person. I don't know if I'm heading in the right direction yet, and I never approach anything thinking I'm gonna make a statement, really. I just let the songs come from my gut. That way I know they come from a pure place.
That's really the best way to do it.
This article originally appeared in the Fall 2016/Speak Up issue of No Depression in print. Subscribe now for just $6 per month and never miss another issue of ND's print journal.
---