Sharing White Toast with Hayden: My Musical Journey with an Artist and His Work
---
Full disclosure: I'm a huge fan of Canadian singer/songwriter Hayden (Paul Hayden Desser). I'll claim to be a fan since 1996, when his debut album Everything I Long For was released in the United States by Outpost (an offshoot of Geffen). Such is my fandom that when the artist came to Pittsburgh in 2004 to perform in an intimate setting in the city's Club Cafe, I was bound and determined to attend and support the show. I had gotten in touch with his manager, "Skinny," and volunteered to be part of the "street team" to help promote the concert.
Following the performance, my future wife Allison and I, plus Hayden, Skinny, and members of Cuff the Duke (the opening band that Hayden had signed to his Hardwood Records) all went to Ritter's Diner, a 24-hour greasy-spoon Pittsburgh landmark. The scene conjured up images of Hayden's diner-themed song, "We Don't Mind." A highlight from that late night includes a slightly overweight middle-aged waitress apologizing to Hayden when attempting to pour him coffee: "Sorry babe, didn't mean to shove my tits in your face." But my wife's favorite memory of the evening is her keepsake from the outing — a vinyl press of Hayden's third album, Skyscraper National Park, which he signed for her: "We shared white toast on September 10 / 2004."
I have a long history with Hayden's work, right up through his February 2013 release,  which I've reviewed in detail with a previous post. But to fully appreciate the significance of his latest gem, allow me to shed a little light on the earlier pieces that all come together to form the total picture of Hayden's recording career to date.
I clearly recall enjoying a few tracks of this album when I first heard it (especially the lead single "Bad As They Seem"). Yes, in the Fall of '96 I was a freshman in college and this initial Hayden offering featured several songs of his "bedroom lore" (which he later references on 2013's Us Alone). And while I longed to collect boudoir tales of my own, for the time being I'd just have to be satisfied playing "We Don't Mind" in repeat mode. However, it was the "hidden track" that I found myself playing the most. One day I was sitting around with my friends in an off-campus hippie haven  down on Rose Lane. I put Everything I Long For on the CD player, and when it ended, no one bothered to change the disc…and that was the first time we all heard the hidden track – "Kraft Dinner & Poledo's Club Sandwich" – which features Hayden instructing us on how to make Kraft macaroni and cheese and BLTs. Thanks to this album, we had both a soundtrack and two staples for our freshmen year culinary endeavors.
View the official video for  "Bad As They Seem"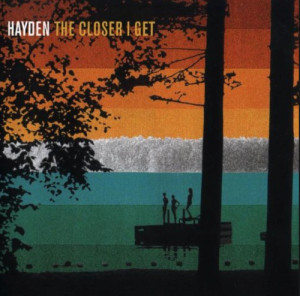 The Closer I Get (1998)
By the time Hayden's The Closer I Get came out, I had finally collected some "bedroom lore" of my own. Having had several "real" relationships by this point, I felt I understood Hayden's stories much more than I had initially, and ended up revisiting Everything I Long For in conjunction with The Closer I Get. The standout track for me was "Between Us To Hold" — a tale of two under-the-weather lovers learning to play guitar together with the radiator serving as the percussionist (the song seemed like a natural extension of "We Don't Mind" from his first release). While not a true sophomore slump, The Closer I Get waned a bit in comparison to Hayden's first album; this first fully-produced Outpost disc (from-start-to-finish) left critics and fans a bit underwhelmed.


View the official video for "The Closer I Get"
Then Hayden went silent. Records didn't sell like they should have. Outpost Records went under (some attribute it in part to Hayden's $1 million contract). While he no longer had a label behind him, he hadn't spent his money frivolously, so he continued to make music his way. A few small pressings were released; distribution seemed limited to his immediate geographic radius. But I didn't hear them.
I graduated college, suffered my first true heartbreak, interned for a local radio station, and then moved to Europe for two years, fancying myself a worldly expatriate. Hayden released Skyscraper National Park in 2001 via his own label, Hardwood (which pre-dated his deal with Outpost), but due to its limited release, I'd never had a chance to hear it — at least not before he gave Allison her autographed copy (after it was re-released by Badman Recordings)!  Later, I discovered "Bass Song," and deemed it the highlight of the album — an almost comedic tale about a musician who uses his bass guitar to fend off would-be robbers who break into his house. Another standout track on the album, "Dynamite Walls," is a depressing tale of meandering travels: Miles away or just up ahead / it doesn't matter what any of us are looking for / we'll never find it, because it's not there.
Upon my return to Pittsburgh, I found myself back with the local radio station. I forget which artist was doing an in-studio session, but someone from the band or crew passed along a demo of Hayden's 2004 Elk Lake Serenade (again, through Badman Recordings)!  This record was more cohesive than his previous releases. With songs that flowed and a consistent mood throughout, the stories revealed where Hayden had been for the past few years — at home or begrudgingly on the road. Many songs seemed to address a longing, but this time it was a longing for the comforts of home.
"Home By Saturday" laments having to travel and tour, as well as revealing the temptations that one faces on the road. Even "Woody," a song about Hayden's feline companion's springtime shenanigans, could easily be viewed as a parallel to the vagabond life of a musician. But it's "Don't Get Down" that is most foretelling of what's to come on Hayden's future recording, Us Alone. Addressing the demands of the music scene (recording, touring, having to associate with phonies, etc.), it could well have been the perfect exit song to Hayden's recording career.
For someone who lamented songwriting, touring and the music industry at large, Hayden was really finding his sound on In Field & Town, with tracks like "More Than Alive" and "Damn This Feeling."  There's the quirky "Lonely Security Guard," which conjured up images of a character that Paul Giamatti would play in a film. But, the most charming moment is "The Van Song" — another tale of fledgling love — but this time told in reverse. As with Elk-Lake Serenade, In Field & Town is another strong release that creates a definite and consistent mood (his last studio album with Badman Recordings).
The Place Where We Lived (2009- 2012)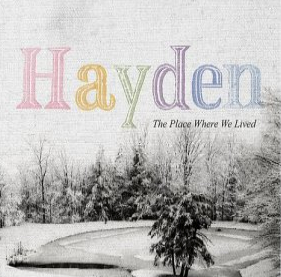 Sadly, I must confess that I didn't even know that The Place Where We Lived was released until Us Alone debuted in 2013 (the irony is not lost on me). Apparently, this 2009 album from Hayden had no press nor tour to support it, and begs the old adage, if a tree falls in the forest and no one is around, does it make a sound? By Hayden's own admission, not actively promoting the album was a disservice to the release. A solid record produced by the talented Howie Beck, this one has a bit more of a country-tinged vibe spread across the songs. Beck's excellent production and playing helped to smooth out the rough edges that often sneaked onto Hayden's past releases, making this possibly the most radio-friendly of his albums to date. But sadly, NO ONE heard it! Highlights include the title-track, as well as "When The Night Came And Took Us" and "Let's Break Up." The closing track, "Let It Last," attests to that picturesque moment when sunlight falls just right and imprints an unforgettable memory (Australian artist Holly Throsby's guest vocals also help to enchant the listener). But many fans never heard the album, and even the ones who did were left to wonder where Hayden went. Rumors even circulated that he'd died!
Fortunately, those were just rumors, and in February 2013, Hayden released the Juno Award nominated album Us Alone.
To learn more about Hayden, visit his official site (complete with some great live performances).
To read my Hayden post in it's entirety, go to The Hip Quotient.
To access just the Us Alone review, go to my page on No Depression.
Adam Kukic is the host of The Coffeehouse on 91.3-FM, PIttsburgh. The Coffeehouse is the perfect complement to your coffee maker percolating on Sunday morning's from 8am- 11am (EST). Tune in online at www.wyep.org
Preceding The Coffeehouse is Folk Alley … and following The Coffeehouse is the Roots & Rhythm Mix
---