Seth Avett Honors His Musical Hero With 'Seth Avett Sings Greg Brown'
Posted On November 7, 2022
---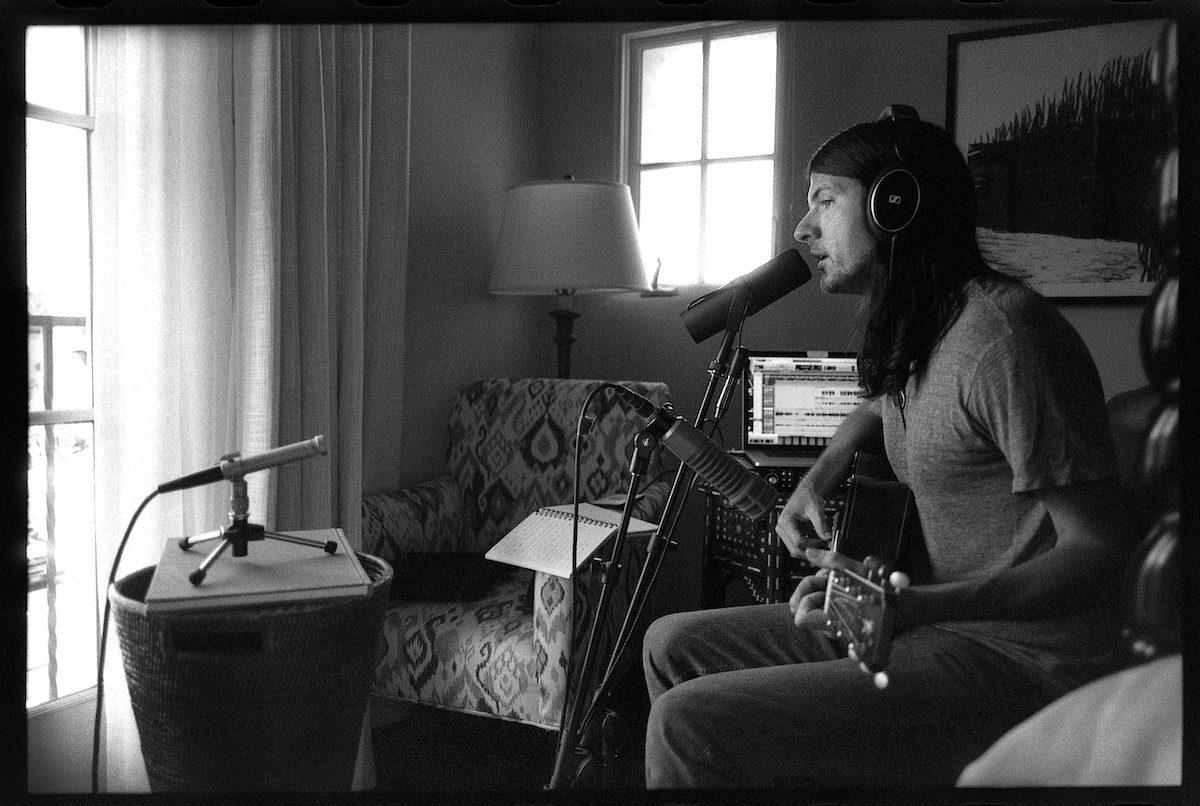 Seth Avett recording in a hotel room in 2018 (photo by Crackerfarm)
Most teenagers don't take kindly to musical suggestions from their dad, but when Seth Avett's father suggested he listen to a song by Greg Brown he'd recently heard on public radio's Prairie Home Companion, Avett paid attention.
The song was "Boomtown," a scorching social commentary about working-class folks being edged out of various playgrounds for rich tourists. Intrigued, Avett kept listening to the live CD his dad had ordered through the mail, and soon came "Laughing River," about a semi-successful baseball player hanging it up and heading home. Avett was hooked.
"I think that at that moment something sort of happened where folk music became current to me," he recalls. "At that time in my life, 14, 15 years old, I thought of it as something that had already happened, and not something that was currently happening. And so when I heard 'Laughing River,' it was just so awesome because it was so accessible and real and blue collar, but also, to my mind, highly poetic and painted a picture."
From then on, Avett would return often to the Iowa songwriter's music as both a comfort and creative touchstone. On tour with his band, The Avett Brothers, he frequently spent his days off playing and recording Brown's songs in hotel rooms. What started simply as "an exploratory sort of endeavor to fill the days with music that I really love" became something Avett wanted to share.
With Seth Avett Sings Greg Brown, out now via Ramseur Records, Avett hopes to pay forward his father's musical suggestion, bringing Brown to new audiences and paying homage to the effect his music has had on him ever since.
Feels Like Home
Greg Brown grew up in Iowa, extending the line of a musical family, including his guitar-playing mother, a grandfather who played banjo, and a grandmother who played pump organ. His father was a preacher, so the music and community of church resonated in him as well. He took vocal lessons in high school, learning the range and power of his signature baritone and soon applying it to his own songs woven from the people and places around him.
After stints singing in New York, Los Angeles, Portland, and Las Vegas, he returned to Iowa, releasing albums on his own and then under his label Red House Records and becoming a regular on Prairie Home Companion. After a career of nearly 50 years and more than 30 albums, plus a key contribution as the booming voice of Hades in Anaïs Mitchell's initial Hadestown recording in 2010, Brown retired in 2019, fully embracing a quiet life with his wife, singer-songwriter Iris DeMent, in Iowa City.
As Brown's music gained wider recognition in the 1990s, including two Grammy nominations, Seth Avett and his brother, Scott, were growing up on a farm in Concord, North Carolina, playing high school soccer and listening primarily to pop music, though also to their father's folk-leaning record collection. Both Avett brothers (they were not yet The Avett Brothers) went to college to study visual art, but their sights eventually shifted toward music, and a hobby of composing their own songs on guitar and banjo and occasionally playing in local bands gradually became a career. Once fully committed to The Avett Brothers in the early 2000s, they played bars and parking lots, then festivals and clubs, and now, more than two decades in, they regularly headline major festivals and sell out amphitheaters and arenas.
Through it all, Brown's songs stayed with Seth, and as Avett Brothers tours kept him away from home for longer stretches, he found himself playing, transcribing, and just generally diving deep into the songs to keep himself tethered to something familiar and comforting. Indulging his love of recording, he'd drag a road case full of gear to his hotel room on days off and fire up Pro Tools. Hotel rooms are far from ideal studio settings, but he viewed the ambient noise — air conditioning clicking on and off, birdsong coming through the window — as part of the experience. What wasn't part of it was a plan.
"I would just sort of try to clear the space mentally and let myself be drawn to whatever Greg Brown song came to mind. And then I would just work on it for like four or five hours," Avett says. "There was no dedicated process, really. It was more or less just like, 'What's the most natural leaning for this day? In this little tiny chapter of my lifetime, what Greg Brown song comes to mind?' And then I would just chase that one."
The 10 songs that landed on Seth Avett Sings Greg Brown span Brown's long career. "Laughing River" is there, as is "The Iowa Waltz," the title track to Brown's first album, released in 1981 (Read ND's story on that album's 40th anniversary here.) Avett's tribute opens with the epic "The Poet Game," a six-minute musical autobiography packed full of breathtaking lines.
Avett doesn't try to emulate Brown's one-of-a-kind baritone, but rather uses his own voice to highlight the simple truths, humor, and soul in Brown's songs. If there's a common thread to the songs, it's that they speak to Avett as he enters his 40s, honoring lasting love, fatherhood, and even mortality. And they find the place where the holy and the humble meet, making for something uniquely human.
That humanity in Brown's songs, even as they reach for something higher, has been especially inspiring to Avett as he navigates the "spiritual path that I seem to be meandering along."
He explains: "You say the word 'God,' and there's a massive chime of the deep bell and this weight of providence, but it's also, like, picking your nose, or like tripping and falling sometimes. In Greg's music, there is connection to the sacred, which is quite serious and full and deep, while simultaneously you can feel that the author is not taking it too awfully seriously, not so seriously that it gets ruined, you know?"
A Light in a House
As Avett began thinking of his hotel room project as something he'd like to release as an album, he knew it was time to let Brown know about it. So he wrote a letter and dropped it in the mail. Brown, whom Avett had only met briefly backstage at festivals a time or two, wrote back, and they continued a correspondence via the postal service, then email. When the tribute got closer to completion, Avett sent Brown a few of the songs to preview.
"He was very complimentary and kind about them," Avett recalls. "And then at some point when we were in Iowa, I went and visited him at his house and we hung out for about three, four hours in his little workspace and in his backyard, sitting by the garden, and we just had a great conversation. And we've been in touch."
Asked for his feelings about the tribute, Brown, now 73, offers his usual blend of humor and heart, leading with the reaction from DeMent:
"My wife's comment after we heard Seth's recording was, 'Wow, it's great to be able to really hear the words for a change!'" Brown quips in an email. "I am honored Seth recorded these songs of mine. He is a sweet deep soul and a wonderful singer and musician. His kindness shines through all he does, like a light in a house in a troubled world."
Avett hopes that his tribute might light listeners' way toward Brown the same way that his dad's recommendation did when he was a teenager.
"That's my greatest dream for it," Avett says of Seth Avett Sings Greg Brown, "to be an introduction to a poetic and lyrical landscape that someone who might really love it may otherwise not have discovered, and to do my part in sharing something that I have observed and witnessed and believed to be very useful and very beautiful."
All these years and many miles later, Avett is still exploring the vast territory Brown mined with his songs, continuing the journey he started as a teenager. Even recently, as he prepared for a release-day solo set of Brown's songs to open an Avett Brothers show in Brooklyn, he came across a few songs he'd never heard before, he says.
"'Laughing River' opened the door, and I'm still walking through it."
Seth Avett Sings Greg Brown was released Nov. 4 via Ramseur Records.
---