Scorsese Film Captures the Sights, Sounds, and Feel of Dylan's Rolling Thunder Revue
---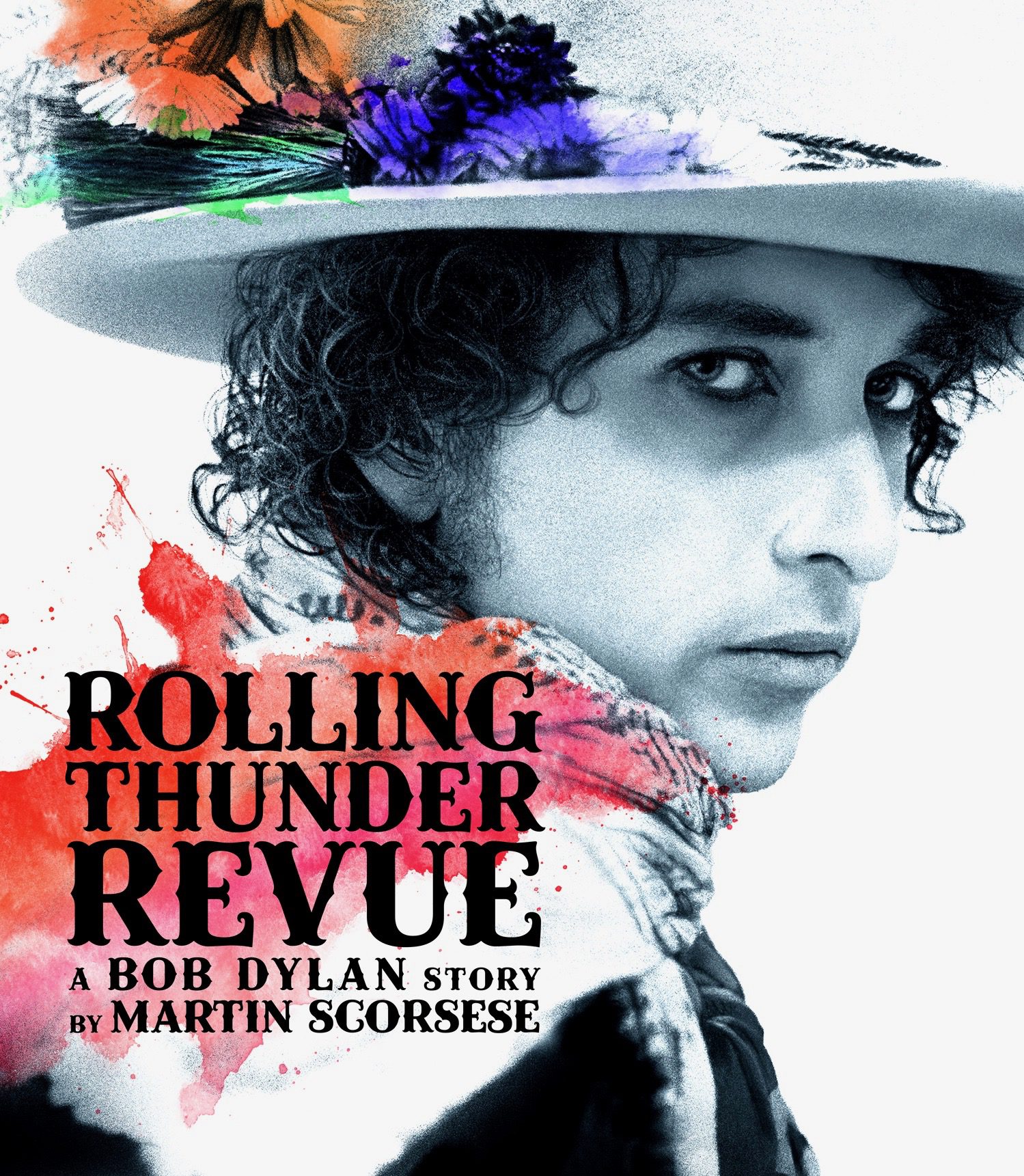 All photos in this post courtesy of and © Netflix and Sony Music Entertainment
WARNING: This review contains some spoilers. Please save it for later if you would prefer to see the movie first.
"Life isn't about finding yourself, or finding anything. It's about creating yourself." — Bob Dylan
Life is a carnival. However, the past is close behind. American history, like the skeleton that it is, contextualizes, shapes, and supports Bob Dylan's Rolling Thunder Revue — and Martin Scorsese's new film about the brief months during which the tour rambled.
The stage for the tour is set with sweeping scenes of New York harbor, "Operation Sail 1976," and the small and tall sailing ships that filled the waters of what was once America's leading seaport town. By the time The Tall Ships, as the event was commonly called, began in July 1976, the Rolling Thunder tour had ended, but it's as if Scorsese is directing us to think in reverse, to play the whole thing backward, from our present and our preconceptions about the Revue and the tour into the reality of its 47 nights, from Oct. 30, 1975, until May 25, 1976.
The Confederate battle flag is visible amidst the carnival of vendors, hawkers, and fool-catchers among the watching crowds. "Mr. Tambourine Man" undertracks the face of the president who resigned, Richard Nixon, and also the beloved U.S.S. Constitution, devious-cruising up the Hudson past the skyscrapers.
Recent interview footage intersperses that of the Revue itself, and its times. There is a great deal from Dylan himself, and he is sharp, humorous, and refreshingly forthcoming about a tour of which he claims at one point to remember nothing: "I don't remember a thing about Rolling Thunder." He laughs. "Whattaya want to know? I wasn't even born."
(The tour is also being celebrated with a 14-disc box set, released last week. See our review here.)
Dylan wanted Rolling Thunder to be a combination of different acts, a variety of physical styles. His inspiration was commedia dell'arte, and he wanted to make a musical extension of it. He also says, "My idea was to have a kind of jug band," like Jim Kweskin's. Allen Ginsberg, who provides some of the most joyous footage in the film, called the RTR a "con man carny medicine show." Dylan's idea, he says, "is to show how beautiful he is by showing how beautiful we are."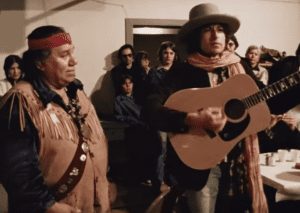 The film goes by so fast. You stretch out your hands and reach for the scenes as they come and go: Patti Smith, earnest, eager to please, meeting Dylan, telling Dylan about Rimbaud at a party at Allen Ginsberg and Peter Orlovsky's place, chanting out her poetry at The Other End. I swear in one shot Dylan is drinking a Pabst Blue Ribbon. "Rita Mae" and "One More Cup of Coffee" float in, elevated to another plane by Scarlet Rivera. In a too-brief clip of her riding through countryside in a Rolls-Royce, Rivera shines. "For me the future already exists," she says simply. Then Dylan sits behind the wheel of one of the tour buses himself. "I sure hope we get to Boston," he says mildly, spinning the steering wheel and heading up the road.
The live performances from various stages in the northeast and Canada are astounding. There is an utter bonfire of an "Isis" and a "Hard Rain" with superb individual instrumentals. At perhaps the smallest venue, a building on the Tuscarora Reservation near Lewiston, New York, Chief Bad Bear and Chief — yes — Rolling Thunder welcome the band for an evening. Dylan sings "The Ballad of Ira Hayes," Peter LaFarge's 1964 tragedy of the Pima soldier who helped raise the American flag at Iwo Jima, and is given gifts by his hosts.
Everyone wanted to sing duets with Bob, but he was choosy: Yes to Joan Baez, of course. Yes to Rivera's elegant violin, which is his sweetest vocal foil. Yes to Roger McGuinn, an old friend, whose cover with The Byrds of "Mr. Tambourine Man" had gone to number 1 on the Billboard charts in 1965, and who had worked with Dylan on the songs for Pat Garrett and Billy the Kid (1974). McGuinn and Dylan sharing a mic for a wild-eyed, soaring "Knockin' on Heaven's Door" is searingly memorable. But no to others. "David Mansfield wanted to sing a song with me," Dylan remembers, adding a headshake, a grin, and a "God," for emphasis. Ronee Blakely recalls Mick Ronson telling her that he never actually spoke to Dylan, though she still radiates warmth and concern as she relates the manner in which she and others in the band protected Dylan against "the onslaught of strangers," even in the small crowds.
Sharon Stone, recent high school graduate from Pennsylvania and at the time a wannabe model, was wearing a KISS T-shirt when she went to a show and met the band. "I think she was with her mom," remembers Dylan. "She said she was gonna be a movie star" (an expressive eyebrow lifts, and his blue eyes roll just enough). Stone joined the tour briefly, with her mother. One day Dylan said to her, "Hey, this song is for you," and began to play "Just Like a Woman." Stone soon burst into tears, only to hear the truth later. "I think T Bone told me the song was, like, 10 years old." Stone's wise, wry commentary, recalling her time as a very young traveler for a small slice of the tour, is a highlight of the movie. "It wasn't stardom, about stardom. People were looking at a band."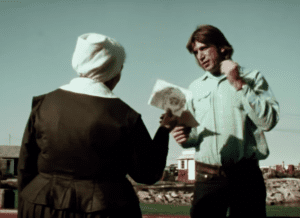 The cameos are as democratic as was the tour. Performers and personnel mix and mingle, at least as it's shown by Scorsese. There is much footage of Rivera, but I wanted more: Her contribution to the RTR has been audible since the first released songs, but now you can see it, too. Jack Baran, seen handing out leaflets for the concert to a woman in Amish dress who tells him she's too old for this sort of thing, also worked as line producer on Renaldo & Clara. Joni Mitchell, a celebrated guest who decided to come along for part of the ride, writes "Coyote" on a rolling bus, and then sings it with Dylan and McGuinn — as Gordon Lightfoot listens. Rob Stoner, who supplied his own band's drummer, Howie Wyeth (grandson of the painter N.C.), couples with Wyeth to make the pounding engine of all the hard-rocking songs. Jacques Levy, who had collaborated with McGuinn on "Chestnut Mare" and co-wrote seven of the songs that would appear on Desire with Dylan, drifts in and out of the frames as he manages the mutable staging.
After a gorgeous clip of Dylan performing "The Lonesome Death of Hattie Carroll," Baez provides a coda: "Everything is forgiven when I hear Bob sing." There's a lot to forgive; scenes from the Renaldo & Clara footage, deployed here by Scorsese, remind us of that. At one point Dylan and Baez are talking about love, reminiscing about their days together in Big Sur. He chides her for marrying someone else; she replies that he did too, and first. He married the woman he loved, he says, and Baez replies that she married the man she thought she loved. Dylan looks like he's searching for just a moment, and then he brightens. "See, that's what thought has to do with it. Thought will fuck you up … see, it's heart, it's not head." He chuckles, and you have to, too.
Renditions of "Your Cheatin' Heart" and "Love Potion #9" on the bus keep folks happy as they cross the northeast. Mitchell writes songs as they go. Larry "Ratso" Slomin capers through a scene in a shirt proclaiming the innocence of Rubin "Hurricane" Carter. Carter himself appears, in an interview recorded many years after his release from prison, to talk about what Dylan's song meant in gaining his freedom. In one of their very few large-venue shows on the tour, the RTR played a benefit concert for Carter at Madison Square Garden on Dec. 8; the performance of "Hurricane" in the movie is astounding.
The benefit made a lot of money, but the tour did not. As its bandleader himself says, though, it was a tour for adventure, not profit. What is left, today, of the Rolling Thunder Revue and its two-leg tour? Dylan bares his teeth. "What remains of that tour today? Not one single thing. Ashes."
To contradict him, "Knockin' on Heaven's Door" in a film so finely restored that it looks washed in fire, glowing like burning coal, swells up immediately thereafter. The credits identify and thank everyone, sometimes by a role (Patti Smith is "The Punk Poet," David Mansfield "The Innocent") and sometimes in a cryptic collective ("The Beings in the Dream").
Scorsese has worked on this movie over the course of a decade. The reason, the foundation, for it happened more than 40 years ago. In a spectacular marriage of film from the past and present, that hardest thing for a visual storyteller to arrange, Scorsese and his fellow producers have achieved both a beauty and narrative form that outdoes the 2005 No Direction Home. The result is a "Bob Dylan Movie" unlike anything we've seen before, or are like to see again.
The Rolling Thunder Revue: A Bob Dylan Story by Martin Scorsese premiered at Alice Tully Hall in New York on Monday night, and can be seen in select theaters in a limited release today. It is available on Netflix starting June 12. 
Recommended reading and further viewing:
Sam Shepard, The Rolling Thunder Logbook
Larry "Ratso" Sloman, On the Road With Bob Dylan
Les Kokay, Songs of the Underground: A Collectors' Guide to the Rolling Thunder Revue
Renaldo & Clara
---