SC4M: Americana Music Festival in South Central…England!
Posted On August 12, 2016
---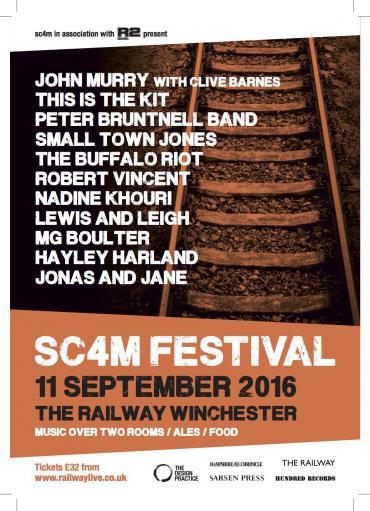 SC4M Festival is an annual Americana music festival in South Central England–Winchester, to be precise. This year's Festival on 11 September will prove to be a great success. All shows are inside The Railway Inn in two locations: The Attic and The Barn (not a real barn–but a larger room inside the venue). The seventh annual non-profit festival begins at noon and runs into the wee hours. Check the schedule here.
Oliver Gray, founder and promoter of SC4M and the Music Festival, is a language instructor, author, musician, and all 'round music lover. Over the last dozen years or so, he's been dipping his toes in that river of Americana music and its related tributaries. He books The Railway throughout the year with the genre's best artists. According to Gray, he founded SC4M "not to make money…but simply for fun, and because if we didn't bring Americana to Winchester, no other bugger would. We had to accept from the start that this would be a hobby and not a business. Over the years, if you add everything up, we have made quite a substantial net loss, but had a huge amount of fun and satisfaction." Oliver and his wife Birgit even offer up rooms in their home to the artists in order to keep expenses at a minimum.
This year's line-up alone is worth a drool, and will include festival mascot Peter Bruntnell and headliner John Murry. Gray is looking forward to Murry's return:
"Since he more or less demolished the place two years ago, we've been gagging to have John Murry back, this time in duo format with Neil Quigley. Headlining in the Attic we have one of Winchester's greatest success stories, This Is The Kit, featuring Kate Stables and Rozi Plain. A massive bonus this year is a solo slot from our special guest Andrew Combs, whom we love to death."
John Murry gave an emotional tribute to the Grays:
"Oliver and Birgit Gray mean more to me than I could ever fully express in words (and I'm told that I have a way with those damn things, though I'm unsure as to whether those who say that I do mean that I use them artistically or that my use of them tends to get me in trouble quite often…). Everything they do, they do out of the love; the love of music, the love of art, and the love of the artist.

"Playing SC4M and Winchester and, in earlier days, Southampton, has always felt like a brief vacation from the pressures of touring while staying with the Gray's. I'm certain that, if shows I have done have been good, then the ones I have done in Winchester must have been some of the best I have ever done. Like playing for family I have never really had, I have always wanted to give those shows more than I have in me to give, only to see the wry excited smile that creeps across Oliver's face as he stands in the audience that indicates I have done well. He's the finest musical barometer I have ever met. His taste is immaculate, his understanding of the art behind it all is immense, and his love of rock and roll is insatiable. He and Birgit have seen more amazing acts perform than most of us could see in multiple lifetimes. They are heroic to me. Sincerely. Not because they ask nothing in return for the love, hard work, and money they put creating and promoting each yearly SC4M festival, but because they do it out of a sense of duty and responsibility with a dignity and humanity almost alien to the selfish world we live in today. I've played large music festivals on a few continents, but I have yet to play a festival as superbly curated and consistently amazing to both perform at and attend as SC4M, and I doubt I ever will. It is more than an honor to headline this year's festival, it's a challenge. I WILL make Oliver and Birgit dance or cry or something! I have to. They'd expect nothing less. From any of us."
Murry rocked The Railway in 2013:
Gray wrote a lively article on his SC4M page regarding the formation of SC4M and the festival, and the various mishaps of being in the booking/promotion business including flaky agents, drunken behavior, and a near murder, just to name a few. Of course, even the worst incidents are canceled out by fantastic bands, sold-out shows, and life-long friendships with artists and patrons. There is also a section dedicated to the nearly disastrous 2013 music festival and other bits of lore that took place over the last decade.
Here is a snippet on the birth of SC4M:
"It was at the Tower Arts Centre in Winchester and it must have been February 2000. My friend Richard had begged me to come and see a guy called Peter Bruntnell.

"I had always had a strong prejudice against country music, with its attendant visions, in my mind, of soppy lyrics and redneck attitudes. It wasn't rock. But Peter Bruntnell and his band did rock – like hell. The ridiculously young James Walbourne was simply one the best and wildest electric guitar players I had ever seen. There weren't many people there, but that evening changed my life. Richard and I decided to become alt-country impresarios."
And so began Oliver's foray into the world of promoting Americana music in Winchester:
"We also had the perfect venue, in the form of The Railway in Winchester, a cosy pub that has a back room that feels just like a Texas roadhouse, with black walls, a sticky floor and a sweaty rock and roll vibe….We certainly didn't think we'd still be doing it [thirteen] years later."
SC4M's Lucky Mascot Returns:
"If you look at the list of our shows, you'll see that the first one (on May 1, 2003) featured, naturally, Peter Bruntnell. Well, it would have to. The Bruntosaurus, as he is affectionately known, has played for us over twenty times…Peter is officially designated as our lucky mascot. In our opinion, he is the UK's premier songwriter, but far more importantly, he is an absolute legend as a person. Luckily, our audience shares our enthusiasm and any show he features in will always draw a healthy crowd."
Recently, I asked Peter Bruntnell about his experiences playing SC4M:
"We've been playing in Winchester for quite a few years now thanks to Oliver and Birgit. It's always one we look forward to what with the great atmosphere they create, and the cheese and wine back at Chez Oliver's after. If every town had an Oliver I'd be a rich musician!"
Pete's latest video, "Mr. Sunshine" is featured on his new album Nos Da Comrade:
The Grays support not only UK and European artists, but also American artists. Some Americans have actually enjoyed much more success overseas than in the US. There are too many bands to list, but a few who played SC4M include: Richmond Fontaine, Fernando Viciconte, Jeff Finlin, Dead Rock West, Chuck Prophet, Jesse Sykes, and The Believers.
Craig Aspen of The Believers, a Seattle band currently residing in Nashville, recalls his experience of their short stay with the Grays:
"Simply put, Oliver Gray is a taste maker. The Believers included The Railway on our last tour to the UK, because Oliver was booking acts that we loved and had shared the stage with back home in the States. People like Chuck Prophet and Jesse Sykes.

"I remember Cyd [Cynthia Frazzini] and I waking up very jet-lagged and rehearsing while Oliver and Birgit cooked dinner. After we ate, Cynthia went back to bed. Oliver and I went out for pints. I don't care what anyone says, the best beer is made in England so don't miss a chance to get out to the pub.

"We ended up at The Railway on a double bill with our friends from LA–Dead Rock West. What a great night. And then we were 'off' to the next place the morning after and didn't even get to see The Winchester Cathedral. That's always how it goes on tour…"
Besides booking The Railway throughout the year and the annual SC4M Festival, Oliver and Birgit also host intimate shows in a beautiful pine-wrapped outbuilding on their property called Swiss Cottage. It's quite a treat to meet a couple who love music so much that they built a place for bands to play on their property. It holds about 30-40 people. Money collected for the shows goes directly into the artists' hands.
Back to SC4M Festival…
If you find yourself anywhere near the UK in September, grab some tickets to SC4M Festival and go! Support Oliver and Birgit Gray and their unwavering commitment to bringing quality music to Winchester. Purchase Railway Tickets for SC4M here
See the complete SC4M lineup here
Support the independent artists who venture to your city and play in small clubs and venues. Support quality music.
Photo: Craig Aspen, Oliver Gray, and Cynthia Frazzini at Swiss Cottage
Originally posted on Aplscruf's Music Blog
---