Routes To Her Roots: Tannis Slimmon's "I Love Manitoba Tour"
---
HOME ROUTES TOUR
Fri. April 9: Onanole, MB
Sat. April 10: Boissevain, MB
Sun. April 11: Crystal City, MB
Mon. April 12: Oak Lake, MB
Tues. April 13: Brandon, MB
Wed. April 14: Winnipeg, MB
Thurs. April 15: Winnipeg, MB
Fri. April 16: near Carman, MB
Sat. April 17: Baldur, MB
Mon. April 19: Neepawa, MB
Wed. April 21: Ashern, MB
Thurs. April 22: Portage La Prairie, MB
Fri. April 23: Winnipeg, MB
The long road of life always leads you home at some point. April is that time for sweet songbird Tannis Slimmon, as she returns to her Manitoba roots, thanks to the growing trend of house concerts in western Canada and the not-for-profit organization that has been spearheading the operation, Home Routes. Tannis' beautiful sounds will be welcomed into homes across southern Manitoba for two weeks in April, from Winnipeg to Oak Lake (Tannis's home town), Boissevain to Ashern, and everywhere between! These shows are open to the public and have been cleverly mapped out for you by Ms. Slimmon herself. To reserve a seat at one of these shows, email Tim at Home Routes or phone him (866) 925-6889 ext 207. See you at Home!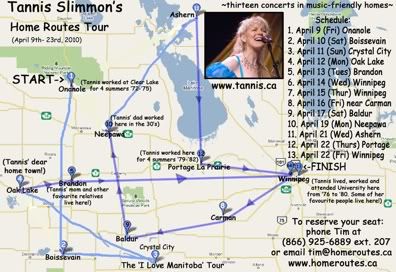 Tannis Slimmon's extensive musical career is populated with a swath of critical acclaim. The sweet sounding songbird brought home Contemporary Vocalist of the Year at the 2008 Canadian Folk Music Awards for her album 'Lucky Blue' and that barely scratches the surface of her professional career. Coming from generations of musical talent in small town Manitoba, Tannis situated herself in Guelph, Ontario in 1980 and started writing, recording and touring regularly with a variety of local bands, including eleven years with the acclaimed trio The Bird Sisters. She struck off on her own in 2001 with her solo debut 'Oak Lake', and followed it up with 2007's award winning 'Lucky Blue'.
Both albums have been met by critical acclaim. In addition to the Folk Music Award, 'Lucky Blue' garnered the 2008 Independent Music Award for Best Folk/Roots Song for "Ernest, Charlie & Allan", a nomination for Best Folk/Roots Album from the same, a spot in the Top 10 Critics Albums of the Year by Penguin Eggs; Canada's Premier Folk/Roots Music Magazine, a Porcupine 'Golden Quill Award' for songwriting, and was 16th on the Galaxie Folk/Roots Channel's Top Spins of 2008. Lewis Melville was nominated for Producer of the Year for 'Lucky Blue' as well at the 2007 Canadian Folk Music Awards. Tannis' 2001 album 'Oak Lake' won the Porcupine award for Favourite Album of 2001 and the Orillia Folk Society's 'Songs for Living Rooms' for "There's A Lift".
Tannis Slimmon's beautiful voice has been featured on more than 74 albums, contributing harmony vocals for fellow musicians like Willie P. Bennett, Valdy and Rheostatics, and added her voice to the chorus on the Barenaked Ladies hit 'If I Had A Million Dollars'. Broadening her horizons even further, Tannis also traveled to Mali, West Africa in 2004 with a quartet of musicians exploring the role of music in development and appears in the documentary of the trip 'Road To Baleya', by Bay Waymen (Close Up Films). Picking up a the travel bug Tannis again went exploring to Matansas, Cuba and has subsequently hosted Malian musicians in her home for two summers. Keeping a steady pace in the music scene, Tannis continues to tour, kicking off spring 2010 with a Home Routes Tour of Manitoba.
---