ROOTS IN THE ARCHIVE: Zora Neale Hurston's Song-Collecting Recordings
---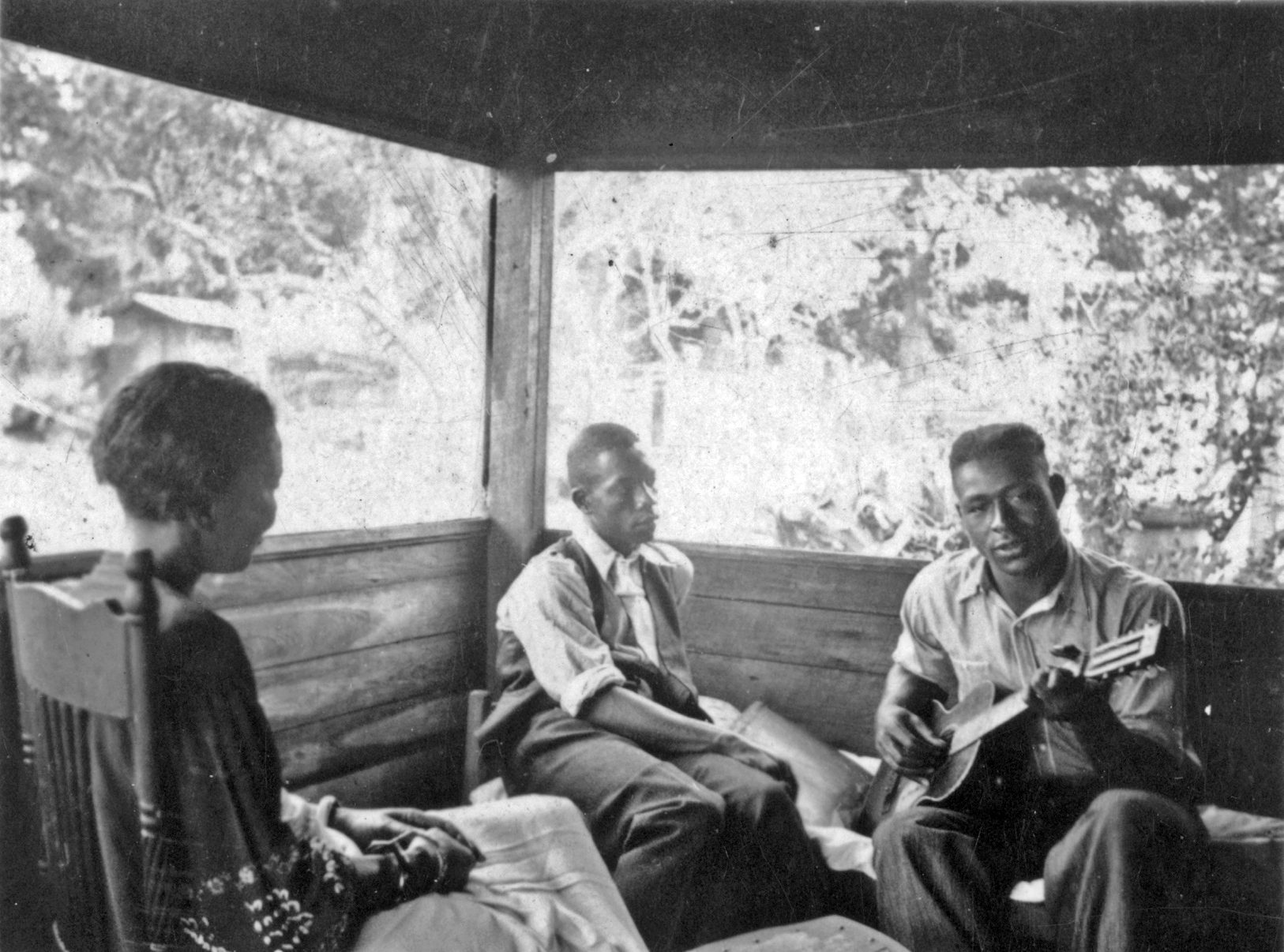 Zora Neale Hurston collects songs from Rochelle French and Gabriel Brown, Eatonville, Florida, 1935. (Photo by Alan Lomax / Library of Congress Prints and Photographs Division)
EDITOR'S NOTE: This is the debut of our new monthly column, Roots in the Archive. Each month, Stephen Winick, writer and editor for the American Folklife Center at the Library of Congress and editor of their blog, Folklife Today, will highlight items of interest to roots music fans in the Library's vast collection. Because the Library of Congress is federally funded, these columns are in the public domain, not subject to No Depression's copyright.
Zora Neale Hurston was one of the most talented, intelligent, and colorful American writers of the 20th century.  She was also an accomplished folklorist, and the American Folklife Center at the Library of Congress has a number of collections associated with her work. Among these unusual treasures is a series of audio recordings from 1939 in which she performs African American songs she collected over many years in the time-honored way: by learning them from other singers. Nineteen of these recordings are online and available for listening on the Library's website. Some of them are a little off-color, which means that anyone with an internet connection can hear Zora Neale Hurston sing a dirty song!
To explain some of the background to these recordings, Hurston was born in 1891, raised in Florida, attended Howard University and Columbia University, and lived in New York at the height of the Harlem Renaissance. By 1938, she had studied with leading folklorists and anthropologists, including her mentor Franz Boas, and had received a prestigious Guggenheim Fellowship. She collected folklore in the American South, the Bahamas, Jamaica, and Haiti. Most importantly, she published two novels, including the classic Their Eyes Were Watching God, as well as two books of collected folklore, numerous stories and essays, and even a Broadway musical based on folk music, The Great Day.
Even for a literary celebrity, however, the 1930s were hard times. Needing a steady source of income to continue her writing, Hurston returned to Florida in 1938 to take a "relief job" with the Florida Writers Project (FWP), collecting African American folklore to include in travel guides and other books about the state.
No one knew better than Hurston how to thrive as a black woman within the complicated racial and gender politics of the segregated South. Still, we can imagine the situation was galling for her. To get a relief job, she had to swear an oath that she had no money, no property, no job, and no reasonable prospects of getting a job. Worse still, although she was infinitely more experienced than any of her colleagues, white or black, as both a writer and a folklore collector, Hurston was relegated to second-class status. The Florida Writers Project was located in the State Office Building in Jacksonville, but as an African American, Hurston couldn't attend meetings in those whites-only corridors of power. Instead, the segregated "Negro Unit" of the FWP had its own office, in the Clara White Mission — a local soup kitchen.
Still, the job met Hurston's needs at the time. She arranged to be the project's field consultant in Eatonville, the black town where she grew up. There, she seems to have spent much of her time at home writing, rather than in the field collecting. She periodically sent the head office in Jacksonville typescript packets of transcribed folklore in thick manila envelopes. Stetson Kennedy, who was nominally her boss, received those packets eagerly. "We suspected that she probably had collected it years earlier, and not while on the payroll," he later remembered. "But we didn't care about things like that, because it was so valuable to us."
In the summer of 1939, when Hurston had been on the job a little over a year, folklorist Herbert Halpert planned a Southern collecting trip for the WPA's Joint Committee on the Folk Arts. The committee arranged to borrow recording equipment from the Library of Congress, and promised to deposit the recordings there for safekeeping. In May, Hurston drafted a plan for a potential leg of that trip in Florida, with Hurston as Halpert's collecting partner in the African American community. Her proposal was accepted, and Halpert came through Florida on his journey.
Hurston had successfully collected in the South with Alan Lomax several years before, but the local arrangements for this 1939 trip were made by white Floridians, to whom it was unthinkable that a white man and a black woman could travel together, or that a black woman should be trusted with recording equipment. Instead, the plan they developed was that Hurston would go on ahead and scout for talent, and Halpert and Kennedy would follow behind her a few days later and record the people she recommended. Needless to say, many gifted African American singers and storytellers performed beautifully for the talented and charming Hurston, then were mysteriously difficult to find when suspicious-sounding white men from the government showed up days later with a recording machine. As a result, only a few of the recordings recommended by Hurston were actually captured.
The silver lining to that cloud is that Halpert decided to record Hurston's own renditions of whatever songs and stories she cared to perform. The result is this unique set of recordings. Hurston sings songs she collected from black Floridians, Gullah Geechee folks from South Carolina, and Bahamians in both Nassau and Florida. They include songs from the Bahamas associated with a ritual fire dance, which include Hurston performing drumming and clapping rhythms, as well as spirituals, work songs, and a description of "lining track," the method by which work crews kept railroad tracks in alignment to prevent derailments. Hurston had already used some of this material in The Great Day, and we can assume these were her personal favorites among the many songs she had collected.
Mr. Brown:
The spoken commentary before each song reveals her thorough knowledge of the latest scholarship; she drops the names of leading anthropologists ("Dr. Herskovits says…") and employs technical jargon of folklore theory ("it's growing all the while by incremental repetition"). The most developed of her introductions becomes a story of its own, describing "the most favorite gambling game among the workers of the south," known as "Georgia Skin." This description gives way to "Let the Deal Go Down," a song traditionally sung by the dealer as part of the game.
Let the Deal Go Down:
A particularly fascinating recording is "Uncle Bud," the aforementioned dirty song. Even more than the song itself, the introduction reveals a lot about the recording session. The people present were Hurston, Halpert (who was running the recorder), Kennedy (whom Hurston knew the best of anyone there), and Dr. Carita Dogget Corse (the director of the Florida Writers Project). After Hurston gives a brief academic description of the social contexts in which "Uncle Bud" was sung and improvised, Halpert asks if "Uncle Bud" would be sung "before the respectable ladies."  Hurston's answer is emphatic: "Never! It is one of those jook songs. And the woman that they sing 'Uncle Bud' in front of is a jook woman!"
Hurston had already published an essay defining "jook" as "a Negro pleasure house." Her assertion that the only woman a man would sing "Uncle Bud" to was a "jook woman" leads to an uncomfortable silence on the disc. After all, since someone had obviously sung the song for Hurston, she seems to have called herself, if not a prostitute, at least a woman of ill repute.
It's a little hard to tell whose voice speaks next, but I knew both Herbert Halpert and Stetson Kennedy, and I think it's Stetson's voice that intervenes to save his friend: "Of course, you heard it from women!" You can hear laughter all around, and a little relief in Hurston's voice as she accepts the lifeline: "Yes, I heard it from women."
As for the song itself, it's really only mildly dirty, with both scatological and sexual ideas but few specific words that were taboo at the time. As an example, the song begins:
Uncle Bud is a man, a man like this:
If he can't get a woman, gonna use his fist
At most of the moments where the song does use a taboo word, Hurston keeps her own rendition PG by mumbling that word inaudibly:
Uncle Bud got corn that sure needs shuckin'
Uncle Bud got gals that sure need hanh-hn
Some verses of the song seem to be about cats leaving "turds" on a plantation, but it isn't clear if the cats are a metaphor for men!
At the end of the recording, Halpert adds an editorial comment: "I think that's a very valuable contribution to scientific recording!"
It's hard to know if he was being sarcastic, but today we can say something similar about this song, and the whole recording session: it's a very valuable contribution to our understanding of black folksong, Southern culture, and the genius and charm of Zora Neale Hurston.
Uncle Bud:
The Library of Congress also has 10 plays written by Hurston, most of them unpublished in her lifetime. Check those out here.

---