ROOTS IN THE ARCHIVE: The Arlo Guthrie Birth Announcement
---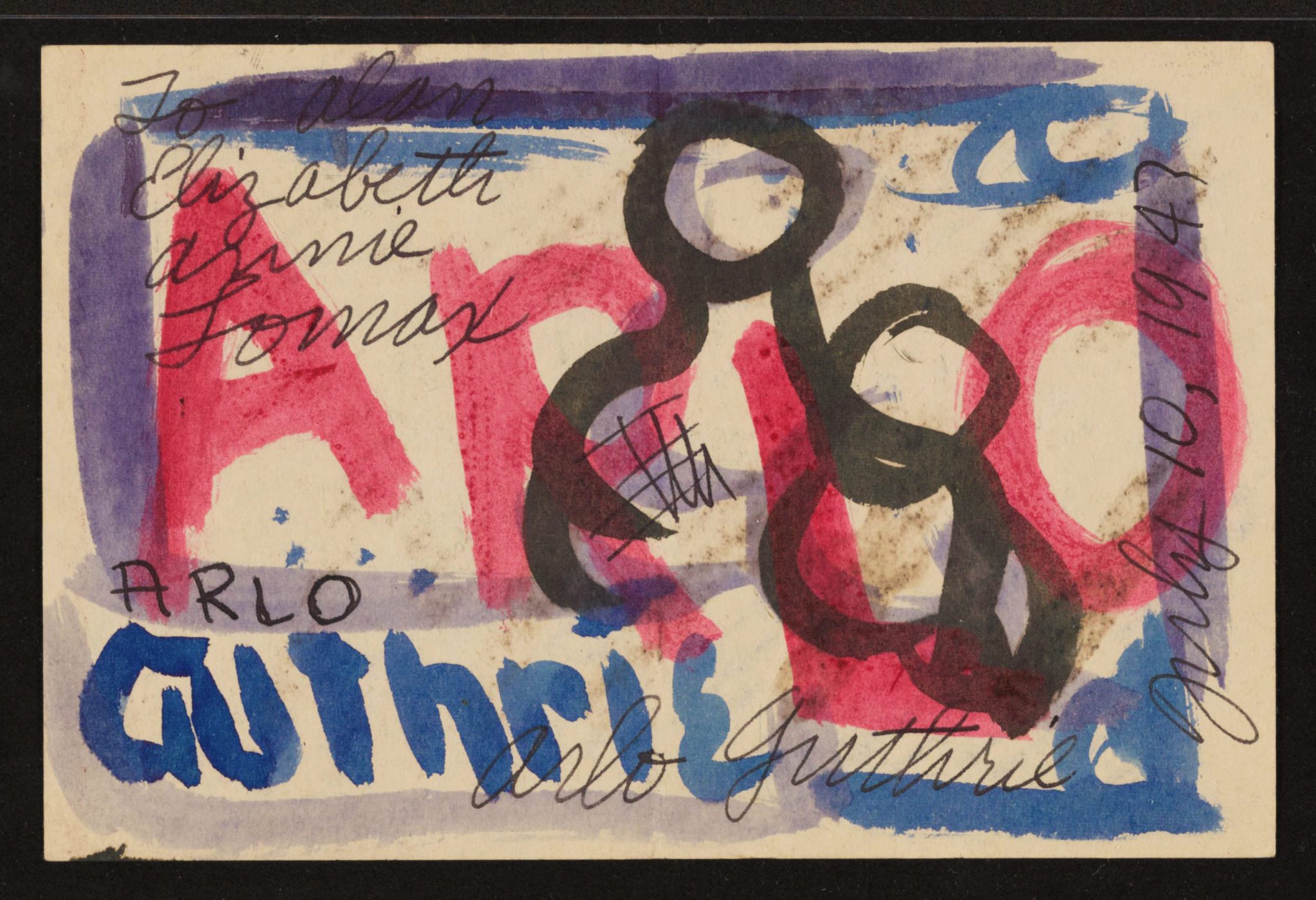 Arlo Guthrie is a beloved elder of Americana, known for such whimsical stories and songs as "Alice's Restaurant Massacree" and "The Motorcycle Song," as well as many social justice songs, not to mention an iconic cover of "City of New Orleans." He's the father of Sarah Lee, Annie, Cathy, and Abe, all musicians, making him a roots music patriarch.
Of course, Arlo is also the son of Woody Guthrie, a towering figure in American folk music, writer of "This Land is Your Land," "Pretty Boy Floyd," "Philadelphia Lawyer," and countless other songs. In addition to being one of our greatest singer-songwriters, Woody Guthrie wrote stories, poems, and essays, and was an accomplished illustrator and visual artist in several media. All of this makes a handwritten, illustrated letter created by Woody to announce Arlo's birth one of the most interesting items in the archive of the American Folklife Center in the Library of Congress.
The Arlo Guthrie birth announcement was sent by Woody to his friend Alan Lomax in 1947. Typed and embellished with finger-painted lettering, the announcement is in the form of a handmade greeting card, a single sheet folded in half to form a front and back cover and a center spread. The front consists of stylized line art representing a mother and baby, a greeting to the Lomax family, and the name "Arlo Guthrie," painted in several different styles and colors. The back consists of the words "Here I Am" in large painted letters. Both sides bear the date, and the name "Arlo Guthrie" written in Woody's handwriting.
Inside the announcement, the words "Who Are You" are painted in large blue and red letters, right on top of a typed passage that bears Woody Guthrie's characteristic loose spelling and grammar, salted with a lot of his famous wordplay. Dated "Tenth of Julio, Nineteen Forty-Seveno, Brooklyn New Yorkio," the announcement consists of a fanciful note, ostensibly from the baby Arlo, introducing himself to the Lomaxes:
"This is to serve notice on you Lomaxes. Alan, Chavella, Little Annie Banannie … and to let you know I made it out. Come the painless track and foot log. Found it."
"Marjorie smiled all the way through which gave me more room to make my jump in. I had to dive feet first because the Brooklyn Jewish Hospital was so little and so noisey and so packed. I come out weighing seven pounds and after the first three rounds I melted down to a few ounces short, but drawed out okay on my next few hands and won my lost ounces back. I had doctor Soifer to be my umpire and timeclocker. He said Marjorie and Woody both smiled all the way out. I got to ride out here and back in a big nice Cadilac Eight limousine which my daddy swears he's going to steal. I just mainly wanted you folks to know that I run onto our painless trail. I'd like to see every wiggler in this humanly race come out painless and go up painless and come down painless. It's fun to be born when the Watergates are wide open and you don't whang your noggin.
"I am Painless
Or I was
And just hope
You world livers
Will
By God
Help me to
Stay
Painless.
I go by the name of Arlo."
The Arlo Guthrie birth announcement was acquired by the American Folklife Center as part of the Alan Lomax Collection, which contains approximately 600 pages of Guthrie-related manuscripts, primarily correspondence and songbooks. In March 2004, the Center officially acquired the Alan Lomax collection, comprising materials Lomax collected after leaving the Library's employ in 1942. The purchase was made through an agreement with Lomax's organization, the Association for Cultural Equity. It was a particularly significant acquisition because it allowed Lomax's later collections to join the materials he collected for the Library between 1933 (his first field trip with his father, John A. Lomax) and 1942, bringing all 70 years of Lomax's collections under one roof for the first time.
Even among the many treasures of the Lomax collection, this piece stands out; it's unique, it's hand drawn, and it represents a link between the Guthries and the Lomaxes, two of the most important families in American roots music history. It's also whimsical, funny, and touching in its own way, providing both an echo of Woody's funny songs and stories and a foreshadowing of Arlo's.
The announcement also provides food for thought: Baby Arlo repeatedly insists on how painless the birth was, and claims that his mother Marjorie smiled all the way through childbirth. But are these claims reflections of reality, or do they express Woody's male guilt? We may never know, but the image of little Arlo jumping and diving and wiggling is one most readers won't forget!
In addition to making an interesting addition to the Lomax collection, the birth announcement is a wonderful complement to other Guthrie correspondence in the archive. This extensive correspondence includes purely administrative letters, such as the one at this link, selling the rights to his recording of "Gypsy Davy" for 10 dollars, which is about $150 in today's money.  Even today, this allows the Library to put the recording online for you to hear at this link! But the Library's collection of Guthrie letters also includes other items with stories and illustrations, some of which can be found online in this special collection. (My personal favorite is Vote for Bloat!)
If that weren't enough, AFC also hosted a lecture by Nora Guthrie — Woody's daughter and Arlo's sister — about life with her famous father. You can find a video of that talk at this link.
Together, all these collections make AFC a significant resource for anyone interested in understanding the Guthrie family and its contributions to American folk and popular music. But even if you're just a casual fan of Arlo Guthrie or his even more famous father, the birth announcement is a fun item to look at and enjoy. High resolution scans are available at this link on the Library of Congress website.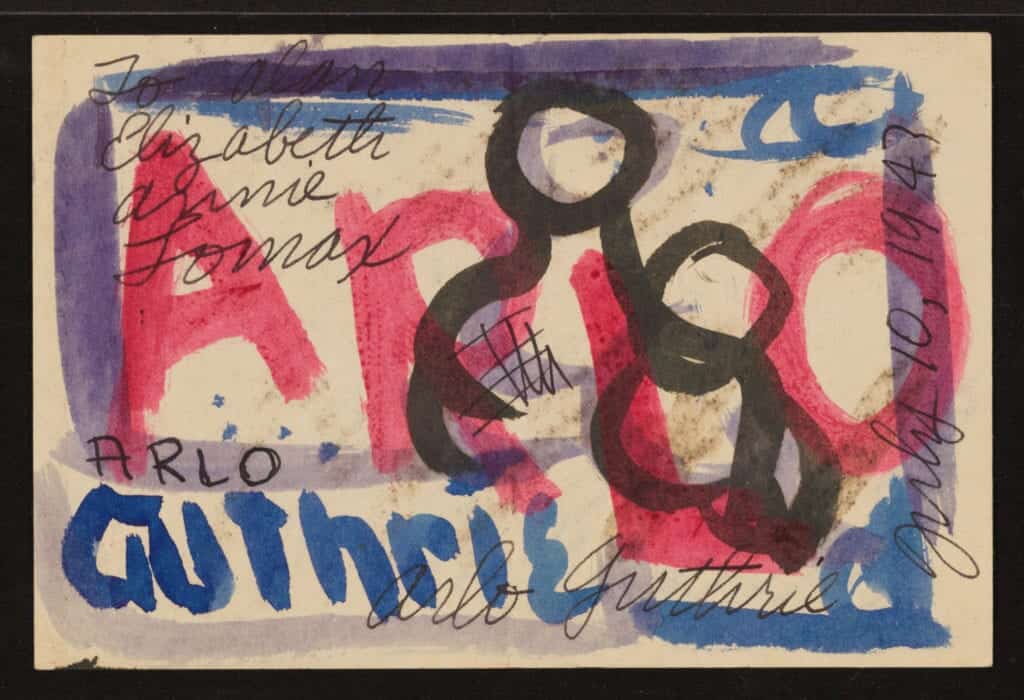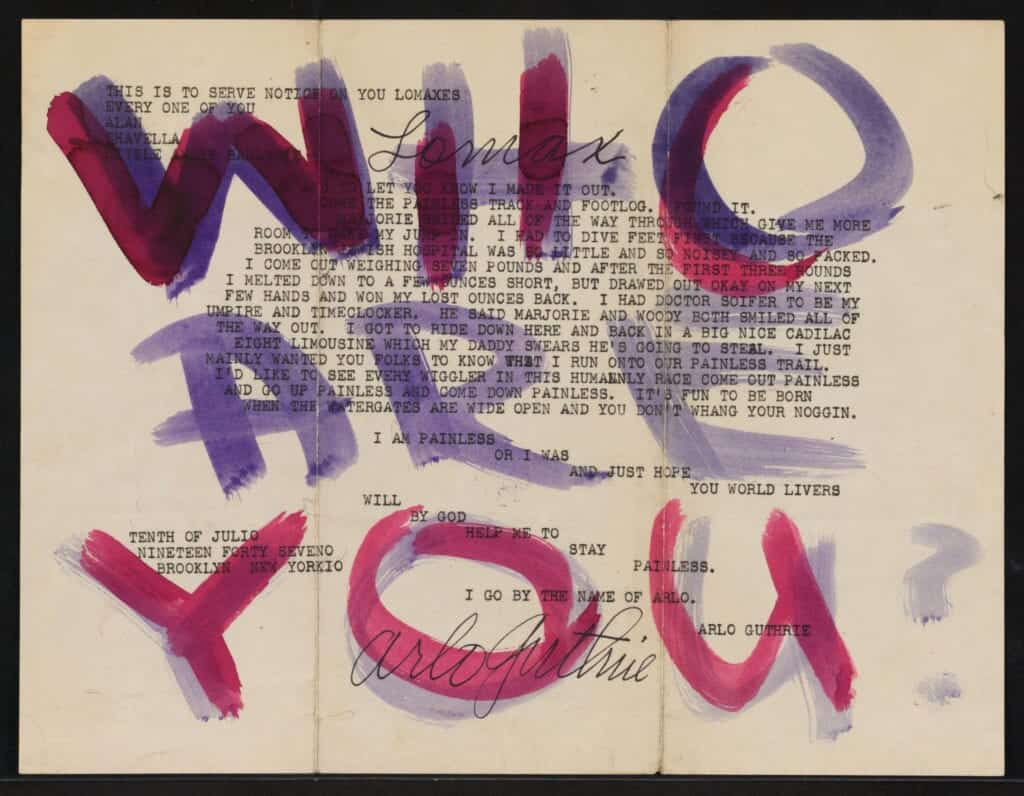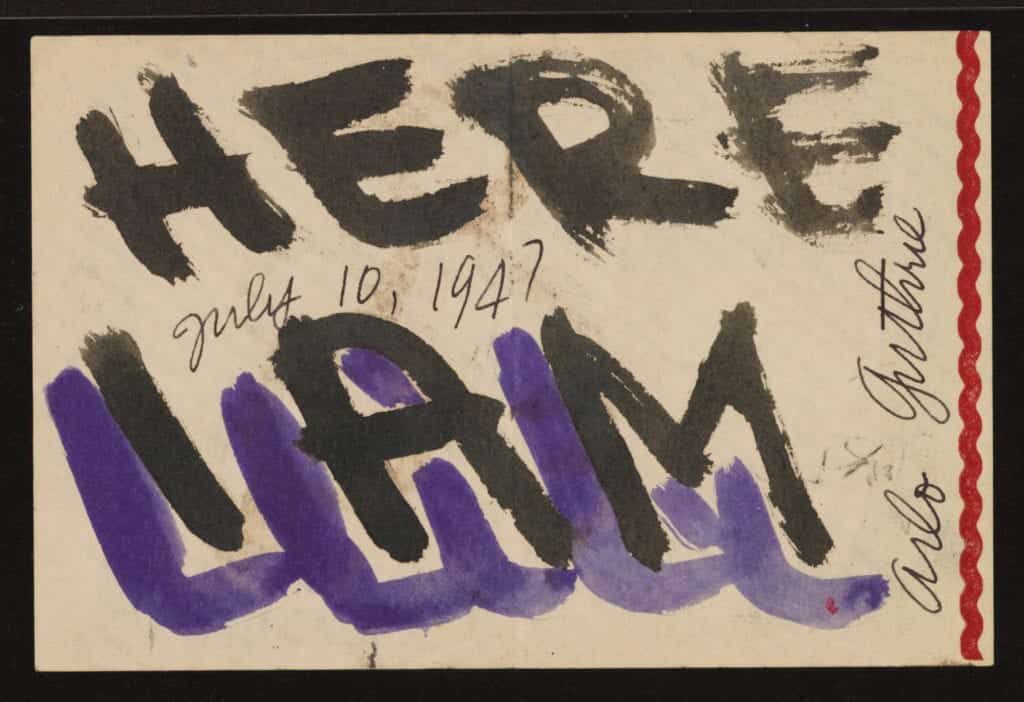 ---
Stephen Winick is a writer and editor for the American Folklife Center at the Library of Congress and editor of their blog, Folklife Today. Because the Library of Congress is federally funded, these columns are in the public domain, not subject to No Depression's copyright.
---