ROOTS IN THE ARCHIVE: How Cowboy Culture Found Its Way Into New England Poetry
---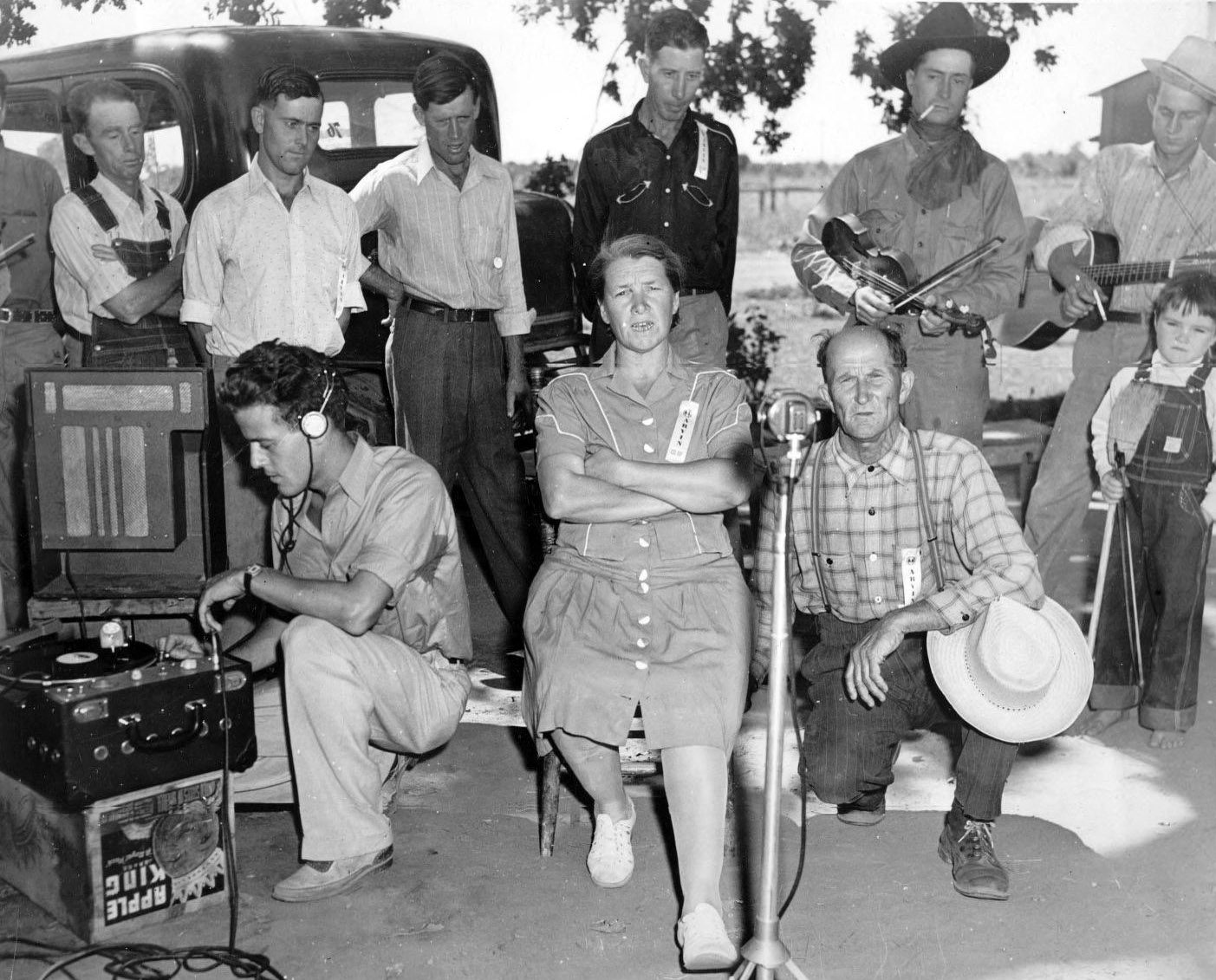 Charles L. Todd (wearing headphones) records Frank and Myra Pipkin while other performers, including a fiddling cowboy, wait their turns. Shafter FSA Camp, California, 1941. (Photo by Robert Hemmig. Charles L. Todd and Robert Sonkin Migrant Worker Collection AFC 1985/001)
Nothing says "Americana" like cowboy culture, and we've got a rich vein of it at the American Folklife Center in the Library of Congress. We have cowboy songs galore from Texas, documentation of buckaroo life in Nevada, and other cowboy material from throughout the West.
As a staff member there, though, I'm sometimes struck by the mysteries of a single item in the archive, and such was the case with a cowboy poem I ran into a few years back. It's a 10-minute narrative poem in rhyming verse recited by a man named Fred Soule at the Farm Security Administration (FSA) camp in Visalia, California, on Sept. 2, 1941. The camp was one of several such migrant worker camps in California, established by the government to house refugees from the Dust Bowl and the Great Depression who went west looking for farm work. The poem was recorded on an acetate disc by Charles Todd and Robert Sonkin, two fieldworkers collecting folksongs for the Library of Congress. Todd had become fascinated with the migrant camps in the late 1930s after reading John Steinbeck's pamphlet of essays Their Blood is Strong, and had arranged folksong expeditions for himself and Sonkin in 1940 and 1941. This was their last day of recording, and this poem was the very last of over 400 audio titles they captured for the Library.
The poem's title, as given by Soule, is "Colorado Morton's Last Ride." In it, Colorado Morton, a cowboy and horse wrangler stuck in an unnamed town waiting to take his boss's steers to market by train, learns that his brother-in-law is scheduled to be hanged hundreds of miles away for a killing that Morton himself committed. With a local train derailment blocking the rails and telegraph wires down, he makes a desperate horseback ride to substitute himself for the innocent defendant.
This engaging poetic yarn is clearly written and delivered in the tradition of cowboy poetry, a strain of American verse that's undergoing a healthy revival these days with the help of both cowboys and folklorists. Each February for many years — until the pandemic disrupted things — cowboy poets have gathered in Elko, Nevada, home of the Western Folklife Center. The staff there has worked with cowboy poets since 1985 to spread news of the genre far and wide. In case you're not familiar with cowboy poetry, though, here's some background. Cowboy poetry has existed since the cattle drives of the 19th century, when wranglers from diverse backgrounds were thrown together on the trail. The ranks of riders included Spanish-speaking vaqueros, formerly enslaved African Americans, hardy Texas frontiersmen, migrants from Eastern U.S. cities, and people from as far away as Europe. Cowboys traveled together and camped together for months at a time, and saw few others along the way. As a result, anyone with a good store of songs to sing, tunes to play, or poems to recite found it that much easier to get along.
Our own poem has all the hallmarks of a great cowboy yarn: its story emphasizes Colorado Morton's loyalty to his brother-in-law, his willingness to sacrifice himself for justice, and (of course) his prowess at riding and wrangling, all deeply held ideals of the cowboy community. It's also grounded in the details of cowboy language, in which "the best horse-wrangler of the Circle-Bar" is forced to endure "pitch and sidewind, and buck, and rear" on a beast whose "daddy was a stud-horse in the teams of Hell." After a period of hair-raising suspense, it ends with dry humor, another frequent feature of cowboy verse.
More than all this, the poem directly expresses opinions on cowboy matters with a knowledgeable flair:
His bones stood out all over his nibs
That horse wan't nothing but hocks and ribs
But I know horses, and I'll tell you this:
A thin devil's worse than a fat devil is.
On the Trail of 'Colorado Morton's Ride'
Given this wealth of authentic cowboy detail, when I first heard the poem I was sure it was written by a bona fide wrangler. Imagine my surprise when I found out it was the work of Leonard Bacon, an academic poet who lived most of his life in Rhode Island!
It was published (with the slightly shorter title "Colorado Morton's Ride") in his book Guinea Fowl and Other Poultry. Bacon published well-received translations of "El Cid" and "The Song of Roland," and his books of original poetry have such exalted titles as The Legend of Quincibald and PhDs: Male and Female Created He Them. Most prominently, in 1941, the same year in which Fred Soule recited his poem for Todd and Sonkin, Bacon won the Pulitzer Prize for his poetry collection Sunderland Capture. A Yale graduate and Berkeley professor whose roots were in upstate New York and in Rhode Island, he didn't seem the sort to know much about riding and wrangling.
This puzzle got me looking deeper into Bacon's life, and several clues to the source of his authentic cowboy details turned up right away. In the introduction to Guinea Fowl and Other Poultry, Bacon explains:
The two cowboy ballads in this volume are the joint effort of Mr. Rivers Browne and myself. The plots and the local color are his contribution. The working up and the versification are, with the exception of a line or two, my part of the work.
I also learned the poem originally appeared in the Saturday Review of Literature, May 16, 1925, again credited to "Rivers Browne and Leonard Bacon."
A search of Census records turned up one person named Rivers Browne in 1920, 1930, and 1940, living in Sweet Grass County, Montana. The location of a collaborator in Montana made sense given the text of the poem. Although many of the poem's geographical details seem fanciful, the basics are: Morton rides from an unspecified town somewhere near a "Circle-Bar" ranch in the United States; he winds up in Medicine Hat, Alberta; and the distance is specified to be a little over 200 miles. These details pointed me to a historical Circle-Bar ranch that lies near Utica, Montana. The nearby railroad town could have been Great Falls, which is just over 200 trail miles from Medicine Hat, or it could have been Utica, which is about 250.
As unlikely as it seemed, then, at this point in my research it was looking likely that Bacon wrote "Colorado Morton's Ride" in collaboration with a Montana cowboy who knew real details of the landscape, but was not above making up other details for the sake of a good yarn.
Looking for a connection between Leonard Bacon and Montana turned up another reference, in the biographical paragraph on Bacon contained in the book The Pulitzer Prize Archive Vol. 11:
[Bacon] graduated in 1909 and enrolled at Yale for graduate work in the same year. At that time the poet published his first volume of verses called The Scrannel Pipe. After suffering a nervous breakdown Bacon gave up studies and went to work on a cattle ranch in Montana where he stayed until the spring of 1910.
Ah, the grad-school nervous breakdown — relatable content! This information sent back me to the stacks to see if I could turn up anything more about Bacon's time in Montana in his volumes of verse. Luckily, I discovered that his volume Semi-Centennial, although classified and shelved with his poetry collections, is in fact an autobiography. There's no index, but I knew the year, so it was easy to turn up the references: on pages 85-90, he describes his time in Montana with vivid attention to detail:
Harry at the cabin door would squint at the somber clouds and say: "It's chinooking." In another hour the thermometer would have risen from below zero to nearly fifty, and the snow by sundown would be whipped off like a table-cloth. Blue pools lay in every depression of the plain. And the white jackrabbits, unaware that they were now the most conspicuous objects in the landscape, crouched quiet till you came within a yard of them — a hateful betrayal on the part of the Ancient Mother.
Bacon even tells us where the nearest train station was (Big Timber), and the names of his employers, Harry and Jack Hart, which identifies the ranch as the Eureka Ranch, later the Dot S Dot. Most importantly, Bacon describes his co-author, Rivers S. Browne, in some detail:
A man of high breeding and instinctive delicacy, he had been a cowboy for twenty years, and had carried horsemanship to a point where, not merely an art, it was a philosophy. Every bone in his body had been broken by some sixty kicks and other catastrophes. […] In his youth in the early nineties Browne had been horse-wrangler to many cavallardas coming up from Mexico with the longhorns purchased on the border. The duties of the son of an English general had consisted of breaking wild horses caught on the long march — so that the vaqueros might ride them. With such a job there was no middle way. Either one died or one became an artist.
With such a wrangler on the team, it's no wonder the details of horsemanship seem so accurate in the poem.
Browne, I found out, was quite an interesting character. The Census records say he was born in India, and we've already seen Bacon remarking offhand that he was the son of an English general. With that intelligence I was able to learn that the expert horseman was born "Swinton Rivers Browne." His father, Swinton John Browne, retired as a major-general in the India Staff Corps of the British army in 1897 and was a Companion of the Order of the Bath. Rivers Browne's mother was born Grace Rivers, suggesting that his choice to reorder his names to become "Rivers Swinton Browne" was in honor of his mother — quite a cowboy gesture.
The specifics of the collaboration between Browne and Bacon remain a little fuzzy. In the autobiography, Bacon merely says that "years later" they worked together on "a couple of Western ballads." Whether Bacon ever returned to Montana, whether Browne went to visit him in California (where Bacon lived when the poem was published), or whether they managed their collaboration by mail remains a mystery to me.
I did solve one more mystery surrounding our audio version of "Colorado Morton's Last Ride":  Just who was the reciter, Fred Soule?  Although he's obviously a talented and expressive speaker with a prodigious memory, this is the only recording Todd and Sonkin made of him, and they wrote down nothing about him in their correspondence or notes. Searching the Library of Congress website for the name turned up an interesting document that provided the crucial clue: a 1935 letter sent by Roy Stryker, head of the Resettlement Administration's Historical Section, arranging for Dorothea Lange's photographic expedition, on which she shot, among many others, her iconic image popularly known as "Migrant Mother." The recipient of the letter was a government official on the other end of Lange's trip, the regional Information officer of the Resettlement Administration for Northern California, Frederick P. Soule.
A few years later, the Resettlement Administration changed its name to the Farm Security Administration, but it was the same outfit — so Soule was not a camp resident but one of its administrators. Knowing that, I was able to turn up other references to him. According to Steinbeck scholar Robert DeMott, Soule and his staff had also worked with the author, helping him with information about the FSA and affording him access to the camps where he had written the newspaper essays that had first caught Charles Todd's imagination, as well as his great novel The Grapes of Wrath.
So that's the tale that lies behind a single recording in our archive: the story of the Pulitzer-Prize-winning poet and the Montana cowboy of distinguished lineage, unlikely buddies who worked a ranch together in 1910 and wrote verse together in the 1920s. The other central characters are some Library of Congress folklorists and an unsung government official, working behind the scenes at the tail end of the Great Depression, striving to preserve folk music and foster great American writing. What can I say? That's the kind of story we love at the Library of Congress!
By now, you want to hear Fred Soule's recitation … it's in the player below! And if you want to read the poem, which has passed into the public domain, you can find the original text at this link.
---
Stephen Winick is a folklife specialist for the American Folklife Center at the Library of Congress and editor of its blog, Folklife Today. Because the Library of Congress is federally funded, these columns are in the public domain, not subject to No Depression's copyright.
---