ROOTS IN THE ARCHIVE: Bessie Jones, 'Oh Death,' and a Story of the Supernatural
Posted On October 28, 2020
---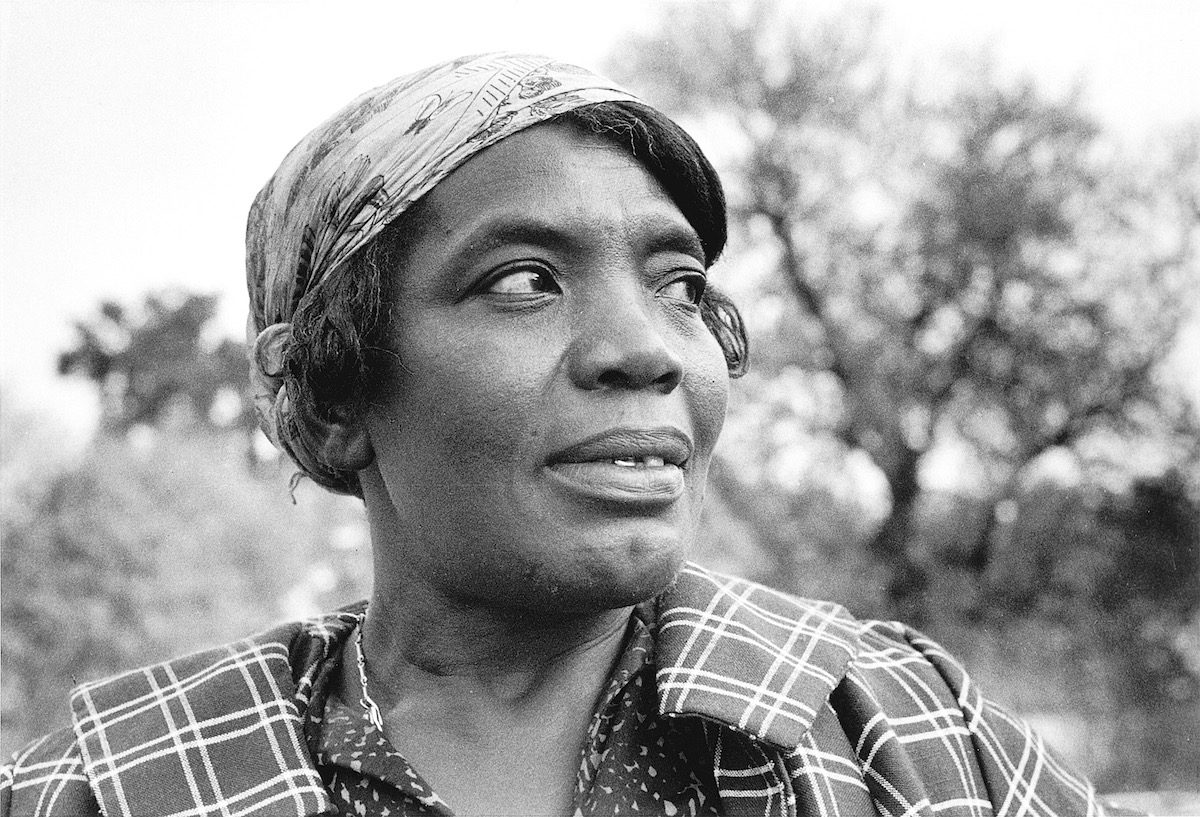 Bessie Jones on the set of the "Music of Williamsburg" film, Williamsburg, Virginia, April 28, 1960. (Photo by Alan Lomax. Alan Lomax Collection, American Folklife Center, Library of Congress)
When October rolls around, some of us at the American Folklife Center at the Library of Congress start to think about the rich stores of supernatural lore that exist among our discs, tapes, and manuscripts. Among the great singers and storytellers whose work we preserve, some stand out as experts on the otherworldly. Bessie Jones is just one example; she was a cultural treasure, and among her prodigious store of songs, stories, and talk was a lot of material on ghosts, witches, Death, and the devil.
Bessie Jones (1902-1984) was a native of inland Georgia, but moved as an adult to the Sea Islands, where she was active in the church and met many other great singers of spirituals. She was an extraordinary talent, and became a leader of her new coastal community and a cultural ambassador for her traditions. She founded the Sea Island Singers in 1963, and the group had a successful career at folk festivals. She sang spirituals and work songs at the 1968 Poor People's March in Washington, among many other accomplishments. In 1982, she became part of the first annual group of National Heritage Fellows from the National Endowment for the Arts, a particularly distinguished group that included Bill Monroe, Lydia Mendoza, Sonny Terry, Brownie McGhee, Dewey Balfa, and Joe Heaney.
But long before that, through years of listening, singing, talking, and teaching in rural Georgia and Florida, Jones had become an expert on several areas of folklore: children's songs and games, spirituals, and, yes, the supernatural. I can't do justice to Bessie Jones' long and accomplished life in this brief article, but if you want to know more visit her biography online.
Jones first met Alan Lomax in 1959, when the great folklorist recorded some of her songs and recruited her to participate in a film about Colonial Williamsburg. Realizing that she had a great store of folklore to offer the world, Jones showed up at Lomax's New York City apartment in 1961 asking to be recorded. Lomax and his wife at the time, Antoinette Marchand, made hours of recordings of Jones singing, telling stories, and just talking. They're part of the American Folklife Center archive at the Library of Congress, and accessible online through the Lomaxes' foundation, the Association for Cultural Equity.
Let's first hear Bessie Jones's version of the classic "Oh Death." This is her personal take on the same stark and terrifying song recorded by everyone from Dock Boggs to Camper Van Beethoven, and best known for Ralph Stanley's Grammy-winning performance in the film O Brother, Where Art Thou?. In this masterpiece of folk horror, the narrator wakes up to find Death himself in the room, already taking hold of her body with ice cold hands. She tries desperately to bargain for more time.
"Oh Death (Death in the Morning)"
Bessie Jones
Oh Death in the morning, Oh Death in the morning
Oh Death in the morning, spare me over another year
Well Death walked up to the sinner's gate
Said I believe you have waited now a little too late
Your fever now is one hundred and two
Have a narrow chance that you'll ever pull through
(Chorus)
Crying, oh Death
Oh, Death in the morning
Oh Death,
Death, spare me over another year
Oh what is this I see?
Cold icy hands all over me
Say I am Death no one can excel
I open the doors of Death and Hell
(Chorus)
No you heard God's people sing and pray
You would not heed, you just walked away
You would not even bend your knee
Now you got to come and go with me
(Chorus)
Gonna fix your feet where you can't walk
Fix your tongue so you cannot talk
Close your eyes an' you cannot see
You got to come now an' go with me
(Chorus)
Well, Death, consider my age
And do not take me in this stage
Because all of my wealth is at your command
If you just remove your cold icy hand
(Chorus)
Oh, Mother standing by the bed
With an aching heart and a hung down head
The doctor looked around, very sad
Said, the worst old case I ever had
(Chorus)
He said mother, I got feets and I can't walk
I got a tongue, mother, and I can't talk
I got eyes and I can't see
Nothin' but Death has got the shackles on me
The character of Death in the song has a lot in common with folk conceptions of the Devil. Of all supernatural characters, Jones knew the most about Satan. She sang many songs about how to escape, avoid, and reject the Devil. But she also told stories about people who were tempted by the Devil's pleasant appearance, including one old folktale I've called "Married to the Devil."
Below, listen to Jones's story and read along with my own transcription. Transcribing stories from people whose dialect is different from your own can be a challenge, but I'm pretty sure I captured what she's saying. My transcription style is one that tries to keep some of the texture of oral performance. Rather than just organizing into paragraphs, I've made the unit of transcription the spoken line, bounded by pauses or other segment markers. In this I follow some of my teachers in folklore, anthropology, and linguistics, though I'm sure any deficiencies are purely my own fault.
"Married to the Devil" is a version of one of the most widespread magical tales in African American tradition, known to folklorists as ATU 313A, "The Girl as Helper in the Hero's Flight." In most American versions, the person who needs to escape the Devil is a man, and the helper is the Devil's daughter. In this unusual version, the person escaping is the Devil's new wife, and the helper is — well, let's just say "it's complicated!" A nice aspect of the story is that Bessie Jones gives Alan Lomax a little lesson in interpretation at the end.
Married to the Devil
Bessie Jones
This girl, she was … a girl, they say
She THOUGHT that she was so pretty.
Everybody always told her she was pretty.
And she just had all … she just was IT, you know.
And her parents was rich and everything, and had plenty.
And she was their only one, and she had plenty.
So she told her mother that she was going to marry the prettiest man in the world,
That she wouldn't be made ashamed nowhere, you know.
So, her mother told her, says: "Uh-huh. All right."
And she wanted the prettiest man in the world.
Everybody come along and tried to marry this gal, and she said "No, no. No, no."
So the Devil, he knows, you know.
The Devil made himself pretty, which he ARE pretty.
He made himself most beautified and charming,
Magnificent, you know, to look at, see. Very easy on the eyes.
He come up to the door
And all dressed up, you know,
He knew how to charm her, you see.
He come up there to the house, and he had his big rubber-tired buggy, you know,
They had buggies in those days … a fine buggy, and his … a fine horse.
His harness, it looked as silver to her.
Everything was charming to her eye … you know, he KNOW what to do.
And the buggy, it looked like the spokes was gold.
Red, Lord, it was just beautiful.
Whoo! And he was just IT!
He stepped out of there with all his diamonds and everything,
And all his glittering pins, whoo!
And he had his, his charm from head to feet.
And those pants he had on,
Looked like you could shave yourself with that crease in it, you know.
Oh, he was set a … he was set aside!
So that time, she seed him.
And all those charms, that's went all through her,
Cause he knew how to do it.
So she said, "momma, this is the prettiest man in the world!"
"Look at … he's stopping at this house, look AT him!"
And so, they looked at him.
And so, said, "sure is a pretty man!"
So he come to the door, and he talk and he talk
And he wanted to see the girl, and so all that,
So then, she walked OUT, you know,
She wanted to see HIM,
Let him see HER.
She's all dressed to kill.
She sit and talk with him, and talk and talk.
So, he was after due to ask her to marry him,
She was ready, cause she didn't want nobody else to get him.
Said she would marry him.
All right, said, "you're ready to marry."
"What we have to do to get married right now?"
"You got the preacher?"
Brought him back there, and they MARRIED.
She had to go home with him.
He had such a fine home.
He told her all about his nice home,
How beautiful it was,
And all … he just told her everything,
And she could look at him and tell he was all right.
And so they started out.
She left mother and everything that day,
And started on out.
And went through beautiful towns.
And seen most pretty homes.
She said, "Ooh, I wish that … I hope … "
"I HOPE my home be pretty like that."
He said, "Ye-e-e-s-s-s, be prettier than that!
Prettier than that!"
Every town they go through,
There were big places seen,
She'd wish about it,
He'd say "yours be prettier than that.
Prettier than that, don't worry.
Prettier than that."
So finally, she comes to get into the country,
And missing houses,
And she wasn't looking at him then,
She was waiting to see another town
Or another pretty house, or something.
She could see a smoke from far away,
And quite naturally know there was a town, somewhere.
And that's goin' on, and goin', and goin', and goin',
And she wasn't even noticing.
After a while, she noticed that she began to, you know, jerk up and down,
That way, like some bumpin', and she looked to see how bumpy, you know,
How the road wasn't ridin' smooth no more.
She looked round, and then he done turned.
Two great big old horns up on his head,
Two great big red eyes, a wide mouth,
And lookin' at … she looked at his hands,
He looked like that … an old Devil complete.
His horse was a grasshopper,
The Devil's buggy was a road cart.
[Alan Lomax: A what?]
It done turned into a road cart. You know, a road cart.
See, that's why she was bouncing so.
Then she sat there.
She was scared to death, too far from home to look back.
Didn't know what to do.
Just sat right there, she was that scared.
Rolled on to his home,
Got out … he didn't even tell her to get out
She just got on out.
Well, she stepped out the thing with a cry,
She didn't know what to do.
So the Devil's wife, she seed 'em,
She come to the door and she called her,
Said "girl," said "I know my husband fooled you down here."
Said "this is the Devil's place."
Said "he's … my husband's the Devil."
Oh, she was so outdone.
She told her he'd fooled her
And told her, says, "I know,"
Says, "That's what he do."
"He fools people."
"So if you want to get away,"
"And," says, "I know you do,"
Say, "I want to help you get away,"
"I'm going to tell you HOW to get away."
"So you go out there to the lot,"
"And you'll see two horses."
Say, "now, two of them horses, both those horses,"
"Comin' in to the … gate."
"And one of those horses gonna say 'catch me'"
"And the other horse gonna say 'don't catch me.'"
And say, "and I'm going to give you a piece of iron, a grain of wheat, and one drop of water."
Say, "you go on out to the lot,"
"And when you get there, and meet these horses … "
Say, "you see the big lot?"
She go, "yeah"
Say, "you get the horse that say 'DON'T catch me.'"
Say, "when you get … when you go up that road,"
"You get up the road," say "you … about five miles,"
Say, "you'll see big signs all the way,"
"Every five miles, it's marked."
Say, "and you get about five miles,"
Say, "you … drop this grain of wheat."
"And you go, and you get five miles further"
"Then you drop this iron,"
Say, "and the next five miles, you drop this water."
All right, so, she said, "and you'll get back home."
You know, being taught how not to follow the Devil.
All right, she went out back to the lot,
And the horses come up to the gate,
One said "catch me," and one said "don't catch me."
(Other said "catch me," said "don't catch me.")
So she got on the horse that said "don't catch me."
She got on him.
And boy!
Her and that horse, that horse went on by then
When the word was "don't catch me." He MEANT that,
"Don't catch me" when [she] get on, so he GOES.
And he went to going.
Old Devil's ROOSTER's now, was the only guard dog they have, you know.
The rooster he was walking around there,
Great big steps is, "clomp, clomp."
He sees she's gone.
He sees the horse is gone.
He went on out to the Devil's workshop out there,
The Devil out there was out workin' in the workshop,
Bam-nm, Bam-nm, Bam-nm, Bam-nm, knocking on iron, tin,
He's a workin'.
Old rooster he come out there
He says to the Devil, he says:
"That young lady you brought here is gone awaaaaay!"
Old Devil heard nothin', he's noisy, he ain't heard it, didn't hear.
Rooster flutters up:
"That young lady you brought here is gone awaaaaay!"
He THOUGHT he understood it. He stopped to listen.
Old rooster crowed again:
"That young lady you brought here is gone awaaaaay!"
Ha, he's thrown everything down, he runs to the lot
And there was his Don't Catch Me gone!
He got on Catch Me.
And HIM and Catch Me, HIM and Catch Me got behind her,
And when she got to about five miles,
This one wheat, done turned into a great wheat field
And he had to go back home to get his wheat-cutter and cut it down
To see how to get the horse through there,
So he cut he cut that wheat down, and HIM and old Catch Me,
They was gone, they was gone.
So they got way up the road, and there up sets a GREAT big thing,
Well, it was so high, well, he couldn't hardly get no way to get over it,
Couldn't get around it.
So he had to go back. That was the iron bridge.
He had to go back home and get his iron saw and saw that bridge in two
He sawed, he sawed, he got the bridge sawed in two.
And then he pulled out behind her again.
And HIM and that horse, they got way up there and see that ocean of water
That one drop, it made an ocean of water.
There.
He left his … he run back, and got his oxen.
He got some drink oxen in Hell
He got them oxen to come back.
When they come back he turned them and said "drink, ox, drink. Drink, ox, drink."
And then he looks and sees Don't Catch Me floatin', comin' on back across the water.
She done made it safe!
And [he's] comin' back.
So, that's the only thing that mattered,
'Cause Don't Catch Me had done put her landed!
So that's just a great text, you know, if you understand it.
You see, how the Devil can tempt you
And get you into tribulation
But you got to put something BETWEEN you and him!
Let's take Bessie Jones's text to heart. This challenging year, let's make sure we put a lot of things between us and the Devil!
If you want to hear more of Bessie Jones's supernatural songs and stories, just search on her name in the online archive of sound recordings at culturalequity.org. For more supernatural folklore, including songs, stories, and photographs, don't miss all the Halloween posts at our blog, "Folklife Today."
Happy Halloween!
---
Stephen Winick is a writer and editor for the American Folklife Center at the Library of Congress and editor of its blog, Folklife Today. Because the Library of Congress is federally funded, these columns are in the public domain, not subject to No Depression's copyright.
---