Rodney Crowell Teams With Jeff Tweedy for New Album, 'The Chicago Sessions'
---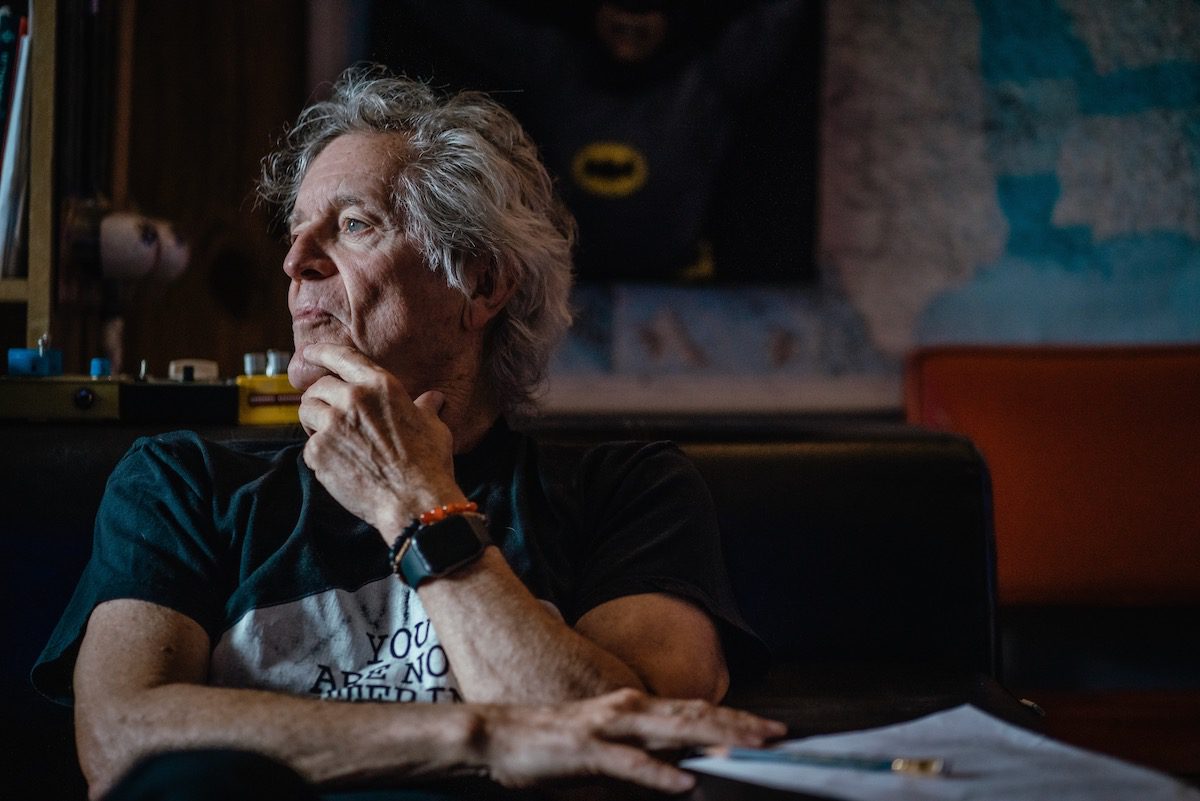 Rodney Crowell in The Loft in Chicago (photo by Jamie Kelter Davis)
Singer-songwriter Rodney Crowell certainly doesn't need help putting together an album, but for his new project, The Chicago Sessions, he enlisted Wilco's Jeff Tweedy as producer, co-writer on one of the songs, instrumentalist throughout the album, and a good hang in a special place.
The album, out May 5 via New West Records, was recorded at The Loft in Chicago, Wilco's longtime recording and rehearsal space. Its 10 songs feature Crowell's signature sharp lyrics delivered in his weathered voice, with a few nostalgic touches thrown in for good measure.
Fitting in just fine amid the newly written songs are two Crowell first encountered early in his career, in the 1970s. "You're Supposed to Be Feeling Good" is a Crowell song first recorded by Emmylou Harris on her 1977 album, Luxury Liner. With a fresh arrangement featuring Tweedy on guitar, the song was ready for Crowell to record himself. The Chicago Sessions also includes Townes Van Zandt's "No Place to Fall," a tribute to Crowell's late friend.
"The first time I heard that song, Townes was sitting across the table from me at Guy and Susanna Clark's house," he recalls in a press release announcing the album. "He said, 'Hey, I've got a new song for you,' and it's been imprinted on my psyche ever since. I wanted to record it as an homage to somebody that I learned a lot about songwriting from."
The Chicago Sessions was recorded with guitarist Jedd Hughes, Catherine Marx on piano, and bassist Zachariah Hickman, with John Perrine and Spencer Tweedy (Jeff's son) on drums. Jeff Tweedy lends vocals, guitar, and banjo throughout the album.
"The way that Rodney writes is deeply connected to a classic era of country songwriters that I've always loved," Tweedy says in the announcement. "In my estimation, it's as close as I can get to working with Townes Van Zandt or Felice and Boudleaux Bryant — people who crafted songs with a very specific sensibility. And I like being near that."
Crowell and Tweedy co-wrote one of the songs on The Chicago Sessions, the album's first single, "Everything at Once."
"It occurred to me that Jeff and I are both songwriters, and we ought to write something together for this album," Crowell says. "We could have harmonized on it and gone down an Everly Brothers route, but ultimately we decided to just sing in unison and throw it out there like an all-skate. I love that we didn't get too precious about it."
Here is a video made as the song was being recorded in The Loft:
The cover design for The Chicago Sessions is reminiscent of the cover of Crowell's 1978 debut, Ain't Living Long Like This, and that's on purpose.
"In a lot of ways, this album feels like that very first record to me," Crowell says. "When my daughter suggested we lay the artwork out similarly, the connection made perfect sense. There's something very simple, very innocent about it. It's just me and the band in a room together, loose and live and having fun."
Here's a look at the track list for The Chicago Sessions:
Lucky
Somebody Loves You
Loving You Is the Only Way to Fly
You're Supposed to Be Feeling Good
No Place to Fall
Oh Miss Claudia
Everything at Once (feat. Jeff Tweedy)
Ever the Dark
Making Lovers Out of Friends
Ready to Move On
---