Rodney Crowell at Off Broadway (St. Louis, Mo. – June 5, 2014)
---
Country music legend Rodney Crowell came to St. Louis on June 5 and broke out his rock and gospel show for the second night of Twangfest 18.
Backed by an excellent, sympathetic band featuring Australia's Jedd Hughes on electric guitar, Crowell played for about 90 minutes. He hit most of his career milestones while obliterating expectations of what the show would be like.
Crowell threw his set list in the trash before the show even started, moving the topical rocker "Sex and Gasoline" to the leadoff position and saving "Stars on the Water" for later. And, for the first hour, the music did the only talking, as Crowell built momentum through a series of songs that mixed older material such as "Telephone Road" with new tunes from Tarpaper Sky, including the ballad "Anything But Tame."
Then came the mid-set surprise.
"Stars on the Water" — from Crowell's first album in 1977, which Jimmy Buffett has been performing live for 30 years — flowed into the Staple Singers' "Respect Yourself," of all things.
Fueled by the backup vocals of touring partner Shannon McNally and the powerful Joanne Gardner, "Respect Yourself" had the audience dancing. Crowell, playing acoustic guitar, prowled the stage making eye contact with Hughes, a joyfully grinning drummer Keio Stroud and upright-bass slapper Michael Rennie. He brought the gospel vibe of that song into a full tilt, call-and-response performance of Bob Dylan's "Like a Rolling Stone," with the crowd singing the chorus ("How does it feel") and the ends of every line: "Now you don't … TALK SO LOUD/ Now you don't … SEEM SO PROUD."
Not finished with the service, Crowell and the band moved right into "Jesus Talk to Mama" from Tarpaper Sky:
Jesus if you hear me
Take a message to my ma
Tell her that I'm in your hands
Tell her I'm a different man
Tell her that my wandering days are through.
Finally, after the rocker "Frankie Please" ("You tore through my heart like a tornado looking for a trailer park"), Crowell took a break and a breath, introducing his band and asking the crowd, "Did you notice how we caught on fire when the pretty girls came up on stage?" That fire burned for the remainder of his set, stoked by Hughes. The guitarist earned multiple ovations for his work on ballads such as "Wandering Boy" and the blues of "Come Back Baby," as well as the uptempo "Leaving Louisiana in the Broad Daylight" and the main-set closer, "I Ain't Living Long Like This" (made an outlaw country classic by Waylon Jennings in 1979).
Crowell returned for an encore, name-checking one of his heroes — St. Louis' Chuck Berry — before blasting through a cover of Red Sovine's sly "Old Pipeliner." He closed with the oft-covered, melancholy ballad "Song for the Life," which begins, "I don't drink as much as I used to," and was here tweaked to "I don't drink as much as I want to" (as opposed to Jerry Jeff Walker's "I don't drink as much as I ought to").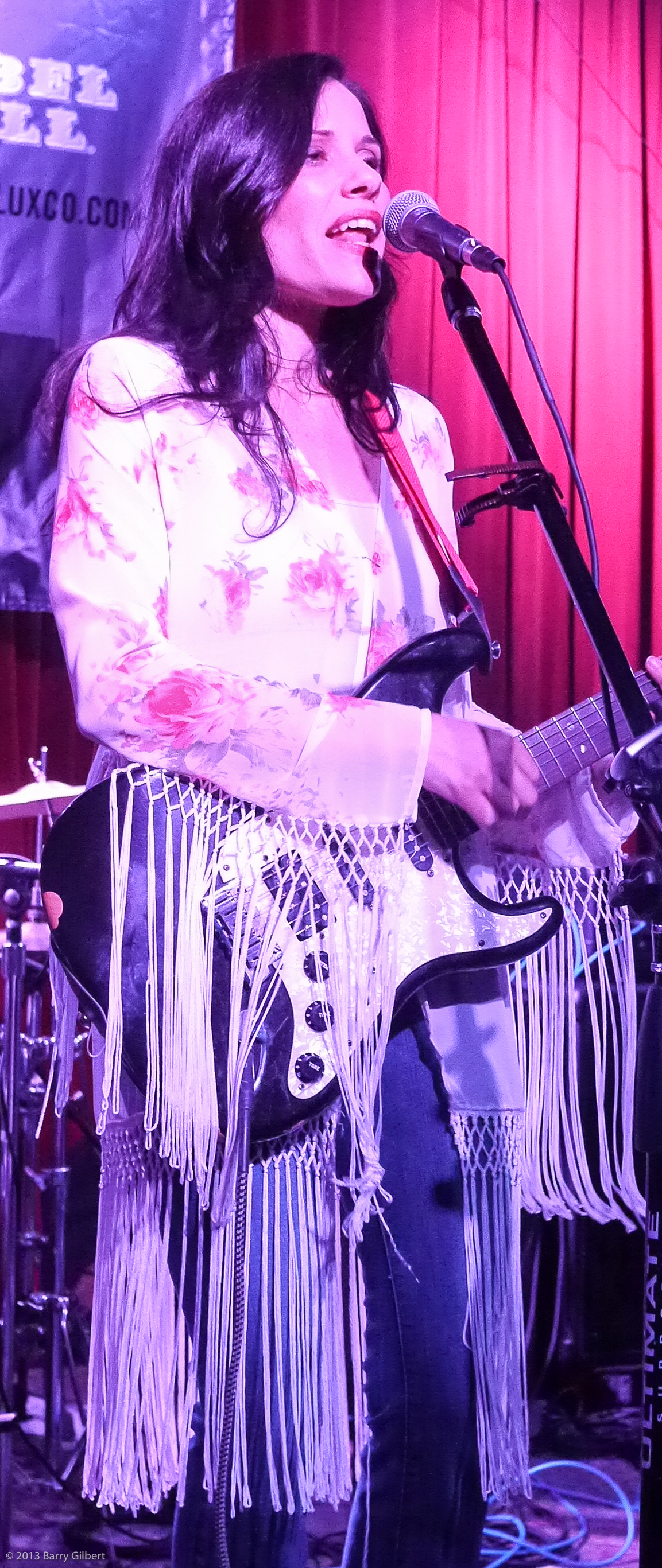 It should have been apparent from the outset that something different was happening. Crowell was the night's headliner, but he flipped bill positions, coming on a bit after 9 p.m. between opening act T&A (St. Louis' Tom Hall and Alice Spencer) and Shannon McNally. Some ticket holders received an e-mail warning of this; others found out only after they arrived at the Off Broadway music club.
The switch did not work well for McNally. Well over half the audience, having seen the headliner, headed home before she took the stage at 10:50 p.m. – and for the first couple of songs, she didn't look happy about it. Problematic stage sound and muddy vocals in the house didn't help, nor did her bandmates, who sounded fine but appeared very subdued.
But the husky-voiced McNally, a Long Island native who has absorbed disparate strains of American music from blues and country to cajun and R&B, warmed up as her set went on, highlights of which included "Bohemian Wedding Song," the new "If It Were Mine to Keep," written with Amy Lavere, and the Bobby Charles ballad "I Don't Want to Know."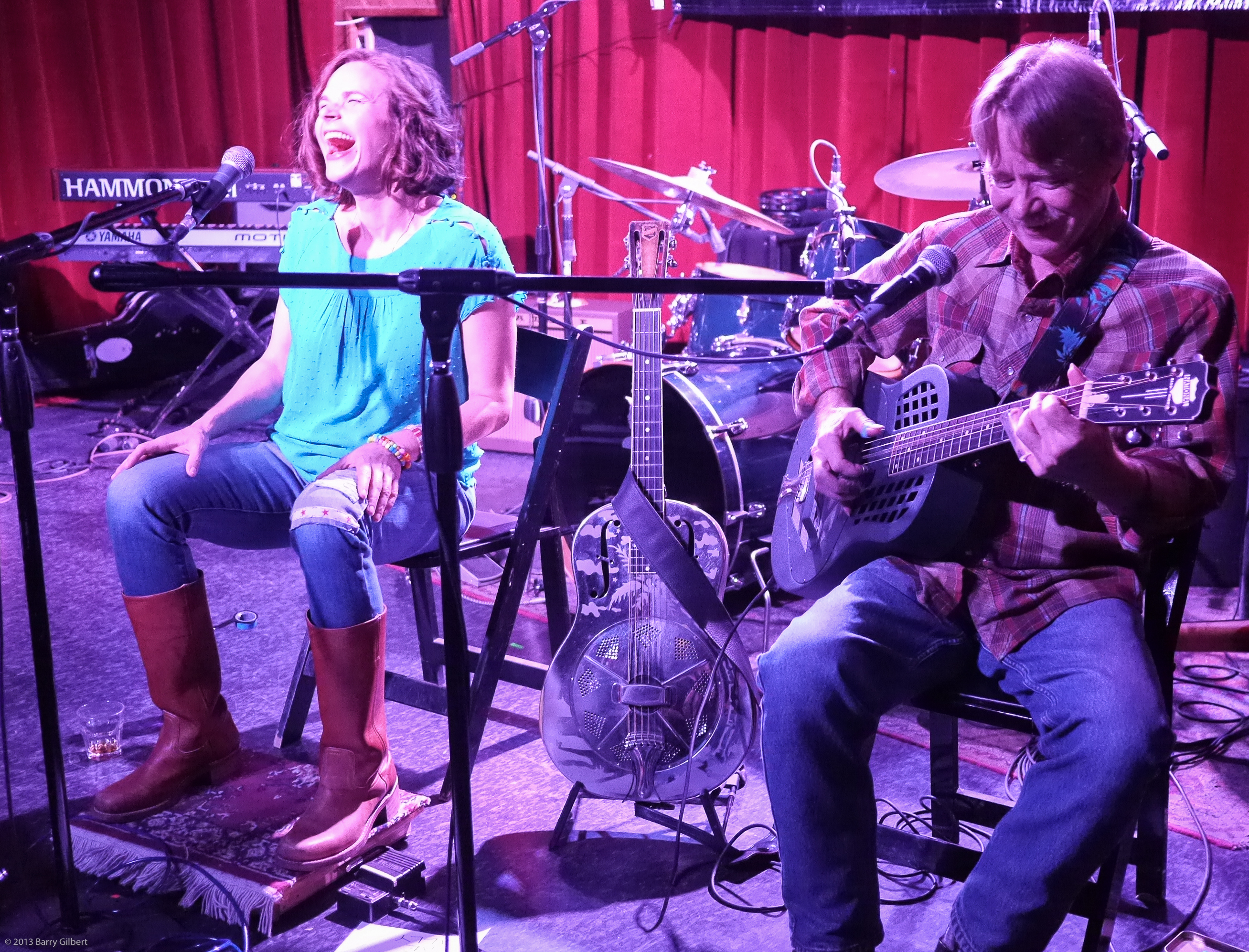 Hall and Spencer, alumni of the St. Louis band the Geyer Street Sheiks, opened with a terrific set of originals and covers of artists ranging from Sophie Tucker and Del McCoury to Allen Toussaint. They were accompanied only by Hall, switching between a pair of National Reso-Phonic guitars, which was all they needed.
Rodney Crowell's set list:
Sex and Gasoline
Telephone Road
Dancing Circles Round the Sun (Epictetus Speaks)
Come Back Baby
Anything But Tame
Open Season on My Heart (from "Old Yellow Moon" with Emmylou Harris)
Stars on the Water
Respect Yourself (Staple Singers cover)
Like a Rolling Stone (Bob Dylan)
Jesus Talk to Mama
Frankie Please
Famous Last Words of a Fool in Love
God I'm Missing You
Wandering Boy
Leaving Louisiana in the Broad Daylight
I Ain't Living Long Like This
Encore:
Old Pipeliner (Red Sovine cover)
Song for the Life
Photos by Barry Gilbert: Top: Rodney Crowell, with Jedd Hughes (left); Middle: Shannon McNally; Bottom: T&A — Tom Hall and Alice Spencer
This post was created for my blog, The Roots Cellar
---