Remembering David Berman, Who Memorialized Suffering Through Song
---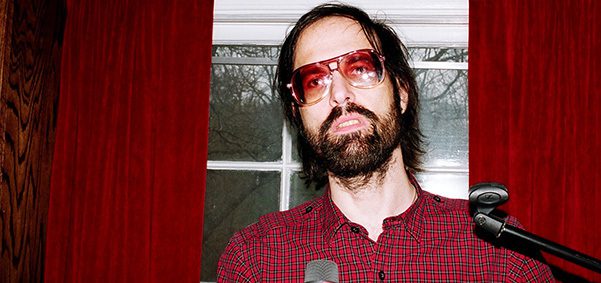 Photo by Brent Stewart
Wondering about the well-being of writers who put their darkness out there in the light, and share it with an audience, is a mystery with no sound resolution. David Berman, the late poet and songwriter of Silver Jews' artful American music, touched many with his surreal words on love, loss, and holiness. He was also one of those rarefied writers, self-aware enough to look at himself with profound clarity, morbidly funny, and devastatingly sad.
Berman died Wednesday at age 52, and the cause has not been reported as of this writing. Speculation can be profane, but his openness about depression and the body of work he left behind paint a sobering narrative.
Bob Nastanovich of Pavement fame, who frequently collaborated with Berman in Silver Jews, released a statement on Berman's death:
"It was enlightening to have such a talented friend at a young age and realize that the talent wasn't always a blessing," he wrote. "David battled mental illness for nearly all of his life. He had professional help and the unyielding support of hundreds of good friends. He had many loving and devoted fans."
Last month Berman released his first new LP in 11 years as Purple Mountains, and he was set to begin a tour this weekend.
The lyrics from the Purple Mountains tune, "Nights That Won't Happen," now sound prescient:
The world is like a roadside inn and we're the guests inside
And death is a black camel that kneels down so we can ride
And when the dying's finally done, and the suffering subsides
All the suffering gets done by the ones we leave behind

On nights that won't happen
Time we won't spend
Time we won't spend
With each other again
Nights that won't happen
Never reaching the end
Night that won't happen
We can't even begin 
There are several moments in Berman's poetry, and Silver Jews lyrics, too, where the pale specter of death comes to greet him. Berman always narrowly survived with his grace and wit to guide him.
We arrive at one such crossroads in "The Wild Kindness," the closing standout to the Silver Jews' 1998 masterpiece American Water, when Berman intones, "I'm gonna shine out in the wild silence / And spurn the sin of giving in." It's a moment of joy at the end of a bleak journey through the bucolic American landscape.
Another such line comes on Starlite Walker's closing number, "Death of an Heir of Sorrows," when Berman proclaims in his morose baritone: "I have not avoided certainty, it has always just alluded me / I wish I knew / I wish I knew for true." 
Social media eulogies from fans and friends consistently acknowledge that Berman didn't hide his pain away, but rather memorialized it, even edified it, in song.
The poet Hanif Abdurraqib wrote, "David Berman was so unafraid of publicly wrestling with his own sadness, and so unafraid of being honest about what it is to sometimes lose that wrestling match. There are so many ways to feel small while tumbling through the world. Berman made a few seem comforting."
Elsewhere, the paradox of a listener deriving joy from Berman's sorrow was called out.
"Hurts that David Berman was suffering so much," wrote songwriter Ryley Walker. "He brought me and I'm sure all of you so much joy. Twisted eccentricities of the suburbs were psychedelic cartoons in his lyrics. Sad day. It's raining in NYC."
Berman, who stated in recent final interviews that he had moved away from his formerly rekindled faith in Judaism, nonetheless had a deep and profound grasp of Jewish views on death as a transference, a passage into mystery.
The Mourner's Kaddish exalts the lord's name, and the kingdom of heaven, as echoing "beyond all earthly words and songs of blessing, praise, and comfort." To that end, the mystery of death lies beyond words and music, something that cannot be quantified, and by extension, an inevitability we are temporarily shielded from so long as we sing toward the sky.
Berman had issues with what he came to call "such a subtle God" in Purple Mountains' "Margaritas at the Mall," using a backdrop of American capitalism to question and bemoan the premise that this seemingly almighty power has chosen to show wisdom in small, seemingly inconsequential ways while ignoring vast injustices that such a power could seemingly right. To that end, it's all the more disquieting to think that Berman hadn't found peace with his spirituality up until his death.
The unshakable feeling that Berman bore his suffering before us for our benefit, or more profanely, our entertainment, should not be dismissed. When an artist shares so much of their vulnerability before an audience, there's this assumption that the ritual of creation somehow serves as therapy, soothes the pain, acts as a medicine or a balm, because that's what we feel when we sit with their rawness.
Berman's untimely death reminds us, then, that the relationship between artist and audience is not always an even exchange or reciprocal exercise in healing. Any assumption that an artist who can so transparently share their pain has already moved past their suffering should also be understood as optimistic naïveté. Truth is often much less balanced and pristine than polished verse.
CORRECTION: An earlier version of this story contained a poem by a different David Berman, incorrectly attributed to the musician.
---