Red Line Roots Top 15 Albums of 2015
Posted On December 2, 2015
---
It's quite simple really. I don't suppose there is much explanation needed. These are the 15 records that made the most impact on me personally in the year. The records I constantly played, the ones containing the songs I played over and over again. The ones that really hit me. In no particular order: Here you go…
John Moreland – "High on Tulsa Heat": Moreland came my way via the "Joe Fletcher Railway"…so much great music seems to filter my way out of Nashville via Mr. Fletcher, so to Joe, thank you sir. John has a way with self-deprecation sadness that is absolutely brilliant. He is just plain f*cking fantastic…when I think of "THIS is the music that I truly love", Moreland's songs are the example that come to mind before I even knew who the songwriter was. its just that sound and 'Tulsa Heat' is the epitome of beautiful heartache that lingers in your chest long after your listen to it.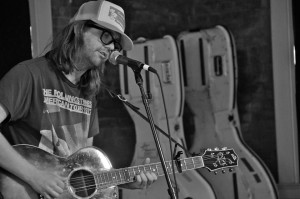 Aaron Lee Tasjan – "Telling Stories to the Wall": "cause nobody's got the time, but everybody has got an opinion". Living Proof skyrocketed to the top of my favorite songs list after the first listen. He is the best parts of one of my favorite songwriters ever, Todd Snider, and different in the same way. His guitar playing is fantastic, his humor is off the charts, and the guy is one of the greats that we will be talking about a long way from now thinking "man, that Tasjan guy…I wish I saw him way back when". He sings with a this hesistance, almost shyness to his voice that slays me. This EP…every day.
Aaron Lee Tasjan – "In the Blazes": Not sure if it is possible or fair that ALT released two incredible records this year and both landed on this list, but its the truth. Tasjan's wit and humor again makes an appearance but in such a smart way. With tracks like "ENSAAT" with a cutting and serious undertone made more palatable by Aaron's delivery, this will be a record I look to for inspiration and enjoyment for years to come.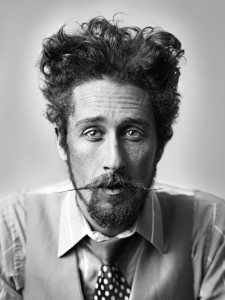 The Suitcase Junket – "Make Time": Matt Lorenz is simply amazing. His live shows are awe-inspiring, his writing is pensive and poingnant, and I doubt there could be a human in the world that would listen to his music ala The Suitcase Junket and be able to honestly say they are not a fan. "Make Time" was able to capture that brilliance in a recording and shows Lorenz as "an undeniable talent that performs circus act-like feats in order to get a sound that is so original and impressive you will be brought back to listen again and again."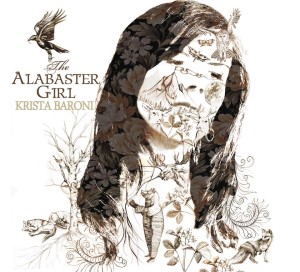 Krista Baroni – "The Alabaster Girl": There is a warmth and a comfort in this record. It feels old, but its contemporary. As a reviewer of music I often find myself drawing comparisons to people's vocals "x sounds like y" or "she must listen to a lot of Z"…Krista's voice sounds like no others, and thats a damn good thing. "Pensive and smart in every respect while maintaining a sense of being down to earth and accessible to a broad audience. There are great singers and then there are great singers who also possess a distinct, untouchable uniqueness in the tone and quality of their voice. This gal falls into the latter camp."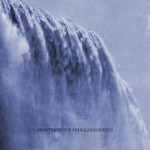 The Milk Carton Kids – "Monterey": Like there was any doubt this was going to make the list. Its the Milk Carton Kids…another masterpiece from the duo of Kenneth Pattengale and Joey Ryan. The record felt a bit more like their live performances to me, but the recording is absolutely pristine. It has a loose vibe, but is clean…it just feels right. Harmonies and guitar lines, and everything I have come to obsess over about these guys. The best.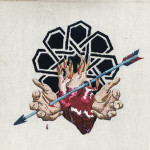 Brown Bird "Axis Mundi" – It took me months to write some semblance of a review for this album. It is very difficult to listen to this record without being swept up in that emotion. That is something truly special. Something moving. Something that makes you feel human and all the vulnerability that comes along with it. Beyond just a record or album, it is a living document of something wonderful that existed between two incredible souls and we all are lucky to get even the tiniest glimpse into.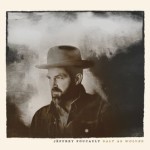 Jeffrey Foucault "Salt As Wolves"- Is there is a record that impacted me most as a songwriter or musician, Foucault's "Wolves" was it. His songs are well worn, like your favorite boots, caked with dirt and dust, weathered by years of abuse and traveling long and winding roads. This guy has it all. Folky blues. He can sing as strong as anyone, tells stories with the best of them, and his guitar playing has a rhythm and a drive that is exciting and moving.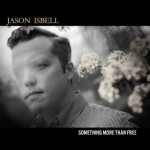 Jason Isbell "Something More Than Free"- I thought it impossible to come close to Isbell's Southeastern and had my reservations about his follow up, but the man delivered. Where Southeastern was heavy, heavy in grief and soaked in dark emotion for the most part, 'Something More Than Free' feels lighter with its arrangements while maintaining the depth in songwriting that the songwriter has become known for. There are still a few dwelling on the past moments here, so don't worry if thats your thing, but this is a man who has come to grips with his demons and is looking forward at life and man, he can still pen a song like no other about it.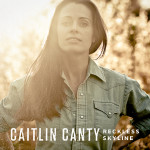 Caitlin Canty "Reckless Skyline"- Canty has one of those voices that is femine, its beautiful, but it cuts and when it does, it makes you bleed. It cuts deep and leaves its mark for long after it is heard. Her latest record "Reckless Skyline" was widely well received by a broad audience ranging from local Bostonians who have seen her at Passim for years to NPR and beyond. And that fact is well warranted. Another story teller that does so in a way that stays with you and her delivery is pure perfection.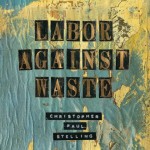 Christopher Paul Stelling "Labor Against Waste" – Heart and emotion. CPS fully expels all of himself into his music. Each performance and song is all of him. There is an urgency and hesitance to Stelling's playing and singing. He is a man who has a lot to say and with each breath and pluck endeavors to drive forth as much impact and emotion as he can into his listener's chest and mind."Labor Against Waste" encompasses all that I have grown to know (and love) Christopher Paul Stelling for and continue to surprise me in the songwriter's complexity and fervor.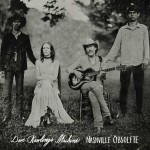 David Rawlings Machine "Nashville Obsolete"- I was hesitate to accept this record at first, but boy, after I did…it owned me. The music harkens back to that throwback vibe and tin-typed, unrefined nature that pays homage to roots and folk music. Rawlings voice manages to have a power and strength that is stretched to a point where it seems fragile and subtle, with its natural breaks and interweaving with the music around it…and the vocal harmonies as always are a thing of pure magic and joy. The signature Rawlings lead is woven throughout the 7 tracks contained here on 'Obsolete' and the songwriter's ability to throw a hook into a chorus that sits deep inside of a tale in his story songs is really something wonderful.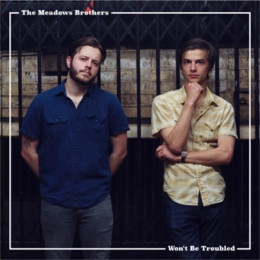 The Meadows Brothers "Won't Be Troubled"- Dustin and Ian initially blew me away with their beautiful harmonies, bluegrass infused folk songs, and witty back and forth banter on stage. This record takes a bit of that all and really captures a live performance, in studio and puts it in a clean format that we can enjoy over and over. The songwriting is top notch, the playing is fantastic, and those harmonies, man oh man. That's something that only blood could conjur up.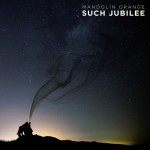 Mandolin Orange "Such Jubilee" – If I went back to my iTunes this is probably the record that was spun the most over the course of the last few months. There is something so complementary and beautiful about the two singers' voices. Marlin's vocal has a slight crack and super fine grit sandpaper feel to it that smooths over everything somehow; humble, somewhat exposed, sensitive, but man, it just kills. The light and airy texture of Emily's voice when they sing together, well its just pure magic.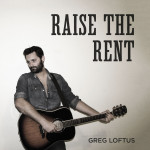 Greg Loftus "Raise the Rent" – Loftus's latest (out today actually) resonated with me. I was lucky enough to have this record in hand for a while before its release and really live with it. . Loftus pens with a confidence that is equally balanced with his own question
---