"Ragtime Texas": a hobo songster goin' up the country… A tribute to Henry Thomas
---
In 1993, the Scottish pop band Deacon Blue issued their CD "Whatever You Say, Say Nothing" that contained as its sixth track : "Last night I dreamed of Henry Thomas". None of us will probably ever have dreamed of Henry Thomas. How could we? We hardly have an idea how Henry Thomas looked like. All we have, is a very impressionistic "print" of which we are not even sure whether it is originally a photo. Mack McCormick, to whom we owe everything we know about Henry Thomas, speaks of him as a great big fellow, "a big, shambling black man." (1) That is as far as we go for physical appearance.
It is likely, moreover, that some of you never even heard his name. However, all of you will be familiar, no doubt, with "Going up the country", the hit record by Canned Heat, a blues-rock band formed in 1965 by two blues aficionados, Alan Wilson and Bob Hite. And here it is: "Going up the country" was a rework of "Bull Doze Blues" recorded by Henry Thomas June 13th 1928 in Chicago. Canned Heat rewrote the lyrics and rearranged the song, but stayed close to its original musical structure. In case you wonder: "Bull doze" alludes to the flogging of prisoners in jail.
Henry Thomas' legacy doesn't stop here. A number of his songs enjoyed a second life during the folk music revival of the 1960′s. Bob Dylan, for a start, covered "Honey, Just Allow Me One More Chance" on his 1963 album "The Freewheelin'". Two years later, Lovin' Spoonful found inspiration in Thomas' "Fishing Blues" for their album "Do you believe in magic". Taj Mahal included the song also successfully in his repertory. I can quote other examples, but this would only bore you. What makes Henry Thomas so extremely fascinating is that both his songs and his style present us a compelling impression on how the blues must have sounded in the hazy days of its early development. So, let me elaborate a bit on his person and work.
For anyone with even the smallest interest in the history of the early popular black music, the Henry Thomas figure is heaven-sent. He corresponds in many respects to the archetype of the wandering musician, the hobo and homeless penniless songster roving wherever the rail tracks lead him. We are scant of details on his life, what only contributes to the aura of mystery. His repertoire bridges the nineteenth and twentieth century, and when he recorded, in his later life, his work was already largely "outdated" in the terms of that moment. What we do know, however, illustrates perfectly the captivating period in the history of popular music in which he lived. Note that I qualify Henry Thomas as a 'songster' and not as a "blues man". Indeed, not only is the broadness of his repertory, that embraced much more than blues, characteristic for Henry Thomas, his versatility is equally illustrative of the larger musical context and the environment in which black artists then operated. The blues were but one of the many popular tunes on the play list of the itinerant artist in the first decades of the twentieth centuries.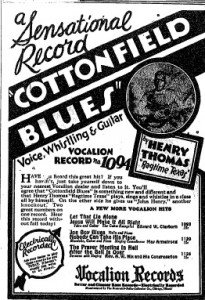 There seems to be agreement on 1874 as his year of birth, what probably made Henry Thomas the oldest African-American folk artist to produce a significant body of recordings. As a comparative marker: Charley Patton for instance was born more than a decade later. Henry was one of perhaps nine children in a family of former slaves, who earned a living as cotton sharecroppers in Big Sandy, Texas (Upshur County). Having seen his parents toil on the cotton fields – it is said that he used to sing a sarcastic song about all the money sharecroppers could earn – was enough for the young teenager to turn his back on his home.
He hit the road, seeking to earn a living by playing music for local audiences and railway employees (Greg Johnson, 1999). Though he was self-taught like most other contemporary performers who roamed the streets – and there were many-, he stood out from the rest by his act as a one-man band. The combination of the guitar with the pan pipes (quills) that he played from a rack strapped around his neck made him quite distinct. To fill you in: the quills, made from the common brake cane, are a high-pitched reed instrument with African ancestors. At the turn of the century, this instrument was fairly common in the regions of Louisiana, Texas and Mississippi. In the context of dance music it would, however, loose the competition with the "French harp", or harmonica that produced a higher volume, was more versatile and could be acquired ready-made (Paul Oliver). McCormick mentions that Henry Thomas "walked hundreds of cities and towns, clothes and guitar slung on his back", singing and playing the quills. He is said to have performed also at the occasion of two World's Fairs: the 1893 Columbian Exposition in Chicago and the 1904 St. Louis World's Fair. Most remarkably, he knew – according to McCormick – some German words, and quite a bit of French.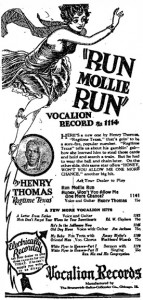 Little to nothing is known about the circumstances in which 23 recordings were cut between 1927 and 1929 in Chicago. Fact is that he was then already in his early 50s. Moreover, and lucky for us, the waxing was done by Vocalion that promoted its products as being of superior quality, and indeed, Vocalion's 78rpm's had an above average quality, superior anyhow to the scratchy Paramount output. In its advertisements for Thomas' records, the company proudly highlighted the use of the recent technique of electrical recording (2).
Then, as suddenly as he had appeared in history records in 1927, he disappeared again after his final recording in Chicago 1929. There is no certainty about Thomas' date of death; 1950 is a guess, but nothing is sure since he vanished in complete obscurity after his last recording. McCormick might have had a brief encounter with him in 1949 in a Houston street, but it is now impossible to find out that the man McCormick met was indeed Henry Thomas. This author also expresses the possibility that his music has been registered in the 1940′s on a wire recorder (the forerunner of the magnetic tape recorder), but this is probably a too optimistic idea which becomes more and more difficult to pursue and test.
What is known and left to us, are his recordings that offer us a view on his broad repertory that included a spiritual, ballads, reels, ragtime, dance songs and a number of selections carrying 'blues' in the title. Dave Oliphant qualifies only four of his songs "genuine" blues, the other ones with a blues-label, he says, are rather capitalizing on the contemporary popularity of the genre and carry a predominant vaudeville origin. Blues was indeed a word with a high market value, and it is likely that the Vocalion recording supervisor had a determining word in this choice.
The diversity in the repertory should not be a surprise, however: the broader the styles, the broader the audience and the more money could be earned when playing at parties and frolics. It was far from unusual that black artists performed for both black and white audiences; some blues men even started their career with exclusive performances at white parties. Not only did white parties offer better money, they were less dangerous and were no target of reinforced attention by law enforcement bodies. Let us not forget that the Jim Crow laws ruled merciless, and that a wandering black musician quickly raised suspicion: the slightest provocation could have him landed in jail. A black hobo musician had all interest in having as wide an appeal as possible without shocking the white public. The flexibility to please the audience and the mores of the time could go as far as to have black musicians include 'coon songs', as Thomas Henry did in his recordings. Coon songs, as a reminder, were a craze in the mid 1880′s, reflecting more bluntly than the black face minstrelsy the demeaning racial attitudes of the white populace towards the African-Americans.
Though there is discussion, it is supposed that Henry Thomas composed himself a number of his songs. It is equally probable, nevertheless, that they are directly nurtured by the traditional themes and vocal phrases that were then a part of the common repertory for a lot of the early folk and blues songs. In an oral culture, songs emerge from the communal spontaneity, making it extremely difficult to trace the originators, black or white.
Henry Thomas' music was good-time music, dance music geared to older dance styles shared, as said, by both black and white audiences. His unique style combined singing in baritone register vocals, with some half-spoken narrative, and with the sound of the quills and a strumming way of playing his guitar, capoed high up in the neck (B.L. Pearson). His banjo-like guitar playing favoured rhythm over complex finger-work. The "Ragtime Texas" addition to his name spoke for the fast tempos he played like many ragtime musician.
It is impossible to underestimate the importance of Henry Thomas as historical figure, and as a musician. His repertory is a prime example of the earliest forms of African-American music, marking the transition between the early minstrel songs, spirituals, square-dance tunes, waltzes and the later jazz and blues. As Greg Johnson comments, his blues pieces are believed to date themselves possibly 30 years prior to their 1927-29 waxing, documenting the blues at the time it took shape. Technically, his ability to imitate on the guitar his vocals is nothing less than impressive and places him in the bed of the very essence of blues and jazz where instruments were to reproduce the human voice. His guitar accompaniment has been ranked as the finest dance blues ever recorded.
In the words of Dave Oliphant : "Thomas' guitar playing returns to the African roots of black music in America, both in his guitar sound that is akin to African drums when he strums and in his use of the call-and-response pattern that is the soul of the blues." It is possible that artists like Henry Thomas inspired later blues stars as Blind Lemon Jefferson, and through him also the work of people like Lightnin' Hopkins, T-Bone Walker, Freddie King and Stevie Ray & Jimmy Vaughan. McCormick leaves no doubt on it that Thomas' music is one of the richest contributions to our culture.
As to the historical place of Henry Thomas, I believe Francis Davis' conclusions to his "History of the blues" (1995) are highly appropriate: "No one knows who sang the very first blues. All that anyone knows is that the first blues performers would have been surprised to hear himself or herself called that. To their own way of thinking, the first blues singers were songsters. These were local or itinerant performers who sang any tune that caught their fancy or put money in their cups, occasionally even making up their own songs."
Henry Thomas was one of them, and thanks to his recordings we can still enjoy his timeless, brilliant music. Stop reading now and take an hour to listen to it. I'm sure that one of the coming nights you will be dreaming of him, as did Deacon Blue in 1993.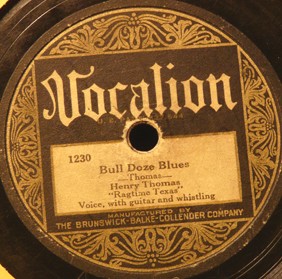 _________________________________________________
Footnotes:
(1) Mack McCormick, Henry Thomas: our deepest look at the roots.
Note that the sole biographical data available and presented by Mac McCormick have not been cross checked yet by other authors. In a personal communication (March 2012), David Evans told me that he heard somebody would have found some extra information, but this is not yet published.
(2) Stephan Wirz has done a great job in collecting his illustrated discography: http://www.wirz.de/music/thomhfrm.htm
Sources:
– Mack McCormick, liner notes to the LP: Henry Thomas – "Ragtime Texas": Complete Recorded Works – 1927 to 1929 in Chronological Order (Herwin, 1974)
– Robert Springer, Nobody Knows Where the Blues Come from: Lyrics and History, 2006
– Barry Lee Pearson, Biography, Allmusic.com
– Greg Johnson, Henry "Ragtime Texas" Thomas, Article Reprint from the February 1999 BluesNotes
– Dave Oliphant, Texan Jazz, 1996
– Paul Oliver, The Story of the Blues, 1998
– Francis Davis, The history of the Blues, 1995
– Forum: http://blindman.15.forumer.com/index.php
---