Punch Brothers, Edgar Meyer Made Lasting Impression on Parsonsfield
---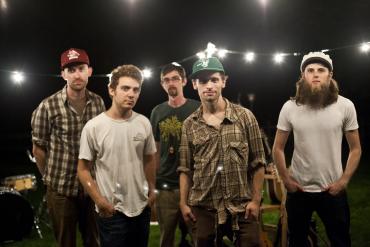 It's a whirlwind year for Parsonsfield. The five members of the rowdy indie-folk band are on a lengthy tour through early August that will take them to 14 states and the prestigious Winnipeg Folk Festival before they release a second full-length album in the fall.
"I think this will be one of our busiest summers," says bassist Harrison Goodale. "We are excited to be visiting some new cities and seeing more of the beautiful landscapes that our country has to offer."
Parsonsfield performed last month in the rugged, beautiful Allegheny Mountains in an obscure town that is one of the band's favorites — Thomas, West Virginia, population 600, when all the relatives are in town.
"We really enjoyed that gig because the town is a joy to experience," Goodale says. "The main street has an assortment of antique stores, cafes, and artist galleries. Eric Purdue, an artist we collaborated with for the artwork for Afterparty [Parsonsfield's 2014 EP], has a gallery in Thomas, and we were able to catch up with him a bit before the show.
"We also went to TipTop bakery and coffee shop," he adds, "one of our favorite shops in the country. And the Purple Fiddle, where we have played six times in the last four years. It was one of the venues we played in our early years, and everyone there made us feel welcome then. We can't thank them enough for having us back. The Purple Fiddle is a really interesting place to hang out. There is a hostel that bands get put up in that has a cool vibe, and it helps to have a place to relax between getting out of the van and playing the show."
It's not surprising that the Purple Fiddle — which bills itself as a place "where creative souls gather," and is in an historic former general store — would be meaningful to Parsonsfield. It may be somewhat akin to a place in New England that is close to the band's heart. At a long-defunct axe factory in the Farmington Valley in the relatively unknown village of Collinsville, Connecticut, Parsonsfield recorded its upcoming album, Booming through the Black. Goodale says the Purple Fiddle is "similar to the axe factory in the sense that they both are located in old historic towns that have repurposed many old buildings and have a thriving arts community. Both places inspire artists — partly because of the people who live there but also the natural environment."
The group chose Collins Company Axe factory next to the Farmington River in northwestern Connecticut because it "wanted a space that was a contrast to the dry sound quality of the the theater world," Goodale says. During the past three years, the band wrote and performed an original score for the The Heart of Robin Hood at Harvard's American Repertory Theater and then continued performing in the play for four months at Toronto's Royal Alexandra Theatre.
"The factory was extremely live and reverberant," Goodale says. "Erik [Hischmann, the group's drummer] would play a snare hit, and the decay seemed to last for hours. It forced us to think about the songs and arrangements in their relation to the space. We had to treat the axe factory like an instrument. Sam Kassirer, who produced our last album and our EP, brought some gear and helped us capture the spirit of the factory."
The factory is about 45 miles west of Storrs, the village that's home to the University of Connecticut and the birthplace of Parsonsfield. Except for drummer Erik Hischmann, all members of Parsonsfield — Goodale, lead vocalist/banjoist Chris Freeman, mandolinist Antonio Alcorn, and vocalist/organist Max Shakun — grew up in Connecticut and attended UConn. Freeman and Alcorn were in a university folk club, and Freeman and Shakun were in Completely Different Note (CDN), the university's oldest all-male a cappella group.
For full journalistic disclosure, I should reveal that my son, Ben Stoller, is currently CDN's president and a baritone with a good eye for talented musicians who first turned me on to Parsonsfield's music a few years ago. CDN just released its fifth album, Off the Record (available by email at booking@cdnuconn.com), which follows in the footsteps of a 2012 CDN album First Class that features Freeman and Shakun and a 2009 CDN album Blazin' that includes Freeman.
I had to ask: What role has CDN played in the development and sound of Parsonsfield? "I  think I have a unique perspective on this question, because I was never in CDN and have never been in an a cappella group," says Goodale, who graduated with a degree in music education. "I ran into CDN a few times when they rehearsed in a room by a student lounge in the music building after classes. I would hear them practicing while I was doing theory homework. When I first met Chris, I could tell he was a confident singer and had a good ear. Max — a quick learner with all sorts of instruments and an amazing voice — studied in the music department.
"He and Chris work really well together and know how to support each other's voices," he adds. "They push each other to be better singers and to make every performance better than the last. It's this type of dedication to the vocal arrangements of our songs that I think helped establish our sound as a band. It's rare that every member of the band does not sing on every song, and, usually, every member has an individual part.  It's no question that this is an influence from CDN and is at the core of our arrangements."
The UConn friendship grew into a band called Poor Old Shine — also the name of the group's self-titled debut album. When they realized that name had a racist implication, the group changed its name to Parsonsfield in July 2014 in honor of Parsonsfield, Maine. It's a tiny, rural town in southeastern Maine where the group recorded its first album and follow-up EP at Kassirer's farmhouse studio. There they met current drummer Hischmann, who was working with Kassirer as an assistant engineer.
The group says it was a difficult decision to change its name, which came from a traditional prison work song "Ain't No More Cane on This Brazos." The song, which has been performed by Bob Dylan, Rick Danko, Odetta, Lyle Lovett, John Hiatt and many others, contains the line "Captain, don't you do me like you done poor old Shine."
After performing as Poor Old Shine for about a year, someone attending a gig told the band they liked its music but detested its name. The person informed the band that "poor old Shine" is an obscure Southern racist stereotype for a shoeshine boy, or someone who is looked down on. Unaware that the band's name had any racist connotation, the group's members were shocked and unsure what to do. They eventually decided to move on under the name Parsonsfield.
Now based in Northampton, Massachusetts, the identity crisis is long behind the group, and they are particularly looking forward to July, when they play three dates at the Winnipeg Folk Festival and five dates in Montana. The band was launched with folk and bluegrass roots, but its live act is now akin to a Mumford & Sons show. Expect a frenetic rock show with bluegrass instruments and a bit of Low Anthem weirdness.
"When we started, we were more in the traditional/folk scene," Goodale explains. "We didn't have a lot of our own material yet, so we played a lot of old country, bluegrass, and folk music. Since the band grew out of the folk music club at UConn, it was a natural direction for us. In those first years, we learned about each other's playing style and started to develop a method for arranging songs.
"In 2013, when we were ready to record the first album, we knew we wanted to be pushed in a new direction," he adds, "and Sam Kassirer helped us do that. The session in Maine was probably one of the most important milestones for us as a band and where we met our drummer Erik. Having Erik in the band added a whole new color to our arrangements. Our approach to writing since then has been more groove oriented, along with adding new dynamic range that you are able to achieve with a full drum kit. I've noticed a few new evolutions to our sound in the past year or so, such as the addition of some small synths and effect pedals, but most are extensions of instruments that we were already using. Blooming through the Black captures this sound really well, and we can't wait to share it."
Goodale says, however, that "storytelling" is why people should listen to Parsonsfield's music.
"Since we started on this journey over four years ago, it has been a priority that our lyrics and arrangements work together to create a narrative," he says. "It's a work in progress, of course, but it's important to us that we show a range of emotion and energy not only within each song, but also with the arc of our shows."
Goodale says his most memorable gig was the band's first performance at Infinity Hall in Norfolk, Connecticut, in July 2012.
"Our first show at Infinity was a truly amazing and formative experience for the band. It was our first experience at a venue where we were not pressed for time and had a soundcheck, a green room, and help lugging all our stuff in from the van. Most importantly, we were able to share our music with a new audience. We had no idea who was going to be at the show — not many people outside of UConn knew who we were. The audience that night was truly supportive and energetic. We couldn't have asked for a better experience."
Since then, Parsonsfield has played all over the country, but Goodale says one other show particularly stands out in his mind. It was last July in White Sulphur Springs, Montana, at the uniquely named Red Ants Pants Music Festival. The festival also featured the Nitty Gritty Dirt Band, Ryan Bingham, Lee Ann Womack, Keb' Mo', Holly Williams, Red Molly, the Turnpike Troubadours, and Bruce Robison and Kelly Willis.
"Performing at the Red Ants Pants Festival in Montana was one of my favorites," Goodale recalls. "The festival was really well organized, and the audience had a ton of energy. The hot springs weren't too bad either."
Goodale says the concert by another artist that most influenced him as a musician was a private performance April 9, 2011, by Edgar Meyer in a music class at UConn's Jorgensen Center for the Performing Arts. "One of the benefits of being a music student at UConn was that we had opportunities for meet-and-greets with visiting artists," Goodale says. Meyer, a Grammy winning bass virtuoso, was performing at the school, and another bass student and I somehow got chosen for a master class with him. That was unreal and quite nerve-racking. He has been my musical hero since I started playing bass in fifth grade.
"When the class was over, he turned to us, two students and a couple of staff, and said, 'Now, I'd like to play a brand new piece for you that I'm still working on—no one else has heard it yet.' It was life changing," he continues, "seeing him perform that close, five feet away in some green room in Storrs, Connecticut. His technique, his lyrical phrasing, the way his whole body moved to call the piece from out of the strings. I've never heard anything like it. It inspired me not to try to be another Edgar Meyer but to strive to discover my own voice and sound with the same confidence and passion."
That was the most influential live performance for Goodale, but he says the best live show he has attended as a spectator was a Punch Brothers performance in October 2012 at the Jorgensen arts center. "Watching the bands and artists you love is both deeply personal and yet one of the most communal events in society," Goodale says. "I can't really fully describe what about that concert resonated with me. I love the Punch Brothers, and I think it was the first time I saw them live.
"What I enjoyed most," he adds, "was feeling the energy the Punch Brothers brought to their performance. It was a party. Chris Thile and Noam Pikelny were hilarious, the band was tight, and they had just released an album — so all the songs were fresh and new. I remember the audience was really vocal, and that's a big deal for a large orchestra-style theater like Jorgensen. The other members of Parsonsfield were at the show too, but I don't think they would have picked it as their favorite.
"I've been reading a book by Andrew Durkin called Decomposition, A Music Manifesto," Goodale says. "Its an interesting read dealing with artist and listener relationships in performance and composition. He puts forth a thought that audiences, just as much as the performers, are a part of the composition of live music. In fact, every person at the Jorgensen theater on October 4th, 2012, heard a different concert. This, of course, is all based on your life experiences, the type of mood you were in, and any expectations about the artist.  This concert was the 'best concert' for me because, well, it couldn't have been any other way.  Thinking about that concert brings me back not only to the music of the night but also to the excitement of that time of my life, when I had just graduated and Parsonsfield was just starting out."
---