PRINT EXCERPT: The Kora Finds Its Way in Western Roots Music
---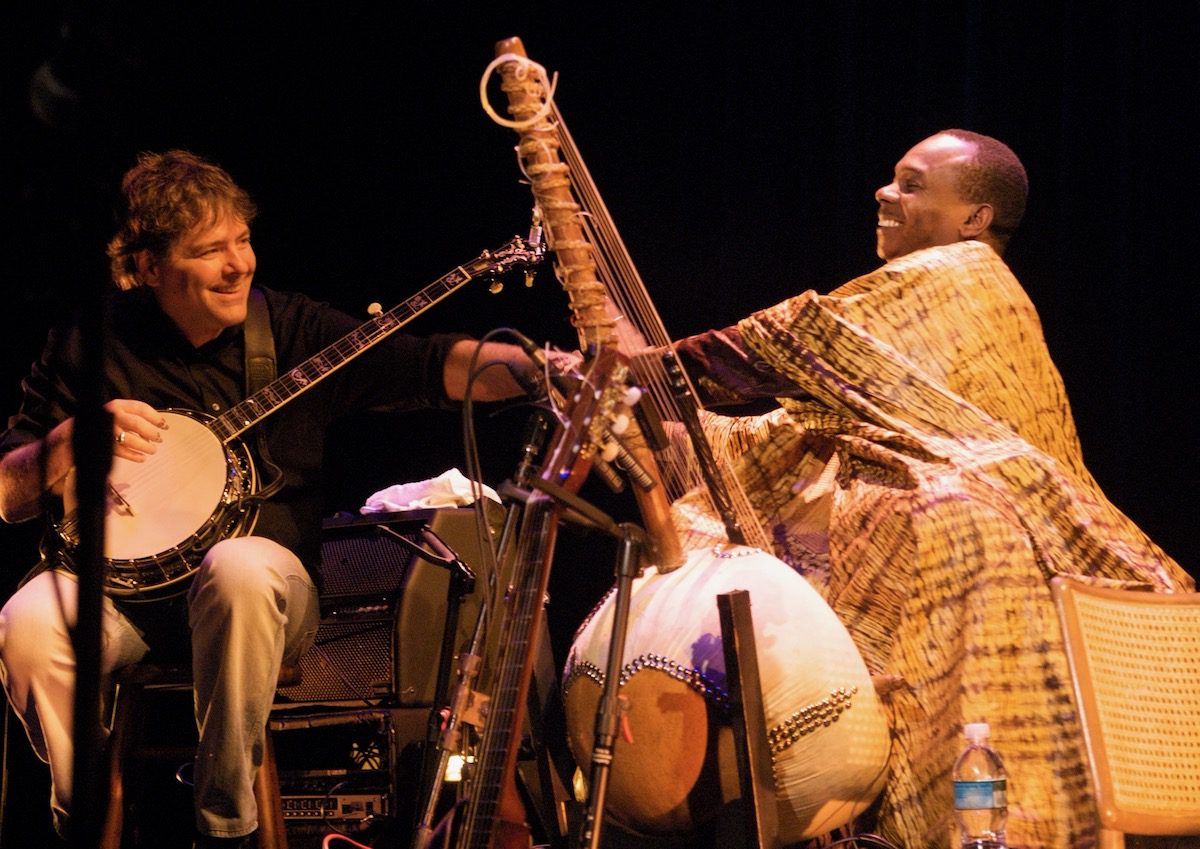 Béla Fleck (left) and Toumani Diabaté (photo by Banning Eyre)
EDITOR'S NOTE: This story is an excerpt from our Summer 2020 print issue, "Tools of the Trade." The print edition is sold out, but you can purchase the digital version here. Start a digital or print subscription to No Depression today to make sure you never miss an issue!
Back in February, Malian instrumentalist Ballaké Sissoko had just completed a two-week tour with the African trio 3MA. He flew from New York City back home to Paris with his custom-made kora, a 21-string instrument similar to a harp or a lute that's native to West Africa. But when Sissoko opened his flight case, he found his instrument in shambles with a notice written in Spanish apparently from the US Transportation Security Administration (TSA).
The incident garnered international attention, from the BBC to The New York Times to OkayAfrica. Still, the TSA refuted any wrongdoing and denied even opening the instrument case; a statement obtained by the Times claimed that the case was not inspected "because it did not trigger an alarm when it was screened for possible explosives."
Sissoko's friend Lucy Durán, a producer and music professor at SOAS University of London, penned a letter that was posted on Facebook in the wake of the incident describing the state of the instrument: "The neck of the kora has been removed. The strings, bridge and entire, delicate and complex sound system of amplification have been taken apart. The kora is in pieces," she wrote.
"In Mali, the jihadists threaten to destroy musical instruments, cut the tongues out of singers, and to silence Mali's great musical heritage. And yet, ironically, it is the USA Customs that have in their own way managed to do this," Durán concluded.
Almost six weeks later, Sissoko received a new kora thanks in large part to a crowdfunding campaign launched by his Parisian record label, No Format!. Writing from France, translated from French through his manager, Corinne Serres, Sissoko says fans donated more than 5,000 euros (about $5,400) to help subsidize the kora, but that didn't include the costs of sourcing the gourd (which serves as the resonator for the instrument) back in Mali or additional transportation. The same two luthiers who made the destroyed kora built the new one, but Sissoko is still tweaking the sound and awaiting additional modifications.
At this point, it seems like no one will ever know what exactly happened to Sissoko's kora. "TSA said they have investigated and that the flight case was never opened by their services, which we don't believe since a note was left inside," he says. "They have suggested fault is on the air company. At this stage, we will never know I am afraid."
Tradition and Culture
The kora is one of the most important instruments in Africa. References to similar stringed instruments like the ngoni and balafon, which also comprise a hollowed-out gourd covered with skin and connected to a long wooden neck, date back to the 1200s. In Mali, its plinking, yet resonant sounds — capable of both drone-like repetitive grooves and furiously plucked runs — and are most often heard in traditional settings, used to help tell stories, chronicle histories, and convey folklore. Although kora music was only communicated through oral traditions until the 20th century, the instrument has grown in popular culture over the past few decades, resulting in more written scores, academic documentation, and recorded music.
Sissoko, who has helped move this instrument into more contemporary arenas, learned how to play by watching his father, kora virtuoso Djélimady Sissoko. He's released eight albums, with a new solo record due out via No Format! in October, and regularly tours across the United States, Western Europe, Scandinavia, and Asia. Sissoko's 2009 album with cellist Vincent Segal, Chamber Music, even won a Victoire de la Musique, the equivalent of a Grammy award in France.
As he describes it, the kora "was always used in our traditions to transmit stories and explain situations. The kora is always there at all important times in life (birth, marriage, [and] death). It is part of us."
For Toumani Diabaté, another renowned kora player from Mali, the tradition of kora playing can be traced back more than 70 generations. In fact, his father Sidiki Diabaté was known as the "king of the kora" for his contributions to Mali's music history and culture. The members of this hereditary caste are known as jali, or more commonly, the French term griot, and serve as the aural documentarians of the community. According to Durán, it is still rare to find a kora player who is not a jali.
Sissoko and Diabaté are actually cousins and grew up near each other in Bamako, Mali. In 1970, their fathers recorded the classic African album of instrumental kora duets, Ancient Strings, which prompted the next generation to unite for the 1999 tribute New Ancient Strings. Diabaté has also mixed kora music with the blues (alongside guitarist Taj Mahal on the 1999 album Kulanjan), flamenco (with Spanish group Ketama in their supergroup Sonhai), jazz (with trombonist Roswell Rudd), experimental pop (with Icelandic icon Björk), and more.
A Trusted Recommendation
Still, it's often hard for such a niche, traditional instrument to break into Western music outside of sensational news stories or collaborative records. Legendary banjoist Béla Fleck certainly understands this, as he has spent an entire career trying to challenge the place of his instrument. For more than 40 years, he has taken the banjo into classical, jazz, country, and folk while also revolutionizing contemporary bluegrass music.
More than his 15 Grammy awards across nine different categories or other accolades, Fleck's greatest success is arguably his adaptability. He has integrated the banjo with the top instrumentalists from China (as heard on 1996's Tabula Rasā) and India (as heard on 2009's The Melody of Rhythm), as well as all over Africa. Since his first State Department-sponsored trip to Egypt and Morocco in the 1980s, Fleck visited South Africa in the '90s, and documented a 2006 journey through Uganda, Tanzania, Gambia, and Mali to learn about the origins of the banjo.
The last trip resulted the 2009 album Tales from the Acoustic Planet, Vol. 3: Africa Sessions and corresponding documentary called Through Down Your Heart, directed by his brother, Sascha Paladino. In 2010, he released a follow-up collection, Throw Down Your Heart, Africa Sessions Part 2, Unreleased Tracks.
And in March, Craft Recordings released an expansive box set of all of this material called Throw Down Your Heart: The Complete Africa Sessions (ND review). The reissue also includes a double LP called The Ripple Effect, culled from live duo performances between Fleck and Diabaté in 2009.
The 10 tracks on The Ripple Effect span more than an hour, featuring new instrumentals, works by each musician, and various standards. One song that showcases the kora especially well is "Elyne Road," a nearly nine-minute song that originally appeared on Diabaté's 2008 album The Mandé Variations. Diabaté plays speedy, tenacious runs while humming an accompaniment until the crowd interjects with cheers like at the end of any ripping mid-song solo.
The interplay between the kora and banjo is seamless — a testament to both the instruments themselves and the talented players wielding them. The timbre of the kora and the banjo while in the same range can sound quite similar. "Kauonding Sissoko" highlights these sonic similarities, and Fleck throws in a riff on "Oh! Susanna." The record closes with a version of "Dueling Banjos" that also allows both musicians to shine as they trade passages in a call-and-response fashion amid additional cheering and Fleck's occasional taunting: "You know this means war!"
But what listeners hear on The Ripple Effect is actually a distillation of how Fleck and Diabaté played live. Calling from his home in Nashville, Fleck says that he edited these versions down from much longer jams — from 14- or 15-minute songs down to eight- or 10-minute tracks that would fit on the record — because the original performances comprised another hour's worth of material. Fleck then sent those mixes to Diabaté before submitting them for the release.
Fleck says that working with Diabaté during their duo tour was a particular treat because their instruments' sounds and performing styles meshed so well. "[Diabaté] is a very elegant musician. He can certainly blaze, but that's not his primary focus. So not only is he an elegant musician, he's an incredible accompanist," says Fleck. "He brings out the best in me in that he's so easy to play with that I can play a lot of technically dexterous types of things that I might not even normally be able to pull off because he's making such a wonderful, comfortable, safe bed for me to explore from."
By reissuing The Complete Africa Sessions, Fleck hopes to keep this music relevant, and in the public consciousness. And regarding The Ripple Effect in particular, he hopes the seemingly unexpected collaboration will encourage listeners to explore different types of music and instruments like the kora.
"I only put out things that I'm passionate about, and I only play with people I'm passionate about. So if [audiences] like my choices over the years … I think they can trust that this is going to be something special," says Fleck.
"And if so, then I get to turn them on to one of the great musicians of the world and one of the great instruments of the world," he says, pausing for effect, "as cool as the banjo, in its own way!"
---