PREMIERE: Tomato Tomato "Take It On The Road" from upcoming album Canary In A Coal Mine
Posted On November 1, 2018
---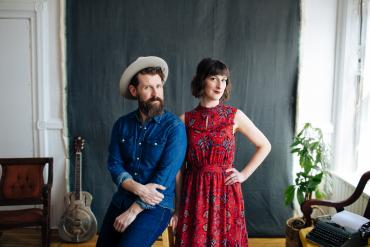 Lisa and John McLaggan — better known as Tomato Tomato from New Brunswick, Canada — will be releasing their new album Canary In A Coal Mine in February 2019, but are offering a preview with the first single "Take It On The Road," available now through all digital platforms. We're proud to also provide an advance listen of the high energy track recorded at Nashville studio The Bomb Shelter (Alabama Shakes, Margo Price) with producers Jon Estes and Andrija Tokic, along with some of Music City's finest musicians.
When talking about the making of Canary In A Coal Mine, Lisa says, "We really had a clear vision for this record, having chosen the tracks out of about 30 songs we'd written. The next step was putting our dream team together for the recording, which brought us back to The Bomb Shelter where we'd made some of our Christmas album in 2017. It was such an amazing experience working with the production team and all the musicians. It only took nine days and everything went so smoothly that we were able to take two-hour lunch breaks for tacos! We focused on keeping the atmosphere spontaneous, and much of what you hear was recorded live to a 16-track tape machine."
Along with "Take It On The Road," the album's stomping title track and "You Don't Know Anything" are instant roadhouse classics, while quieter moments such as "Kite Song" and "Nothing Left" bring the duo's intimate connection to the fore. And for the musos, there's even a couple of covers of The Band's "Ophelia" that strips the song down to its bluesy essence, and A-ha's "Take On Me," which unexpectedly drew admiration from the Norwegian stars after the McLaggans posted a video of them performing it live that has since garnered 25,000 YouTube views.
"Our style has actually changed a lot," John says. "When we first started, we were more heavily influenced by old timey and bluegrass music. There has been a bit of friendly, one-upmanship going on—as can happen in a marriage. We started with just a guitar and a tambourine. Then Lisa kept adding more and more percussion until I was left with no choice but to start working in some electric guitar and metal bodied resonator. We're always working hard to keep things interesting, and naturally that's led to our overall style evolving."
You can get Tomato Tomato's "Take It On The Road" here: https://TomatoTomato.lnk.to/TakeItOnTheRoad
---