Phosphorescent at Seattle's Neptune Theatre
Posted On November 22, 2018
---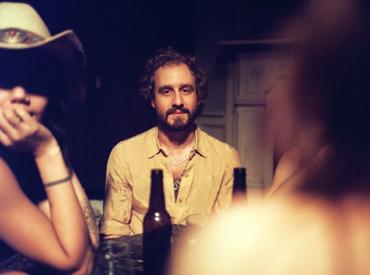 Houck, honey.
Matthew Houck, the frontman for the ambidextrously atmospheric electro-Americana jam band (that's a genre now, because why not?) Phosphorescent, is not from Mississippi. He's from Alabama, lives in Nashville now. But he says "honey" a lot when he sings, and he opened his searing, sensual show at Seattle's Neptune Theatre on the night before Thanksgiving with a bouncy new tune called "New Birth in New England," which is the sort of song that would result if Rhythm of the Saints-era Paul Simon climaxed in laughter after sneaking up on Van Morrison from the rear in a barroom bathroom while "Cleaning Windows" played on the house stereo.
Tupelo, honey, in other words — chased with bourbon and Pepto.
On the other end of the spectrum was "Around the Horn" off Phosphorescent's typically unpeggable new album, C'Est La Vie. Houck brought a seven-piece band with him to a 700-capacity (or thereabouts) theater. That's not very economical, but you don't patronize a Phosphorescent show for economy. And, sure enough, "Around the Horn" evolved into a 10-minute metal jam, as if someone slipped Jerry Garcia the black acid, because brown wasn't dark enough.
It's worth stopping and stating that, for the duration of Phosphorescent's show, which clocked in at just under two hours, you scarcely saw Houck's face, or those of his bandmates, which included his Australian wife, Jo Schornikow, on keys. The stage was drenched in smoke, a purple haze. It reminded me of the scene in Pure Country when Kyle Chandler stands in for George Strait, successfully duping a massive arena crowd while the Strait's off on an impromptu bender in a rural Texas honky-tonk, questioning every goddamn step he'd made to get him to that point in life.
That's sort of what a Phosphorescent show does to everyone in attendance. It plumbs the depths of your emotions, doesn't let you off easy. "Ride On/Right On," "Song for Zula," and numerous other standout tracks were played at the Neptune, but nothing — and I mean nothing — packed the emotional wallop of "Los Angeles," the final track off 2010's Here's to Taking It Easy, which closed out Wednesday's show.
"Are you getting a lot of attention now? Are you bleeding in every direction now? Are they covering you up with affection now?"
Answer those questions and you'll unearth your own, very uncomfortable truth. So there you have it: Seeing Phosphorescent is like an aural ayahuasca trip, without the puking. In fact, you'll probably feel well enough to wash the whole thing down with a beer afterward, and come out feeling reinvigorated.
---